The Food Gwyneth Paltrow Served At Her Wedding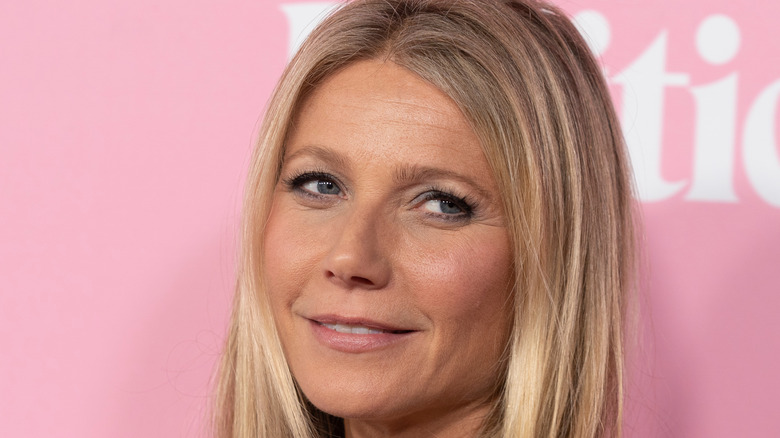 Shutterstock
As the founder of lifestyle brand Goop, and author of quite a few cookbooks, actress and entrepreneur Gwyneth Paltrow certainly knows her food. So, it seems natural that she would go all out when catering her second wedding — and she certainly did. When she wed producer Brad Falchuk in the Hamptons back in September 2018, she called on not just one, but two culinary superstars to feed her guests (via Eater).
She embraced a rustic outdoor theme for her rehearsal dinner and flew in Argentine chef Francis Mallmann all the way from Santiago, Chile in order to cater her dream rehearsal dinner. While you may assume that Paltrow opted for super healthy vegan fare or something along those lines, she decided to indulge a bit with a protein-packed menu, according to Eater. Mallmann embraced cooking over a live wood fire and created what he termed a "fire menu" that consisted of dishes like rib-eye steaks, salt-crusted salmon, "hung cabbage" and pit-cooked vegetables for some green sides, as well as some pineapple roasted over the open fire for a sweet treat.
The night before the big day, Mallmann shared a short video clip to his own Instagram account that showed him flipping a massive Piadina stuffed with onions and aged Vermont cheddar on a griddle positioned over an open flame. It seems that Paltrow and Falchuk opted to snack on carbs and cheese before walking down the aisle!
The menu for Paltrow and Falchuk's main event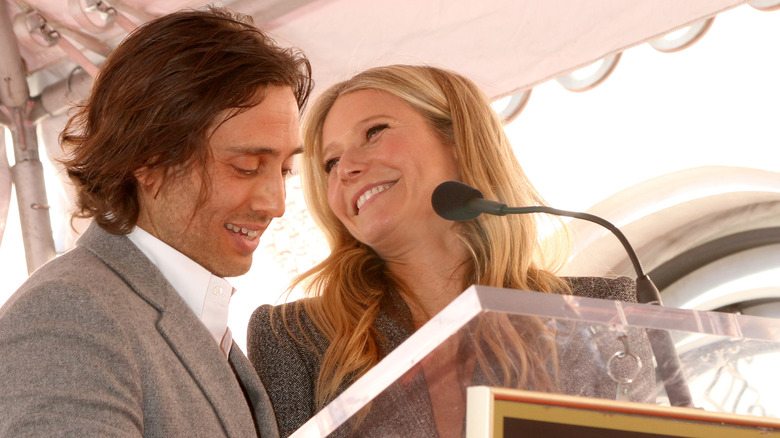 Shutterstock
While Francis Mallmann could have easily whipped up an equally delicious meal for the wedding feast itself, Paltrow decided that she didn't just want one incredible chef, she wanted two. So, for the day-of, the meal was cooked by New York City-based chef Mario Carbone (via The Recipe). His offerings were a bit different from the rustic wood-fire cooked dishes that Mallman prepared for the rehearsal dinner.
Carbone treated Paltrow's illustrious guests to luxurious dishes such as Dungeness crab, honey mustard duckling, prime rib, and scampi tortellini, as well as a variety of fall vegetables that were in season. The choice to have Carbone cater the main event also had a degree of sentimentality — it turns out, Paltrow and Falchuk had their first date at one of Carbone's renowned restaurants, so having him craft their wedding menu likely brought up some sweet memories for the happy couple (via Eater).
And, if you're wondering why you never spotted a shot of Paltrow and Falchuk cutting into a massive multi-tiered wedding cake, it's because they opted not to have the traditional dessert. They instead decided to treat their guests to miniature cakes they had brought in from Nine Cakes, a pastry shop in Brooklyn. Apparently, the duo just couldn't decide which flavor of cake would perfectly wrap up the delectable meal, so they had 45 miniature carrot cakes (Paltrow's choice) and 45 chocolate-and-vanilla cakes (Falchuk's selection), according to People.