Is Breaking Bad's Los Pollos Hermanos A Real Restaurant?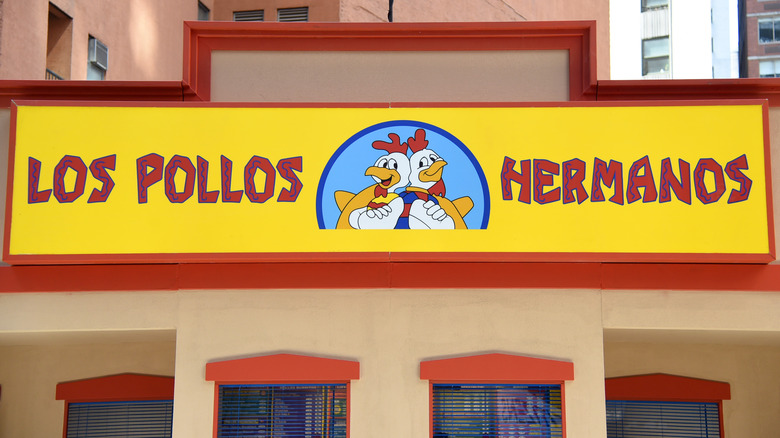 Jamie Mccarthy/Getty Images
If you have ever watched the hit AMC television series "Breaking Bad" starring Bryan Cranston and Aaron Paul, you may have found yourself experiencing some serious FOMO during the scenes featuring food from Los Pollos Hermanos, the fried chicken-serving restaurant chain that secretly doubled as a method of meth distribution for drug kingpin Gustavo "Gus" Fring (portrayed by Giancarlo Esposito). You've maybe even landed on its hiring website following an internet search for the fast-food eatery — but don't be fooled. Despite looking incredibly realistic (and even being a functional webpage), there is a reminder at the bottom of its homepage confirming that it's "for entertainment purposes" only.
Yes, the unfortunate truth is that none of the New Mexican chain's 14 locations mentioned in "Breaking Bad" or its prequel series "Better Call Saul" are actually open for business. However, there is still a way to enjoy a meal wrapped up in packaging featuring the iconic Los Pollos Hermanos logo, as Sony Pictures Consumer Products and the virtual restaurant company Family Kitchen, Inc. have teamed up with Uber Eats to offer some delicious, delivery-only meals from the faux fast-food joint for a limited time (via The Hollywood Reporter). The three-year partnership launched in Los Angeles in 2019 following the release of the spinoff film "El Camino." Currently, the "restaurant" website lists locations in L.A. and Las Vegas, though there are plans to expand to a few other cities, including San Diego and Chicago, as well.
Breaking Bad creator Vince Gilligan approves of the food at Los Pollos Hermanos
Whether a fan of "Breaking Bad" or simply a fried chicken connoisseur, those fortunate enough to live in the delivery area of the Los Pollos Hermanos virtual restaurants are in for a real treat. The menu includes Pollos Tenders and sides of Fring Fries and coleslaw, which has been appropriately named "Slaw Goodman," and is even a contender in the cutthroat chicken sandwich war with its ABQ Hot Chicken Sandwich. Combo meals of these items are also available under some familiar monikers, like "The Heisenberg" or "The Pinkman."
If you are curious about how it all tastes, let's just say that "Breaking Bad" creator Vince Gilligan — who teased a real-life Los Pollos Hermanos restaurant during a Reddit AMA back in 2015 — is a fan of the eatery's grub. "I'm relieved to report that the folks at Family Style got it right," he told The Hollywood Reporter. The writer-director specifically heaped praise on the chicken sandwich, describing it as "big and crispy on the outside, tender and juicy on the inside, and it rests on one of the better brioche buns I've come across." Along with his own stamp of approval, Gilligan also noted that the meal would get a thumbs-up from the restaurant's fictional founder Gus Fring, as well.
Other ways to have a Los Pollos Hermanos dining experience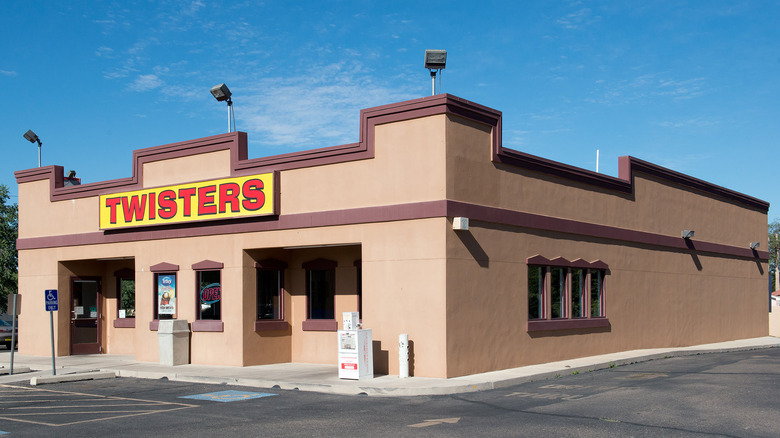 Steve Snowden/Getty Images
The Los Pollos Hermanos virtual restaurants certainly sound like a fun and delicious meal, but you may find it slightly disappointing that there is no brick-and-mortar version to visit. Fear not, for there is a way to have a "Breaking Bad" dining experience in person that will have you feeling like Walter White in no time!
According to Business Insider, the Los Pollos Hermanos restaurant seen so many times throughout the series is an actual restaurant in Albuquerque, New Mexico called Twisters, which is open for breakfast, lunch, and dinner and boasts a menu that includes burgers and burritos rather than fried chicken.
Filming was done at the chain's Isleta location, where they encourage patrons to "sit in the same booth Walter White once did, pose for some photos, and try a South Valley burrito smothered in green chile and our signature curly fries" (via Twisters). The joint even made a one-day transformation back into its Los Pollos Hermanos alter ego back in 2018 to celebrate the 10-year anniversary of "Breaking Bad" (via KRQE). Fingers crossed they hold another event for the show's 15th anniversary in 2023!