Quick Easy Pecan Pie Bar Recipe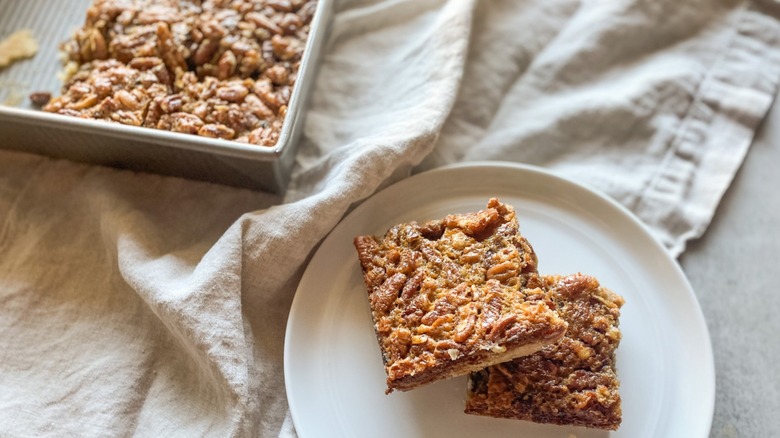 Kristen Carli/Mashed
Whether you pronounce them "pee-kans" or "puh-kahns," they're still the same great thing. While some nuts have a bad reputation as something that should be avoided because of their high calorie and fat content, pecans are one of those nuts that you can absolutely add to a healthy diet. They're filled with good fats that help keep you feeling fuller — and in turn, fight cravings.
In short? They're a total win, and that makes registered dietician Kristen Carli's quick and easy pecan pie bars so gosh darn good. Not only are they filled with pecan goodness, but they're full of all kinds of sweet, buttery goodness, too! They come together in no time at all (and a good amount of that is hands-off baking time). It doesn't matter if you're looking for something sweet and decadent or a dessert that you can feel good about eating — this checks both the boxes.
Gather and prep your ingredients for the pecan pie bars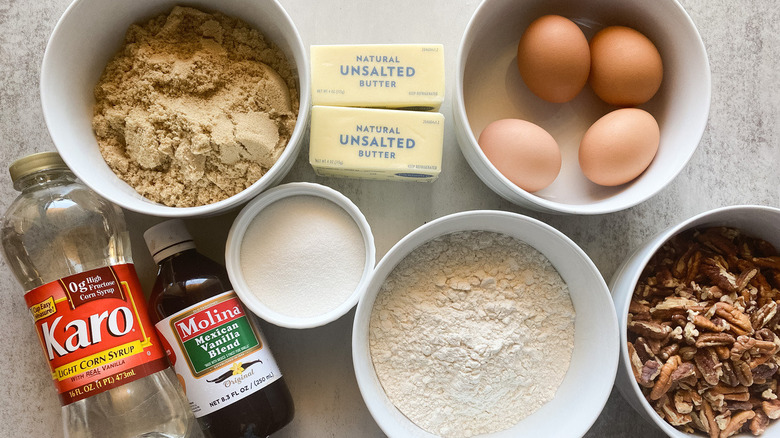 Kristen Carli/Mashed
A successful baking project is all about the prep, so let's start by getting all our ingredients together — and we're going to start with just the crust because we're going to be letting that chill in the fridge before we get started with the filling.
So, grab your crust ingredients: You'll need flour, salt, sugar, and butter. Before you do anything else, slice that stick of butter into pats about a quarter of an inch in thickness. Then, you can also assemble your ingredients for the sweet pecan mixture: Grab more butter, eggs, pecans, brown sugar, vanilla extract, and corn syrup.
Mix and make the crust for your pecan pie bars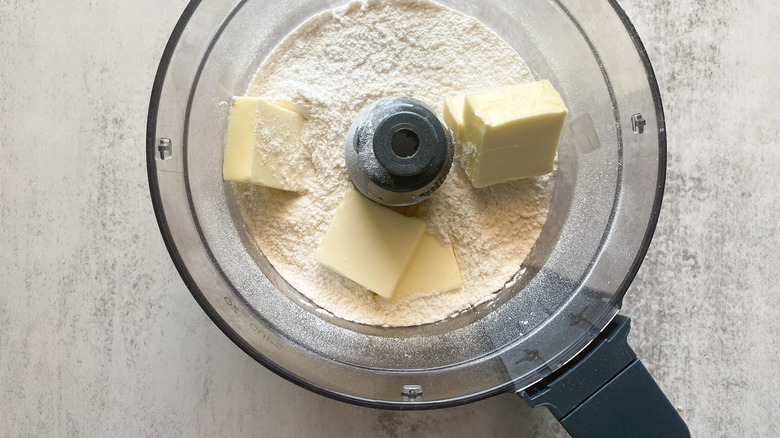 Kristen Carli/Mashed
Take the dry ingredients you've assembled — the flour, salt, sugar — and add it all to your food processor. Process until everything is well combined, then add your butter. Pulse repeatedly until everything is completely mixed, and if it looks really, really dry, don't worry — it's supposed to! The end result will be a light, crumbly crust, and this is just the right amount of butter to hold the whole thing together without allowing it to fall apart.
Prep your pecan pie bar crust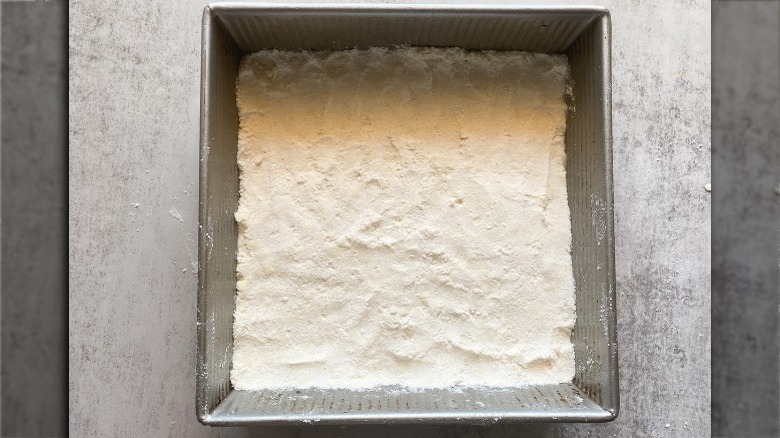 Kristen Carli/Mashed
Now is the time to dig out that trusty 8x8-inch baking dish. Prep it by spraying it with a healthy dose of non-stick cooking spray. Then, immediately take the crust mixture out of the food processor, and spread it out across the bottom of the baking dish. It's time to get your hands dirty! Press the dough mixture down firmly, and while it's not necessary to be perfect, it's preferable to try to get the dough as evenly distributed as you can.
Then, you're going to pop it in the fridge for at least 15 minutes. Carli says that this is a crucial step: "I like to rest the crust in the fridge to harden up the butter a bit before baking," she explains.
Baking, after all, is a science! While you're waiting for your crust to chill and firm up, preheat your oven to 350 degrees Fahrenheit.
Pre-bake the crust and get ready for the next step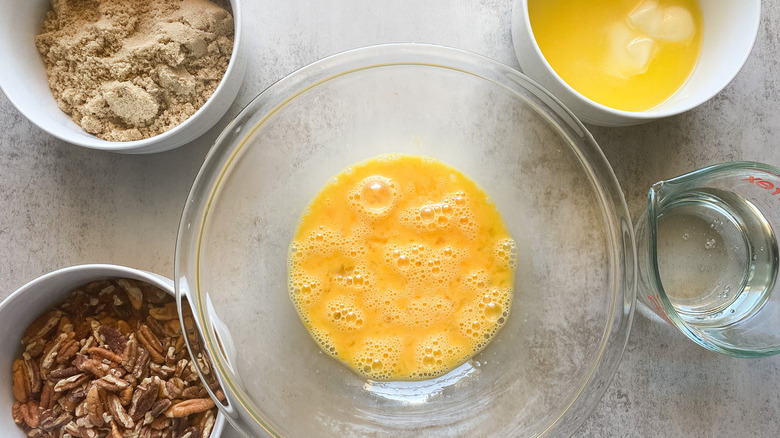 Kristen Carli/Mashed
After 15 minutes, your crust mixture will have firmed up in the fridge. Take it out and pop it right into the oven. "You want to crisp up the crust a bit before you add the sticky, sugary liquid," Carli explains. This is all going to help create a light crust that isn't going to crumble under the weight of your mixture, so don't skip the pre-bake!
While that's baking, prep your ingredients for the filling. You're going to need about two cups of chopped pecans, so if you need to chop them, do so — and measure after they've been chopped, not before. Also, melt your stick of butter (which can easily be done in the microwave, just don't forget to keep an eye on it and stir regularly!)
Make the mixture for your pecan pie bars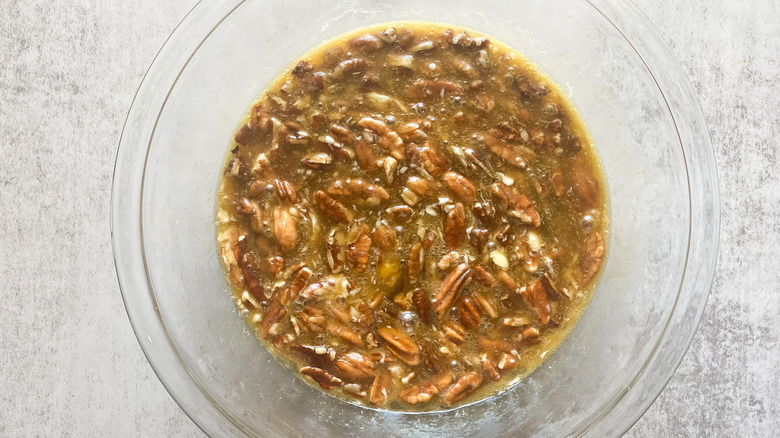 Kristen Carli/Mashed
Combine your eggs, pecans, brown sugar, corn syrup, melted butter, and vanilla. Stir to completely incorporate, and by the time your crust is ready to come out of the oven, you should have a well-incorporated filling that's ready to pour. 
If you're ahead of the game and your crust isn't quite done, don't worry! Just give the mixture a fresh stir before you kick off the final step, and you're good to go. We'd also be remiss if we didn't add a small warning here: This filling is going to look and smell delicious, and while it might be tempting to sample some before it's baked, remember, there are raw eggs in here. Patience, it's said, is a virtue.
Bake your pecan pie bars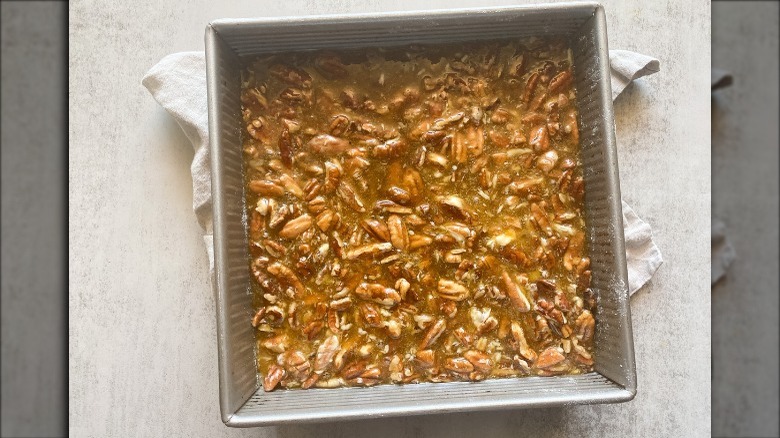 Kristen Carli/Mashed
Pull your pan out of the oven, add your mixture on top of your crust (which should be looking a bit more like a pie crust now!), and pop it back into the oven. Set the timer for 25 to 30 minutes, and once those 25 minutes pass, you can check and see if it needs a little more time. The filling should be the texture of pecan pie — firm but not too firm and cooked through enough that it's going to stand up to being sliced with a knife.
Enjoy your pecan pie bars!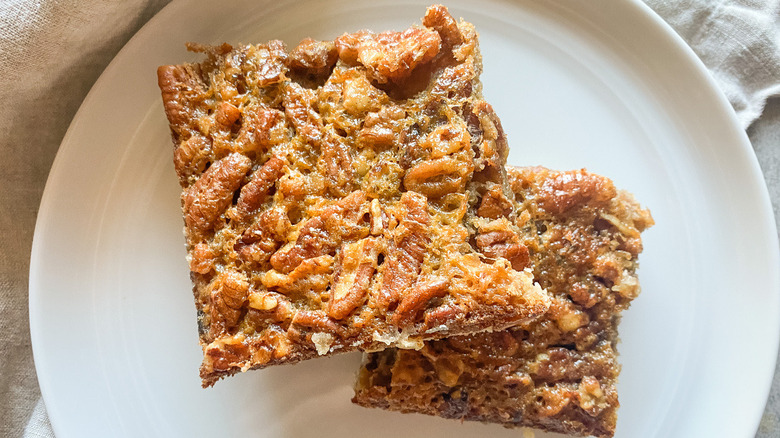 Kristen Carli/Mashed
Slice into slivers for a quick snack on the go or into squares for a larger dessert. Carli recommends adding a scoop of vanilla ice cream if you're going to be serving these as an after-dinner dessert, and she adds that they can be much more than just dessert! "These could be a fun option for a celebration, starting a special day, or even a birthday breakfast," she suggests.
How amazing does that sound? It's no wonder, then, that she says while they can be stored in the refrigerator for up to six days, you won't need to do that at all. "They won't last that long!"
Quick Easy Pecan Pie Bar Recipe
Not only are these easy pecan pie bars filled with pecan goodness, but they're full of all kinds of sweet, buttery goodness, too!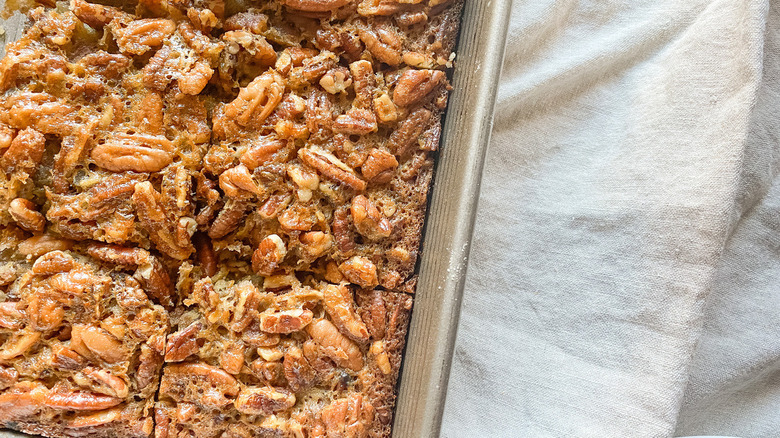 Ingredients
1 cup all-purpose flour
½ teaspoon salt
½ cup sugar
2 sticks unsalted butter, divided
4 eggs
2 cups chopped pecans
¾ cup brown sugar
1 cup corn syrup
2 teaspoon vanilla extract
Directions
In the bowl of a food processor, add flour, salt, and sugar. Process until combined.
Slice 1 stick of butter into tablespoon portions, about ¼-inch thick. Add butter to the food processor. Pulse until combined. Dough will be very dry.
Spray an 8x8-inch baking dish with nonstick cooking spray.
Press dough into the bottom of the dish. Using your fingers, make the dough flat on surface. Place in the fridge for 15 minutes.
Preheat oven to 350 degrees Fahrenheit.
Remove crust from fridge, and then bake crust for 20 minutes.
Melt remaining stick of butter. Meanwhile, add eggs, pecans, brown sugar, corn syrup, vanilla, and melted butter to a bowl. Stir to combine.
Pour pecan mixture on top of baked crust. Bake for 25 to 30 minutes.
Serve and enjoy.
Nutrition
| | |
| --- | --- |
| Calories per Serving | 624 |
| Total Fat | 39.8 g |
| Saturated Fat | 15.0 g |
| Trans Fat | 0.8 g |
| Cholesterol | 125.1 mg |
| | |
| --- | --- |
| Total Carbohydrates | 66.3 g |
| Dietary Fiber | 2.7 g |
| Total Sugars | 53.1 g |
| Sodium | 186.4 mg |
| Protein | 6.3 g |