Air Fryer Roasted Asparagus Recipe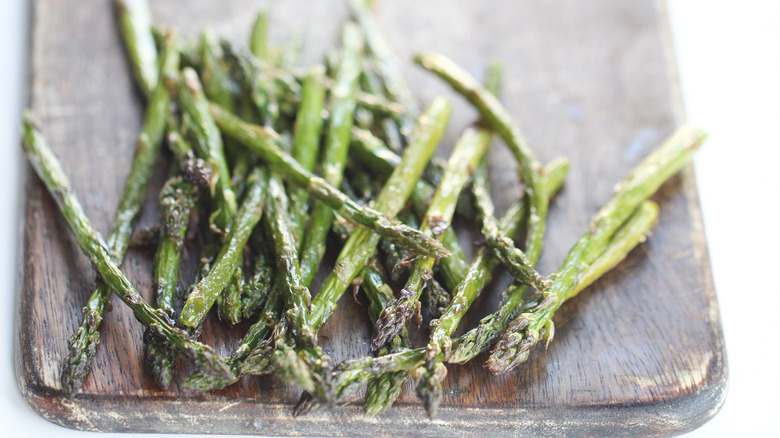 Susan Olayinka/Mashed
You'd be hard-pressed to find something you can't cook in an air fryer, as it's easily one of the most versatile kitchen gadgets to have ever been created. While the air fryer is great for cooking things like salmon and putting the absolute perfect crisp on potatoes, it's also excellent at cooking your favorite vegetables. If you're an asparagus fan, you might want to try prepping the green veggie in the air fryer the next time you need a scrumptious side dish.
Recipe developer Susan Olayinka of The Flexible Fridge has put together this simple asparagus recipe for your air fryer that is sure to please your palate and anyone who you serve it to. It's an easy way to prepare a vegetable at the last minute, as it's only going to take you about 10 minutes from start to finish before it's ready to be served. This dish is perfect to whip up any time of year, and for any occasion. Throwing your asparagus in the air fryer will cook it up perfectly, preventing that soggy flimsiness that can sometimes come with steaming, or letting it sit on the grill.
The best thing about this recipe? You probably have all of your ingredients already on hand! If you're looking for a simple, speedy, and delicious side dish to complement a main meat or fish dish, stop your search, pull out your air fryer ASAP, and follow this recipe.
Gather the ingredients to prepare air fryer roasted asparagus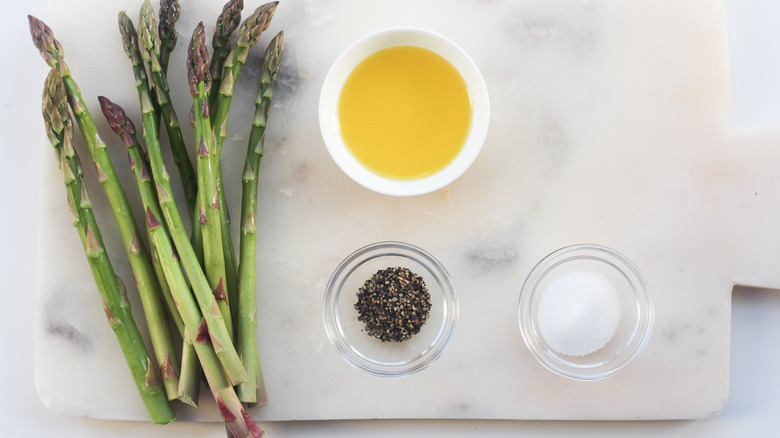 Susan Olayinka/Mashed
This recipe will serve three to four people, so you'll need about 30 pieces of asparagus. This number is flexible, and feel free to add more or take some away depending on how many people you're serving. Normally, bunches of asparagus at the grocery store will weigh about 1 pound, and depending on the thickness of the stalks, can range in quantity from 12 to 30.
Additionally, you'll need 1 tablespoon of extra-virgin olive oil, ⅛ teaspoon of salt, and ⅛ teaspoon of black pepper. These ingredients ensure that the asparagus is the star of the show, and won't take attention away from the veggie itself. If you're looking to shake things up, you can add whatever spices you want that complement other items in your meal.
Prepare your asparagus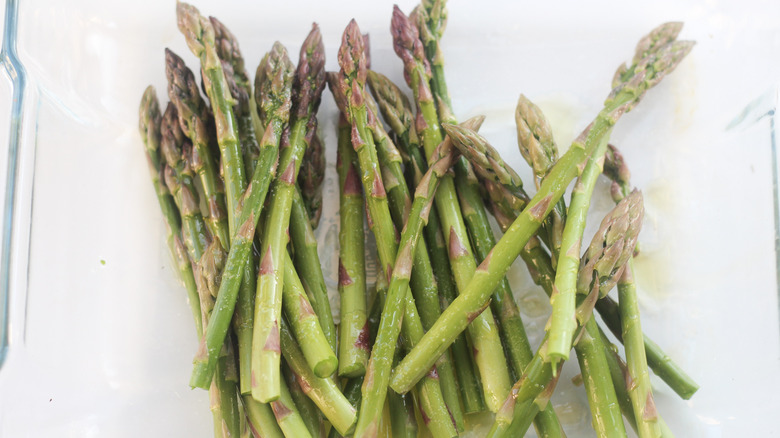 Susan Olayinka/Mashed
First things first: We recommend pre-heating your air-fryer to 400 F, which normally takes about five minutes for it to reach the desired temperature. While that's heating up, go ahead and wash and dry the asparagus. Be sure to trim off the bases of the stalks if they are white or dried out.
Next, place the stalks in a large mixing bowl, and add the extra-virgin olive oil, salt, and black pepper. Mix all of the ingredients together until the asparagus is well coated, then set the asparagus off to the side as the air fryer continues to pre-heat. You're ready to move on to the next step, and one step closer to enjoying this delicious veggie.
Get the asparagus in the air fryer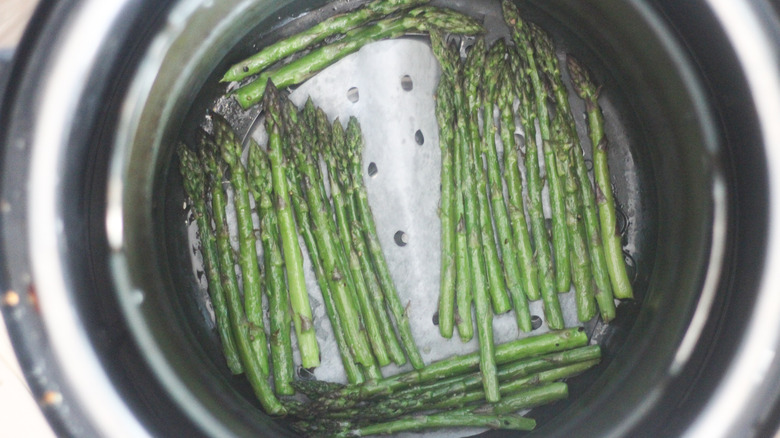 Susan Olayinka/Mashed
If you're using an Instant Pot that doubles as an air fryer, you might need to line your basket or tray with parchment paper if the grate has large spaces in it. If you are using just an air fryer, you can skip this step.
Place the asparagus inside the air fryer basket, being sure to not overlap the stalks. Susan notes that it's fine if the asparagus touch one another, but they cannot be laid on top of each other because they won't cook properly. If your basket won't accommodate all the stalks you're planning to cook, you'll have to cook them in separate batches.
Cook the asparagus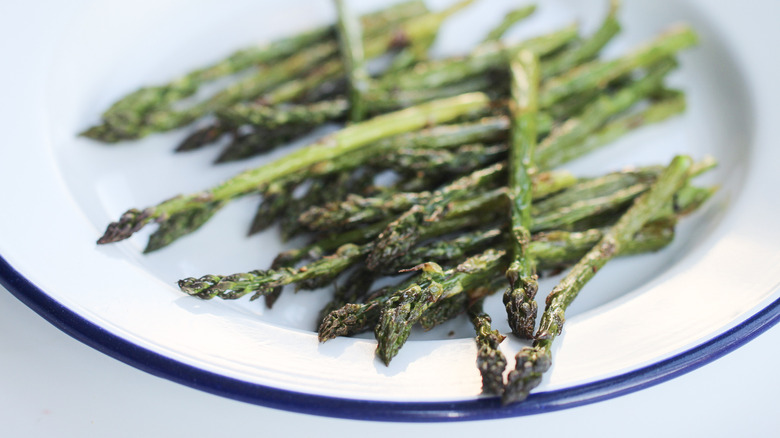 Susan Olayinka/Mashed
Cook the asparagus at 400 F for seven minutes, shaking them halfway through to ensure they're cooked fully. Make sure when you shake them that they do not overlap before inserting the tray back into the air fryer. You can also use tongs or a fork to simply flip the asparagus over to the other side as well. 
The stalks will be slightly brown when they're ready. Serve them immediately, as asparagus can cool off rather quickly. 
Pair the asparagus with something yummy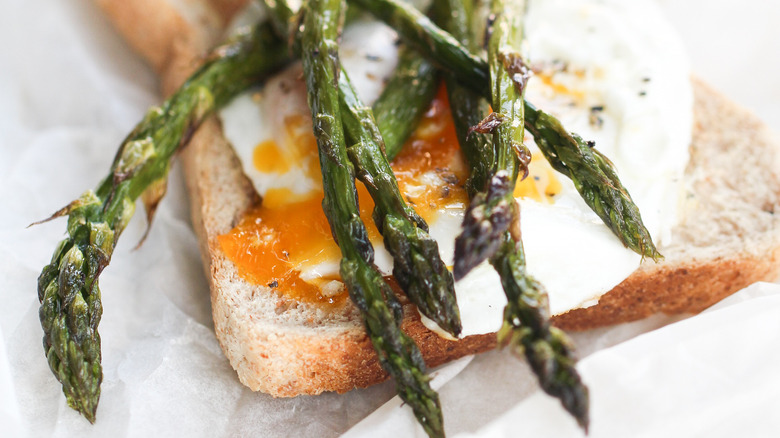 Susan Olayinka/Mashed
Asparagus is such a versatile vegetable — it's seriously so easy to pair it with just about anything! You can have it alongside a nice grilled steak or a piece of salmon with fresh dill. Present the asparagus on a crisp white dish or on a wooden board with all the stalks facing the same way for an absolutely beautiful presentation your family or guests will swoon over.
This asparagus would also be great to pair with breakfast items, like an egg scramble or omelette. All you have to do is chop up the stalks into bite-sized pieces after they come out of the air fryer, and throw them into your frying pan with your eggs. You can also place the stalks on top of some toast with a fried egg. The possibilities are endless when it comes to asparagus, no matter the time of day.
Air Fryer Roasted Asparagus Recipe
If you're looking for a simple, speedy, and delicious side to complement a main meat or fish dish, this air fryer roasted asparagus is it.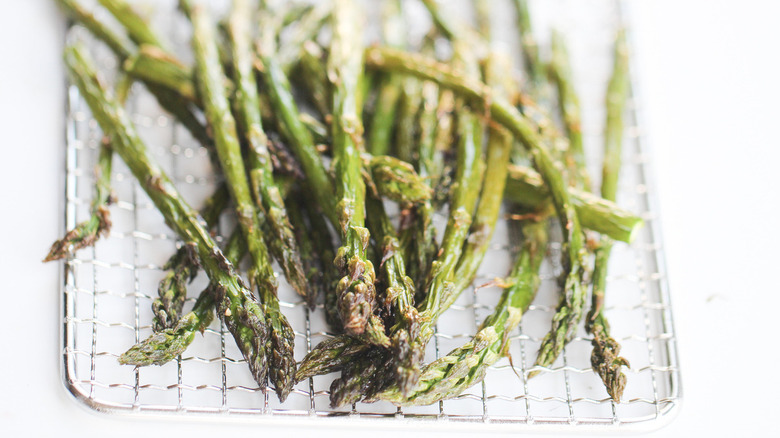 Ingredients
30 spears asparagus
1 tablespoon extra-virgin olive oil
⅛ teaspoon salt
⅛ teaspoon black pepper
Directions
Wash, dry, and trim the asparagus spears.
Add the asparagus to a large mixing bowl along with extra-virgin olive oil, salt, and black pepper. Mix everything together until well incorporated.
If needed, line the air fryer basket with parchment paper.
Place the asparagus inside the air fryer, and cook on 400 F for 7 minutes, or until asparagus is tender and slightly browned, shaking halfway.
Serve immediately.
Nutrition
| | |
| --- | --- |
| Calories per Serving | 72 |
| Total Fat | 4.7 g |
| Saturated Fat | 0.7 g |
| Trans Fat | 0.0 g |
| Cholesterol | 0.0 mg |
| | |
| --- | --- |
| Total Carbohydrates | 6.3 g |
| Dietary Fiber | 3.4 g |
| Total Sugars | 3.0 g |
| Sodium | 100.2 mg |
| Protein | 3.5 g |