National Donut Day 2021: Where To Get The Best Food Freebies And Deals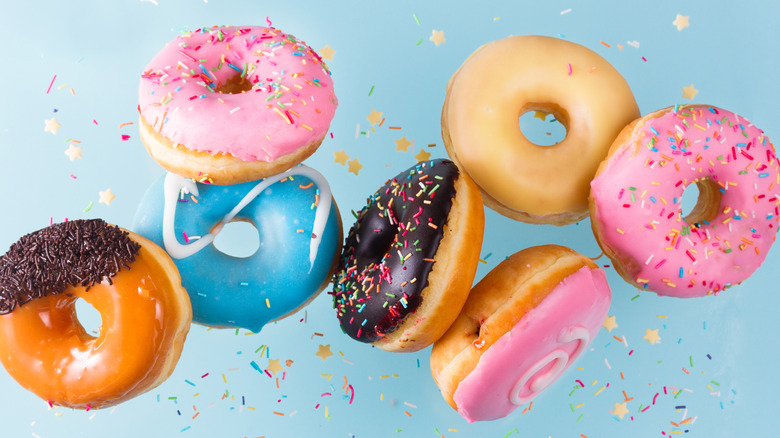 Shutterstock
On Friday, June 4, for one sweet day, the object of your #lifegoals game will be as follows: Collect as many free doughnuts as you can eat. The best part? You'll be doing so in a community-minded effort to join your friendly, participating purveyors of doughnuts in celebrating a return to post-quarantine life. Friday marks the day of the year that has been designated as National Donut Day since 1938 (via National Calendar). The holiday was first created by the Salvation Army to honor the selfless women who served doughnuts to soldiers in World War I. Today, the tradition is carried on by enjoying discounted frosted and glazed doughy delights throughout the day.
Seriously, a whole bunch of local, regional, and national doughnut chains are marking this year's National Donut Day by offering free or deeply-discounted doughnuts and related items pretty much for no other reason than just because they've missed seeing your face throughout these many weird, long months of pandemic-related lifestyle changes. Here is everything you need to kick off National Doughnut Day the right way this year, by scoring the best freebies and deals on warm, delicious doughnuts.
These chains are offering free donuts on Friday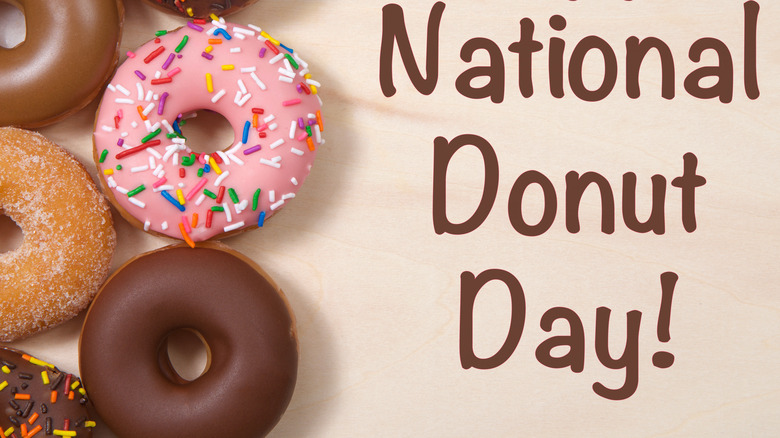 Shutterstock
On Friday, June 4, National Donut Day, you'll find deals on doughnuts and related sundry items at national chain stores, starting with Krispy Kreme. The doughnut chain is offering one free donut at storefronts. Even better: Those who have proof of vaccination are eligible for two free doughnuts, according to a statement sent to Mashed. If you want to multiply the fun, Krispy Kreme is throwing in an extra dozen Original Glazed doughnuts for just $1.00 for every purchase of a dozen doughnuts.
Not to be left out of the festivities, Dunkin' is offering a free "classic" donut with the purchase of any beverage, while supplies last (via Dunkin). "Classic" donut flavors include Boston Kreme, Glazed, Glazed Chocolate, and Jelly Filled. 
Duck Donuts is also participating in National Doughnut Day (via Duck Donuts), offering a free cinnamon sugar, powdered sugar, or "bare" donuts to in-store customers. 
These National Donut Day deals may also be worth checking out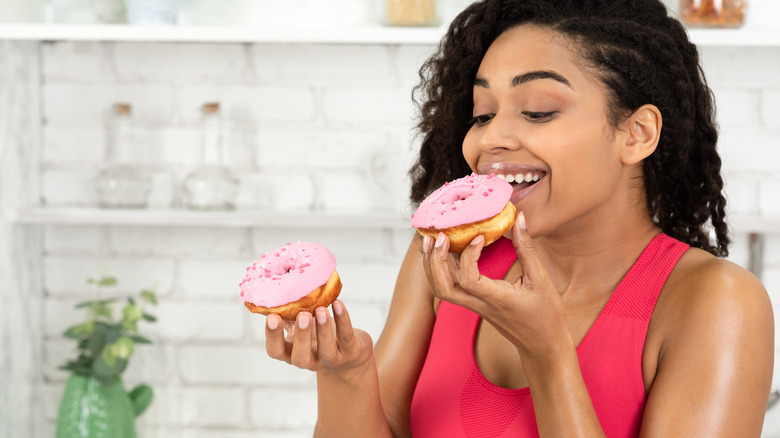 Shutterstock
That's not all of the sweet discounts that are available for this year's National Donut Day. Tim Hortons, according to BakeMag, is offering a 50 cent classic or "specialty" doughnut with any eligible purchase over 50 cents — provided you register as a Tims Reward member. While Tim Hortons isn't offering "free" doughnuts exactly, it's still a nice deal, and, even better, the offer begins at participating Tim Hortons on June 3 and continues through June 15. BakeMag says the chain's new Crème Filled Ring Donut will be part of the promotion.
According to Today, Smokey Bones, which really upped the ante last year with its meat-donut deal, is offering a free "Bag O' Donuts" with any $40 purchase on National Donut Day. This will include a bag of five cinnamon sugar doughnuts that come with raspberry and chocolate sauces. In addition, select Walmart locations are offering free coffee and a free donut to celebrate National Donut Day between 12:30 p.m. and 6:30 p.m., according to Retail Me Not.