Air Fryer Chicken Fried Steak Recipe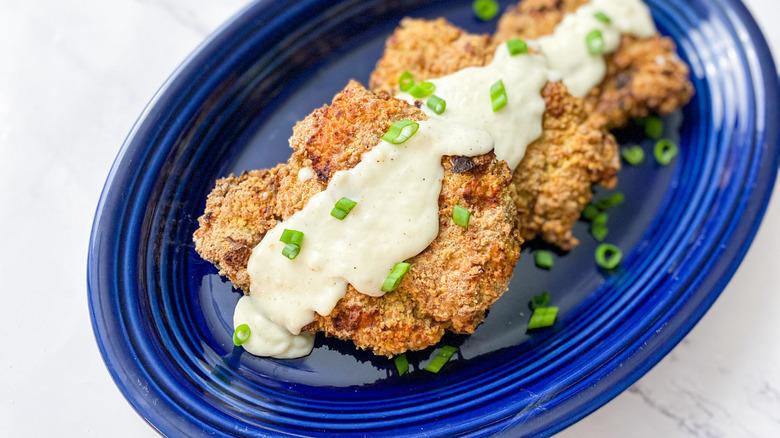 Erin Johnson/Mashed
If you've never tried country fried steak, you're missing out on a real treat. Contrary to popular belief, chicken fried steak is not a dish that you can only order at a restaurant. That's right — you can make your own recipe and enjoy it in the comfort of your own home thanks to your trusty air fryer. (Asking for a friend — is there anything that a beloved air fryer can't do?) While chicken fried chicken is delicious, there's just something about a chicken fried steak that screams comfort food. This recipe has the perfect amount of crunch in addition to the perfect amount of meat, and it's delicious.
We can thank recipe developer Erin Johnson of Probably in the Kitchen for providing us with this simple, easy main course, which takes only a bit of prep time and 10 minutes of cook time. Johnson shares that her favorite part is the health factor. "If you like chicken fried steak, this is a great version because it's so much easier and cleaner to use the air fryer than it is to fry the steaks," she shares. This recipe is a keeper, and once you prepare it, you'll know why. It's bound to be a family favorite, and everyone will want you to make it again and again. Since it's delicious and simple to prepare, why not?
Since we're pretty sure that your mouth is watering already, let's get started as quickly as possible and put this fantastic dish together.
Gather the ingredients to prepare air fryer chicken fried steak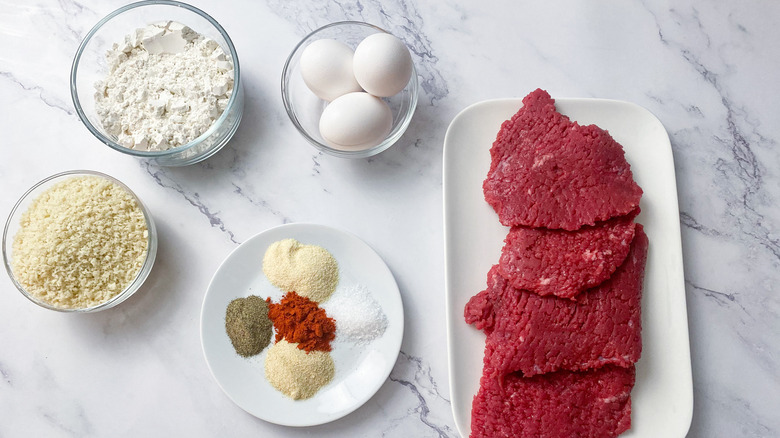 Erin Johnson/Mashed
This recipe is surprisingly easy to prepare, and it requires only a few ingredients. You will need flour and panko breadcrumbs to start. The recipe also calls for a few spices, including onion powder, garlic powder, salt, black pepper, and paprika. To finish off your list of items, add eggs and also cube steak. 
If you're feeling really like being a bit fancy with your presentation and serving options for this dish, you can consider adding a little country gravy to go over the top of your chicken fried steak. Don't stress, because you can whip it up from a pre-made packet, or Johnson shares that you can easily put it together from scratch. "My go-to is to melt 2 tablespoons of butter in a skillet and add 2 tablespoons of flour. Add 1 cup of milk and salt and pepper to taste," she shares. 
Mix together the breading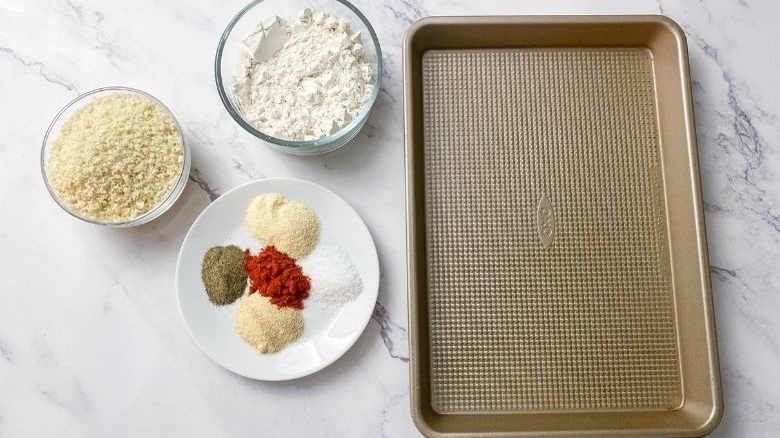 Erin Johnson/Mashed
For the first step in the recipe, mix together the breading that will go on top of the steak and make it crispy. Get out a baking sheet or a pie pan to mix everything together. Add in the flour, panko crumbs, onion, garlic, salt, black pepper, and paprika. If you want to add a little bit of heat, Johnson recommends tossing in some cayenne pepper in this step. Once you're finished with putting your mixture together, set it aside for a moment, because you'll need to use it shortly.
Beat the eggs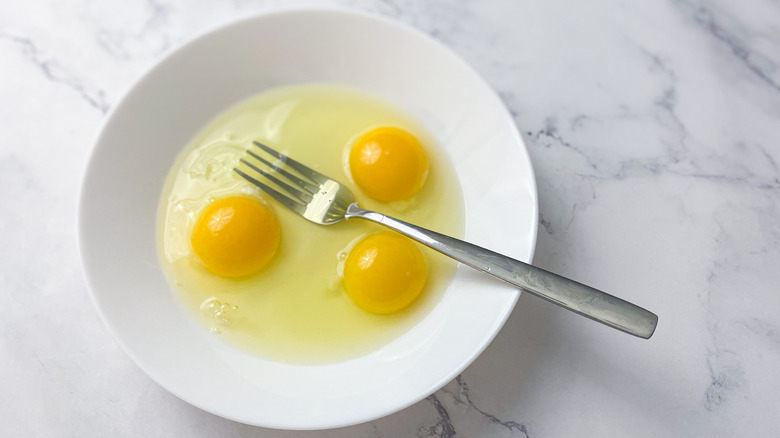 Erin Johnson/Mashed
For the next step, you need something to make the breading stick to the steak. Get out a shallow bowl, and crack your eggs. Add water, and beat the eggs and water together, so you will have a good base for your meat. For more of a kick, you can add a squirt of buffalo sauce to this egg mixture. You can simply whisk it in with a fork, and no fancy kitchen utensil is needed. Now that you have the topping mixed and put aside, and the egg mixture for your glue that holds it together, you're ready for the next part of your recipe.
Dip the steak into the egg and breading mixtures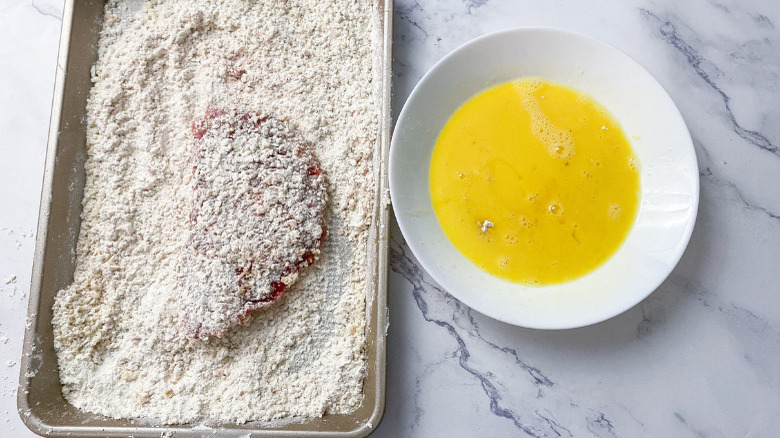 Erin Johnson/Mashed
Line up your bowls close like a mini production line. Take your steak, and dip it first into the egg mixture. After that, you can dredge it in the panko breading. Make sure you get both sides covered nicely so you can achieve a nice crispy crust when it's cooking. Repeat this process with all of the steaks. As you finish dipping and breading each one, put the steaks on a plate so they are ready to make a transfer into the air fryer soon. If you haven't already, preheat the device to 375 F. 
Prep the air fryer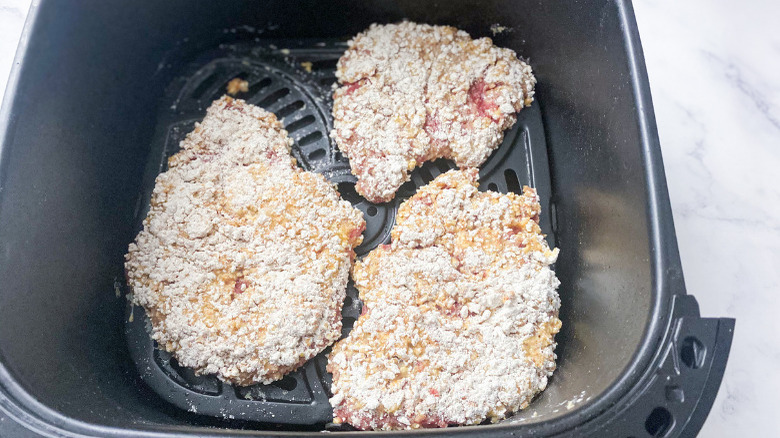 Erin Johnson/Mashed
It's time to get the air fryer ready for cooking. Don't worry, because this part is super simple. Once the air fryer is preheated to 375 F, you can place the steak in it. Spray the top of the steak with cooking spray — this will help to make it even crispier. Set your timer for five minutes, and then flip the steak when that time is up. Cook the steaks on this other side for an additional five to seven minutes. You can either use a spatula or tongs to grab these steaks out of the air fryer when they are done cooking.
Enjoy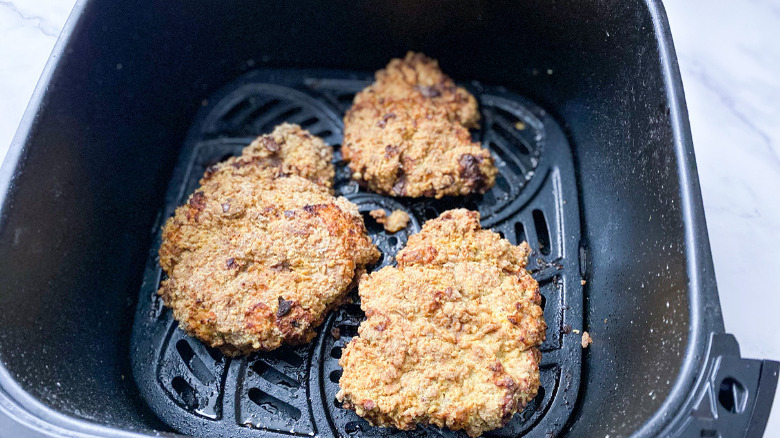 Erin Johnson/Mashed
Your kitchen is going to smell heavenly right about now. After the steak finishes cooking on both sides, it's time to take them out. Remove each steak from the air fryer, and place them on a plate of your choice. If you'd like, add the gravy topping and serve it while it's warm, or you can put the gravy in a pitcher on your table. Johnson recommends mashed potatoes for a side dish with this recipe. As far as leftovers are concerned? "This is best served and eaten immediately because of the crispy coating," Johnson shares. "If you have leftovers, reheat them in the air fryer the next day."
Air Fryer Chicken Fried Steak Recipe
This air fryer chicken fried steak recipe screams comfort food. It has the perfect amount of crunch and the perfect amount of meat.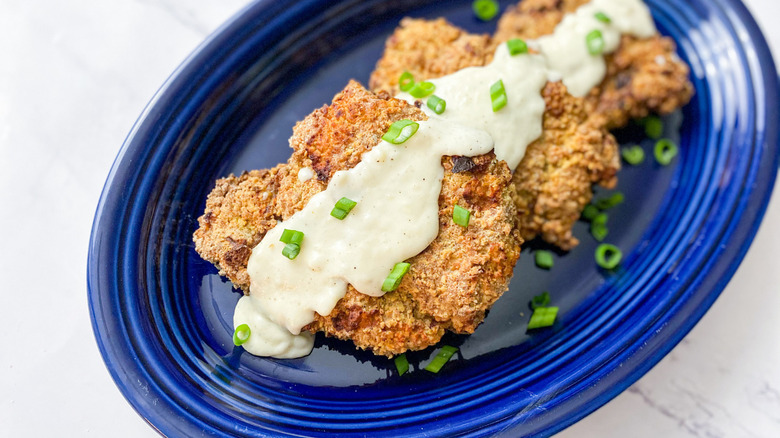 Ingredients
1 cup flour
1 cup panko
1 ½ teaspoons onion powder
1 ½ teaspoons garlic powder
1 teaspoon salt
1 teaspoon black pepper
1 teaspoon paprika
3 eggs
1 tablespoon water
4 pieces cube steak
Optional Ingredients
country gravy, for topping
Directions
Mix together the flour, panko, onion, garlic powder, salt, black pepper, and paprika on a baking sheet or pie pan.
Beat the eggs with the water in a shallow bowl.
Dip the steak into the egg, and then dredge it in the breading. Repeat.
Place the steak into an air fryer that's preheated to 375 F, and spray with cooking spray.
Flip after 5 minutes, and spray other side. Cook for an additional 5 to 7 minutes.
Remove from air fryer, and top with country gravy, if desired.
Nutrition
| | |
| --- | --- |
| Calories per Serving | 508 |
| Total Fat | 17.9 g |
| Saturated Fat | 6.6 g |
| Trans Fat | 0.0 g |
| Cholesterol | 237.3 mg |
| | |
| --- | --- |
| Total Carbohydrates | 36.9 g |
| Dietary Fiber | 1.9 g |
| Total Sugars | 0.8 g |
| Sodium | 594.3 mg |
| Protein | 46.4 g |