Copycat Costco Chicken Bake Recipe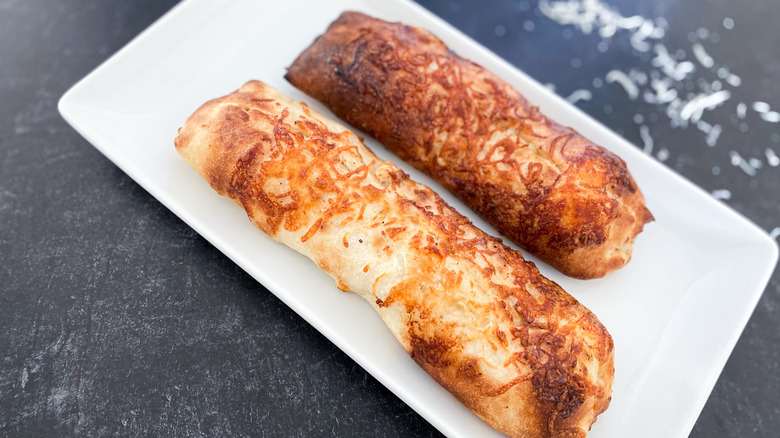 Erin Johnson/Mashed
If you always time your Costco runs to coincide with lunch or dinner so you have an excuse to buy one of the store's chicken bakes, here's an easy alternative — you can learn how to make your own right at home using just five ingredients. As a matter of fact, if you have an air fryer, you can whip up a batch of four in roughly 20 minutes, or about 30 minutes if you use a standard oven. "Costco cooks their chicken bakes in a 600-degree commercial convection oven, [which makes] the exact results difficult to obtain at home. However, the air fryer comes closest," says recipe developer Erin Johnson of Probably in the Kitchen. 
Johnson also adds that this copycat chicken bake is a really amazing way to use leftover chicken. When she has extra grilled or rotisserie chicken sitting around, that's when she'll whip up a batch. Plus, this chicken bake is such an easy meal to take with you to work or when you're out running errands. You can even put it in a lunch bag for your kids to enjoy.
Gather your ingredients to prepare this copycat Costco chicken bake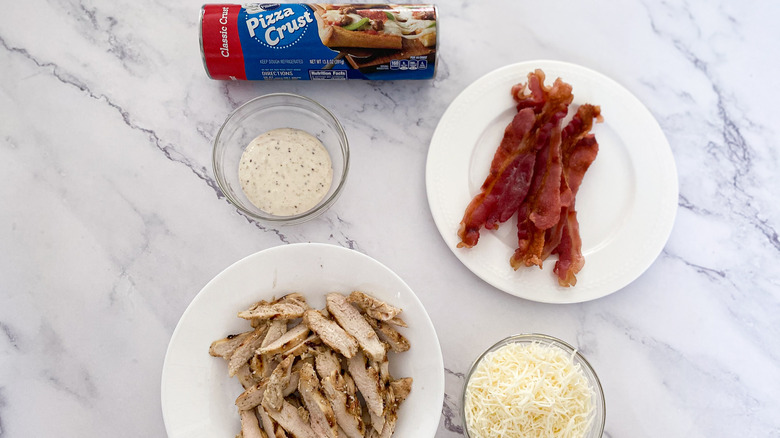 Erin Johnson/Mashed
The beauty of this copycat Costco chicken bake recipe is that it only requires five ingredients to make. Plus, you can use pre-cooked chicken and bacon, as well as prepared pizza dough, so the prep work is minimal, at best. Simply grab a container of pizza dough, Caesar salad dressing, 2 cups of cooked chicken (sliced, cubed, or shredded), a cup of crumbled bacon, and shredded Italian cheese. While shredding your own cheese is generally a more cost-effective option when cooking at home, in this case, feel free to grab a bag of the pre-shredded variety from the deli at your grocery store to speed up your prep work. 
Also, while you're grabbing your ingredients, go ahead and preheat your air fryer or oven. If you're using an air fryer, preheat it to 400 F. If you're using an oven, preheat it to 425 F.
Prep the dough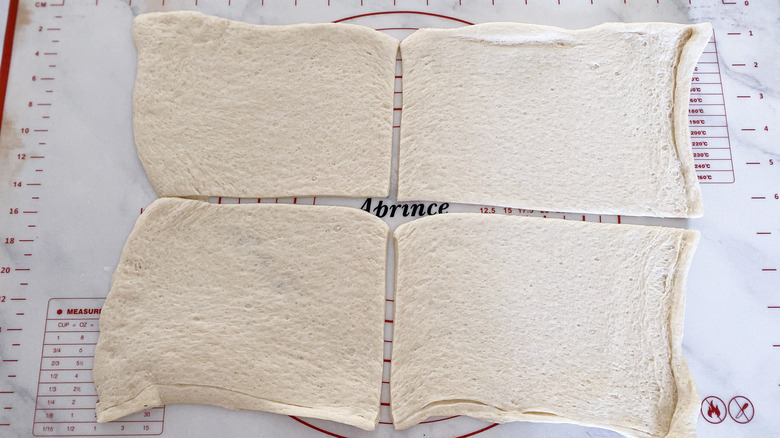 Erin Johnson/Mashed
To prep your dough for these tasty pocket-like baked sandwiches, simply use a rolling pin to roll out the dough into a large rectangle. The dough should have an even thickness across the entire rectangle, making sure the edges aren't thicker than the center (or vice versa). Also, don't roll it too thin — you don't want the dough to crack open while adding fillings or baking the sandwiches, allowing the fillings to seep out. When your dough is rolled nicely, slice it into four smaller, equally-sized rectangles, and move on to the next step.
Add your fillings to the dough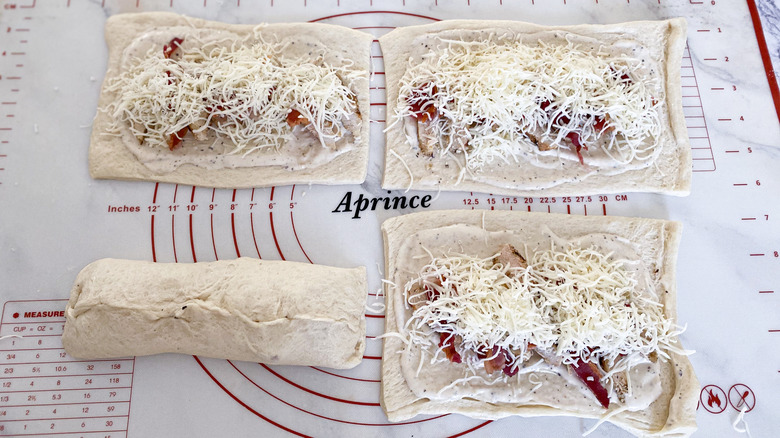 Erin Johnson/Mashed
You're now ready to add your fillings! Start by spreading about two tablespoons of Caesar dressing on each rectangle, leaving a little room around the edges. Top the dressing with the chicken, bacon, and cheese, in that order. You should aim to add roughly a quarter of each ingredient to each piece of dough to keep the fillings evenly distributed. Spread the ingredients across the top of the Caesar dressing, but again, leave space at the edges of the dough to make it easier to close each sandwich. 
Roll, seal, and top your chicken bakes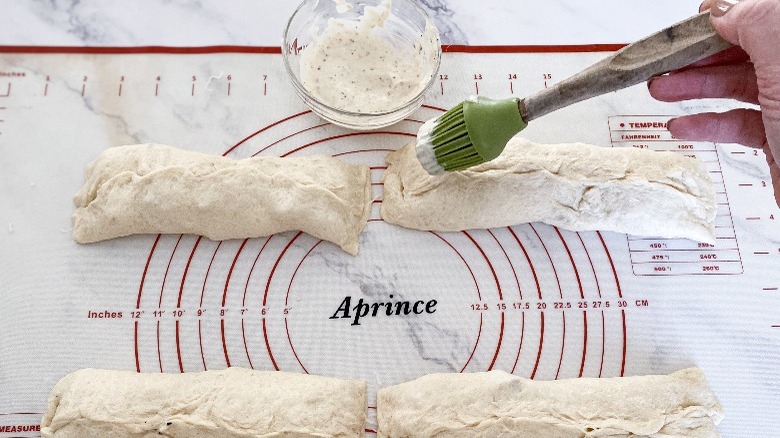 Erin Johnson/Mashed
Roll up and seal each of your chicken bakes by pulling the long edges of the rectangle across the top of the fillings, pressing the edges together in the center. Then, seal the ends by pressing the dough down along the sides. With the sandwich pockets sealed, brush the top of each one with a little extra Caesar dressing, then sprinkle with the remaining cheese.
Air fry, and serve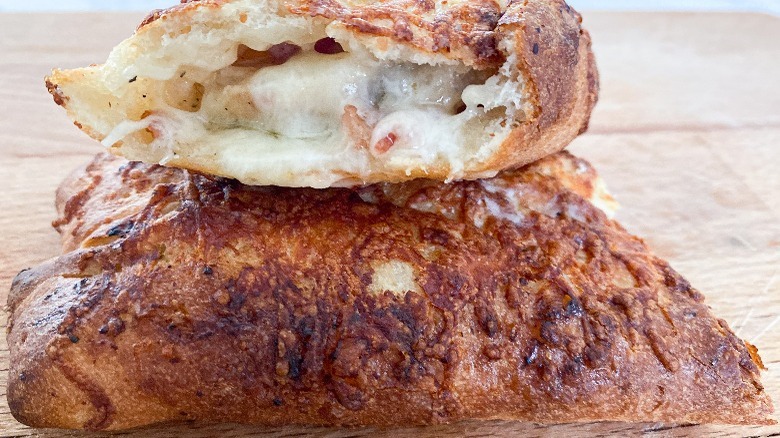 Erin Johnson/Mashed
Now that your chicken bakes are ready to be baked, simply pop them in the appliance of your choosing. In an air fryer, they should bake for approximately six minutes at 400 F, while in an oven, you'll want to let them cook a little longer — about 15 minutes at 425 F. Either way, you're looking for the crust to take on a nice, golden brown color. When they're prepared, they're best serve immediately. Go ahead and plate them with a nice side salad — Johnson points out they're very filling, so you don't need much, although adding a few veggies or a freshly tossed side salad to the meal never hurts.
Copycat Costco Chicken Bake Recipe
If you time your Costco runs to coincide with lunch or dinner so you can buy one of the store's iconic chicken bakes, this copycat recipe is definitely for you.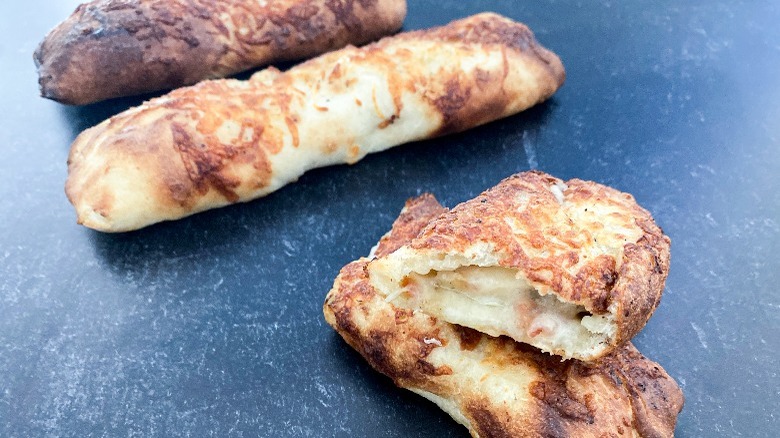 Ingredients
1 container of prepared pizza dough
½ cup Caesar salad dressing
2 cups cooked chicken
1 cup bacon, crumbled
1 ½ cups Italian cheese
Directions
Roll the pizza dough into a large rectangle, and cut into 4 equal pieces.
Spread about 2 tablespoons of Caesar dressing on each rectangle, leaving room around all the edges.
Layer ¼ of the chicken and crumbled bacon onto each rectangle. Then, add ¼ cup of cheese to each rectangle.
Seal the edges of each bake by pulling the dough to meet in the middle and pressing down along the sides.
Smear the top of each bake with a little additional Caesar dressing, and sprinkle the remaining cheese on top.
Air fry each chicken bake at 400 F for approximately 6 minutes, or until it is golden brown.
Serve immediately.
Nutrition
| | |
| --- | --- |
| Calories per Serving | 730 |
| Total Fat | 50.2 g |
| Saturated Fat | 17.9 g |
| Trans Fat | 0.6 g |
| Cholesterol | 121.6 mg |
| | |
| --- | --- |
| Total Carbohydrates | 30.3 g |
| Dietary Fiber | 1.5 g |
| Total Sugars | 1.7 g |
| Sodium | 908.0 mg |
| Protein | 38.0 g |