The Truth About Lu Holter From BBQ Brawl Season 2
Looking to cast a wide net, Food Network has brought on Lu Holter, a food sport competitor from Wisconsin and the vice president of Croix Valley Foods, as a contestant in the 2nd season of "BBQ Brawl," which will premiere on June 14.
Croix Valley Foods was founded in 2009 due, according to their about page, to the success with which the sauces that Damon Holter, Lu Holter's husband and president of the company, served at the family-run steakhouse. Since then, Damon has developed a national profile with viewers potentially recognizing him from "American Grilled," "Fired up Food," or "Family Food Showdown." Since leaving her work as a paralegal, Lu Holter has racked up her own credentials as a chef and a competitor. Fans of "Guy's Grocery Games" may remember her appearance, though one without victory. Of course, she also appeared on "Family Food Showdown." In addition to "BBQ Brawl," 2021 will see Lu Holter compete in the World Food Championships in the seafood category. Her competitor page on the Championship's website notes that previously her highest finish was 4th in 2014.
Lu Holter has been competing for years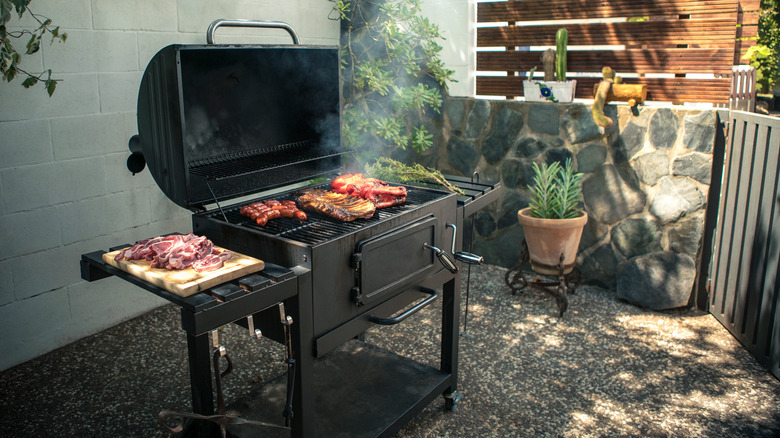 Shutterstock
It is striking that while other contestants in this season of "BBQ Brawl", like David Sandusky, have a food industry pedigree, Lu Holter does not. As Barbecue News covered in a 2019 profile of the Holters, Lu Holter first became interested in barbecue cooking and competing after Damon Holter originally roped her into assisting him with a local competition. "Lu has never looked back," the piece states immediately after. The fact that Holter could stop her work as a paralegal in favor of competing is, according to the piece, "one of the things Damon is most proud of." 
Mentioning various competitions, however, does not quite get across the grueling schedule involved for people who engage in cooking competitions for a living. While presenting the Green Bay Gazette with a recipe for chicken souvlaki back in May, Damon Holter intimated that he and Lu had already competed in 20 contests and expected that number to be around 50 by the year's end. The image, then, is one of a BBQ sauce company constantly raising its image by putting the duo through competitions whether individually or together.
How the on-the-road experience will bolster Holter's performance against contestants who have spent their entire careers in the kitchen has yet to be seen. However, it seems clear that Lu Holter will deliver a worthy challenge.