Everything We Know About The Official Beat Bobby Flay Cookbook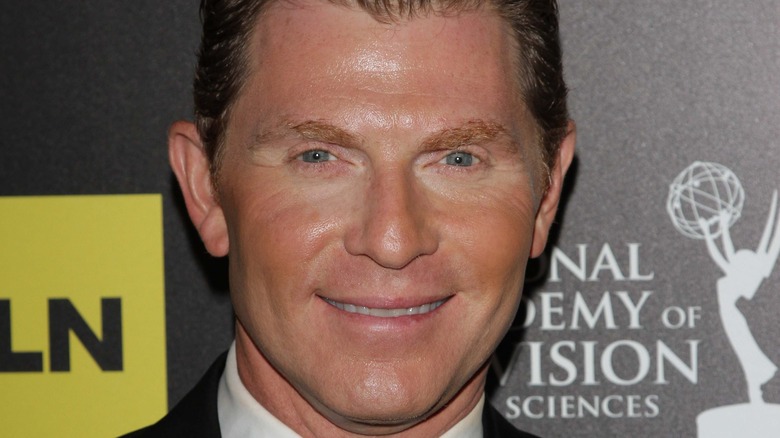 Shutterstock
Celebrity chef, Bobby Flay, is known for his outgoing personality and his incredible skills on the grill. Whether he's facing a competitor on his hit show, "Beat Bobby Flay" or just tackling a meal in the kitchen, viewers are always excited to see what the talented chef is able to create. If you've been admiring his delicious looking meals for years, but aren't quite sure how to make them, you're in luck because Flay just announced you can now pre-order his new cookbook — "Beat Bobby Flay."
The grill master recently tweeted, "Excited to share that my next cookbook is officially available for pre-order & it's all about @FoodNetwork #BeatBobbyFlay! It's full of recipes from your favorite episodes, plus behind-the-scenes stories & tips." If you've ever wondered how to make his decadent looking Mushroom and Goat Cheese Chiles Rellenos or his Bittersweet Chocolate Soufflé, now is your chance to snag his book and see how he does it.
Here's what's inside Bobby Flay's new cookbook
If you're unable to get an early copy of Flay's new cookbook don't worry, according to his site it will be widely available on September 21. However, you may want to get your hands on this book sooner than later, as it has some excellent recipes that are perfect for spring and summer. The cookbook features more than 100 ideas for breakfast, brunch, dinner, and mouth watering looking dessert options that are perfect for those of us with a sweet tooth. The famous chef will also give a behind-the-scenes look at some of his favorite moments from the show, as well as tips on how to make a savory meal, even if you're short on time. 
The television personality's fans were excited to hear the news on Twitter and many said they'd be ordering the new cookbook right away. One follower commented on Flay's post, "I will be ordering this immediately!" Another wrote, "Am I crazy for wanting another Bobby Flay cookbook? Another cookbook added to my collection... Soon, very soon!" With all of this excitement mounting, you might want to order a copy soon because who knows if they'll sell out.