Slow Cooker Bourbon Chicken Recipe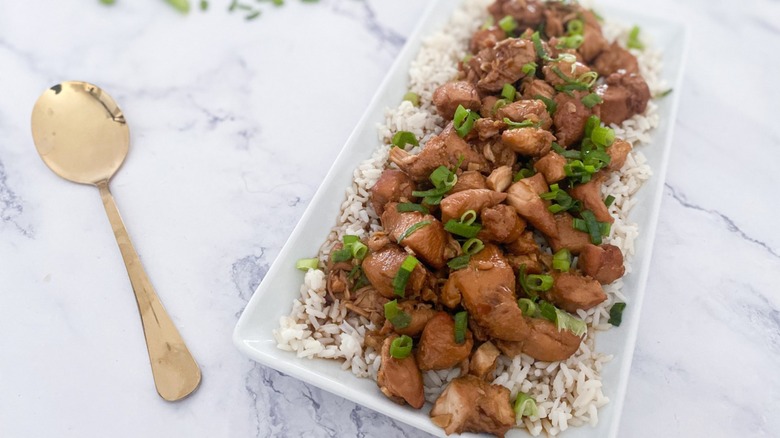 Erin Johnson/Mashed
Searching for easy dinner ideas with minimal ingredients? Then you'll adore this simple slow cooker recipe from food blogger and recipe developer, Erin Johnson. Skip the long lines and transform your kitchen into a food court. Soft yet savory with each bite, our rendition of bourbon chicken will have everyone asking for more. The saucy ingredients create a sweet and smoky taste for your guests. Chicken is a classic source of protein that helps build muscle, strengthens bones, and will keep you satisfied. Does anyone like a level-3 heat? You can tailor the red pepper flakes in this dish to make it piquant or go low on the spice scale. 
If you're pressed for time, throw this together in the slow cooker and turn on low until dinner time. It comes together easily in just 10 minutes of prep time using mostly ingredients you probably already have in your pantry, and cooks for between 3 to 6 hours. We're sure this protein-packed meal will become a family favorite. 
Gather your ingredients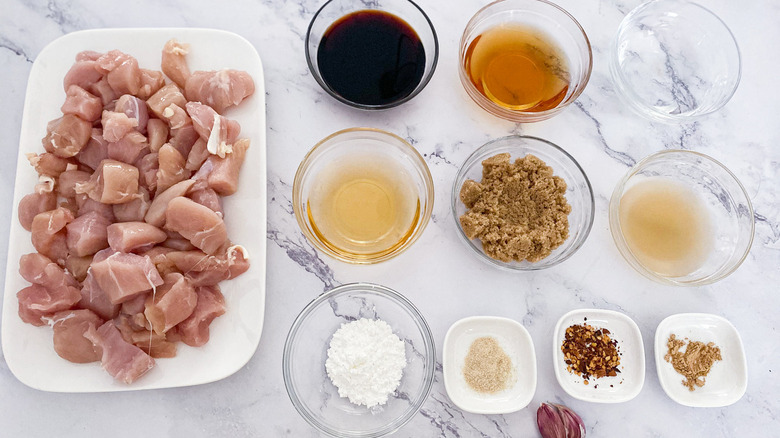 Erin Johnson/Mashed
To kick off your bourbon-flavored entrée, you'll need boneless, skinless chicken breasts and cornstarch. If you'd prefer, you can also opt for boneless, skinless chicken thighs instead of breasts. We'll sauce up the chicken using apple juice, your fave brand of bourbon, soy sauce, and apple cider vinegar. You'll also need a small amount of water, some light brown sugar, ginger, onion powder, red pepper flakes, and minced garlic. 
Sliced green onions are optional as a nice finishing touch for your garnish.
Coat the chicken in cornstarch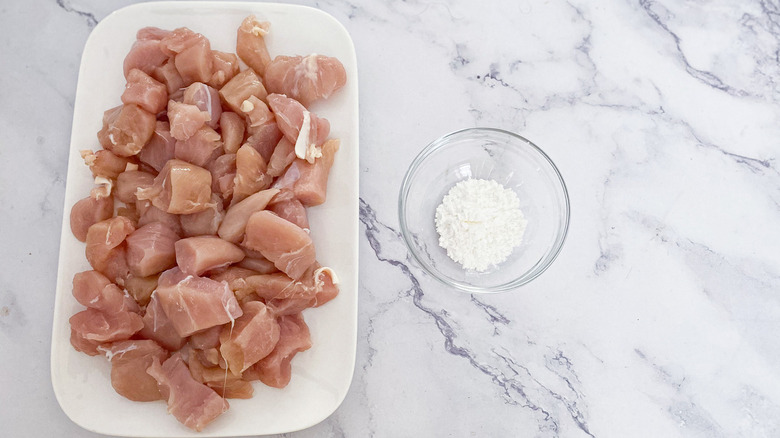 Erin Johnson/Mashed
Set the prep timer, and ... go! 
Though your hands may get dirty, wash and dry the 1 ½ pounds of chicken first. Then slice the poultry into 1-inch cubes. Once that is finished, place the pieces into a large Ziploc bag or mixing bowl and coat the chicken in 1 ½ tablespoons of cornstarch. Set the chicken aside.
Johnson tells us that during the cooking process, "The cornstarch works to keep the chicken moist, while also helping [to] thicken the sauce." If you've been curious about how to make the ultimate glaze, keep scrolling.
Let the glaze begin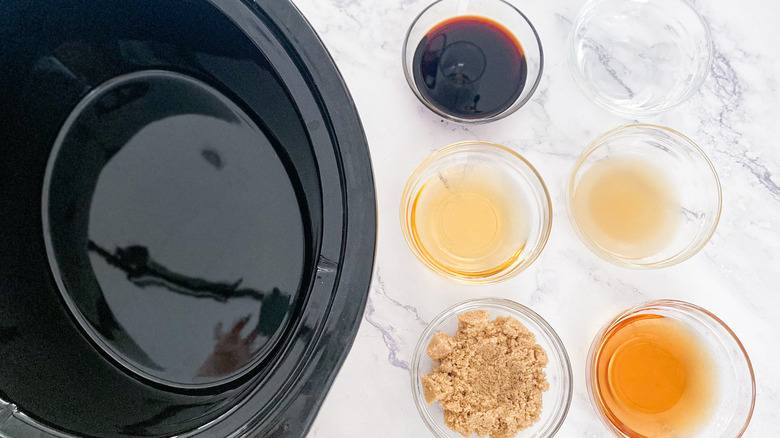 Erin Johnson/Mashed
The key to perfecting this bourbon chicken is balancing sweet and tangy flavors in the sauce. We're giving you the secret recipe.
In your slow cooker combine ¼ cup apple juice, ¼ cup bourbon, and ¼ cup soy sauce with ¼ cup water. Also pour in 2 tablespoons apple cider vinegar and ¼ cup light brown sugar. Stir the ingredients until they're well incorporated. No worries though — the sugar doesn't have to dissolve completely, but it should be well distributed throughout the liquid. Now you've got the base of your glaze all set.
Sugar, spice, and everything nice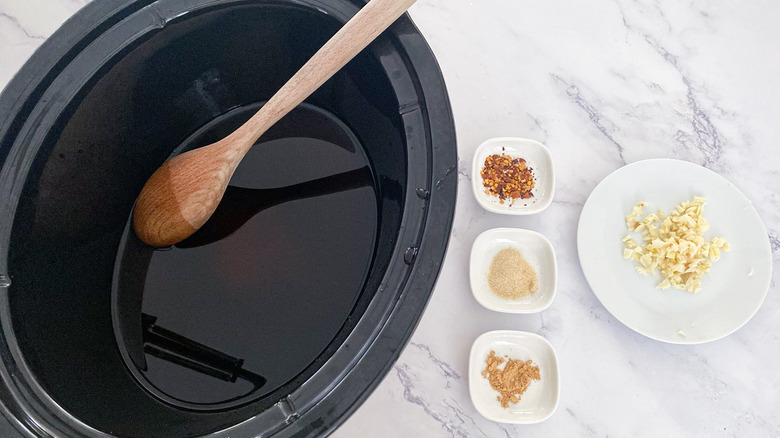 Erin Johnson/Mashed
This part will certainly spice up your life! To the glaze in the slow cooker, add ¼ teaspoon of ginger, 1 teaspoon onion powder, ½ teaspoon or more of red pepper flakes, and 4 cloves of minced garlic. For a mildly sweet sauce, use our directions exactly as written. We know some like it hot though, so if your family prefers spicier dishes, increase the red pepper flakes amount to taste — it's up to you. Stir well until all ingredients are mixed in.
Drop the chicken in the glaze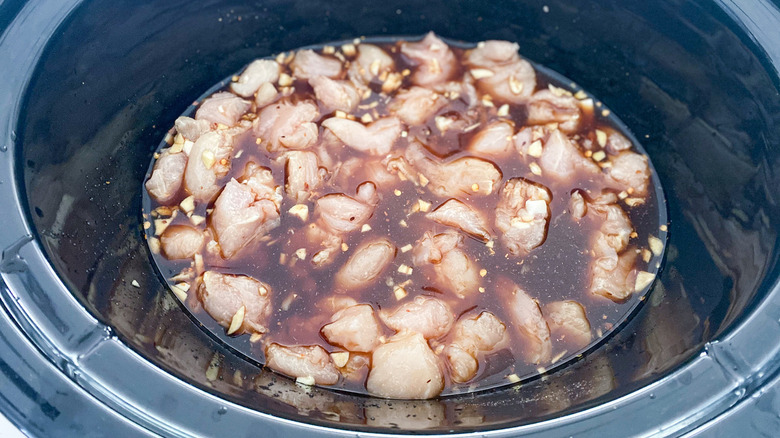 Erin Johnson/Mashed
Up next, drop the raw chicken into the slow cooker. Mix together, until the chicken is saturated in the glaze. The bourbon in the sauce is absorbed by the chicken, adding subtle smoky notes. In case you prefer a non-alcoholic version, Johnson recommends using chicken broth as a proxy. She told us, "I would recommend using a mix of half apple cider and half chicken broth. It will add some of the sweet notes that the bourbon gives."
Now, cooking temps may vary. If dinner is coming up quickly, this can be cooked on high for 3 hours. For a slow, steamier pace, set your pot to low and simmer for 6 hours.
Winner, winner, chicken dinner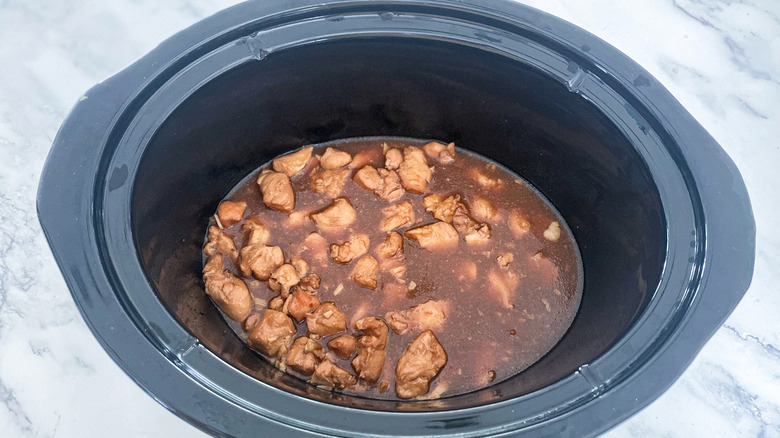 Erin Johnson/Mashed
Once the cooking time is up, lift the lid of your slow cooker and let the scent of deliciously sweet bourbon chicken draw your family to the table, one by one. As the chicken steeps, the juices of each ingredient infuse with the chicken's natural flavors. Once it is ready, you can give it a taste test before serving.
Johnson advises, "The soy sauce provides an adequate amount of salt for this dish, but as always, taste the sauce after the cook time and adjust the seasonings to suit your preferences."
Dinner is served
Erin Johnson/Mashed
For a well-rounded meal, bourbon chicken is best complemented by grains and veggies. It works well over white rice, but Johnson says, "any grain is a great side — quinoa or couscous are great. It also pairs well with steamed veggies — broccoli or snow peas are my personal favorites."
You can plate this dish and garnish it lightly with green onions for some added crunch and tasty zing. This method yields four servings — just enough for a couples dinner date at home, or a dish the whole family can enjoy.
Slow Cooker Bourbon Chicken Recipe
This sweet and smoky bourbon chicken requires ingredients you probably already have in your kitchen and comes together in just three hours in your slow cooker.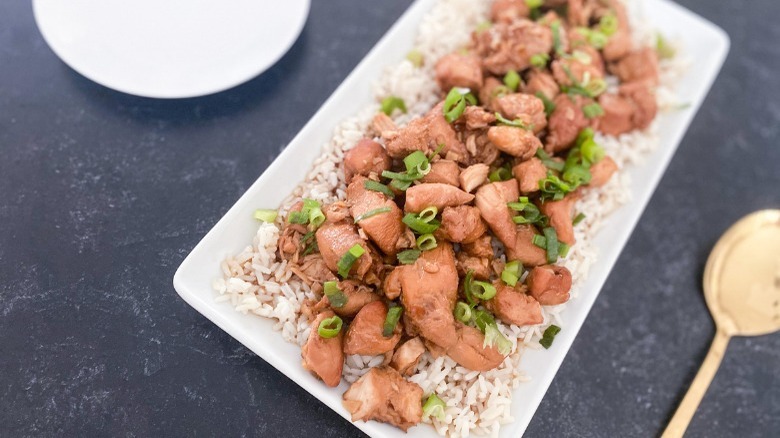 Ingredients
1 ½ pounds boneless, skinless chicken breast, cubed
1 ½ tablespoons cornstarch
¼ cup apple juice
¼ cup bourbon
¼ cup soy sauce
¼ cup water
2 tablespoons apple cider vinegar
¼ cup light brown sugar
¼ teaspoon ginger
1 teaspoon onion powder
½ teaspoon red pepper flakes
4 cloves garlic, minced
Optional Ingredients
sliced green onion for garnish, if desired
Directions
Coat the chicken pieces with the cornstarch in a large plastic bag or bowl and set aside.
In the slow cooker, combine the apple juice, bourbon, soy sauce, water, vinegar, and brown sugar. Stir to distribute the sugar, but it's okay if it doesn't dissolve.
Add the ginger, onion powder, red pepper flakes, and garlic to the slow cooker. Stir to combine.
Add the chicken to the slow cooker and stir to coat the chicken in the sauce.
Cook on high for 3 hours, or low for 6 hours.
Top with green onions, if desired. Serve over rice.
Nutrition
| | |
| --- | --- |
| Calories per Serving | 309 |
| Total Fat | 4.6 g |
| Saturated Fat | 1.0 g |
| Trans Fat | 0.0 g |
| Cholesterol | 124.2 mg |
| | |
| --- | --- |
| Total Carbohydrates | 15.8 g |
| Dietary Fiber | 0.4 g |
| Total Sugars | 10.5 g |
| Sodium | 957.4 mg |
| Protein | 39.9 g |