Air Fryer Croutons Recipe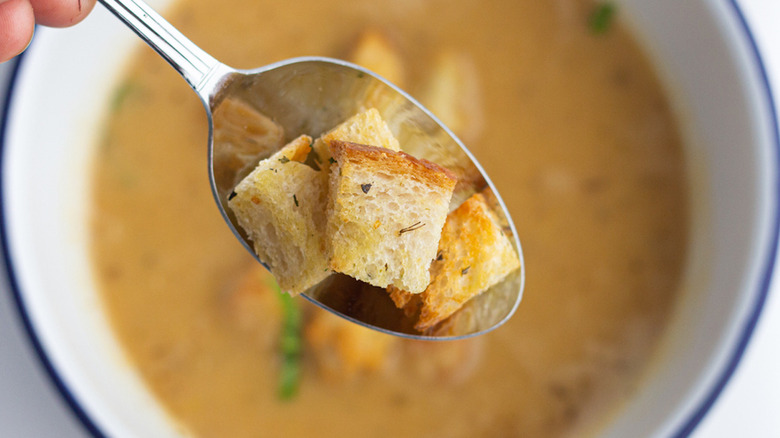 Susan Olayinka/Mashed
If you've ever thought your meal needed a bit of a crunch, then you've probably eaten croutons at some point. According to Taste Atlas, the origins of these tiny pieces of baked or sautéed bread cubes are a mystery. As recorded in the Oxford Companion to Food (via foodtimeline.org), some people believe they were inspired by longstanding baked goods like Italian biscotti. Others might think croutons are a French creation, as they were described in the 1600s in France as something served as a snack with drinks, and the name resembles the French word for crust: croûte. But both the English and French names for these crispy pieces of seasoned bread — which have become a popular addition to soups and salads — come from the Latin word crusta, meaning shell. 
Whatever their origin, for anyone with an air fryer, recipe creator Susan Olayinka of The Flexible Fridge has a quick and easy roadmap to a batch of delicious croutons to pair with many kinds of meals. Now, let's take a look at how to create these crispy bread cubes in just 10 minutes.
Gather your air fryer crouton ingredients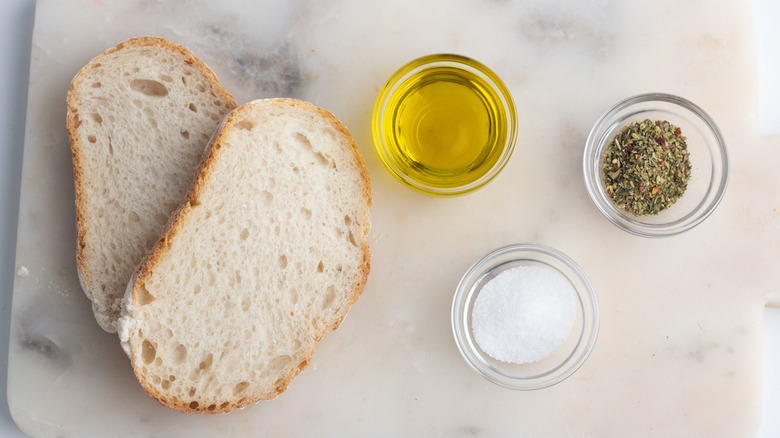 Susan Olayinka/Mashed
This is a pretty simple recipe, so you don't need much as far as ingredients go. You'll need three slices of sourdough bread about 6x3-inches each, plus extra-virgin olive oil, salt, and Italian seasoning. 
If olive oil isn't your thing, Olayinka says you can also use rapeseed oil or avocado oil. And any kind of sourdough bread works with this recipe, but Olayinka recommends the most pure for the best results. "Ingredients should really only be flour, water, and salt. No sugars, no sweeteners, no milk, no yeast should be inside the dough," she said.
If you're up for it, you can always craft your own sourdough bread. Just make sure to take a look at the Mashed list of common mistakes people make when baking sourdough bread to avoid falling into the same traps.
Chop your sourdough bread into squares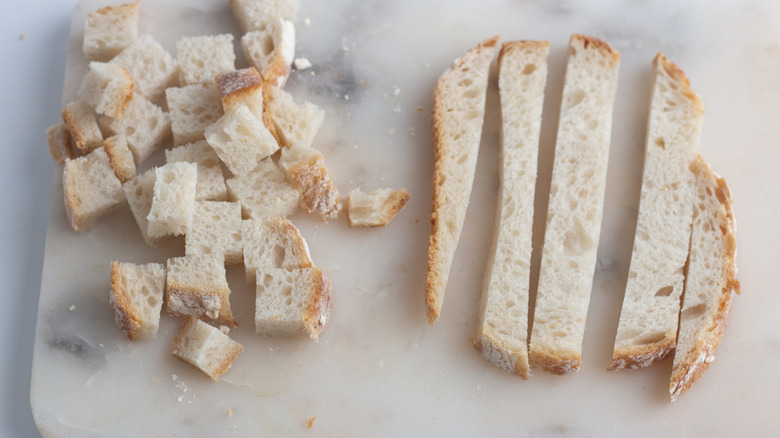 Susan Olayinka/Mashed
Place your sourdough bread on a large cutting board. If it's not pre-sliced, use a serrated knife to cut three slices that are a ½-inch wide each. Then cut the bread slices into ½-inch-thick strips. Finally, cut your strips into squares. Each cube should be about a ½-inch thick on each side. 
When it comes to cutting technique, move your knife in a saw-like motion and avoid pressing down on the bread, which squishes it. Instead, let the motion of the knife do the work.
If your sourdough bread is freshly baked, just make sure it's room temperature — 68 degrees F — before cutting it. 
Season your croutons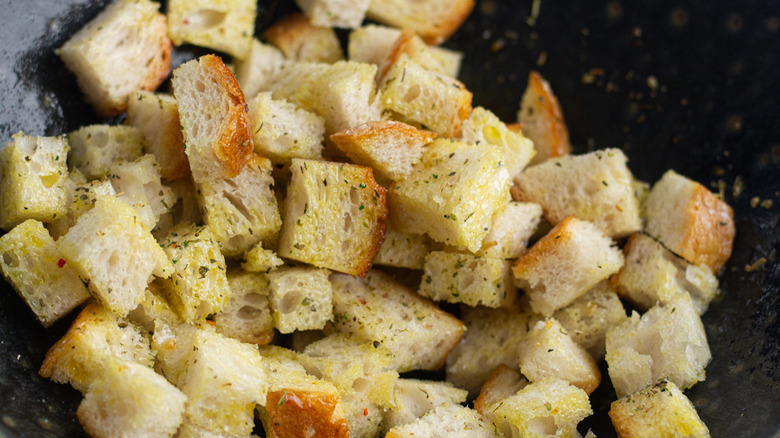 Susan Olayinka/Mashed
Put your croutons into a mixing bowl and add extra-virgin olive oil, salt, and Italian seasoning. Try to pour or sprinkle each ingredient evenly over the bread to make mixing more effective. If you're not a fan of Italian seasoning, Olayinka recommends dried basil or dried thyme. For Mexican-inspired croutons, you can use paprika, onion powder, or garlic powder.
Continue mixing the croutons until the pieces are evenly coated in the seasonings on all sides.
Cook and store your croutons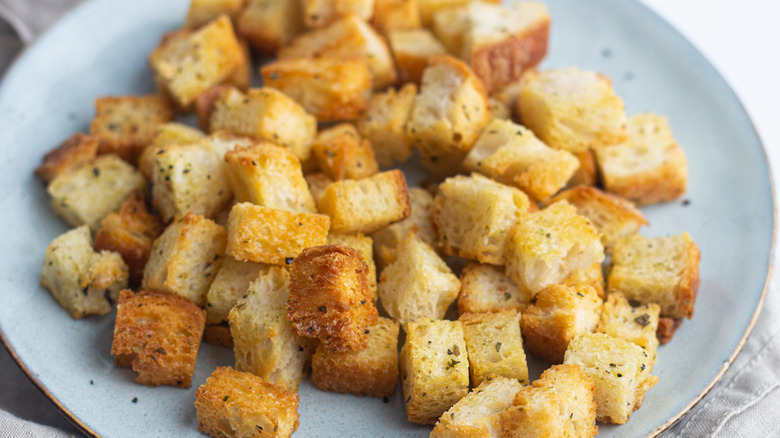 Susan Olayinka/Mashed
With your croutons ready to go, it's time to get them nice and crispy. Put them into your air fryer and cook them at 400 degrees F for five minutes. Once they're done, transfer them into an airtight container immediately and use them whenever needed.
If you need some ideas for meal pairings, you have tons of options to pick from. Caesar salad is the popular go-to, but you can also put them in soups and stews. Whenever you're craving a bit of crisp with your meal, don't hesitate to toss these on top!
Air Fryer Croutons Recipe
This quick, easy, and crispy air fryer croutons recipe pairs with everything from soups and salads to drinks. Make these crispy bread cubes in just 10 minutes.
Ingredients
3 slices sourdough bread
3 tablespoons extra-virgin olive oil
⅛ teaspoon salt
½ teaspoon Italian seasoning
Directions
Cut the sourdough bread into ½-inch thick cubes. Place these in a large mixing bowl.
Mix the bread cubes with the extra-virgin olive oil, salt, and Italian seasoning in a mixing bowl.
Cook the croutons in an air fryer at 400 F for 5 minutes.
Transfer the croutons to an airtight container and use when needed.
Nutrition
| | |
| --- | --- |
| Calories per Serving | 249 |
| Total Fat | 8.4 g |
| Saturated Fat | 1.3 g |
| Trans Fat | 0.0 g |
| Cholesterol | 0.0 mg |
| | |
| --- | --- |
| Total Carbohydrates | 36.1 g |
| Dietary Fiber | 1.6 g |
| Total Sugars | 3.2 g |
| Sodium | 418.6 mg |
| Protein | 7.5 g |