Giada De Laurentiis Begged Her Aunt Raffy For This Recipe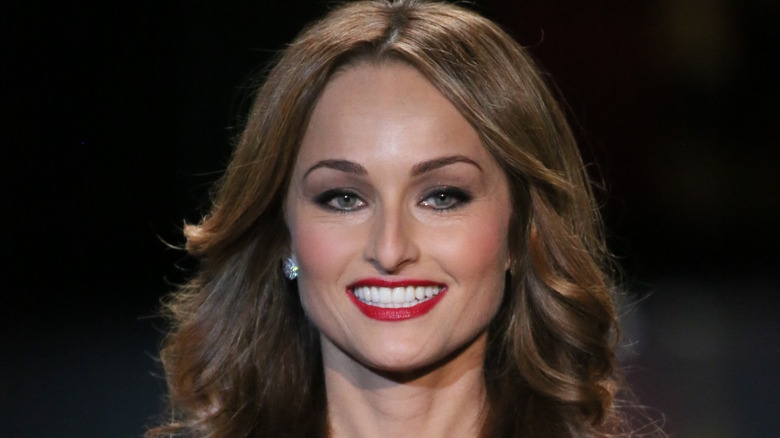 Shutterstock
For celebrity chef Giada De Laurentiis, sometimes the best recipes are all in the family. And there's no person who makes the chef believe that more than her Aunt Raffy. To this day, De Laurentiis calls her aunt one of her biggest influences when it comes to cooking (via Twitter) — and it shows through the pride she has in sharing Aunt Raffy's iconic recipes with the world. Who can forget her creamy Italian chicken and rice with Calabrian chili or that excellent Oscars party stew she made, as seen on the star chef's blog, Giadzy? 
Just in time for summer this year, Aunt Raffy is back at it again with another yummy recipe that's sure to spice up dinner parties and date nights: lobster fra diavolo. In a recent Instagram post, De Laurentiis shared a photo of the mouthwatering pasta dish with the caption: "Raffy made this dish a few weeks ago & [I] finally convinced her to give me the recipe... divine! Decadent & highlights the simple ingredients."
"Fra Diavolo" which translates to "Brother of the devil," is a spicy, Italian sauce made of red pepper flakes, garlic, and tomatoes that's usually served with seafood. As Giada writes on her blog, her family usually eats the lobster version of the dish around the holidays, which is why it's so special to her. In fact, the dish is so beloved by the De Laurentiis fam that Giada herself had to beg her Aunt Raffy to share the recipe. And thankfully, she's let us in on it, too. 
Lobster Fra Diavolo is surprisingly straightforward to make
Based on the recipe on Giadzy, cooking this lobster fra diavolo dish couldn't be more straightforward. It mainly consists of boiling your choice of pasta and lobster tails (in separate pots of well-salted water) until they are both well-cooked. Though Raffy's recipe calls for just two boiled lobster tails, De Laurentiis gladly notes on her blog, "If you desire, you can use more," which is exactly the spirit we can appreciate when cooking something as yummy as this. 
For the sauce, it starts with a simple white wine and garlic base, enhanced by the flavors of a decadent lobster shell, chili flakes, and tomatoes. The celebrity chef emphasizes that using the right tomatoes makes a huge difference in this recipe and recommends the pomodorini variety, which are much sweeter than other canned options — the union of these tomatoes with the other spices in the dish makes for a mouthwatering combination when paired with the buttery lobster. When the sauce is finished, combine it with the pasta and lobster meat and finish it off with basil or mint for a zesty, herbaceous kick.
As noted on Giadzy, this lobster fra diavolo dish comes together in just 35 minutes, which makes it the perfect meal to cook any time you're feeling something a little more special than your usual spaghetti. Consider it a ticket to that seaside Italian summer vacation you've always wanted — no travel required.