The Surprising Flavor Of Ree Drummond's Mermaid Ice Cream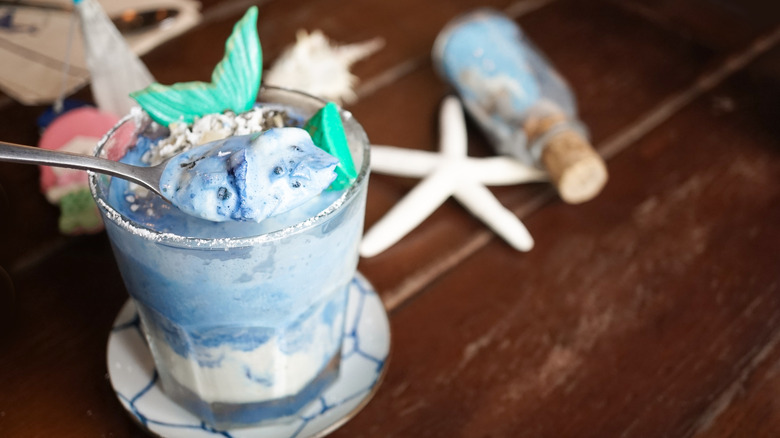 Shutterstock
Mermaids are having their moment in the sun once again. But this time, their fame has nothing to do with enchanting sailors, wearing seashell bras, or befriending talking crustaceans and fish. We've all seen mermaid Halloween costumes and household accessories for years. But nowadays, "mermaid" is its own dessert flavor. Within the past few years, grocery store snack and frozen aisles have been sprinkled with pink, purple, and blue packaging with flavors like mermaid, dragon, and unicorn. 
That's right, these fairytale creatures have now made their way into the culinary world and customers can't seem to get enough. A fan of all things pretty, Ree Drummond is a mermaid fan herself and has even shared her very own recipe for mermaid ice cream. It's adorably colorful and extremely simple to make, and the actual flavor of her version might surprise you. Hint: It's not fruity like some other half-human sea seductress-inspired products are.
What flavor is Ree Drummond's mermaid ice cream?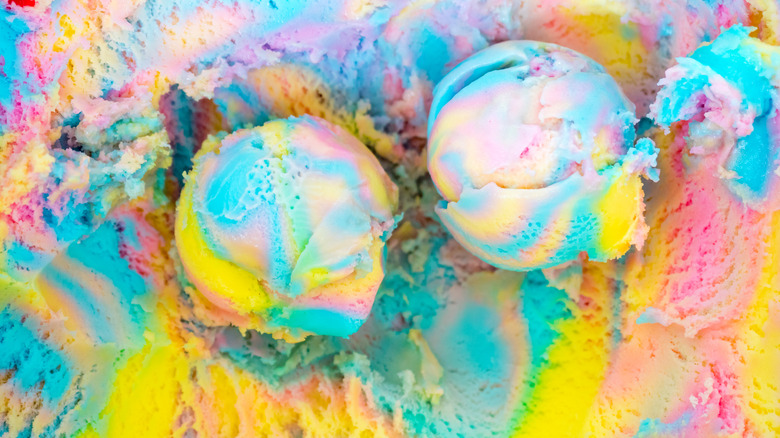 Shutterstock
Despite its ocean and sunset themed palette, the flavor of Drummond's no-churn mermaid ice cream is good old-fashioned vanilla dyed with food coloring. To whip up this treat from "The Pioneer Woman," all you need is a bread loaf pan, an electric mixer, and a few mixing bowls, plus some heavy cream, powdered sugar, vanilla extract, sweetened condensed milk, and gel food coloring, according to Food Network. For an extra bit of sparkle and crunch, top your sundae off with pearl-shaped sprinkles or silver sugar. 
You can even scoop your colorful ice cream into iridescent bowls or everyday waffle cones to make snack time even more special. Ice cream is the perfect treat for any occasion, even if there's nothing to really celebrate. And let's be real, who doesn't want to create a work of art in their own kitchen? Enjoy this majestic frozen treat poolside, oceanside, or watching "The Little Mermaid" — wherever you feel like a siren, really.