The Dippin' Dots Personality Quiz You Never Knew Existed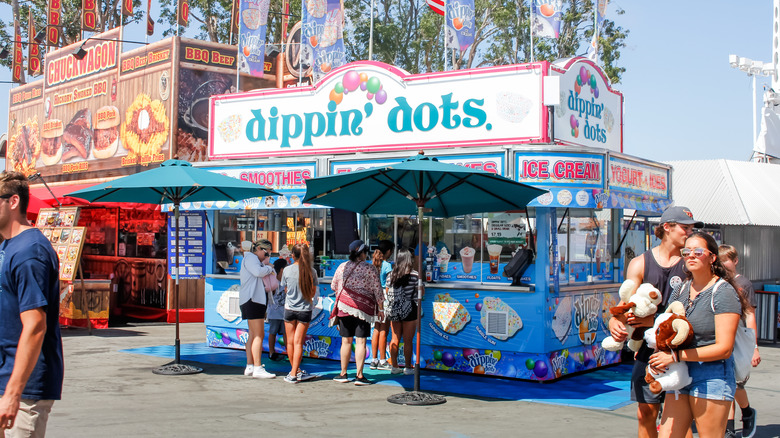 Shutterstock
Dippin' Dots are a carnival and amusement park favorite. These tiny spheres of colorful ice cream are fun to eat and social media-worthy. The frozen treat proved to be a sensation after its debut at Opryland in 1989. Kids and adults alike fell in love with the tiny beads of ice cream in a rainbow of colors and flavors. 
These adorable little dots get their texture and shape by being cryogenically frozen. In fact, the company has its own cryogenics company called DD Cryogenics. The company — located in Paducah, Ky. — has over three decades of experience of providing companies with mechanical cryogenic freezers. The ice cream mix is actually a byproduct of that cryogenic knowledge. 
The frozen treat comes in a variety of flavors, including banana split, cotton candy, cookies and cream, chocolate, and rainbow ice. Dippin' Dots are available at fairs, amusement parks, attractions, and dedicated shops. They can also be ordered online and come delivered in dry ice. The Dots, however, must be consumed almost immediately because of their need to be stored below 40 degrees in order to retain their unique shape. 
How to find your flavor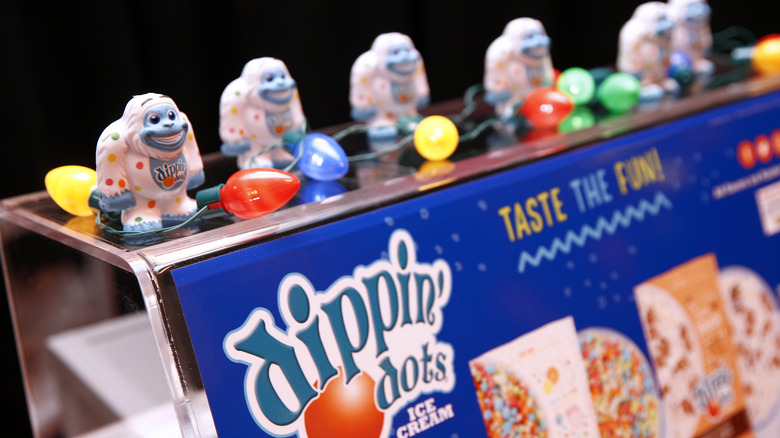 Brian Ach/Getty Images
With all those fun flavors, how can you possibly decide which one to enjoy? Luckily, Dippin' Dots has its own personality quiz, designed to help you choose the ideal flavor based on your answers. The quiz, found on the Dippin' Dots website, asks a series of fun questions, such as, "What would you do if your phone died in the middle of a text and you don't have a charger?" and "What would you do with a $50 birthday gift?"
After answering the short series of multiple-choice questions, Dippin' Dots will tell you your ideal flavor choice, based on your personality. It's a fun way for Dippin' Dots to interact with its customers. The quiz also provides results for everyone taking the test, with the majority of people getting "strawberry" as the flavor that matches their personality. Vanilla and mint chocolate chip come in second, with rainbow ice, rocky road, chocolate, and cookie dough lagging in third place.