Alton Brown's Ultimate Secret Ingredient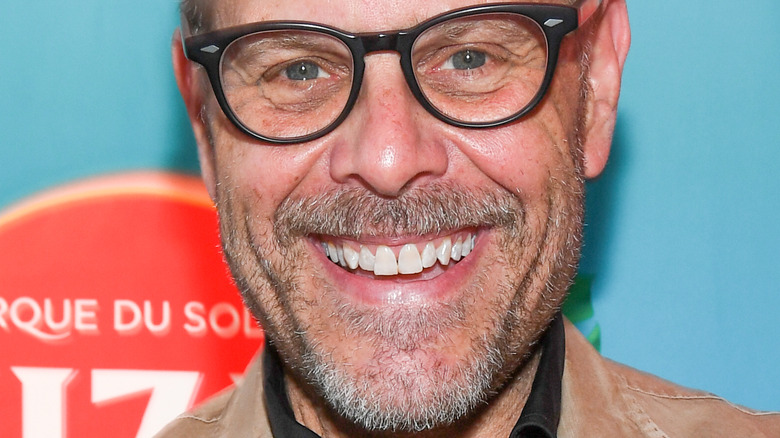 Paras Griffin/Getty Images
If you are a fan of the Food Network, you are probably well-versed in all things Alton Brown. The celebrity chef and cookbook author actually started his work in the world of television as a cameraman before taking the plunge and heading off to culinary school, according to his bio. As the host of "Good Eats," Brown is constantly educating viewers about different ingredients in a manner that makes everyone want to learn and experiment. In fact, Brown has mastered so much when it comes to the gastronomic experience, he is almost like a magician who can quickly pull secret ingredients out of his black top hat to make any dish taste ah-mazing.
Seriously, have ever wondered about what makes scrambled eggs creamy and oh so good? Per Southern Living, Brown would direct you to your jar of mayonnaise to achieve game changing scrambled eggs. And if you are craving chocolatey, chewy, sweet-tasting perfect brownies, Brown has a trick for that too — take them out of the oven mid-baking for 15 minutes and then pop them back in. But what is this cooking magician's ultimate secret ingredient that he always turns to when he wants to add that extra depth to a dish?  
Alton Brown uses this lemony spice to add depth to starch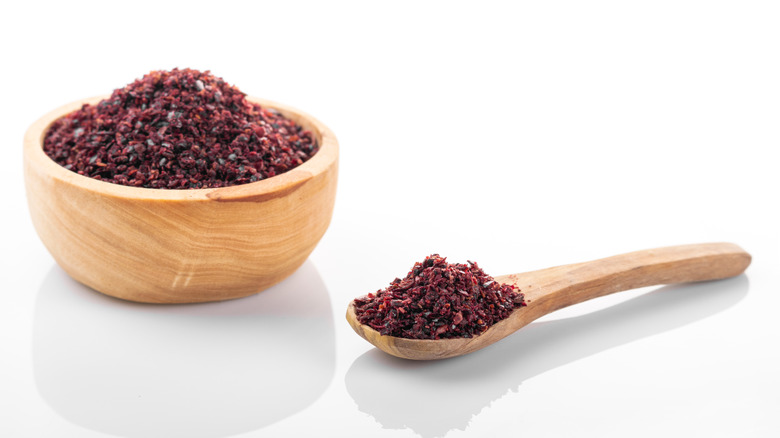 Shutterstock
Alton Brown shared with the Food Network that his ultimate secret ingredient he keeps in his pantry is sumac. Why sumac? Brown explained that this ingredient is perfect when you want to "add depth to anything starchy: beans, potatoes, rice, etc."  But this was not the first time, Brown gave this spice such high kudos. In a tweet from 2012, Brown proclaimed, "My official spice of 2012 (drum roll) sumac!" And clearly, he never looked back, nor has another spice been able to steal his love. If you are unfamiliar with this ingredient, per MasterClass, sumac hails from the Middle East. It is made from ground berries that come from the sumac flower, and its flavor is described as being on par with lemon juice. 
The Kitchn notes that Brown's love of this ingredient is well-known, as he documented in his book, "Everyday Cook," where he labeled sumac as his "secret weapon." The Kitchn goes on to explain that Brown's fascination with sumac is a result of studying the history of hummus and how its lemon flavor was able to be achieved without the use of lemons. The site also says sumac can reduce the oil in fried recipes, which may be why Brown uses this ingredient in his fried chicken. If you want to try out this spice, Thrive Cuisine shares that it is widely available at many grocery stores and online retailers.