Cowboy Ciao Salad Recipe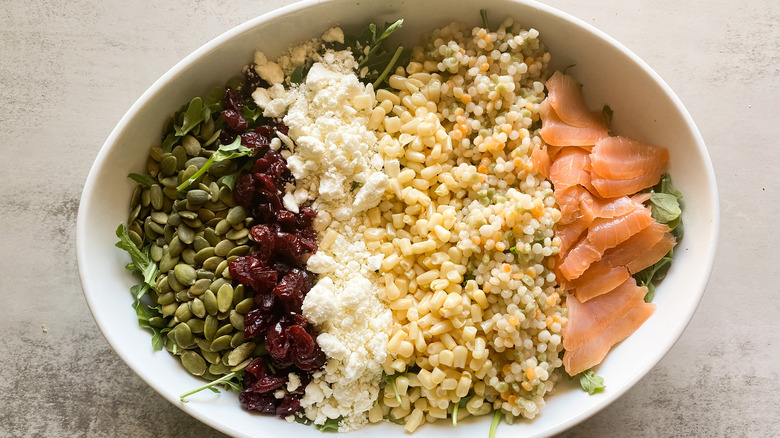 Kristen Carli/Mashed
The Cowboy Ciao salad is one of the most popular salads that you can make or order. Not only does this salad look absolutely amazing with all the ingredients lined up in rows, but it also tastes great. Really, what's not to love? If you are looking for a salad to impress your dinner guests or one that is worthy of the perfect Instagram photo, then you need to look no further than the Cowboy Ciao salad. 
Registered dietitian and recipe developer Kristen Carli is the brains behind this delicious copycat salad. She shares that her favorite part is the nostalgia. "This salad is a fan favorite in my town. Everyone knows this salad," she shares. "It is so flavorful!" The popular and refreshing salad originated at the Cowboy Ciao restaurant in Scottsdale, Arizona. Carli says that everyone in Scottsdale definitely know about this salad and it's a surefire hit to make at home. She opted to add a twist to it, elevating the dish to a new level. 
Keep scrolling to find out how to make it. 
Gather the ingredients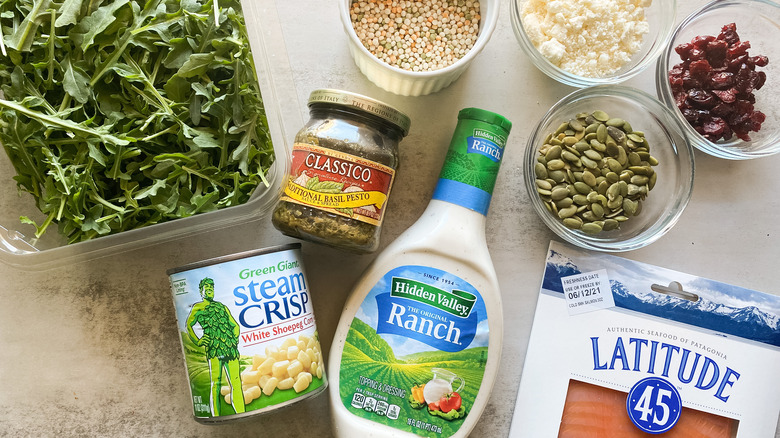 Kristen Carli/Mashed
To start, make a grocery list to ensure you have everything to throw together this salad. The main ingredient and the base layer is arugula. You will also need some cooked Israeli couscous, which makes this salad incredibly filling. In terms of other veggies, you just need shoepeg corn. "Shoepeg corn is a sweeter white corn that I am convinced tastes totally better than all other corn," Carli shares. Smoked salmon provides this dish with a protein element, making it a perfectly balanced salad!
To complete the list, add dried cranberries, pepitas (aka pumpkin seeds), feta cheese, ranch dressing, and pesto. When you have everything in front of you, you can begin to put together the salad. Don't worry — it only takes 3 minutes to assemble!
What did we change?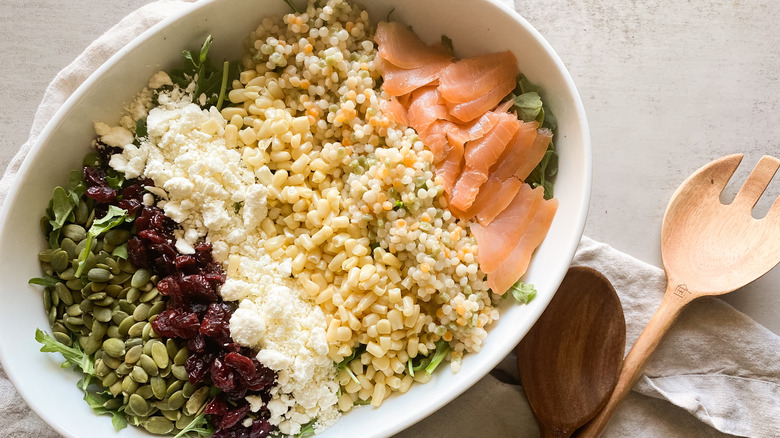 Kristen Carli/Mashed
For her twist, Carli switched up both the dressing and the toppings — making the salad even better in our opinion. "The traditional recipe uses dehydrated corn or sometimes yellow corn; we use shoepeg corn," she says. Another change? The dressing. "This recipe uses a quick pesto ranch made from store-bought pesto and store-bought ranch instead of a homemade basil buttermilk dressing," Carli shares. "Additionally, I like dried cranberries instead of dried currants as well as feta cheese in place of asiago cheese." 
Without further hesitation, it's time to put together the Cowboy Ciao salad with a fun twist! 
Make the pesto ranch dressing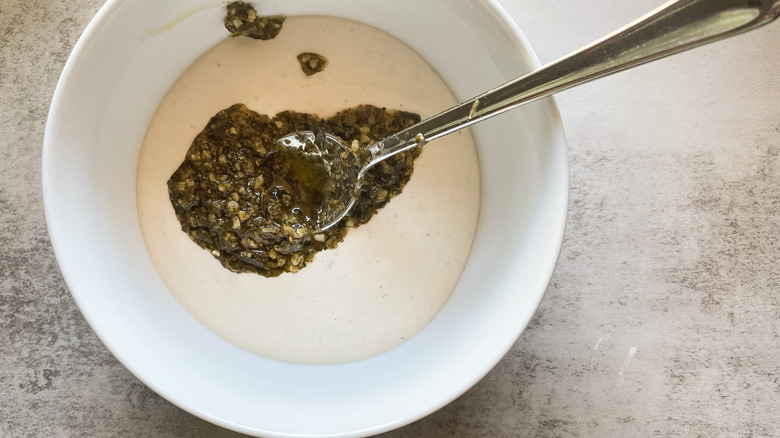 Kristen Carli/Mashed
The first step to making the salad is to make the ranch dressing. Luckily, you don't need to do it from scratch, and we're just using store-bought ranch and store-bought pesto. This makes the whole process a lot easier. 
Take out a small mixing bowl and dump in both the ranch and pesto. Stir the ingredients together until they are well combined. This dressing is great because it gives the salad a little something special with the addition of pesto instead of using regular old ranch. Once you are finished, you can set the dressing aside, but don't move it too far because you'll need it in just a second. 
Assemble the salad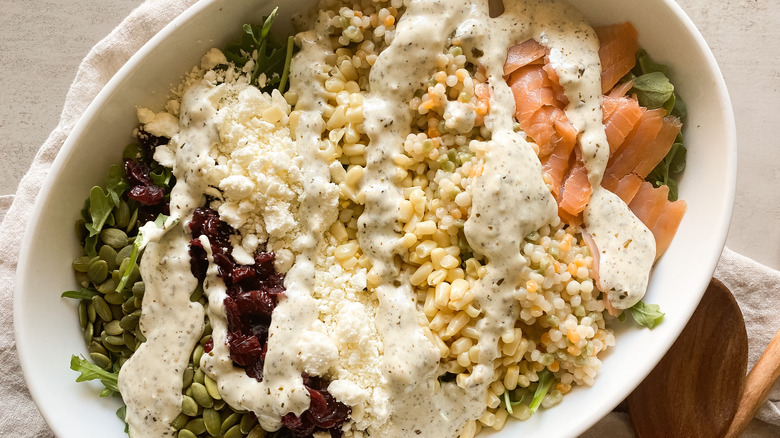 Kristen Carli/Mashed
Take out a large bowl and add the arugula base. Now is the part where you can use your artistic abilities to make one of the prettiest salads that you will ever eat. In long lines, place each ingredient across the arugula so they take up a little piece of the salad. Do this with pepitas, dried cranberries, feta, corn, couscous, and salmon.
Once you have all the toppings on the salad, you can dress it with the pesto ranch that you already made. You can also opt to keep the dressing on the side in case you have leftovers, or if your guests prefer to dress their own.
Serve and enjoy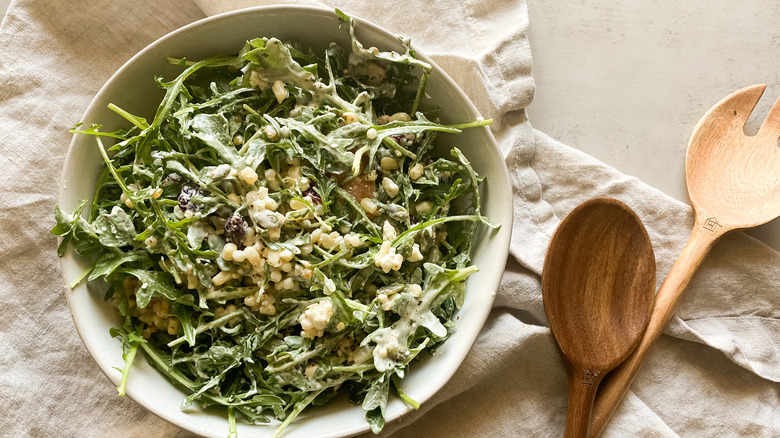 Kristen Carli/Mashed
Now is the best part — you can enjoy the fruits of your labor! This salad is best served in a large bowl because that is what keeps it looking pretty. You and your guests or family can then scoop the salad from the large bowls into smaller bowls to serve yourselves. Be sure to snap a photo before people start helping themselves. Since this is a hearty salad, Carli recommends serving it by itself or with a roll on the side.
If you have leftovers, Carli shares that "this dressing will last in the fridge in an airtight container for up to 5 days." 
Cowboy Ciao Salad Recipe
This super easy Cowboy Ciao salad might even be better than the original, with a couple of delicious twists!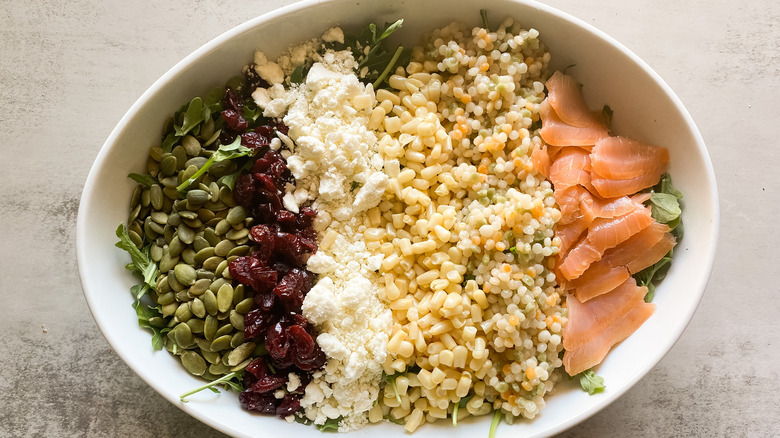 Ingredients
2 cups ranch dressing
½ cup pesto
2 cups arugula
¼ cup pepitas
¼ cup dried cranberries
½ cup feta cheese
½ cup shoepeg corn
1 cup cooked Israeli couscous
4 ounces smoked salmon
Directions
In a small bowl, add the ranch dressing and pesto. Stir to combine. Set aside.
In a large bowl, add the arugula.
In lines across the arugula, top it with the pepitas, dried cranberries, feta, corn, couscous, and salmon
Dress the salad with pesto ranch.
Serve in individual bowls and enjoy!
Nutrition
| | |
| --- | --- |
| Calories per Serving | 935 |
| Total Fat | 73.9 g |
| Saturated Fat | 13.7 g |
| Trans Fat | 0.7 g |
| Cholesterol | 57.1 mg |
| | |
| --- | --- |
| Total Carbohydrates | 51.8 g |
| Dietary Fiber | 3.9 g |
| Total Sugars | 12.9 g |
| Sodium | 1,796.5 mg |
| Protein | 19.4 g |