Popular Wingstop Flavors, Ranked Worst To First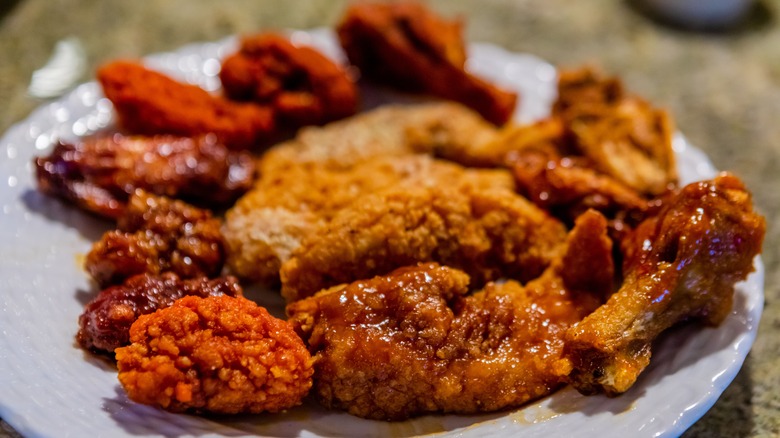 Laura Grier/Mashed
What's the best flavor of Wingstop wings? Answering that question takes not only an iron stomach, but a substantial love of chicken, as between its dry rubs and signature sauces Wingstop offers 14 different flavors to choose from. They must be doing something right, though, as according to Nation's Restaurant News the Texas-based chain saw a 20% growth in sales between 2019 and 2020. And QSR Magazine named it one of the fastest growing restaurants, chicken or otherwise, in America.
So as it seems Wingstop is taking over America, you will likely soon be faced with the dilemma of figuring out which of its flavors to order for a big night in. And part of the reason Wingstop has gotten so popular is that it really does offer something for everyone. Whether you're into Asian flavors, buttery stuff, citrus, garlic, or knock-your-face-off heat, you'll find something on this menu that fits. But some are better than others, so to help you choose we tried all 14, took a few antacids, and ranked them all from worst to first.
14. Louisiana Rub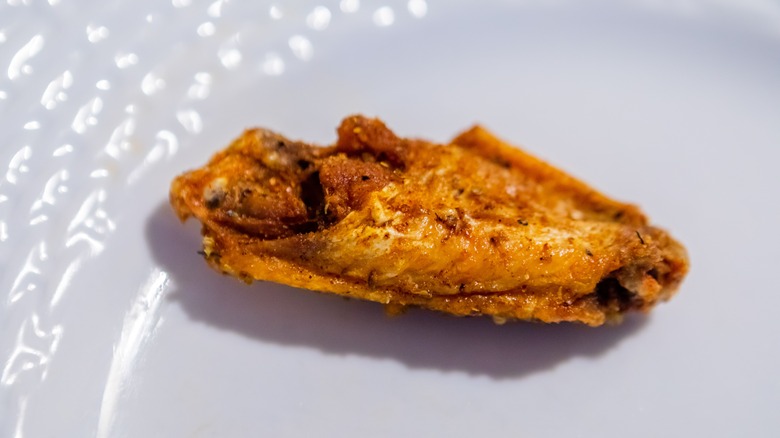 Laura Grier/Mashed
We're not quite sure what "foodies" food review site Just 4 Foodies polled when it incomprehensibly ranked this the number one flavor of Wingstop wings. But our guess would be foodies who just came off a 10-day juice fast and ate these as their first solid food in over a week. Nothing else could explain the popularity of a flavor that's barely more than a thin layer of oil and, we're guessing, a dusting of fire powder to give it some measure of cajun authenticity. Although if an actual cajun chef ever tried these, there'd probably be pending legal action.
That's not to disparage rubbed wings at all, and some places actually do them better than their sauce-covered counterparts. It's just that Wingstop does not, and might do well to just take these off the menu altogether. Or, at the very least, they could reformulate the stuff to taste like something other than the bottom of an herb shelf. If someone in your crew insists on ordering these, make them get their own order. Because if there's a hole in the Wingstop lineup, this is it.
13. Lemon Garlic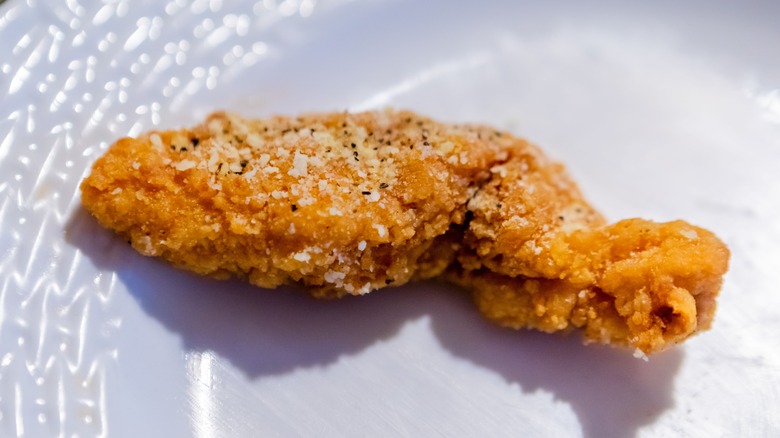 Laura Grier/Mashed
Like burritos and scuba diving, some things are wonderful separately, but terrible when put together. Wingstop's lemon garlic flavor falls into that category, which is interesting since the combination of lemon and garlic is a staple of many Mediterranean cuisines. Although last we checked, Texas fried chicken wing was not a cuisine based along the Mediterranean, so maybe that's part of the problem.
The flavor is painfully artificial, to the point it almost tastes like someone put a cleaning product on top of a chicken wing. If you love butter, you might not mind the dominant butter flavor, which is almost enough to cover for the lemon. But if you love butter, you probably also aren't a fan of artificial butter flavor, which is more the notes you're getting here. What we're saying is don't waste your time; for both lemon and butter lovers, there's better stuff further down the list.
12. Lemon Pepper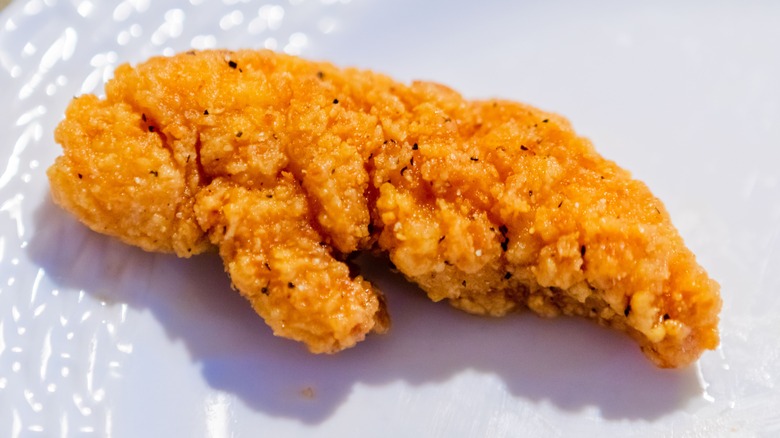 Laura Grier/Mashed
To borrow a phrase from Mike Myers' old "Coffee Talk" sketch on "Saturday Night Live," Wingstop's Lemon Pepper flavor is neither lemon nor pepper. Discuss amongst yourselves. The utterly disappointing thing about this sauce is that it promises to deliver a flavor that's done magically in other places. But if you're coming into Wingstop expecting it to be Magic City, well, today is not your day.
Much like with Wingstop's lemon garlic flavor, butter overshadows everything else in the lemon pepper sauce. So instead of getting a citrusy, spicy kick, you get butter, with more butter, and a little bit of lemon. It might just be that other wing joints have set the lemon pepper bar pretty high, so a place that never specialized in the stuff isn't able to compete. But if you're a fan of this flavor, do yourself a favor and just get it somewhere that you know does it well.
11. Cajun Barbecue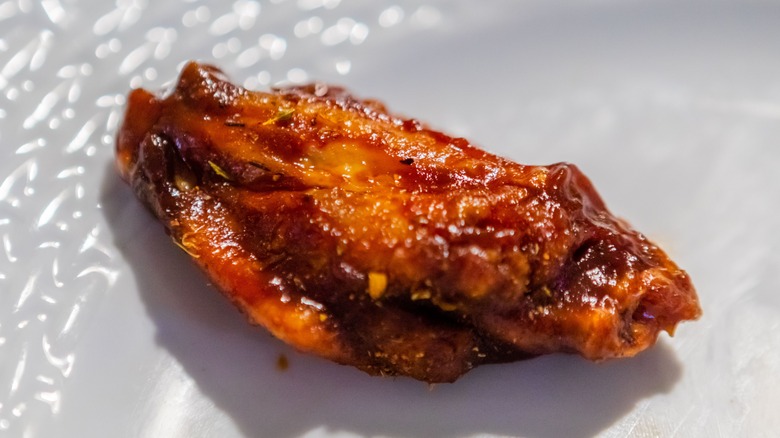 Laura Grier/Mashed
You ever have those two friends who are both just awesome, and they're both inexplicably single, and since you like both of them and they both like you, you assume they'll just be perfect together? She's spicy, he's sweet with a little bit of kick, and if they got together the chemistry would create something really special? So you fix them up, they go out, and though nothing goes wrong, its just doesn't ... work.
That's what happened when Wingstop's flavor doctors got their Yenta on and played matchmaker with their cajun spices and hickory barbecue sauce. The mix seems like it would be a great idea, but when you put them together all you really get is the flavor of both without much mixing. There's some barbecue, there's some cajun, but their strong individuality doesn't lend itself well to a partnership. There's a reason they've both been so successful as singles, and sometimes it's best to just leave them be.
10. Hawaiian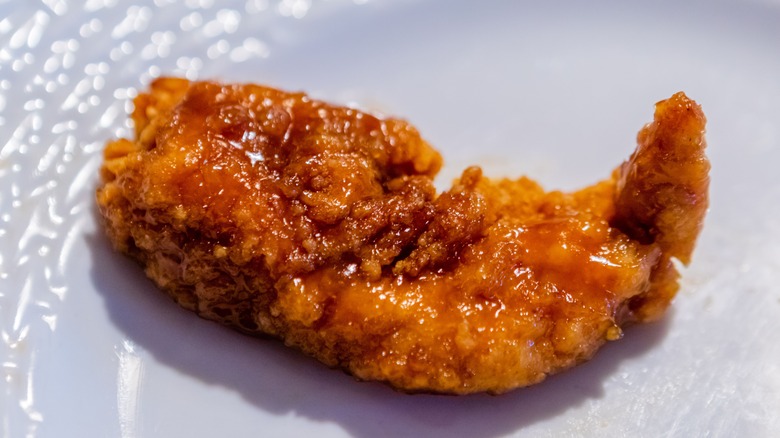 Laura Grier/Mashed
Much like Hawaiian Punch and Hawaiian pizza, really the only thing Hawaiian about this Wingstop sauce is its name. It's much more of a sweet and sour, where the sugary, syrupy notes hit your tongue before succumbing to a soft, sour aftertaste. If you're a big fan of the sweet and sour chicken at Panda Express, you're gonna love this stuff. But at that point, you're probably better off just going to Panda Express. They give you a couple of sides and an egg roll, while Wingstop gives you nothing.
That's not to say the Hawaiian flavor isn't good. It's just saying that if you were going in expecting a deep fired luau wrapped in branded wax paper you're going to be sorely disappointed. The texture is a little gloppy, as the sugar-heavy sauce leaves your mouth and hands sticky. Those into super sweet entrees will be pleased. Those into the spicier side of wings, though, will be better served to order something else.
9. Cajun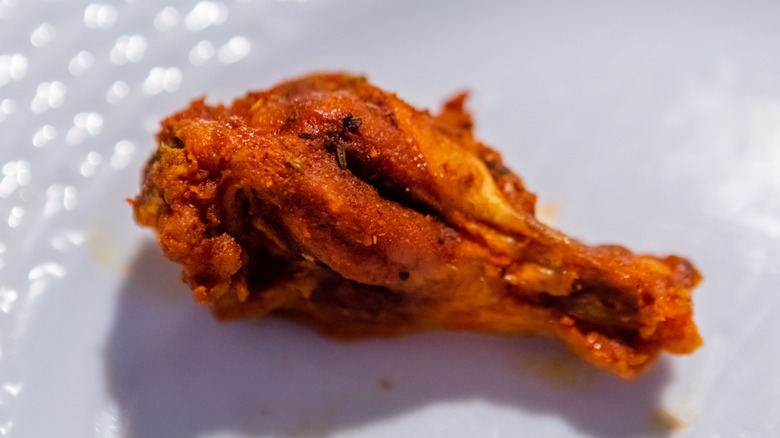 Laura Grier/Mashed
These wings are about as cajun as Adam Sandler playing a guy from the backwater swamps of Louisiana in "The Waterboy." Sure, they're entertaining and kind of fun, but at the end of the day, they're not convincing anyone they came from the bayou. That said, Wingstop absolutely nails the cayenne flavor here, as the wings have a distinct pepper taste that emulates the base in a lot of cajun food. The problem is, Wingstop ... stopped. And didn't add much else to round out the full Louisiana flavor.
If you love cayenne pepper, though, these are the wings for you. Especially when you dip them in ranch and let its coolness offset the heat from the pepper. These wings definitely need help to be successful, and if you need help you're not landing near the top of the list. Then again, Bobby Boucher never won anything by himself, and maybe that's kind of the point.
8. Mild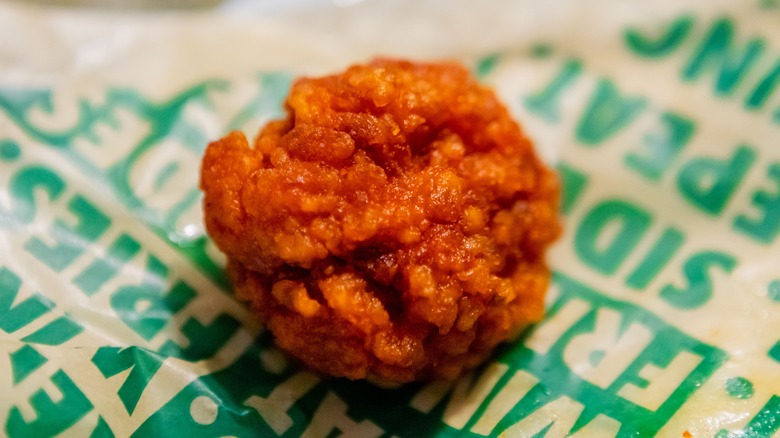 Laura Grier/Mashed
No one should be surprised that a flavor called Mild landed itself squarely in the middle of the pack. It's not upsetting anyone. A 7-year-old could house an entire order of these and not have much to complain about other than their little brother getting a bigger order of wings. You're not going to be eating these past when you're full to get more of the endorphin rush you might from other sauces. They're just ... meh. Okay. Alright. They are a shoulder shrug in chicken wing form.
Now, if you don't like spice, mild is the move, a classic buttery wing sauce with hints of red pepper. It's a little richer and smoother than some of the spicier sauces, thanks to the abundance of butter. That flavor is fairly inoffensive, but can leave you feeling a little weighed down if you're not into dairy. Or disappointed if your idea of wings includes more kick. But for a child's birthday party or British wedding reception, the mild wings will do just fine.
7. Spicy Korean Q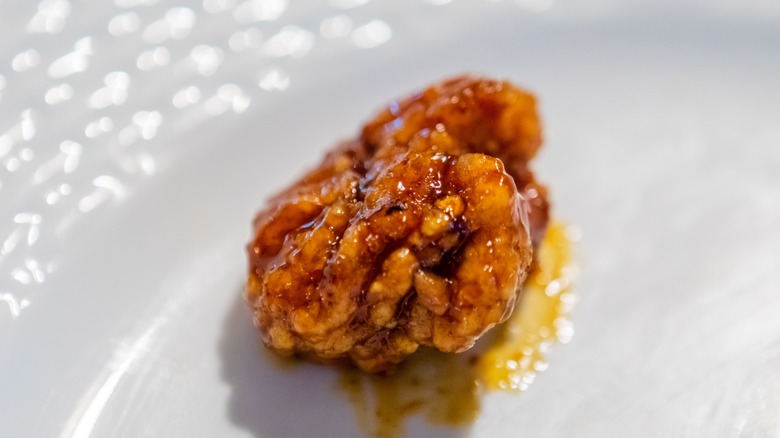 Laura Grier/Mashed
When first biting into these Asian-inspired wings, you might well think spicy is a generous term, and that these wings taste more like the syrup-coated stuff you get from P.F. Chang's frozen dinners. And for the first few moments of savoring Wingstop's Spicy Korean Q, you might be right. The sauce is intensely sweet with strong Asian influence, a little more reminiscent of orange chicken than anything you'd find at a Korean restaurant.
But first impressions can be deceiving, and once the sweetness wears off you're in for a ride. That's not to say the heat in these wings is in the same ballpark as the Atomic or Mango Habanero. But don't start scarfing them down before you let the heat set in. It comes on about the time you're reaching for a second wing, a sneaky, spicy burn that starts at the corner of your tongue and spreads fast. It's not an intense heat, but those who are especially sensitive to spice should take heed. When they say spicy Korean, they mean it. But, in true Korean fashion, they just may be a little more subtle about it than their American counterparts.
6. Hot Lemon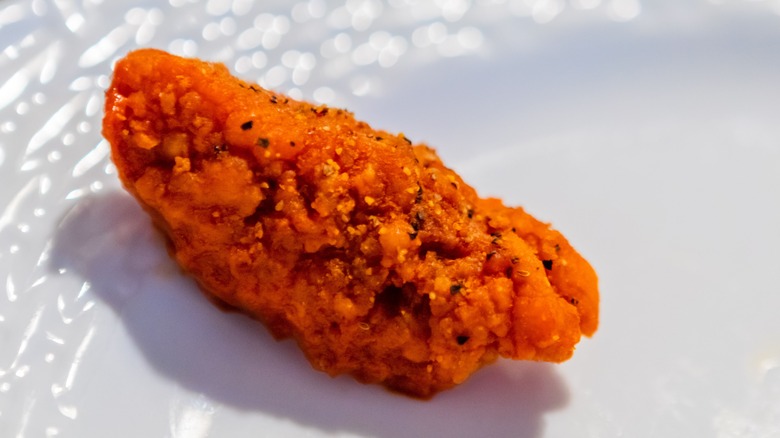 Laura Grier/Mashed
If there is a divisive flavor among the Wingstop lineup, it is Hot Lemon. Those who believe that citrus and spice go together, and regularly order stuff like jalapeno Hamachi crudo or chili pepper ceviche, will probably order Lemon Hot every time. It tastes like someone tossed traditional hot wings in lemon juice, and if you find that cool, refreshing lemon flavor to be one that perfectly counters the peppery heat like a glass of lemonade on a hot summer day, well, you'll be in heaven.
If not, well, you're not going to get past bite five. Perhaps these would rank higher if Wingstop's lemon didn't taste so painfully artificial. You'll find more natural lemon flavor in a variety pack of Whiteclaws, and that synthetic tinge drags down every sauce in Wingstop's lemon family. In this case, it's not nearly as noticeable as some of the more butter-driven flavors, and the citrus adds intensity to the already-powerful hot sauce. Just don't expect everyone in your group to like Lemon Hot, because even if you do they may well not.
5. Original Hot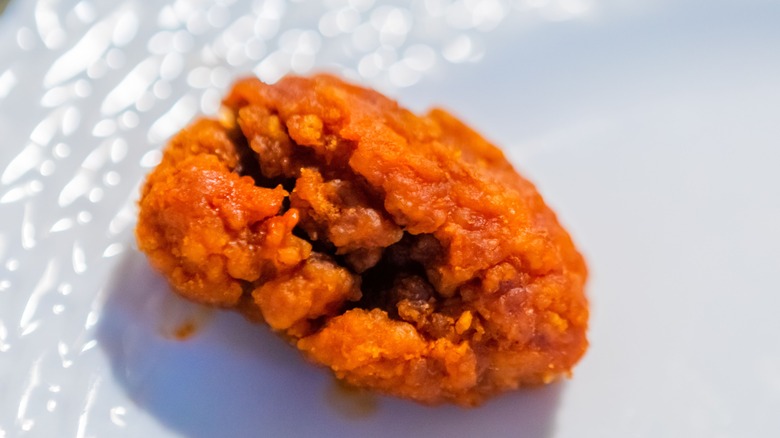 Laura Grier/Mashed
This is the one that started it all for Wingstop, and though there's nothing particularly groundbreaking about this sauce, it's still a solid choice. Original Hot is pretty much like every other hot wing sauce you've ever tried. So while it's not terribly original, it doesn't disappoint either. It tastes like a line cook took a bottle of Frank's Red Hot and mixed it with a little butter then tossed it in wings. Or, basically, how the Buffalo wing came to be in the first place.
Now make no mistake, hard-core wing traditionalists might feel a little deceived by Wingstop's definition of "hot," because anyone with a spice tolerance could clear an entire plate of these without even thinking about a glass of milk. But wing lovers won't be mad at it either, as Wingstop nails the flavor while still offering something a little more palatable to the masses. Heat heads would be well-served to opt for the Atomic if they're looking for something to demolish their mouths, but for normal folk, these will do just fine.
4. Atomic
Atomic wings are not messing around, and if you love heat and hard-core black pepper flavor, this one will top your personal ranking. The thin sauce is void of butter, meaning there's nothing in there to mellow out the spice. If you're a total masochist and don't plan on getting a good night's sleep after your meal, roll your wing around in the sauce that's sitting at the bottom of the basket. It's not quite Thai street food hot, but by American standards, a thick coating of Atomic sauce is more than sufficient to get your taste buds going.
Like most spicy food, you won't really notice the kick until you've had a few bites and your mouth is covered in the stuff. And once that happens, you're in for a religious experience. An order of the Atomic wings give your mouth an eye-opening blast of flavor. And the ensuing endorphin rush will have you compulsively ordering them like it's 2 a.m. and you don't want the party to end. If you live for spice, Atomic is your sauce. But its lack of universal appeal is why it's not claiming the top spot.
3. Garlic Parmesean
When you first look at the sauce covering Wingstop's garlic parmesan wings, it looks like an uncomfortable amount of garlic. Like "I'm not going on any dates for at least a week after this" levels of garlic, the kinda levels you find on $14 orders of French fries or on people who are deathly afraid of vampires. But then you take a bite of the stuff, and realize much of what you thought was garlic was actually parmesan cheese. And Wingstop did a masterful job of blending them both so that neither is overpowering.
Of the non-traditional wing sauces at Wingstop, this one is by and far the winner. The flavor is subtle, not at all what you'd expect from a nationwide chicken chain. The garlic and parmesan taste like they're supposed to and aren't overly artificial, and it's buttery without tasting like a stick of butter. You might be well served to order these as chicken tenders instead of wings, though. The flavors can be intense when the garlic pieces and parmesan flakes get together, and mellow out when spread out over a larger surface area.
2. Hickory Smoked Barbecue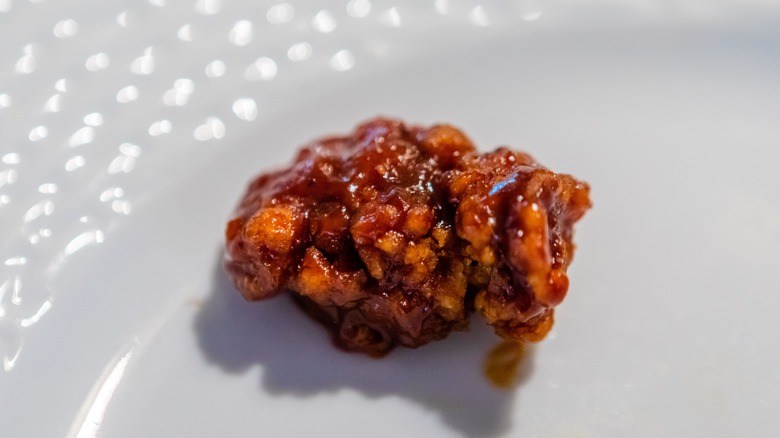 Laura Grier/Mashed
For children, the heat-sensitive, and those just dipping their toes into the wonderful world of wings, no sauce works better than the Hickory Barbecue. The sweet, smoky flavor is palatable for just about anyone, and even those who expect some kick with their wings won't be mad as it still has a peppery finish at the end.
Though some barbecue sauces at national chains taste like a sugar-addled afterthought, Wingstop's clearly took some thought as the wood flavor stands out above subtle notes of sugar and pepper. One almost wonders if Wingstop put a little bit of its mild sauce in its barbecue sauce, adding a little hint of heat to make the flavors more complex. Either way, Hickory Smoked Barbecue has universal appeal. So if you're feeding a large group and aren't dead set on a traditional wing flavor you'll be a winner with Hickory Smoked Barbecue.
1. Mango Habanero
This flavor really ought to be called Habanero Mango. At first, one might disagree, as the first bite is one of sweet, syrupy goodness that's almost indistinguishable from the Hawaiian. But that saccharine moment quickly gives way to something far more serious, as the habanero makes a slow move to the front of your palate and takes over the flavor. It cuts right through the mango's sweetness, and provides just the right amount of balance to make this Wingstop's best flavor.
Just know, like drinking a poolside Mai Thai, the sugar allows the other stuff to creep up on you without your knowledge. By the end of wing one, you're feeling it. By the end of wing three, you'll be sweating and not knowing why. By the end of wing five, you realize you're probably going to regret this tomorrow. But no matter, this sauce is so good you'll keep eating them anyway. Better judgment be damned.