Instant Pot Hard-Boiled Eggs Recipe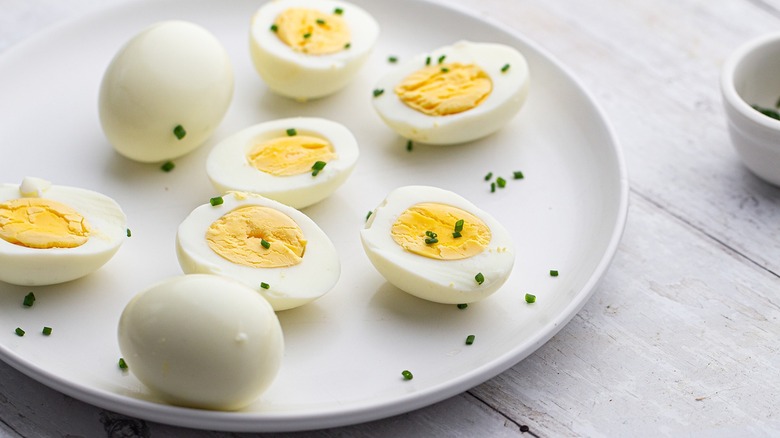 Susan Olayinka/Mashed
While making hard-boiled eggs might seem like a no-brainer, sometimes the simplest of recipes can throw us off track. Sure, it can be easy to hard-boil a bunch of eggs for a road trip snack, or whip up a batch of egg salad, but there's a lot of waiting involved that can really be a time suck if you're on the go.
Boiling water can take up to 10 minutes, and if you're rushing around in the morning, you don't necessarily have time to supervise a hot pot. Plus, once the water has started boiling, you then have to wait up to 12 more minutes for a perfectly boiled egg. 
Recipe developer Susan Olayinka of The Flexible Fridge is all about getting your meals from fridge to plate in a quicker, simpler way, and this Instant Pot hard-boiled egg hack is no exception. While there are plenty of mistakes that people are making with their Instant Pot, using it to hard-boil eggs is a game changer. These electronic pressure cookers are able to speed up the cooking process significantly, and this recipe not only cuts your prep time in half, but it makes the perfect hard-boiled egg every time.
If you're thinking you don't need five hard-boiled eggs, you can always make just one. If you end up making more than you need, there are lots of options for what to do with leftover hard-boiled eggs.
Place the trivet in your Instant Pot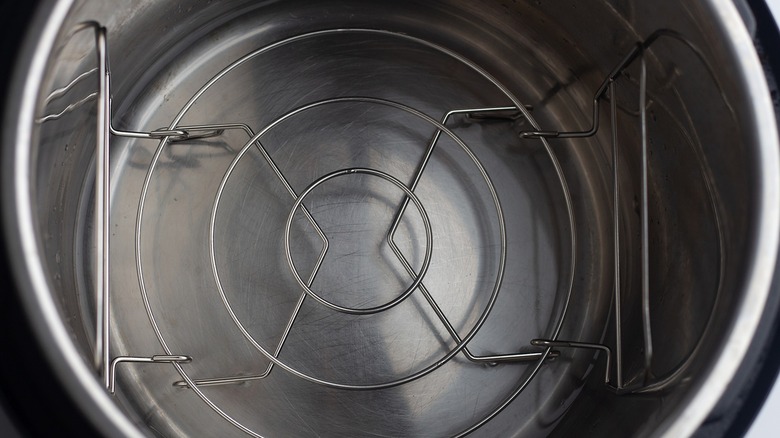 Susan Olayinka/Mashed
The first thing you need to do is prepare your Instant Pot. Make sure to place your trivet firmly in the bottom. This is where the eggs will rest as they cook, and you don't want them falling to the bottom of the pot. "If the trivet is not in the Instant Pot, the eggs will burn and crack open as they're cooked on high pressure," warns Olayinka. "The pressure would be too much for the eggs!"
Add your water and eggs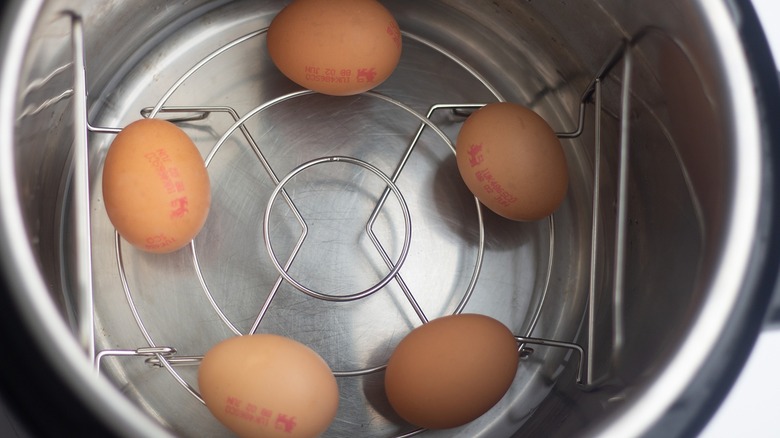 Susan Olayinka/Mashed
The official Instant Pot manual calls for 1 cup of water so that the pot will pressurize. But depending on the recipe, the amount of water can differ. To make five hard-boiled eggs, you will need 2 cups of water. 
With your trivet in place, carefully pour the 2 cups of water into the Instant Pot. Make sure the water doesn't rise above your trivet. 
Now it's time to add the eggs! Take your five eggs and place them on the trivet. You should leave enough space in between so that none of the eggs are touching each other.
Set your Instant Pot on high
Susan Olayinka/Mashed
According to Olayinka, recipes should be busy life-approved, and with just eggs, water, and some ice, this recipe definitely gets the seal of approval! Using the 5-5-5 method is a sure-fire way to get perfect eggs. That means five minutes of pressure cooking the eggs followed by five minutes of waiting before opening the lid of the cooker, and five minutes of cooling the eggs in an ice bath. 
It all starts with setting your Instant Pot to cook on high for five minutes.
Release the steam and place the eggs in an ice bath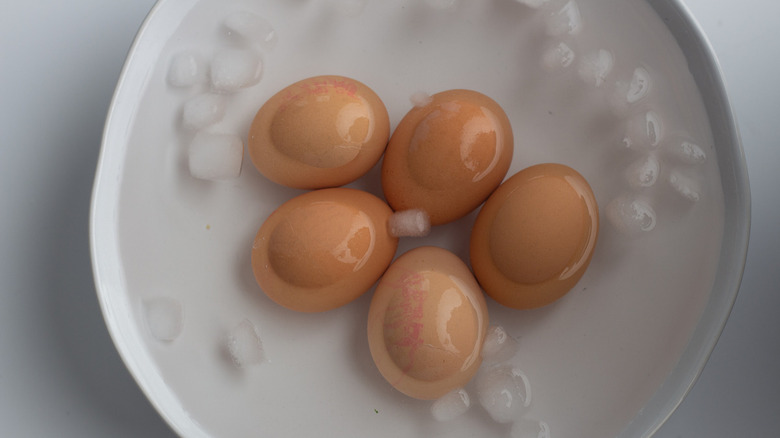 Susan Olayinka/Mashed
After they cook, let your Instant Pot naturally release the steam for another five minutes. While this is happening, prepare an ice bath with 2 cups of water and 1 cup of ice. When the steam has released, you can place your eggs into the ice bath and let them sit in the cold water for five minutes. The ice bath stops the cooking process and will also cause the egg to contract and pull away from the shell, making it easier to peel. 
Peel the eggs and serve them with chives
Susan Olayinka/Mashed
When the five minutes are up, you can peel your eggs and serve. After the ice bath, the shell should peel off very easily. You can slice your eggs in half and serve them right away with chives. "Chives go really well with eggs," says Olayinka. "I find that they brighten up the neutral taste to eggs, making them taste fresh." 
Or you can leave your eggs unpeeled and pack them up for your road trip. They'll also keep for about a week, unpeeled, in the fridge. Once they're peeled, though, you should eat them within a day. 
Instant Pot hard-boiled eggs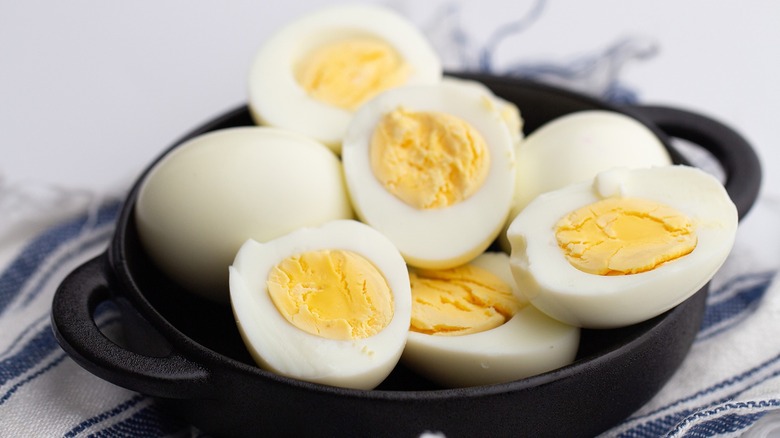 Susan Olayinka/Mashed
Prep Time:
Cook Time: 5m
Yield: 5 Servings
Ingredients
5 eggs
4 cups of water, divided
1 cup ice
Optional Ingredients
Directions
Place the trivet for your Instant Pot in the basin.
Pour in 2 cups of water.
Carefully place the eggs on the trivet.
Pressure cook the eggs on high for 5 minutes, then naturally release the steam for 5 minutes.
Meanwhile, prepare an ice bath with the remaining 2 cups of water and 1 cup of ice.
Once the 5 minutes are up, immediately place the eggs in the ice bath for 5 minutes.
Peel the eggs, slice them in half, and transfer them to a serving dish.
Optionally sprinkle them with fresh chives, and enjoy!