Easy Jelly-Filled Donut Recipe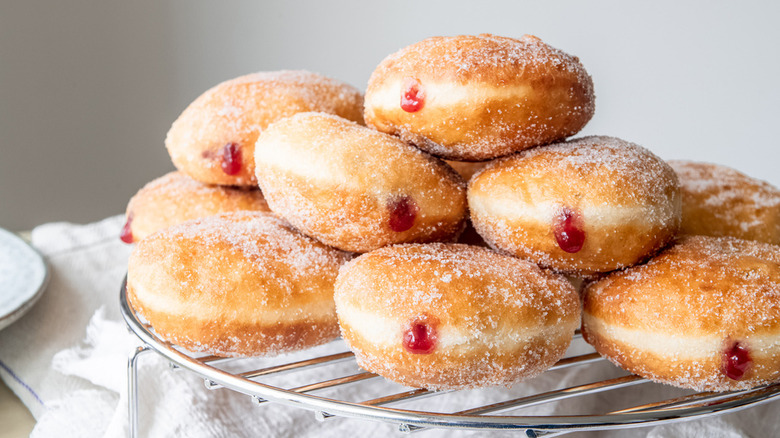 Jennine Bryant/Mashed
We may receive a commission on purchases made from links.
If you're up early to enjoy some quiet quality time with a cup of coffee or to get some projects done before the kiddos rise on the weekend, then you should whip up a batch of these amazing and easy jelly-filled donuts. All you need to do is assemble the dough from scratch, let it rise, and then spend 15 minutes with the donuts sizzling in an oil-filled skillet or a deep fryer and sneaking your favorite jelly into the middle for a mouthful of deliciousness with each and every bite.
Recipe developer Jennine Bryant of The Marshside Pantry loves making this sweet breakfast food for herself and her partner when they are enjoying a relaxing Saturday morning together. One of the best things about this recipe is that you can swap out the filling to whatever you prefer. We'll be using seedless raspberry jelly in this recipe, but Bryant tells us "really you can choose any flavor: blackcurrant, strawberry, plum, damson, blackberry, rhubarb, apple — if you can find a flavored jelly, you can inject it into the donuts!" She adds that "It's also possible to add other things like cream or Nutella, which make delicious alternatives." 
Check out this incredibly easy recipe and give it a try!
Gather the ingredients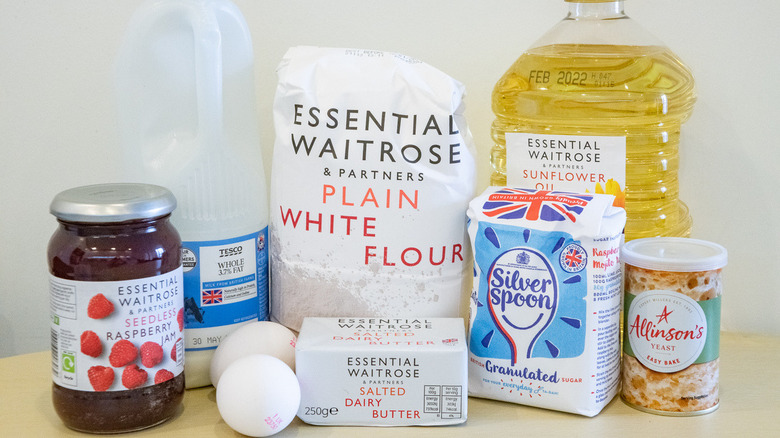 Jennine Bryant/Mashed
If you are a donut lover, you will fall head over heels with infatuation for this recipe. All you'll need is yeast, warm milk, egg yolks, sugar, flour, salt, softened butter, oil for frying, and seedless raspberry jelly. The beauty of this recipe is that it takes just 15 minutes to actively work on the dough, which then takes about an hour or two to rise, then another 15 minutes to finish it up. 
For this recipe, the butter can be regular or organic, and salted or unsalted, whichever you prefer. Bryant prefers using sunflower, canola, or rapeseed oil for frying up the balls of dough.
Start mixing up the dough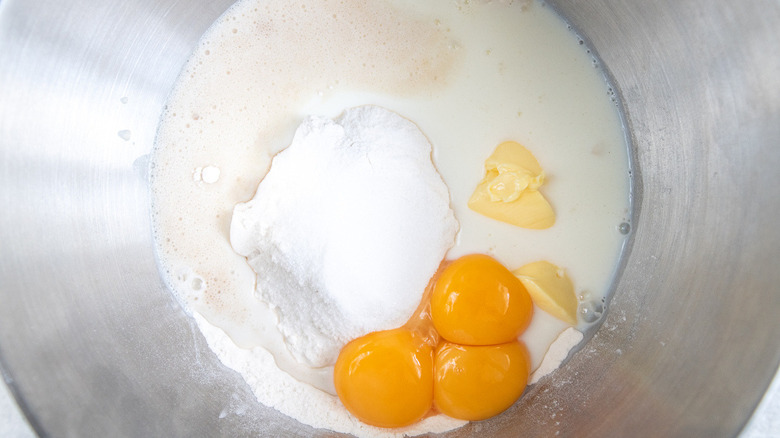 Jennine Bryant/Mashed
Take a bowl out of the cupboard and to it add 2 1/2 teaspoons of yeast, then add in 2 cups of warm milk. Bryant says to stir the mixture just a little bit, then add in 3 large egg yolks, 2 tablespoons of sugar, a few cubes cut from 3 tablespoons of butter, 1/4 of a teaspoon of salt, and 2 1/2 cups of flour. Grab a stand mixer or use a handheld electric mix with kneading attachments and mix all of the ingredients together until thoroughly combined.
Bryant uses bakers yeast to make the donuts, a dry active yeast. She also uses whole milk, but lactose-free or plant-based milk would substitute just fine, she tells us.
Finish making the dough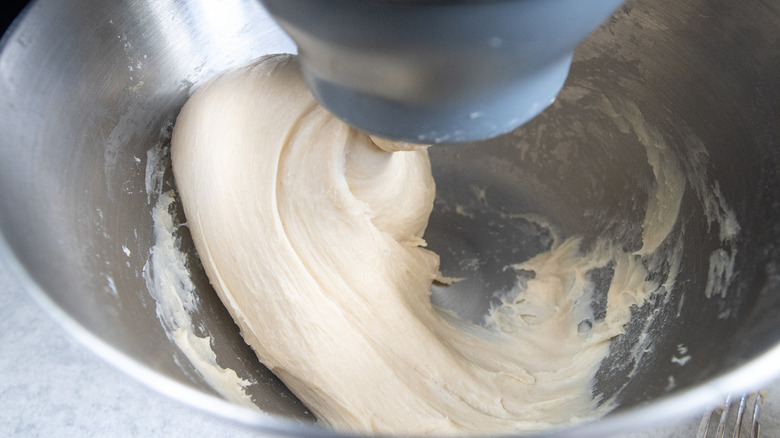 Jennine Bryant/Mashed
To the mixture add the rest of the cubes of softened butter one at a time. Continue mixing the butter into the dough until each cube of butter has been completely blended. The dough should be a rich yellowish-tan when it's ready to rise.
Take out another bowl, oil it thoroughly, and set the dough inside it. Allow it to set for 1 to 2 hours to rise. Bryant helps her dough along by placing it in what's called an airing cupboard.
An airing cupboard is a common feature in British homes, and it's where one can find the home's hot water tank. British folks love to store towels, bedding, and articles of clothing to stay warm or to dry out damp items. If you don't have an airing cupboard, "any slightly warm spot is great," Bryant says.
Work with the dough some more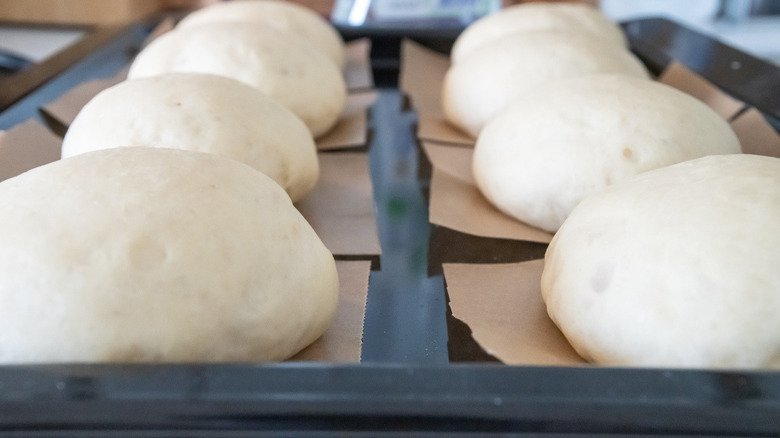 Jennine Bryant/Mashed
Cut 12 squares of parchment paper, and set them on a large tray. Pinch off 12 balls from the risen dough and roll each one. Then place each one onto one of the squares of paper. If your balls of dough aren't perfectly round enough for you, feel free to use a 3-inch cookie cutter and cut circles into the rolled out dough, then shape those into balls.
Set the dozen dough balls on the counter and allow them to rise for another hour or so until they've doubled in size.
Dunk the donuts into the oil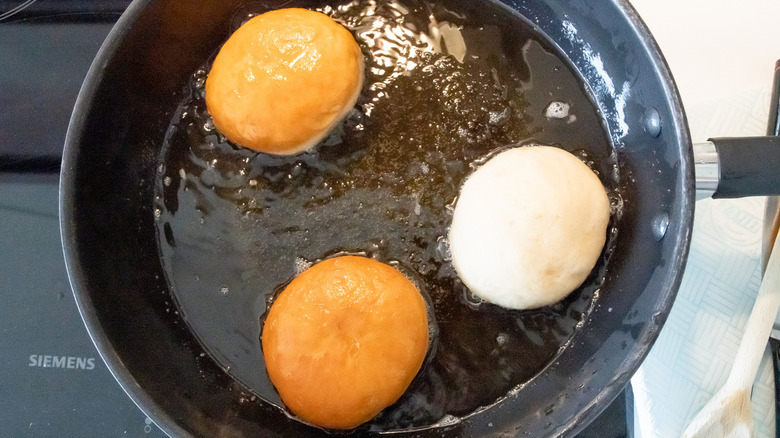 Jennine Bryant/Mashed
Measure out enough oil to cover the donut balls in a skillet, approximately 2 inches deep. Heat the oil to 335 degrees Fahrenheit. You also could use a deep fat fryer if you have one in the kitchen.
Carefully set a few donut balls into the hot oil at one time and fry them up for a few minutes on each side. To flip the donuts, grab a wooden spoon and gingerly rotate them in the oil. They should turn a deep golden brown color. If the dough sticks to the paper when trying to place it in the oil, Bryant says to use a knife to pry it off the paper. 
Once they are finished, a slotted spoon should be used to remove them from the oil so that the excess liquid drains off. Repeat these steps with the remaining donut balls.
The final touches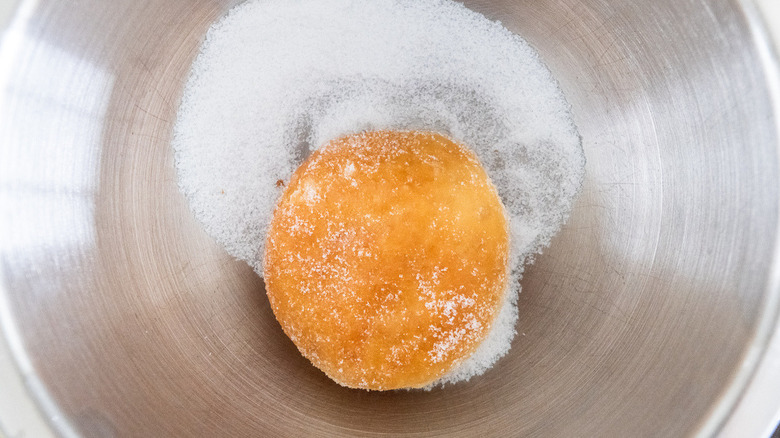 Jennine Bryant/Mashed
Place the donuts on a kitchen towel or a stack of paper towels to allow them to shed some of the excess oil. Once free of the extra oil, be sure to coat both sides of the donut with the remaining sugar granules. Once they're completely covered, allow them to cool on a drying rack.
Take a jam syringe or piping bag and fill with your favorite flavor of jelly, approximately 1 tablespoon per donut. The recipe provides for a dozen donuts at one time, but you can easily double it to make more. While these donuts taste fantastic fresh, you can keep them in an airtight container for a couple of days afterward.
What's a jam syringe?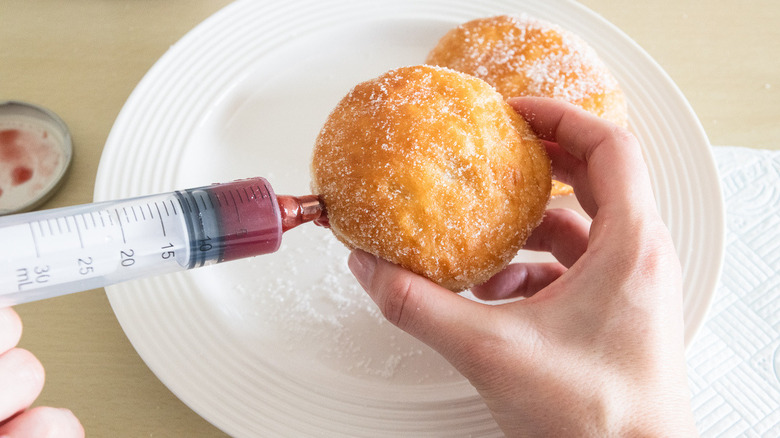 Jennine Bryant/Mashed
If you haven't made filled desserts before, you may not know what a jam syringe is. Bryant says she loves her jam syringe and highly recommends getting one.
"I got it from a specialist baking store online in the U.K.," she shares.
Most jam syringes or injectors resemble an old fashioned needle with a clear container and a plunger. The Norpro cupcake injector comes with several tips for cake decorating and has a design that encourages you to place three fingers in the top plunger while the Westmark garnishing/donut syringe has a handle and one rounded plunger. Either way, Bryant swears by this tool.
Easy Jelly-Filled Donut Recipe
These jelly-filled donuts are a cinch to make -- the yeast in the dough does most of the work for you! Make them for your next weekend breakfast or brunch.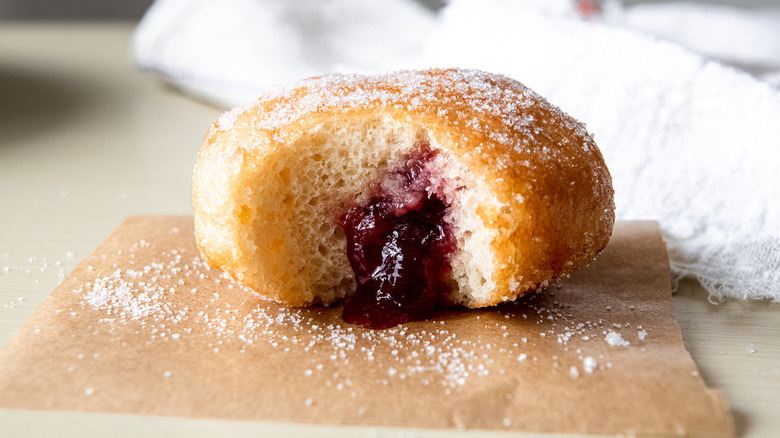 Ingredients
2 ½ teaspoons yeast
2 cups milk, warm
3 large egg yolks
6 tablespoons sugar (divided)
3 tablespoons butter, softened and cut into cubes
¼ teaspoon salt
2 ½ cups flour
sunflower, canola or rapeseed oil for frying
⅔ cup seedless raspberry jelly
Directions
Place the yeast in a large bowl and add the warm milk. Stir to combine.
Add the egg yolks, 2 tablespoons of sugar, one or two cubes of the butter, salt, and the flour.
Using either a stand mixer or hand held electric mixer with kneading attachments, mix everything for 5 to 6 minutes until well combined.
Add the rest of the cubes of softened butter one at a time. Keep mixing until each one is thoroughly combined before adding the next.
Put the dough into a well-oiled bowl and leave it to sit for an hour or two until it has risen.
Cut 12 squares of parchment paper and place them on a big tray.
Take your risen dough, and divide it into 12 balls.
Roll each one and place them onto the prepared pieces of parchment paper.
Allow the dough to rise for another hour, until the individual donut balls have doubled in size.
Heat up 2 inches of oil in a pan to 335 degrees Fahrenheit.
Gently place a few of the donuts into the hot oil at a time and allow them to fry for a few minutes on both sides until they are a deep golden color.
Use a slotted spoon to remove them from the oil.
Place the fried donuts on a kitchen towel for a few minutes to soak up any excess oil.
Roll the fried donuts in the remaining 4 tablespoons of sugar. Make sure to coat both sides thoroughly, then leave to cool completely on a drying rack.
When the donuts are cool, use either a jam syringe or a piping bag filled with jelly to pipe roughly 1 tablespoon of jelly into each donut.
Serve for breakfast with your favorite morning beverage!
Nutrition
| | |
| --- | --- |
| Calories per Serving | 362 |
| Total Fat | 20.1 g |
| Saturated Fat | 4.1 g |
| Trans Fat | 0.2 g |
| Cholesterol | 57.8 mg |
| | |
| --- | --- |
| Total Carbohydrates | 40.8 g |
| Dietary Fiber | 1.1 g |
| Total Sugars | 17.0 g |
| Sodium | 75.1 mg |
| Protein | 5.1 g |