Copycat Carrabba's Chicken Bryan Recipe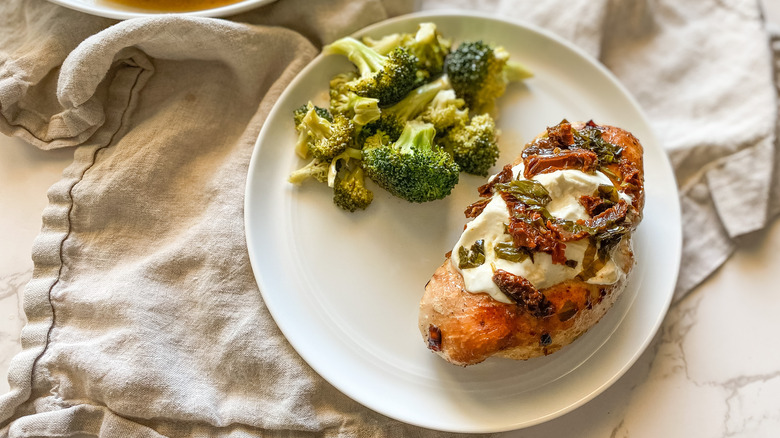 Kristen Carli/Mashed
If you're a fan of Carrabba's Italian Grill, then there's no doubt that you know about one of the most famous dishes on their menu — their Chicken Bryan. According to their website, the dish is "topped with goat cheese, sun-dried tomatoes, basil, and our lemon butter sauce." How good does that sound? 
This main dish is great for a simple family dinner or even a more formal occasion, like having co-workers over or trying to impress your in-laws. Another plus? The fact that you can make it in the comfort of your own home and still get all of those wonderful flavors that you would at the restaurant is even better! Trust us when we tell you that you don't have to be a chef to whip up this fantastic dish as it's pretty easy to put together.
Recipe developer Kristen Carli is the creator of this yummy copycat meal. She shares that her favorite part about it is the complex, Mediterranean-inspired taste of the final dish. "I love these flavors together! I'm a goat cheese NUT," she raves. "I will put it on anything. I love this combination with basil and sundried tomatoes. Think caprese [salad] but upgraded!" 
So, without further ado, keep scrolling to find out how to whip up Carrabba's copycat Chicken Bryan. Trust us... it's just as good as the real thing.
Gather the ingredients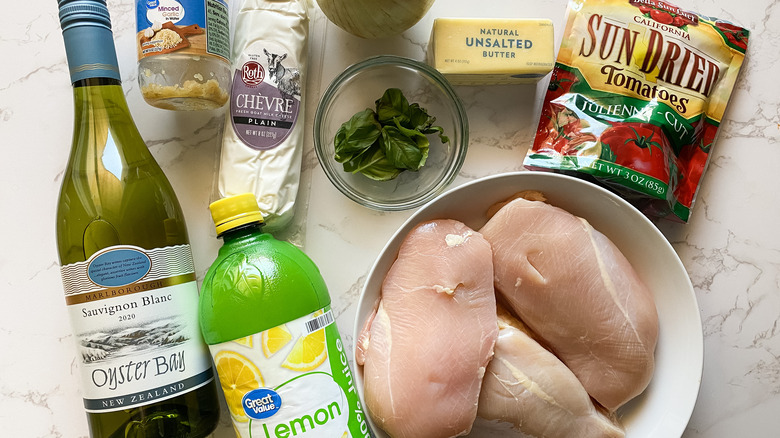 Kristen Carli/Mashed
It's time to check what you have at home versus what you need to get at the store. A few items you may already have in your house include white wine, lemon juice, unsalted butter, basil leaves, and sun dried tomatoes. In addition, you will also need to get a yellow onion, minced garlic, salt, pepper, boneless skinless chicken breasts, and goat cheese.
Take a few minutes to dice the onion, mince the garlic, and thinly slice the basil. In general, it's also a good idea to pre-measure and set out all of the ingredients that you can — that's a handy chef's trick called mise en place that will make at-home cooking all the easier, too. 
Now, it's time to start cooking. Remember that the cooking time is surprisingly short and means the meal will be ready to go in about half an hour — the dish only requires 10 minutes of prep and 20 minutes of cook time.
Start the sauce in a pan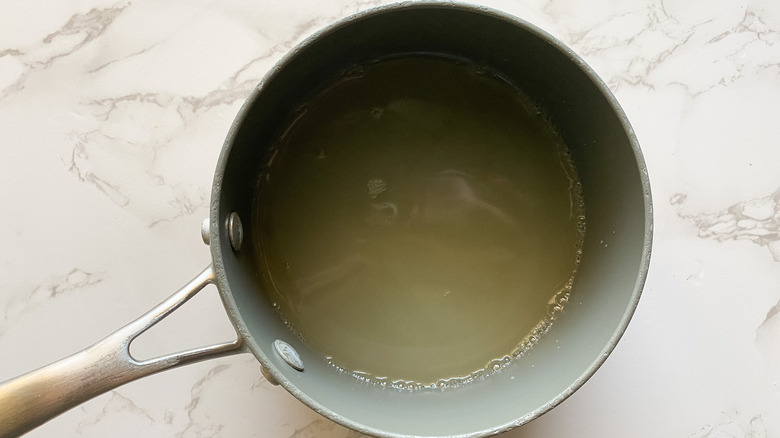 Kristen Carli/Mashed
Take out a small saucepan of your choosing. Now, add in the wine and lemon juice. Once you have the liquids in your pan, bring them to a simmer. Cook for about 10 minutes until the liquid is reduced and has become a bit thicker like a sauce. 
Why is this step so vital and why do you need to set aside a full 10 minutes? "The wine needs time to reduce and cook off the alcohol," Carli says. "This helps with flavor too!" Reducing sauces can easily help to concentrate the taste of the ingredients in the pot, creating rich sauces through a very simple process. So, yes, it really is worth the small amount of extra time.
Add more to the pan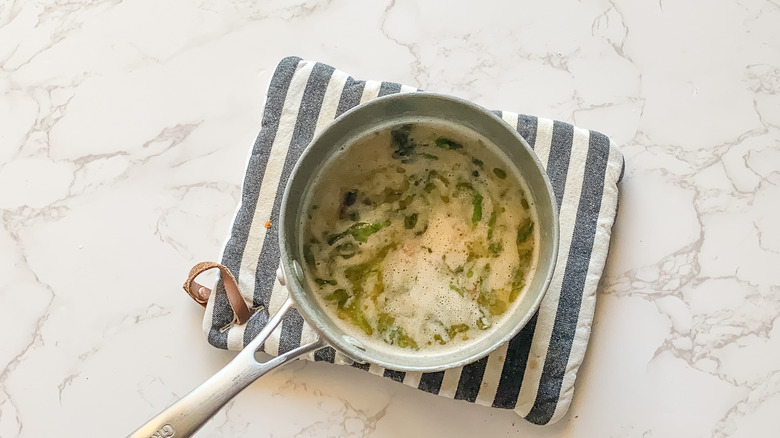 Kristen Carli/Mashed
After the wine and lemon cook for a solid 10 minutes, you can then add the butter, sun dried tomatoes, and basil to the same skillet. Keep the heat on low until everything melts together. 
By now, your kitchen should be starting to smell pretty amazing and trust us when we tell you that it only gets better from here. As you wait for everything to cook, you can move on to the next step of seasoning and cooking the chicken. It's multi-tasking at its finest, though be sure to keep an eye on the sauce to make sure that nothing overcooks or burns in the process.
Season the chicken and get a bigger skillet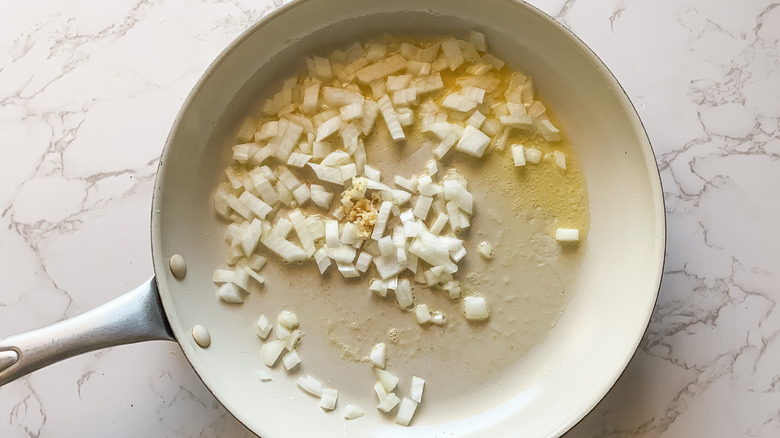 Kristen Carli/Mashed
While you're waiting for your ingredients to melt, take the chicken out of the refrigerator. Sprinkle each side with salt and pepper to ensure that the flavors get into the skin and properly season the meat.
At this time, you'll want to get out another, larger skillet. You'll need the extra room to cook the chicken breasts in the next step, by the way. Add the remaining two tablespoons of butter. Allow the butter to melt on medium-low heat.  Next, add your onion and garlic. Cook until the onion turns translucent, which should take no more than 5 minutes and will add yet another delicious smell to your kitchen.
Cook the chicken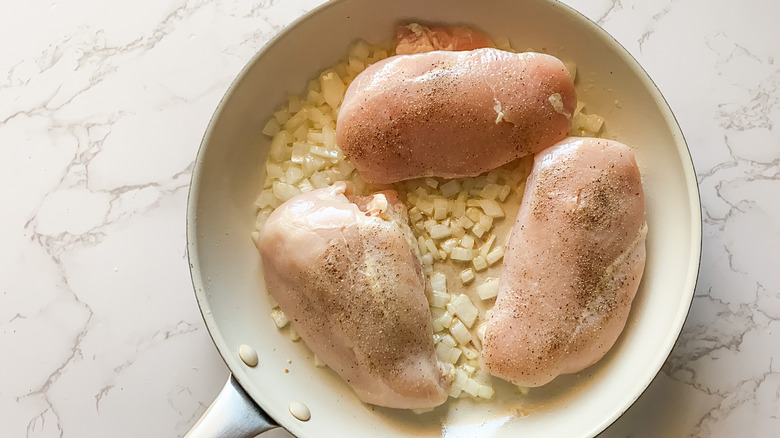 Kristen Carli/Mashed
Now, the star of the recipe is ready to get cooked! Add the chicken to the larger skillet that you've already used to cook the onions. Cook the chicken breasts on each side for about 10 minutes each. Alternatively, you can check the doneness of the chicken by checking its internal temperature with an instant-read meat thermometer. When the thermometer registers 165 F in the middle of the thickest part of the chicken breast, that means it's fully cooked and is safe to eat. 
Now, remove the chicken from the skillet. Just a few more steps, and you'll be ready to enjoy your very own Chicken Bryan at home!
Complete the Chicken Bryan and serve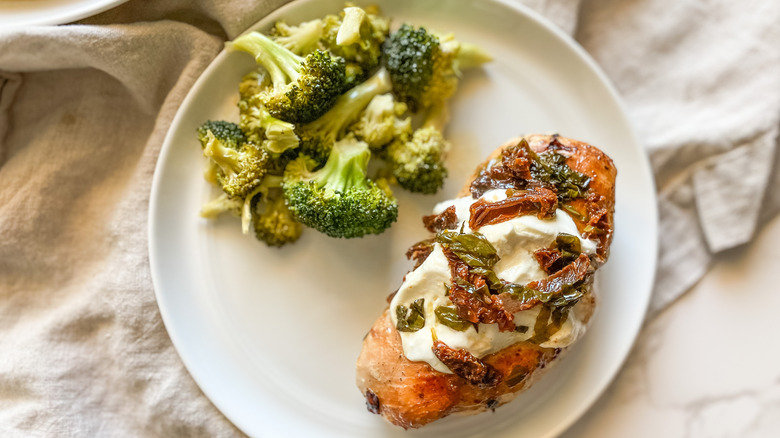 Kristen Carli/Mashed
Once you remove the chicken from the skillet, you're ready to plate and then eat. Using a small spoon, add goat cheese on top of each chicken breast. After you add the goat cheese, you will then add the lemon wine sauce on top.
As for sides, think of classic restaurant accompaniments you might see when dining out. "I love serving this with a side of veggies, over pasta, or with a side salad," Carli says. "It would also be delicious with mashed potatoes or roasted potato wedges."
If you happen to have leftovers after this meal, they'll be well set up for a meal in the next few days. "These will last in an airtight container in the fridge for up to 3 days." 
Copycat Carrabba's Chicken Bryan Recipe
This copycat Carrabba's Chicken Bryan recipe is great for a simple family dinner or even a more formal occasion. Even better, you can easily make it at home!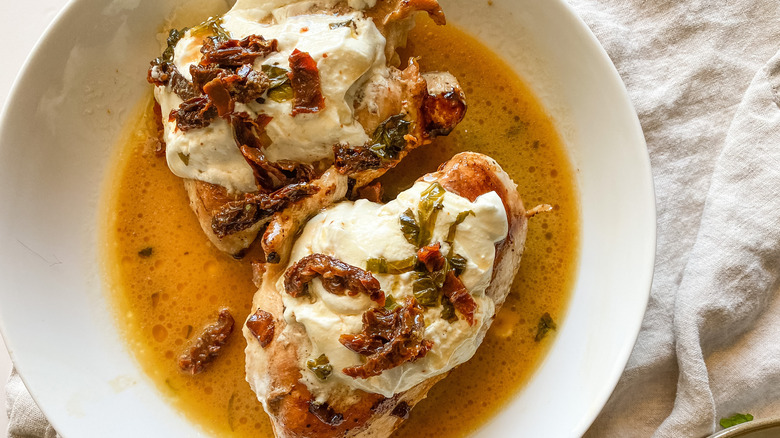 Ingredients
½ cup white wine
2 tablespoons lemon juice
1 stick unsalted butter, divided
2 tablespoons sun dried tomatoes
2 tablespoons basil leaves, thinly sliced
1 teaspoon salt
½ teaspoon pepper
3 boneless skinless chicken breasts
½ yellow onion, diced
1 teaspoon minced garlic
3 ounces goat cheese
Directions
In a small saucepan, add wine and lemon juice. Bring to a simmer. Cook for about 10 minutes, until the liquid has reduced.
Add 6 tablespoons butter, sun dried tomatoes, and basil to the pan. Keep on low until butter has melted.
Season chicken with salt and pepper.
In a large skillet, add the remaining 2 tablespoons of butter on medium-low heat. Add onion and garlic. Cook until onion is translucent, about 5 minutes.
Add chicken breasts. Cook on each side for 10 minutes, or until chicken is cooked all the way through and internal temperature registers 165 F.
Remove chicken from skillet. Using a small spoon, top with goat cheese. Top with lemon wine sauce.
Nutrition
| | |
| --- | --- |
| Calories per Serving | 723 |
| Total Fat | 43.8 g |
| Saturated Fat | 25.0 g |
| Trans Fat | 1.3 g |
| Cholesterol | 292.6 mg |
| | |
| --- | --- |
| Total Carbohydrates | 5.6 g |
| Dietary Fiber | 0.8 g |
| Total Sugars | 2.4 g |
| Sodium | 961.9 mg |
| Protein | 67.5 g |