Instant Pot Brownies Recipe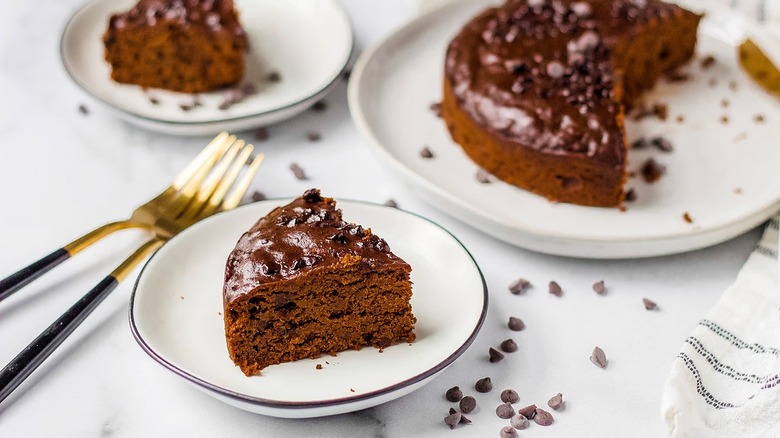 Jaime Bachtell-Shelbert/Mashed
When you think of all the things you can make in an Instant Pot, brownies may not be one of them. Nonetheless, you can absolutely whip up a delicious and easy batch of brownies in your Instant pot — and, thanks to recipe developer and dietician Jaime Bachtell-Shelbert's easy recipe, you can make a batch of the delightful treat in less than an hour. 
"These are perfectly moist, fudgy, and delicious," Bachtell-Shelbert says of these brownies, which include cocoa powder AND chocolate chips for double chocolatey goodness. Not only is this an ideal recipe if you love brownies and love your Instant Pot, but it's great for the summer months, too. "The Instant Pot makes it nice in the hot summery months to not have to turn on the oven," Bachtell-Shelbert explains, offering an easy solution to those who crave brownies but don't want to make their kitchen even hotter by turning on the oven.
If you're looking for the next dessert to please the whole family (or just want a treat for yourself!), these easy Instant Pot brownies are the way to go. Anyone who loves moist, dense, chocolatey brownies are in for a treat with this recipe — so what are you waiting for? Grab your Instant Pot and let's make some brownies!
Gather the ingredients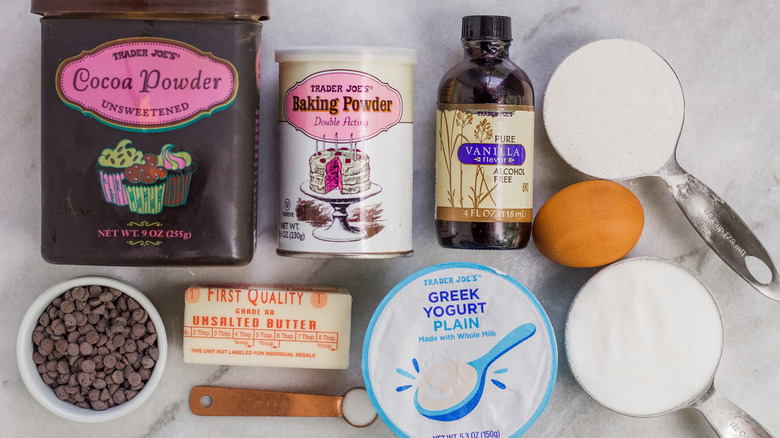 Jaime Bachtell-Shelbert/Mashed
To make easy Instant Pot double chocolate brownies, you'll need a handful of ingredients. Luckily, most of them are likely already sitting in your cupboard or refrigerator! You'll need melted butter, plain Greek yogurt, sugar, an egg, vanilla extract, flour, cocoa powder, baking powder, salt, and mini chocolate chips. Of course, you'll also need your Instant Pot, as well as whatever toppings you may want to add to the brownies after they cook. Bachtell-Shelbert notes that hot fudge, ice cream, almond butter, and whipped cream are all great topping options for these brownies, though they'll also taste great on their own. 
You might be thinking that Greek yogurt is an odd ingredient to add to brownies. Bachtell-Shelbert tells us it serves two purposes: "to cut back on the butter and to add moisture to the brownies."
Combine your wet ingredients and dry ingredients in separate bowls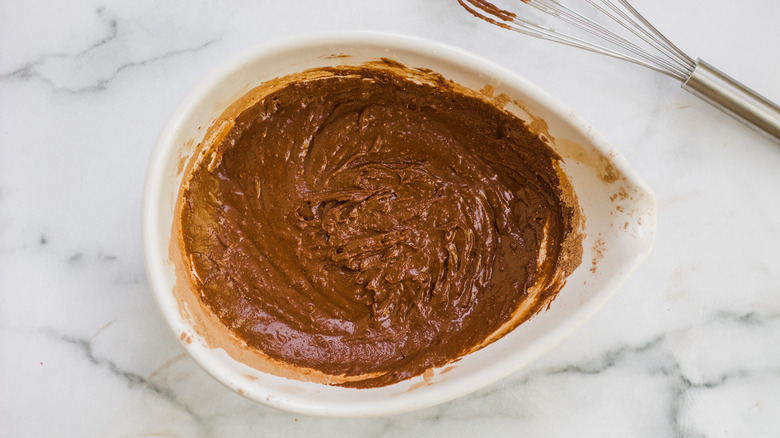 Jaime Bachtell-Shelbert/Mashed
In one bowl, start by combining your wet ingredients. Add in your yogurt, butter, sugar, and egg. Whisk these ingredients together until they're thoroughly combined, and then add in the vanilla. In a separate bowl, you can prepare your dry ingredients. Add in the flour, cocoa powder, baking soda, and salt. Mix these ingredients together until they're combined. Then, go ahead and pour your dry ingredient mixture into the wet ingredient mixture, stirring until everything is evenly combined and you have a nice, thick brownie batter.
Add chocolate chips to your brownie batter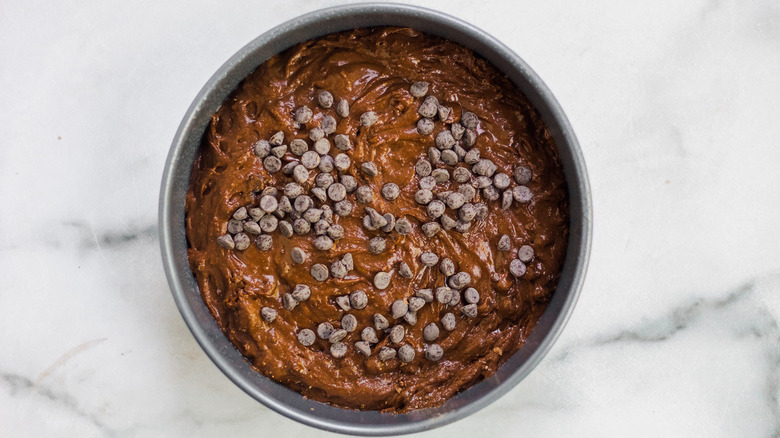 Jaime Bachtell-Shelbert/Mashed
Now that you've made your brownie batter, you can add some extra chocolatey goodness with some chocolate chips! Sprinkle about 2/3 of your chocolate chips right into the brownie batter and gently fold them in. Then, spray a 6-inch pan  with nonstick cooking spray. Pour your brownie batter into the pan, making sure that the batter is evenly distributed throughout the dish (you may need to smooth it out a little bit on top). Finally, take your remaining chocolate chips and sprinkle them right on top of the batter..
Prepare your Instant Pot for baking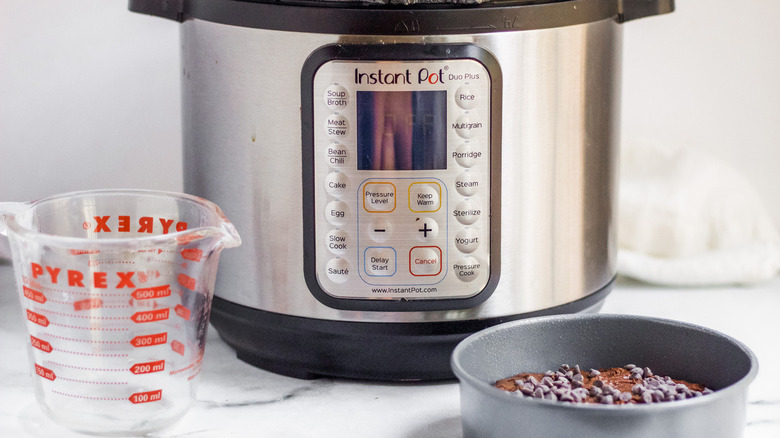 Jaime Bachtell-Shelbert/Mashed
Now that you have your brownie batter prepared, you can go ahead and get your Instant Pot ready for baking. To do this, grab your Instant Pot and pour water into the bottom of it. Place the pot's trivet inside, and then go ahead and place your baking pan with the brownie batter inside of the trivet. Cover your Instant Pot and set the vent to sealing. Finally, set your Instant Pot to normal pressure and set your timer for 35 minutes. 
Allow your brownies to cook in the Instant Pot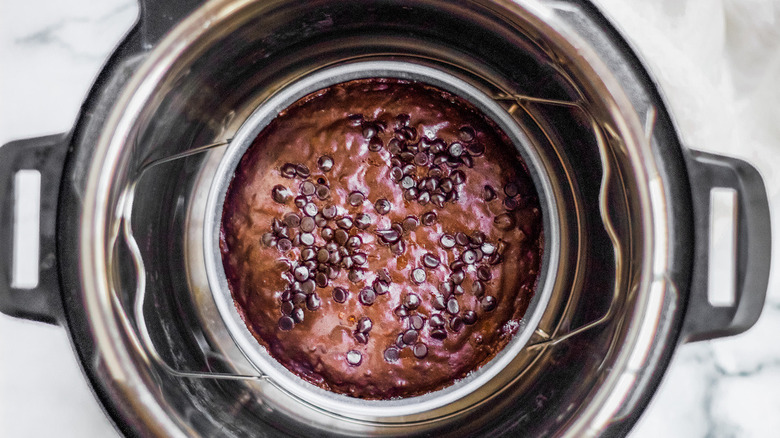 Jaime Bachtell-Shelbert/Mashed
Once you have your Instant pot ready to go, you can ahead and cook your brownies! Allow your pressure cooker to complete the 35-minute cycle, ensuring that your brownies have cooked to perfection. After the cycle is up, let the Instant Pot sit for 10 minutes before you release the vent. Then, you can release the vent, remove the lid, and carefully pull out the dish of brownies. 
Allow the brownies to cool, then serve and enjoy!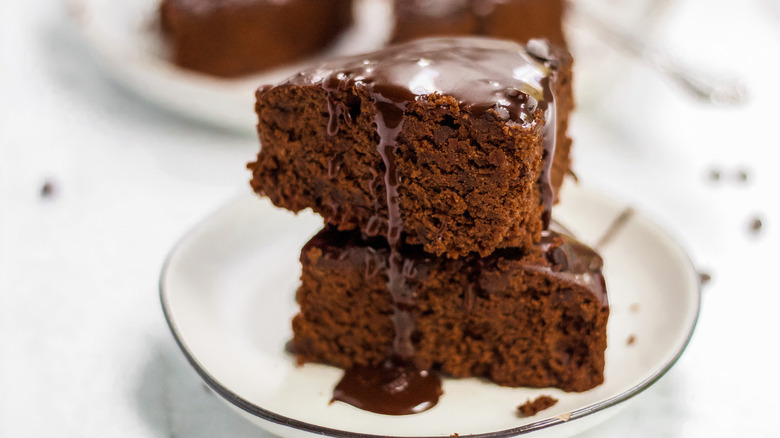 Jaime Bachtell-Shelbert/Mashed
After you remove the brownie pan from the Instant Pot, allow them to cool for a few minutes. Then, go ahead and slice up the brownies and serve! Bachtell-Shelbert topped her brownies with hot fudge and whipped cream, though additional toppings like ice cream, caramel, raspberry sorbet, or almond butter would also be just as delicious. As for beverages, coffee or milk would be great to help balance out the sweetness. While you could store these brownies in an airtight container for up to a week in the fridge, it's best to eat them as soon as possible. 
Whether you're looking to switch up your brownie recipe or just want to get good use of your Instant Pot, give this recipe a try — something tells us you'll quickly become addicted to these decadent, moist, mouthwatering brownies!
Instant Pot Brownies Recipe
Staring at your Instant Pot and wondering what to make? These delicious Instant Pot brownies are easy to make -- who doesn't love a double dose of chocolate?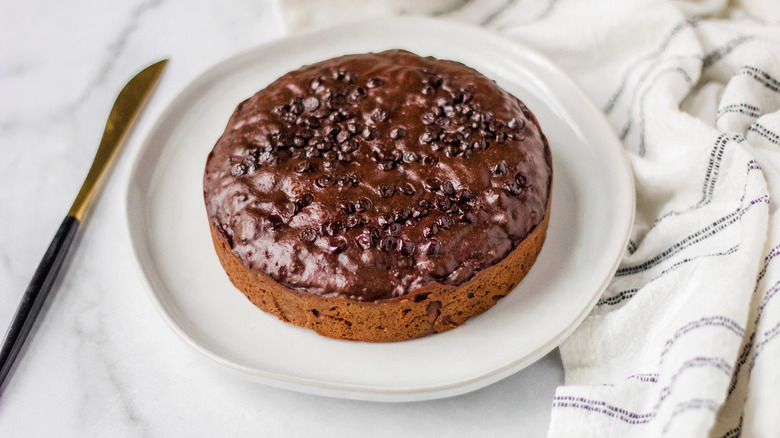 Ingredients
⅓ cup butter, melted
⅓ cup plain Greek yogurt
½ cup sugar
1 egg
1 teaspoon vanilla
⅓ cup flour
⅓ cup cocoa powder
1 teaspoon baking powder
¼ teaspoon salt
¼ cup mini chocolate chips, divided
Directions
In a medium bowl combine the butter, yogurt, sugar, and egg and whisk.
Stir in the vanilla.
In a separate bowl, add the flour, cocoa powder, baking powder, and salt. Stir to combine.
Add the dry ingredients to the wet ingredients, stirring until completely incorporated.
Add ⅔ of the chocolate chips to the batter. Fold in with a spatula.
Spray a 6-inch pan with nonstick spray and pour the brownie mixture into the pan.
Sprinkle the remaining chocolate chips on top.
Pour 1¼ cup of water in the bottom of the bowl of the Instant Pot. Place the trivet inside and place the brownie pan on top.
Cover the Instant Pot and set the vent to sealing. Set the Instant Pot to normal pressure and the timer to 35 minutes.
Once the cycle is complete let the pressure cooker sit for 10 minutes before turning the vent to venting. Remove the lid and take out the pan of brownies.
Allow to cool slightly before turning the brownies out onto a plate and slicing to serve.
Nutrition
| | |
| --- | --- |
| Calories per Serving | 317 |
| Total Fat | 17.6 g |
| Saturated Fat | 10.8 g |
| Trans Fat | 0.5 g |
| Cholesterol | 68.8 mg |
| | |
| --- | --- |
| Total Carbohydrates | 38.4 g |
| Dietary Fiber | 2.7 g |
| Total Sugars | 27.9 g |
| Sodium | 209.2 mg |
| Protein | 5.1 g |