Trader Joe's Fans Are Loving Its New Spicy Mango Lemonade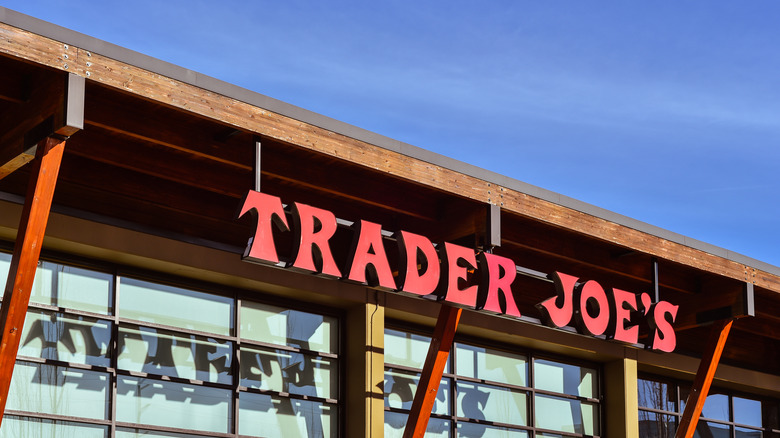 Shutterstock
What could be better than a nice cold glass of lemonade on a hot summer's day? Maybe nothing, unless the drink also has a sweet mango flavor and a touch of spice. Trader Joe's is doing just that, changing up the classic drink with the release of their new Spicy Mango Lemonade — and judging by the flurry of comments online, it appears shoppers are loving it. Made with a blend of lemon juice, mango puree, jalapeño pepper puree, and a dash cayenne pepper powder for extra heat, this drink perfectly blends sweetness and spice into a refreshingly unique beverage. 
This spicy summer release has been such a hit that some Trader Joe's fans took to social media to express their delight with the new find. The popular Instagram account @traderjoesobsessed alerted their followers to its arrival, writing: "The Spicy Mango Lemonade has finally arrived ... You can find this in the fridge section. Can't wait to try it!!" 
Instagram account @traderjoeslist also posted about the new find, jokingly asking, "Is it weird my mind went straight to margaritas when I saw this?!" From the looks of it, their followers couldn't get enough of the new beverage either. One raved it's a "GAME CHANGER!! Can't wait to try!!" while another piped in, "If this is as good as the jalapeño lime aid, count me in!
The Spicy Mango Lemonade makes a great drink mixer too
This new drink tastes great all on its own, but also makes a great cocktail or mocktail mixer as @traderjoesobsessed pointed out. The unique flavors pair well with many other beverages, from tequila to lime-flavored seltzer. Many followers on the Instagram account were quick to suggest their favorite pairing, with more than a few excited to use the spicy lemonade to make a refreshing spicy margarita. 
"OH MY GOODNESS! We'll have to get this and make some delicious margaritas this summer!" one person gushed, while another joked, "Just add some tequila and you're good to go." Yet another person came up with a pretty innovative idea, suggesting, "I was thinking popsicles."
So, whether you're planning on making a margarita, getting creative by mixing up your own unique new cocktail or mocktail, or simply drinking it on its own, this Spicy Mango Lemonade is a must-try for the summer. A one-quart bottle is available now for just $2.49, so don't wait to head to your local Trader Joe's and try this twist on a summer classic out for yourself.