Easy Mexican Meatloaf Recipe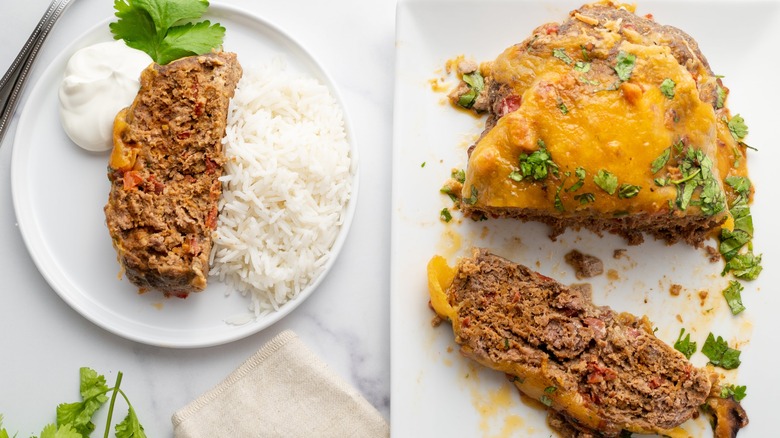 Liz Capozzoli/Mashed
Meatloaf is believed to have originated somewhere in Europe as early as the fifth century — Germany, Belgium, or Scandinavia, depending on who you ask. According to Bon Appétit, the first record of meatloaf in America can be dated to the 1870s, when New Englanders made the recipe from whatever meat they could get their hands on. At that particular point in history, it was usually just beef, but it wasn't long before experimentation took hold.
Given the explosion in the popularity of Mexican cuisine in the 1900s, it's no surprise that the hallmarks of Latin American seasonings eventually mashed with meatloaf. Recipe creator Liz Capozzoli of OwlBBaking has an easy Mexican meatloaf recipe that combines the unique herbs and spices of the republic to the south with the simplicity of the classic European dish. With a preparation time of 8 minutes and a cook time of 45 to 50 minutes, you can be enjoying this tasty dish is less than an hour. Let's take a look at what you need to get started!
Gather your Mexican meatloaf ingredients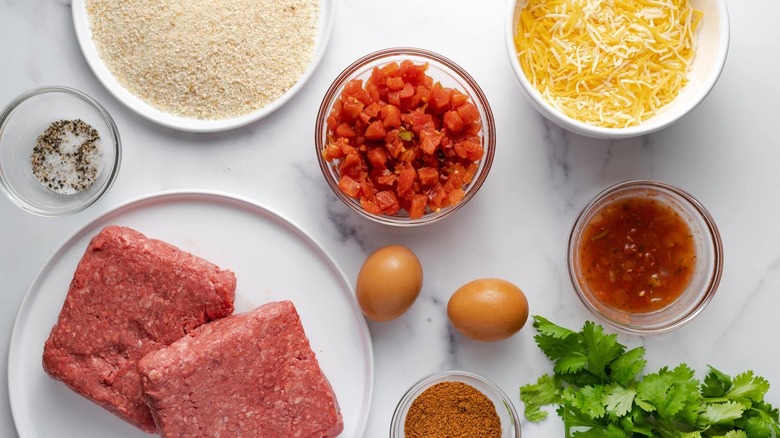 Liz Capozzoli/Mashed
This is a pretty simple recipe with ingredients that don't stray to far from what you'd grab on the average taco night. Ground beef is the protein that forms that base of this dish, and Capozzoli suggests an 80/20 lean beef-to-fat ratio for the best results. "It's a good middle ground fat ratio that makes for juicy and moist meatloaf," she says.
If you're not too big on ground beef, Capozzoli says you can experiment with a mixture of beef and pork. Ground turkey is also an option, but you might not get the greatest results. "Ground turkey is doable but the end result may be a bit drier as there is not a lot of added fat or moisture in the meat mixture," she says.
You'll also need a can of Rotel (diced tomatoes and green chilies), taco seasoning, salt, black pepper, eggs, and bread crumbs. Finally, you'll need some jarred salsa, Monterey Jack cheese, and fresh cilantro. 
Feel free to try out different types of cheese — Capozzoli recommends regular yellow or white shredded cheddar, or pepper jack. "Any cheese that goes well with a taco flavor and gets melty will be just fine!" she says.
Preheat your oven and prepare the beef mixture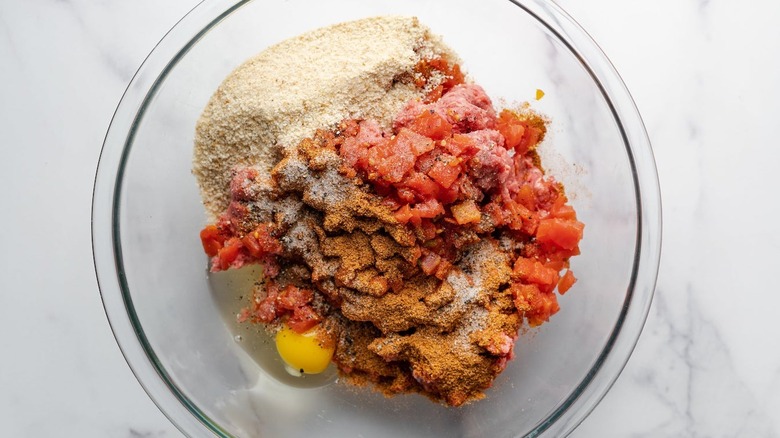 Liz Capozzoli/Mashed
Start by turning your oven to 375 F so it's ready for your meatloaf later on. Now, add your ground beef (or ground protein of your choice) to a large bowl and start breaking it into smaller pieces with your hands. You can also use a large spoon to help if needed. Continue breaking apart your beef until you're left with small crumbles. 
Now, add the Rotel, taco seasoning, eggs, and breadcrumbs. Gently mix the ingredients in with your beef until you have an even consistency throughout the mixture — this is important for the next step.
Shape your meatloaf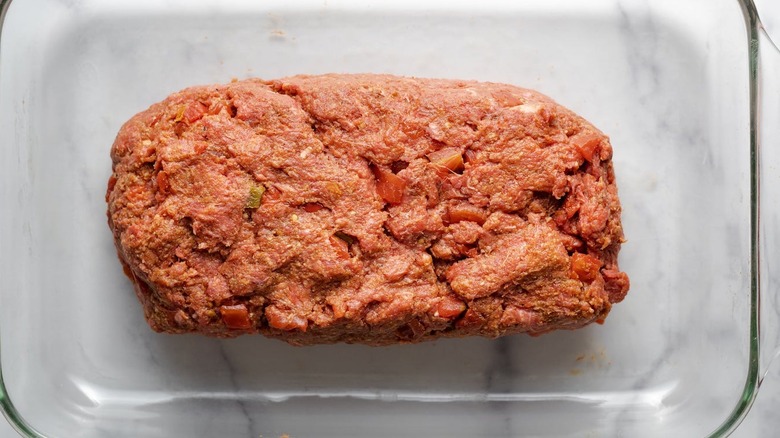 Liz Capozzoli/Mashed
Now for the fun part: shaping your meatloaf! With your beef mixture an even consistently, use your hands to form it into a rectangular loaf shape (see the picture above).  This might sound simple enough, but Capozzoli has a few tips to help you get the perfect profile.
"To achieve the perfect shape, my tip would be to be mound the meat in the relative shape in the pan," she says. "Be gentle when shaping; all it really needs is a light push on all sides to get the meat mixture to come together."
Capozzoli notes that this recipe was crafted to create the exact amount of moisture needed to make sure the beef mixture sticks together perfectly. For this reason, she cautions against fiddling with the blend.
"I know we all like to experiment with adding our own twist to recipes, but I would avoid adding anything to the meat mixture that would make it more dry or more wet," she says. "Otherwise, the texture and optimal 'stickiness' would change and the meatloaf could end up too dry or fall apart because it's too wet."
Once you've got the perfect loaf, place it into a baking dish and head on to the next step!
Bake your meatloaf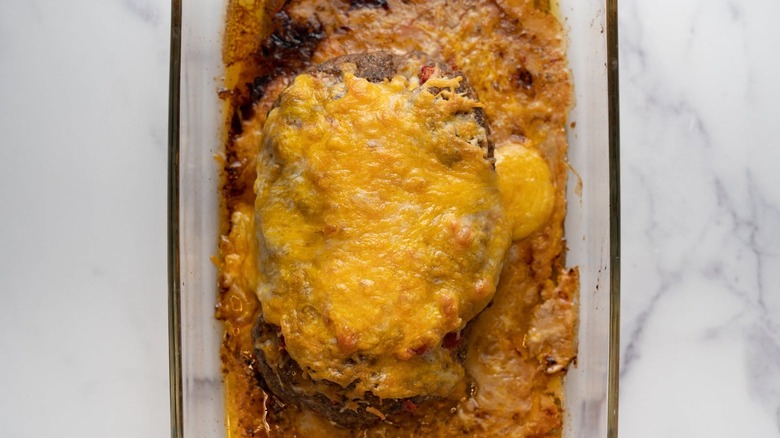 Liz Capozzoli/Mashed
At this point, your oven should be preheated to 375 F. Place the baking dish into the oven and bake your meatloaf for 40 minutes. Once the 40 minutes are up, pull your meatloaf from the oven, pour the salsa evenly on top, and sprinkle on the Monterey Jack cheese. Then put the dish back in the oven for five to 10 minutes to melt the cheese. 
If you're having a hard time deciding whether your dish is ready, take a look at the top — if the cheese is melted and bubbly, it's ready to eat! You can also use a meat thermometer if you have one on hand. According to the United States Department of Agriculture, the internal temperature of your beef should be 160 F.
Serve your Mexican meatloaf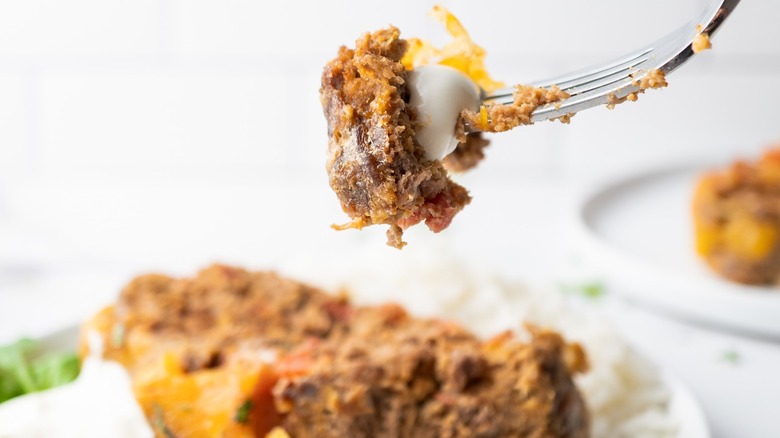 Liz Capozzoli/Mashed
When your meatloaf is thoroughly cooked and the cheese is bubbly and calling out to you, you have one last step: garnishing it with your fresh cilantro. 
If you have a taste for some extra flavors, you can pair the dish with your choice of side or sour cream. "I would pair this dish with a cilantro lime rice or Mexican-style rice," Capozzoli says. "You could also serve with a fresh salad made with iceberg, vegetables, and a lime vinaigrette. This meatloaf would pair great with a side of corn or, better yet, Mexican-style street corn."
If you have any leftovers, you can store them for three to four days in the refrigerator.
Easy Mexican Meatloaf Recipe
This easy Mexican meatloaf recipe combines herbs and spices of the republic to the south with the simple European dish and comes together in less than an hour.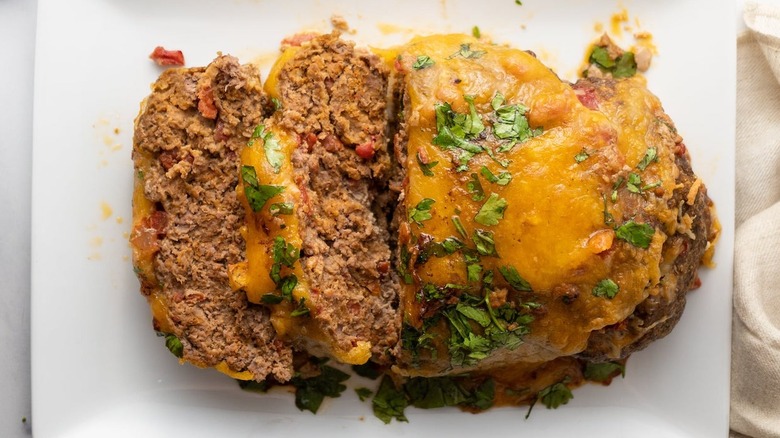 Ingredients
2 pounds ground beef
1 (10-ounce) can Rotel, drained
2 tablespoons taco seasoning
1 teaspoon salt
¼ teaspoon black pepper
2 eggs
½ cup plain bread crumbs
¼ cup jarred salsa
1 cup Monterey Jack cheese
Fresh cilantro, to garnish
Optional Ingredients
Directions
Preheat the oven to 375 F.
Break the ground beef into small pieces in a large bowl with your hands or a large spoon.
Mix the Rotel, taco seasoning, eggs, and breadcrumbs with the ground beef until the mixture is evenly combined.
Form the beef mixture into a loaf shape and place it in a baking dish.
Bake your meatloaf for 40 minutes.
Remove the meatloaf from the oven and add the pour on the salsa. Sprinkle the cheese on top.
Bake the meatloaf for 5 to 10 more minutes until the cheese is melted and bubbly.
Garnish your meatloaf with fresh cilantro.
Serve your meatloaf with rice and sour cream, if desired.
Nutrition
| | |
| --- | --- |
| Calories per Serving | 407 |
| Total Fat | 29.2 g |
| Saturated Fat | 12.2 g |
| Trans Fat | 1.3 g |
| Cholesterol | 135.2 mg |
| | |
| --- | --- |
| Total Carbohydrates | 8.2 g |
| Dietary Fiber | 1.5 g |
| Total Sugars | 2.0 g |
| Sodium | 491.4 mg |
| Protein | 26.3 g |