This Simple Trick Makes Stuffed Crust Pizza A Snap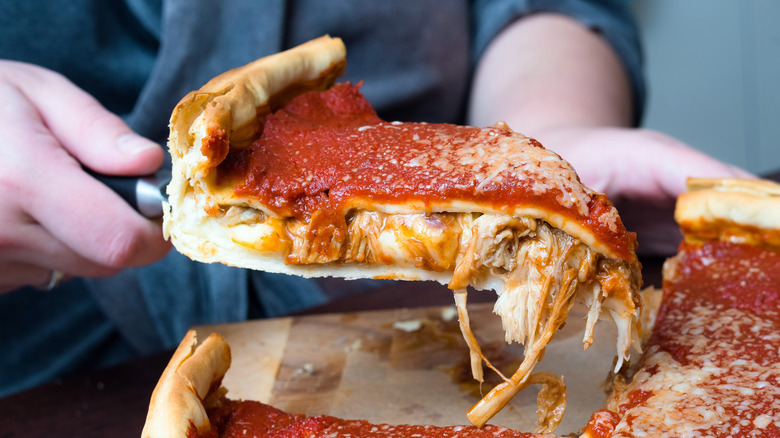 Shutterstock
One of the best things about pizza — besides the obvious fact that it's delicious — is that there are so many ways to customize it based on your personal preferences. You can choose the style like wafer-thin New York-style, Chicago deep dish, or Detroit-style pan pizza. Then you can choose the sauce like basic tomato, creamy Alfredo, barbecue, ranch, or pesto, to name a few. Then there are all of the hundreds of toppings you can add, from extra cheese to pepperoni to mushrooms, pineapple, fresh basil, and more.
At many pizza places, you can also choose the type of crust you'd like. You might stick to the original — why fix something that ain't broke — or you might branch out to whole wheat or even cauliflower crust. And for those that can't get enough cheese, you likely love when you see stuffed crust on the menu. If you've ever wanted to recreate your favorite mozzarella-filled crust at home, you're in luck. There's a very easy hack for making stuffed crust pizza — here's what you need to know.
Use string cheese instead of shredded mozzarella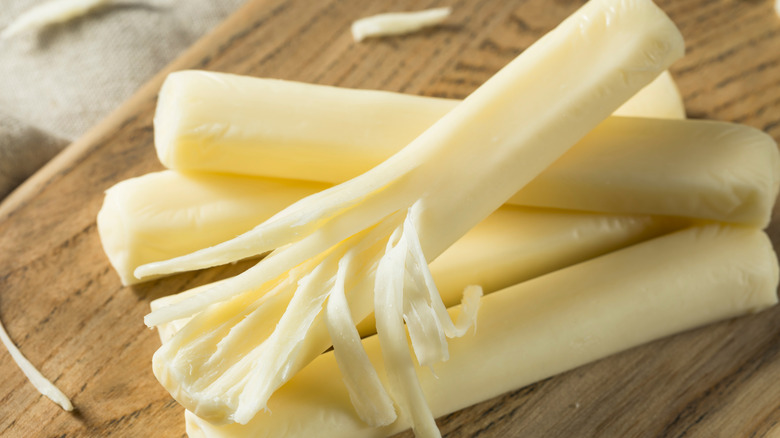 Shutterstock
The idea of making homemade stuffed crust pizza can be daunting. How are you going to perfectly fill and wrap the dough with cheese, so that it's symmetrical and so that mozzarella doesn't come spilling out while it's baking in the oven? Luckily, there's a simple solution: Use string cheese instead of shredded or grated cheese. "I know it sounds weird, but I swear by this little hack," Sally's Baking Addiction explains. "The perfect shape, width, and texture for creating those melty cheese pockets inside the pizza crust." She says she uses seven string cheeses for a 12-inch pizza.
To make sure you have enough dough to wrap securely around the cheese, place the string cheese about 1/2 to 3/4 inches from the outside edge. Then press the dough firmly into place to prevent it from popping up or open in the oven. If you follow these instructions, you'll be able to enjoy a stuffed crust pizza just like at your favorite restaurant.