Instant Pot Creamy Millet Porridge Recipe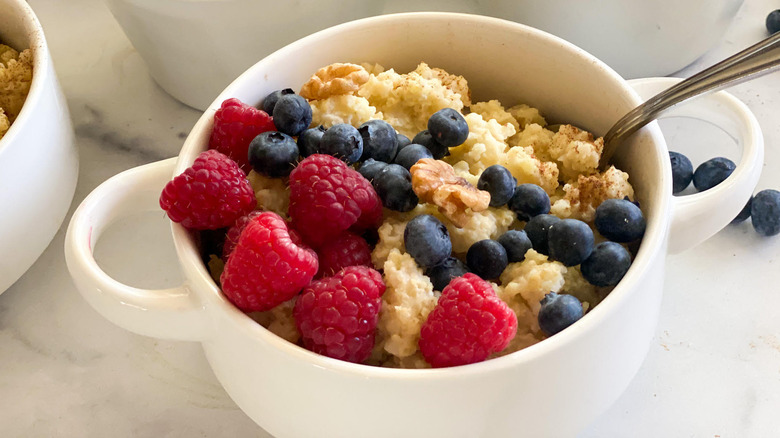 Miriam Hahn/Mashed
Are you looking for a quick and easy breakfast that you can make with your Instant Pot to speed up the process? If so, look no further than this delicious Instant Pot creamy millet porridge. According to Rude Health, porridge is an incredibly nutritious dish that traces back to Northern Europe. While the people in Northern Europe used to eat it as a savory food, it's now usually topped with sweet treats like cinnamon, honey, and brown sugar. Yum!
Recipe developer Miriam Hahn on YouCare-SelfCare crafted this delicious recipe that satisfies any craving that you may have. She raves over how great it is for your health. "I love eating all types of grains for the health benefits," Hahn says. "Millet is not a grain that works well in salads or other dishes that would work for quinoa or rice. Eating it as a breakfast porridge is a great way to get it in. It is loaded with vitamins and minerals and also pre-biotic fiber, which helps enhance our gut health."
Healthy and delicious — what more could you want in a dish? Keep scrolling to find out how to prepare this fantastic porridge in your own kitchen.
Gather the ingredients to prepare this Instant Pot creamy millet porridge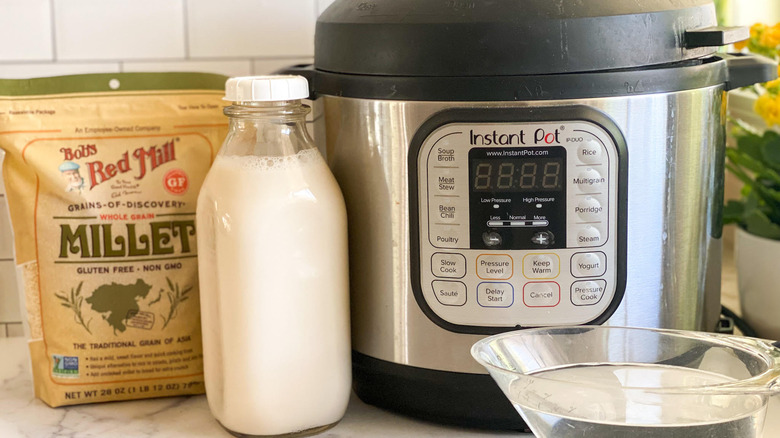 Miriam Hahn/Mashed
The first step in the process is to gather everything that you need to whip together this tasty porridge. Luckily, there are not a lot of items that go into it. You will need 1 cup of dry millet for starters, which will serve as the base for the recipe. In case you're not familiar, millet is just a tiny grain in the cereal family.
In addition, you'll need to round up 2 cups of water, which you already have at home. Score! Last but not least is any milk of your choice. Whole, skim, or reduced-fat milk will all work just fine. Toppings are optional but really make the recipe come to life. A few examples are fresh fruit, nuts, brown sugar, maple syrup, agave, cinnamon, and milk. 
Now that you have everything together, we can get started working on the recipe!
Prep the Instant Pot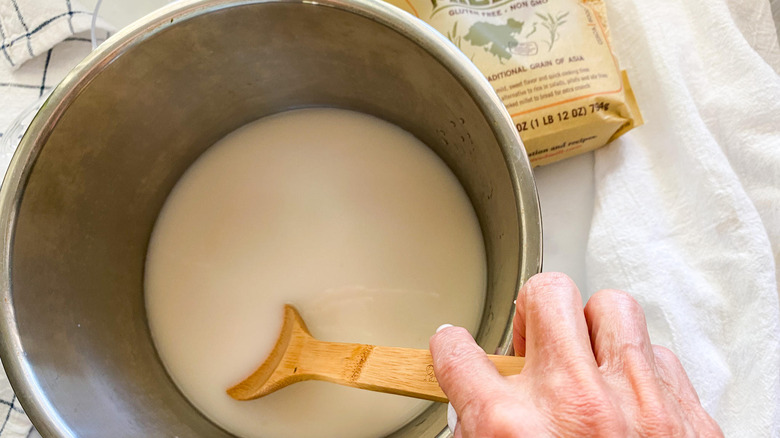 Miriam Hahn/Mashed
For the first part of the prep process, take out your Instant Pot. The Instant Pot is great, as it will make the porridge in a hurry while still locking in the same scrumptious taste and flavors. Once it is on the counter, open the lid, and toss in your millet, water, and milk. Make sure to give the mixture a few good stirs so that all the ingredients are well-combined.
Aside from your toppers, that means that all of your other ingredients are already in the Instant Pot. How easy is that? Keep reading for the next step.
Cook the porridge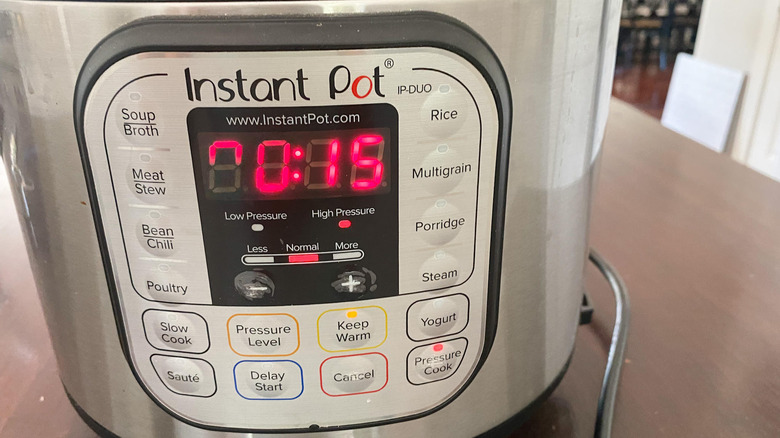 Miriam Hahn/Mashed
After you've stirred the porridge, put the lid back onto the Instant Pot. Set the nozzle on the lid to "sealing," and then select "pressure cook." Set the timer for 15 minutes. This is about how long it takes the Instant Pot to reach pressure before the cook time begins. Once the cooking time begins, the time of "15" will show up in red, and the clock will start counting down. 
There's nothing else you need to do right now, so go ahead and take a load off, kick back with some wine, or finish unloading the dishwasher, because that's simply the beauty of using an Instant Pot! It does all the cooking for you, so while you're putting a recipe together, you've got some extra time on your hands, which is always a major plus.
Let the porridge sit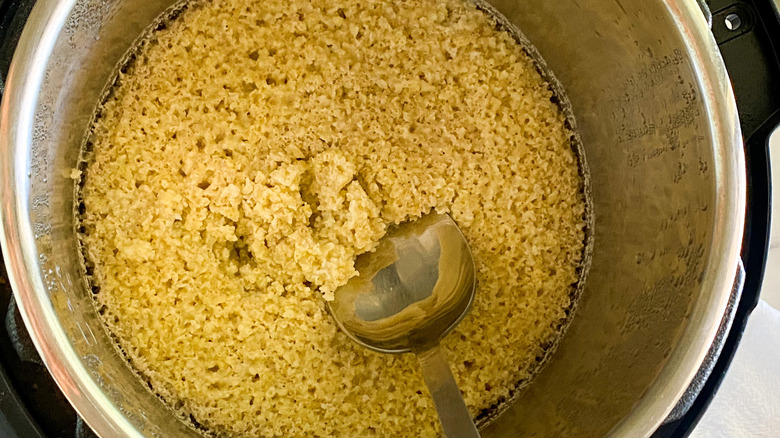 Miriam Hahn/Mashed
When your timer beeps, that means your creamy millet porridge is almost done! Make sure to let the porridge sit for about 30 minutes, and then it will start naturally releasing. After that, switch the nozzle on the lid to "venting." Be sure to stand back, and be careful in case there's more steam that needs to come out.
When the lid is open, fluff up the porridge with a wooden spoon or a fork. This is similar to what you'd do with rice after you finish cooking it. You can now take it out of the Instant Pot, and get it ready for serving. It will smell and look really delicious, and we're pretty sure you will want to make this recipe much more in the future!
Serving suggestions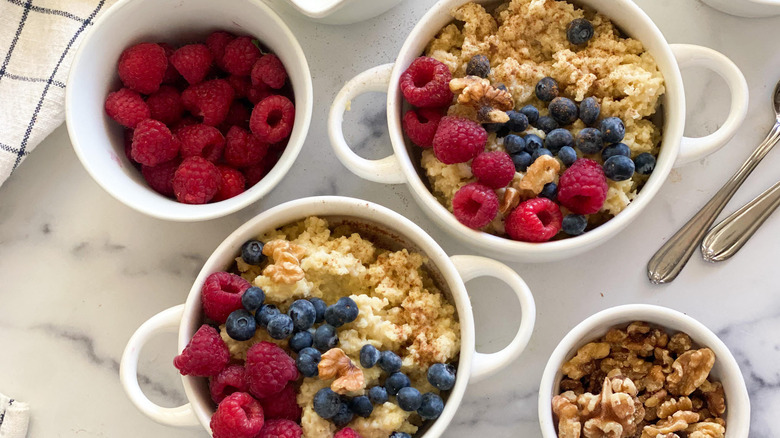 Miriam Hahn/Mashed
Now it's time to enjoy the fruits of your labor. Feel free to put the porridge in individual bowls to serve. Hahn does not recommend pairing it with anything else, since it's filling enough on its own. But you can put toppings on it. "I love topping it with fresh fruit and nuts. You can add syrup or honey if you want it sweeter," she says. "I always add more milk as well, and my favorite type is almond milk."
Hahn also notes that this is good for make-ahead meal prep. "It is great for meal prep. You can make a batch, and it will last all week," she shares. Sounds pretty good to us!
Instant Pot Creamy Millet Porridge Recipe
In the mood for a quick and easy breakfast? If so, look no further than this Instant Pot creamy millet porridge, complete with the toppings of your choosing.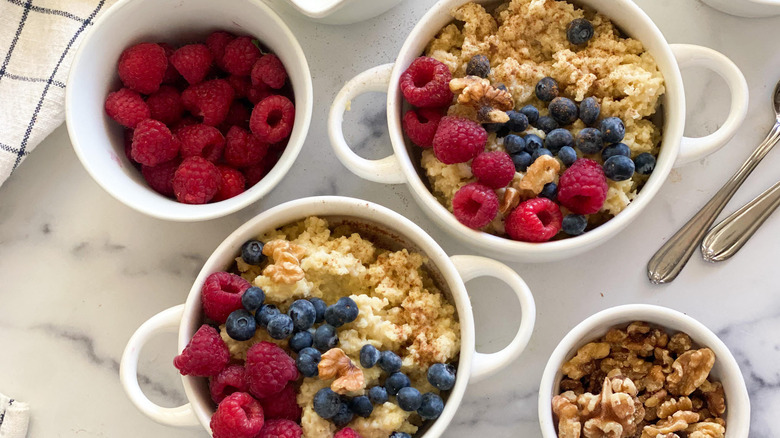 Ingredients
1 cup dry millet
2 cups water
1 ½ cups milk
Optional Ingredients
fresh fruit, for topping
nuts, for topping
cinnamon, for topping
more milk, for topping
Directions
Add the dry millet, water, and milk to the Instant Pot. Stir well.
Put the lid on the Instant Pot, and set the nozzle on the lid to "sealing."
Select "pressure cook," and set the time to 15 minutes. The Instant Pot takes about 15 minutes to reach pressure before the cook time begins. When it begins cooking, the time of "15" will show in red and will begin counting down.
When the timer beeps, let it sit for 30 minutes, naturally releasing.
Switch the nozzle on the lid to "venting," and stand back in case there is any more steam to release. Then, open the lid, and fluff with a wooden spoon or fork.
Add toppings, and serve.
Nutrition
| | |
| --- | --- |
| Calories per Serving | 245 |
| Total Fat | 5.1 g |
| Saturated Fat | 2.1 g |
| Trans Fat | 0.0 |
| Cholesterol | 9.2 mg |
| | |
| --- | --- |
| Total Carbohydrates | 40.8 g |
| Dietary Fiber | 4.3 g |
| Total Sugars | 4.6 g |
| Sodium | 46.6 mg |
| Protein | 8.4 g |