Costco Shoppers Are Not Impressed With These Jarred Birthday Cakes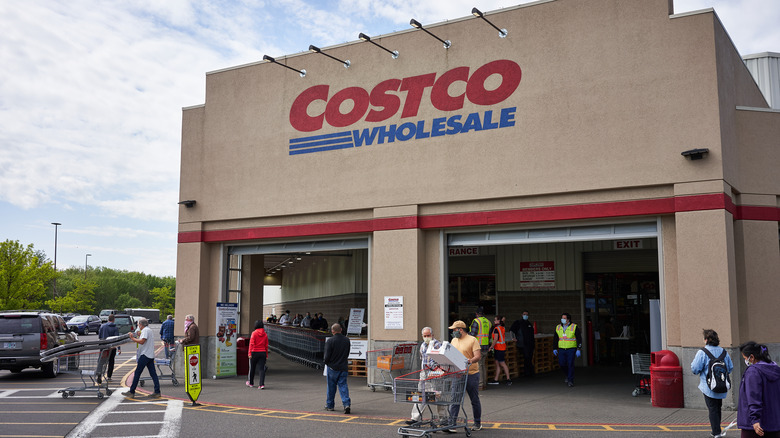 Shutterstock
When it comes to grabbing a quick and easy snack filled with birthday cake flavor, you have a ton of choices at your disposal. Oreos, jelly beans, and even protein bars have tapped into this super sweet flavor that can get anyone celebrating (via Taste of Home). No one can deny these snacks have truly tapped into a unique taste, but when it comes to actually getting a pre-made birthday cake, your expectations go beyond taste. The best cakes feature proper proportions of frosting, a delectably moist crumb that can hold together no matter what, and even extra cookies or graham crackers to add texture (via Tasty).
Sometimes grabbing an actual cake loaded with birthday flavor seems too good to be true, and unfortunately, Costco's latest birthday cakes in jars fell flat. A post on r/Costco appeared showing off the La Vie Birthday Cakes with a disclaimer reading "Skip Them." The Italian cakes, which retail at $11.99, only made a negative impression on shoppers, and anyone who already tried them made their voice heard in the comments section of the post.
A Costco cake that fell flat
Commenters flooded the Reddit post and left their own scathing reviews of the cake. Responses ranged from, "I'm usually down for anything cake related, but this didn't even taste like cake to me — just a mouthful of sugar paste? I'd much rather get a sheet cake to commemorate Tuesday for almost the same price," all the way to "I really didn't like these either. My cake was actually really dry and flavorless. The frosting was too sweet. It tasted like pure sugar." One commenter did find a silver lining to the cakes, stating, "I get these for the jars."
If you spotted these cakes at your local Costco and thought you struck gold, you might have to give these a taste test before you claim them as your next favorite birthday cake snack. Unless you have an incredibly massive sweet tooth, these cakes have the potential to overpower anyone, according to the Reddit comments section. Steer clear of these treats on your next Costco run unless you seriously crave some sugar.