Easy Oreo Fluff Recipe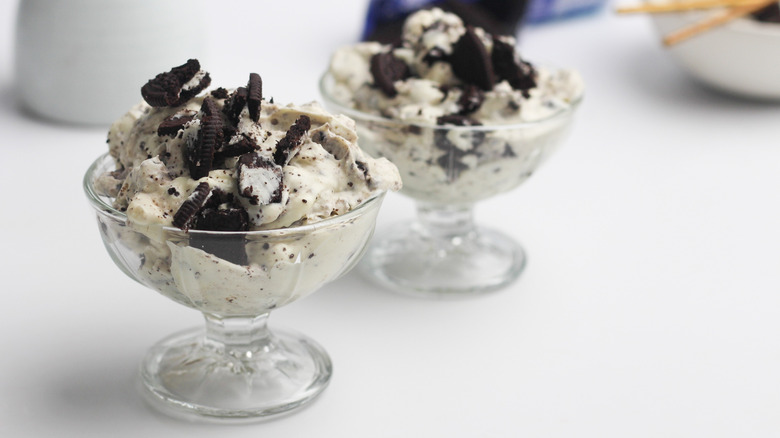 Susan Olayinka/Mashed
When the word Oreo is in the name of the recipe, you already know that it's going to be good. And our easy Oreo fluff recipe is sure to be a winner in your household because it is as fluffy as it is delicious. In fact, recipe developer Susan Olyainka says that this rich dish tastes "AMAZING," adding that it has a nice combination of textures that range from soft to crunchy. She also said she had a hard time not eating it while she preparing it.
One of the best things about this recipe (besides how it tastes) is the fact that it only calls for four ingredients. And, if you don't have much experience in the kitchen, don't worry! Olayinka says that a beginner should have no trouble whipping this up because it is just that simple.
So, what are you waiting for? Let's get cooking on this easy Oreo fluff.
Gather the ingredients for the easy Oreo fluff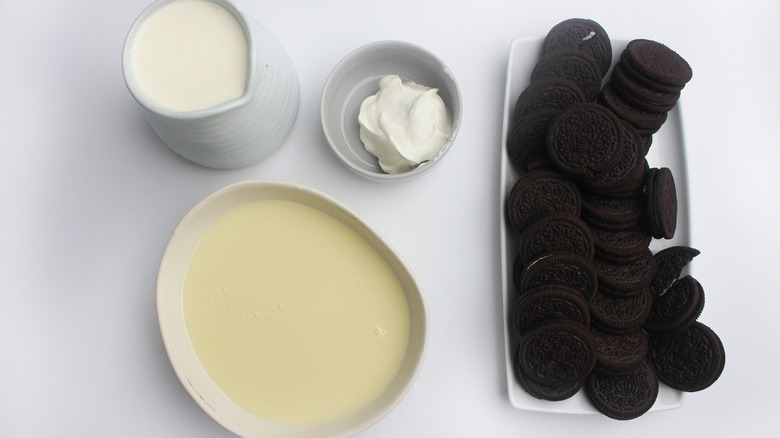 Susan Olayinka/Mashed
As mentioned, you don't need much to make this delicious "fluff" recipe and some of them may already be standing at the ready in your fridge or pantry. Of course, you will need Oreos, given that they're the star ingredient of this recipe, which calls for 31 cookies. One package of Oreos contains 45 cookies, so you will have plenty if you start with an unused bag (and also feel a bit like snacking on the extras, of course). 
The fluffy part of this creamy dish comes from the heavy cream, of which you will need 2 ½ cups, along with ¼ cup cream cheese. Ideally, bring the cream cheese to room temperature by setting it out ahead of time, which will soften its texture and make the whipping step easier. You will also need 1½ cups of condensed milk, which Olayinka says gives the finished recipe a yummy caramelized flavor thanks to its sweetened taste.
Crush the Oreos
Susan Olayinka/Mashed
The first step of the recipe is to crush or crumble the Oreos. To make the chunks of cookies the right size, Olayinka put all of them in a large bowl and used the end of a rolling pin to break them into smaller pieces. While you do want the pieces to be small enough to fit into a spoonful, there's no need to crush them into powder, so remember to restrain yourself just a bit.
You also can use another object to smash the cookies, like a sturdy jar or a dedicated masher. You could even place them in a plastic bag and roll over them with the rolling pin if you want to further contain the pieces and crumbs.
Mix the whipping cream and cream cheese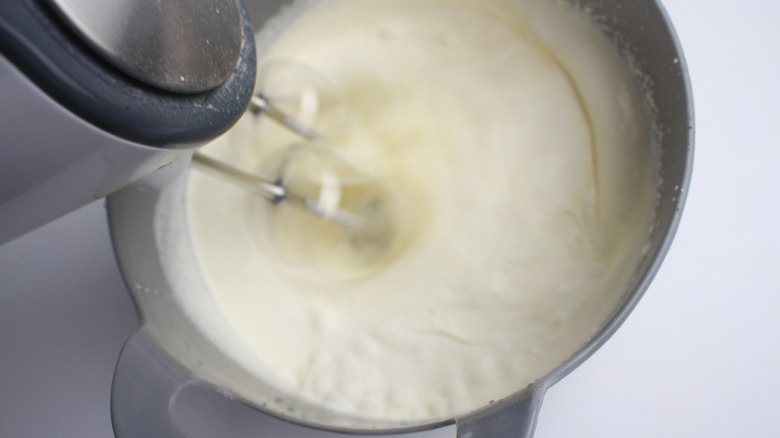 Susan Olayinka/Mashed
Once the cookies are crushed, it's time to move on to making the cream-based portion of this treat. The first step is to pour the whipping cream and room temperature cream cheese into a large mixing bowl and whip with an electric whisk until stiff peaks form. Olayinka says this process should take anywhere from 2 to 3 minutes. You'll know the peaks are stiff when they stand straight up after you lift the beaters, without any curling over. 
Don't take the whipping portion too far, though, or you risk the cream separating and turning into the beginnings of butter — not exactly what you want for this particular recipe.
Add the milk to the cream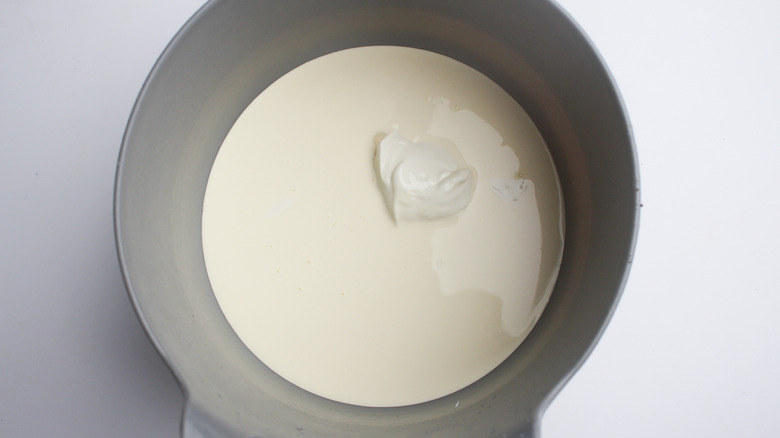 Susan Olayinka/Mashed
Once you see stiff peaks in the cream, it is time to add the milk to the mixture. For the perfect texture, you'll want to fold the milk into the cream gently with a spoon. 
Olayinka says that she used a spoon instead of a mixer for this part of the recipe because she did not want to burst all of the bubbles in the cream mixture, deflating the aerated fluff you just created. Remember that those air bubbles actually serve a good purpose because they keep the cream light and fluffy, which makes for a fantastic, creamy consistency and a light texture that's key to the final dessert.
Add the Oreos, chill, and enjoy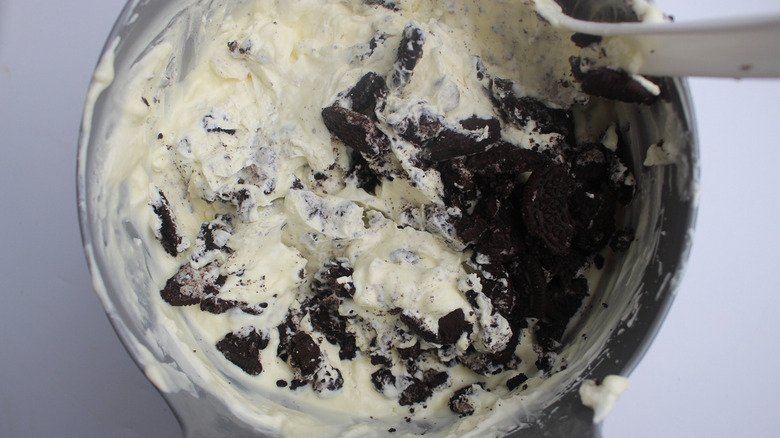 Susan Olayinka/Mashed
When the milk is folded into the cream, it is finally time to add the Oreos. You will also want to fold these cookie pieces in gently with a spoon, again to maintain the light texture of the whipped cream cheese and cream mixture. 
Once you have added the cookies, it's up to you what to do next. If you are going to eat this tasty treat just as it is, scoop the mixture out into small serving dishes and set them in the refrigerator to chill for a bit, a step that Olayinka says contributes to the final taste and texture of the dish. 
But why stop there? While it's plenty great enjoyed on its own, this Oreo fluff plays well with quite a few other recipes. For instance, Olayinka also notes that this would "definitely [be] a good pie filling!" If you are planning to use this as a pie filling, smooth it evenly into a cooked pie crust and chill it before serving. You could also use this fluff to top other treats like a chocolate cake or cupcakes. The options are endless!
Easy Oreo Fluff Recipe
One of the best things about this Oreo fluff recipe, besides how it tastes, is the fact that it only calls for four ingredients and is incredibly easy to make.
Ingredients
31 Oreos
2 ½ cups heavy cream
¼ cup cream cheese
1 ½ cups condensed milk
Directions
Put the Oreos into a large mixing bowl. Using the end of a rolling pin, mash the Oreos into smaller pieces. Set aside.
Add the heavy whipping cream and cream cheese together in a large mixing bowl. Whip with an electric whisk until the mixture forms stiff peaks.
Pour the condensed milk into the whipped cream mixture and gently fold it in with a spoon.
Add the Oreo pieces to the mixture and fold to incorporate.
Serve chilled.
Nutrition
| | |
| --- | --- |
| Calories per Serving | 303 |
| Total Fat | 19.5 g |
| Saturated Fat | 10.8 g |
| Trans Fat | 0.0 g |
| Cholesterol | 57.5 mg |
| | |
| --- | --- |
| Total Carbohydrates | 29.6 g |
| Dietary Fiber | 0.6 g |
| Total Sugars | 23.3 g |
| Sodium | 136.9 mg |
| Protein | 4.0 g |