The Untold Story Of Red The Steakhouse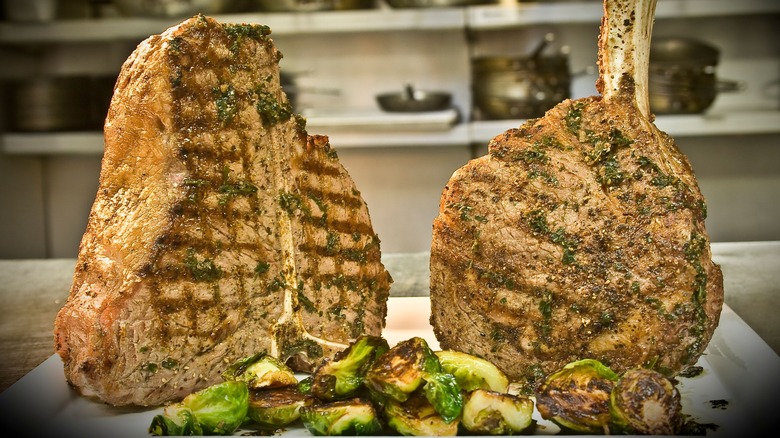 Red the Steakhouse
Red the Steakhouse might not be a name you immediately recognize. But if you've ever been in Miami or Cleveland and tried looking up the best steakhouse in the city, you undoubtedly came across it. The dark, deep red spaces have been plating up Certified Angus Beef prime steaks since 2007, and though the brand has come across some tough times it still cranks out some of the best beef in the country.
So what is it that sets Red the Steakhouse apart from the bigger-name national steakhouse chains? Is the food really all that good, or is it just another case of South Beach style over substance? We chatted with Peter Vauthy, the culinary creative force behind Red the Steakhouse, who now serves as chef and co-owner of the South Beach location. He dished on the origins, ups, downs, and future of Red the Steakhouse, and made us insanely hungry in the process.
Red the Steakhouse was born from one of the best restaurants in America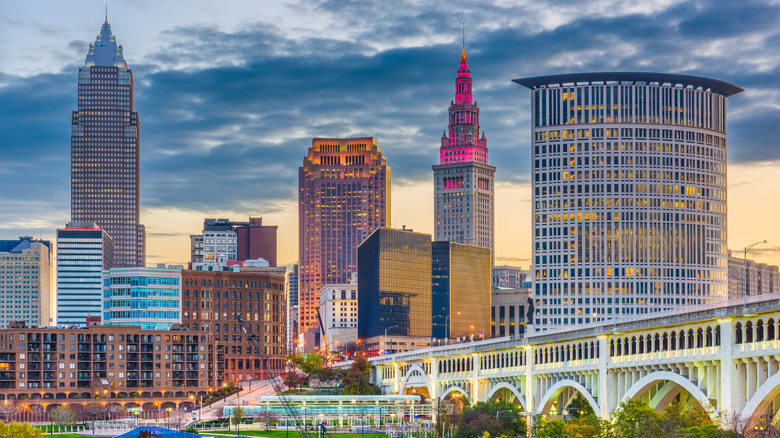 Shutterstock
Once upon a time, in a mythical land known as Cleveland, Ohio, there was a restaurant called Moxie. And long before Jonathan Sawyer and Michael Symon made this city a big time dining destination, Moxie put Cleveland on the culinary map, landing itself on Gourmet Magazine's vaunted 50 Best Restaurants in America list in 2004 (via Uproxx). A big part of Moxie's success was its team in the kitchen, helmed by Peter Vauthy and Jonathan Bennett.
After gaining some local fame, the chefs decided it was time to set out on their own. As independent steakhouses were beginning to make a comeback in the early 2000s, Vauthy and Bennett teamed with Moxie owner Brad Friedlander to open the original Red the Steakhouse.
"Steakhouses appeared to be getting hot again," Chef and Co-Owner Peter Vauthy told Mashed in an exclusive interview. "So we started talking about opening a steakhouse. But we wanted to take some of the principals we had at Moxie and apply it to a steakhouse." Moxie closed in 2019, according to Cleveland.com. But its legacy lives on through Red the Steakhouse.
The first Red the Steakhouse opened in Beechwood, Ohio in 2003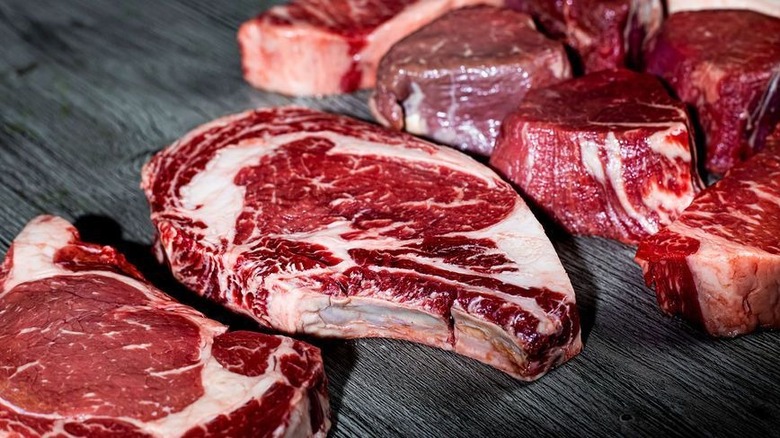 Red the Steakhouse
On Christmas Eve 2003, Vauthy, Bennett, and Friedlander finally saw their vision come to fruition, when the original Red the Steakhouse opened its doors. The 3,500-square-foot restaurant sat at 3355 Richmond Road in the Cleveland suburb of Beechwood, Ohio. And according to Peter Vauthy, it didn't much resemble the Red we know today.
"It was kind of a hodgepodge," Vauthy told Mashed when speaking of Red's early days. "From day one people were coming in and asking if I could make Italian wedding soup, and as the menu decided to morph I thought Red should be an Italian-influenced steakhouse, because otherwise we would pigeonhole ourselves."
The name, and dark, red décor stemmed from the partners' memories of old school steakhouses from the 1950s and 1960s, according to Vauthy. His days going to John Krtozer's steakhouse in Toledo, Ohio, and the red booths and dim light heavily influenced the vibe at Red. And it gave the place the signature look that set it apart from the glut of other Midwestern steakhouses.
Red opened its second location in Miami in 2008, and gave away wine to survive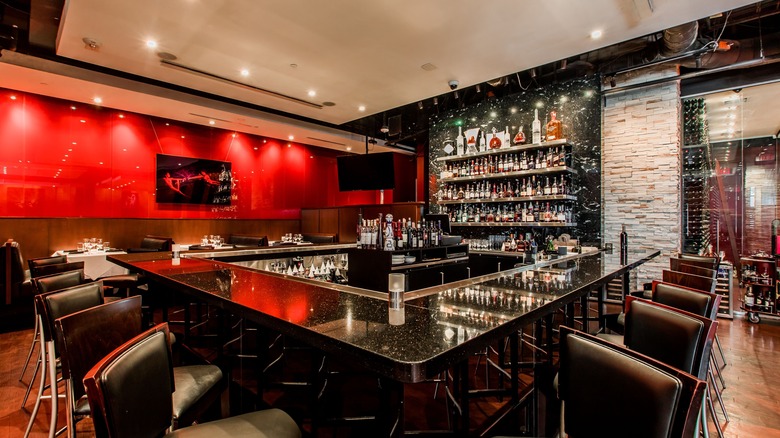 Red the Steakhouse
After finding success in northeastern Ohio, Red soon began to seek other locales. The list came down to Los Angeles and Miami (if you've ever experienced winter in Cleveland, you probably understand why), and because Miami was a much shorter flight, the team opted to take its talents from Cleveland to South Beach. A full three years before LeBron brought that phrase into the lexicon.
But unlike LeBron, Red didn't find instant success. "The first eight months were a massive, massive struggle," Vauthy said. "In Cleveland, we had a rep. In Miami, nobody cared. We didn't know you had to stay open on Christmas and New Years. In Miami, everything closes late. We absolutely got our butts kicked."
The restaurant also didn't have a liquor license when it first opened, and gave away wine with its steak dinners to get people in before the license was approved. The team was also wholly unprepared for the seasonality of Miami in the 2000s. Though sales picked up the following year, Vauthy says he's had single days where Red grossed more money than in all of June 2008.
After opening in Miami, Red the Steakhouse won a ton of accolades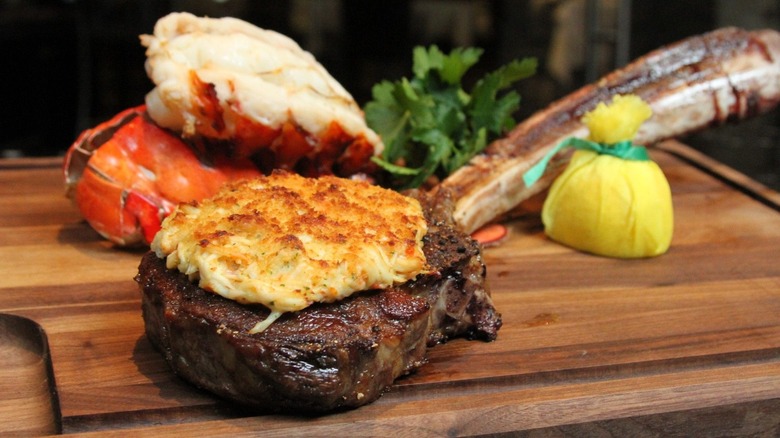 Red the Steakhouse
After its initial struggles in South Beach, Red the Steakhouse finally found its stride. And after the city hosted the Super Bowl in 2010 the world began to take notice. Locally, Red the Steakhouse became a regular on lists of the city's best steakhouses, landing itself on rosters of Miami's top steak spots in the Miami New Times, TimeOut, and Culture Owl. Thrillist went a step further, naming Red the Steakhouse THE best steakhouse in highly-competitive Miami, as well as one of South Beach's essential restaurants. The Ohio original wasn't left out, gaining a Best Steakhouse in Ohio nod from Thrillist as well.
But it wasn't just local press that fell in love with Red the Steakhouse. America's esteemed mavens of sexiness Playboy Magazine named it one of the sexiest steakhouses in America, according to the Indy Star. The Daily Meal cited Red's surf and turf as the best in the country. And Esquire and Food & Wine also placed Red on their lists of America's best steakhouses, firmly cementing this two-city operation in the top echelon of American restaurants (via Beststeakrestaurant.com).
Red the Steakhouse serves a full Italian menu alongside steaks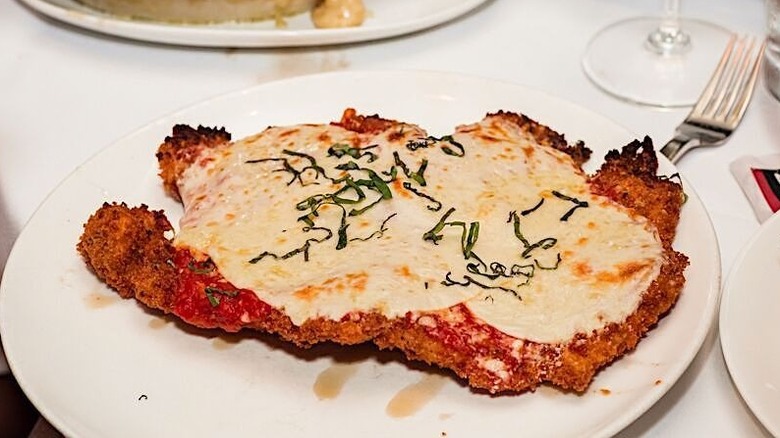 Red the Steakhouse
Part of why Red the Steakhouse became such a runaway hit was because it offered a lot on its menu besides steaks. Vauthy told Mashed he believes a steakhouse must constantly be reinventing itself to stay relevant, and that's why he's loaded his menu with stuff like chicken parm, oversized meatballs, and his trademark "red lead" sauce.
"I felt like in Miami, we were missing a little of that Mom's Italian restaurant, where you can eat big red sauces and just feel like you're at home," Vauthy said. "That's why we have veal parm and chicken parm on the menu. I think we have the best chicken parm out there."
The incomparable menu also includes a hefty lineup of pastas, ranging from the traditional Bolognese with veal and beef ragout, to lobster fra diavolo with fresh Maine lobster and spicy marinara sauce. Vauthy even finishes off his meals with traditional Italian zeppole, inspired by the ones his great-grandmother made growing up.
Red South Beach sells more Certified Angus Beef prime than anywhere in the world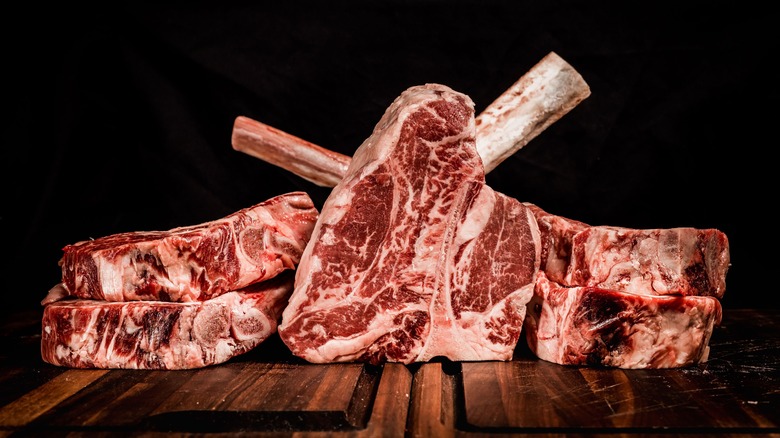 Red the Steakhouse
When it comes to the world of high-end steakhouses, one might think that once you've reached the level of prime beef you're getting the same stuff everywhere. But this is not always the case. Peter Vauthy is a chef ambassador for Certified Angus Beef, an Ohio-based beef brand that puts its cuts through an extensive, ten-specification checklist before giving it the seal of approval.
"Certified Angus Beef is based in Ohio, and their corporate chef and I worked side by side there," Chef and Co-Owner Peter Vauthy told Mashed. "So when we opened we went with all CAB prime, that's our thing, that's how we'll get people in the door."
And get them in Vauthy has, as Red South Beach is now the largest single purchaser of Certified Angus Beef prime in the world. It has sold over 100,000 filet mignons, and a whopping half million pounds of steak since opening its doors. That figure is thanks in large part to a couple of Red's signature cuts, a 48-oz porterhouse and the head-turning 96-oz tomahawk.
Red's crab and lobster menus are also unlike any steakhouse in America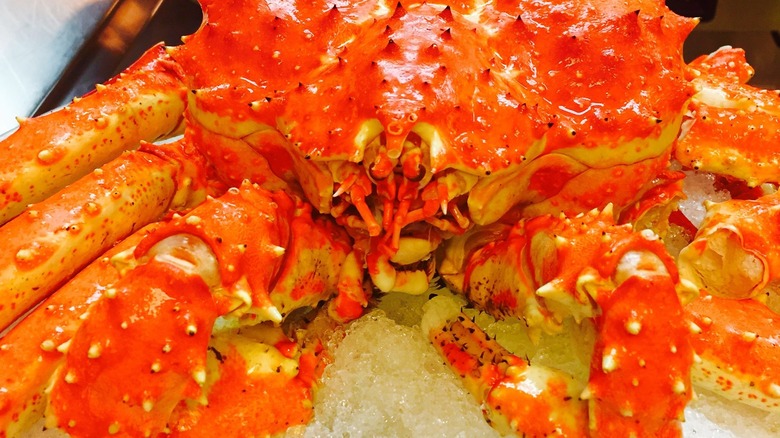 Red the Steakhouse
Another reason Red the Steakhouse has been able to stand out among the glut of contemporary American steakhouses is its impressive, and sometimes terrifying, menu of crab and lobster.
"You have to cater to vegetarians and pescatarians and people who aren't big steak eaters," Red the Steakhouse Chef and Co-owner Peter Vauthy told Mashed. "Which means you've gotta up your game on the seafood side."
The Brittney Blue lobsters Red pairs with the Certified Angus Beef prime steaks is a huge part of why Daily Meal ranked the restaurant's surf and turf as the best in America. But what's most impressive about Red's seafood menu are the Alaskan king crabs the restaurant flies in when they're in season. While delicious on the plate, the crabs are so big they look a little more like alien invaders when you first see them. If you're squeamish around exoskeletons, you may want to avert your eyes.
Red the Steakhouse unsuccessfully tried expanding to Indianapolis and Pittsburgh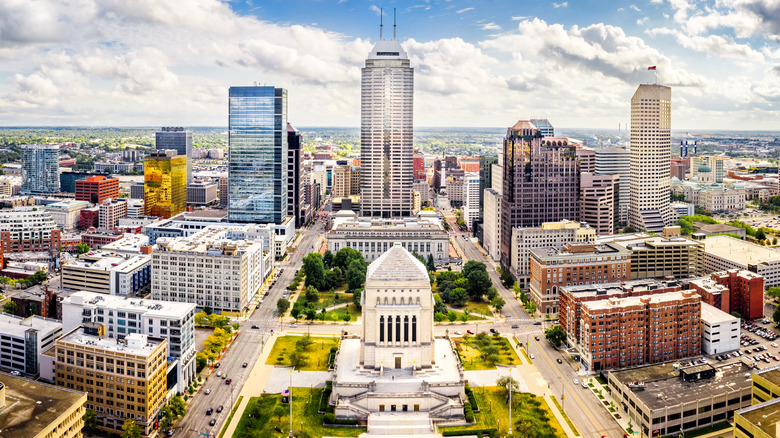 Shutterstock
By the mid-2010s, Red the Steakhouse had become a runaway success both in Cleveland and Miami. So the partners began eyeing other cities in which to expand their meaty empire. Vauthy wanted to open locations in markets he felt were highly underserved when it came to modern steakhouses, and suggested opening up in Tampa and Orlando. But, according to our interview, his partners had other ideas. They wanted to stay in the Midwest, and opened up new Reds in Indianapolis and Pittsburgh.
"Downtown Indianapolis might be the most overly saturated area for steakhouses in America," Vauthy says of the neighborhood that also houses the legendary St. Elmo Steak House. "Everyone was just crammed in there."
The competition proved tough for Red in Indianapolis, as did the constant travel for Vauthy who was between Miami, Indy, and Pittsburgh for the better part of 2017 and early 2018. With their chef spread thin, the Pittsburgh and Indianapolis locations were never really able to get off the ground. By the fall of 2018 both locations closed, with the Pittsburgh location open less than a year.
Red the Steakhouse also had a location in Boca Raton, Florida, which failed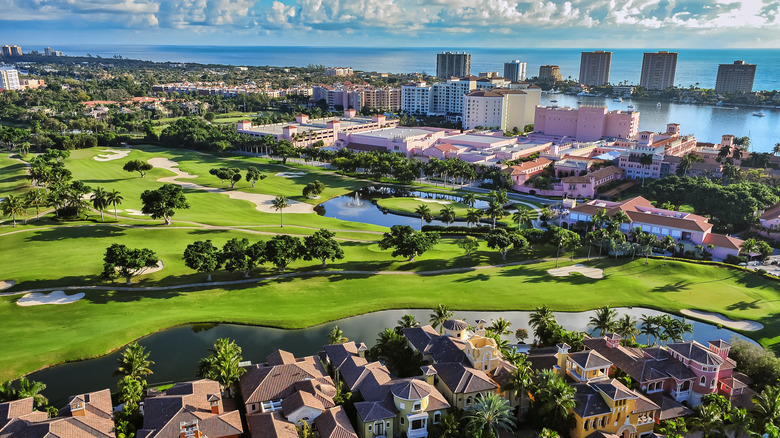 Shutterstock
Red also had a short-lived location in Boca Raton, Florida, about an hour north of Miami. The second South Florida outpost opened in 2012, alongside a sister Italian concept called Rosso Italia, which was also owned by the Red Restaurant Group (via Broward Palm Beach New Times). But the Palm Beach County outpost of the Miami Beach hit was doomed almost before it started.
"I thought our real estate there was horrible, there was no street presence, no access from the street, and no one wants to drive around to go back to a place," Vauthy recalled to Mashed. "In culinary school they told me 'location, location, location,' and this was the case in it."
Vauthy said the Boca market was "bizarre," a transplant of the entire East Coast stuck in a little city between Ft. Lauderdale and West Palm Beach. The early dining times of the older population also caused problems for the Red group. As did Vauthy's countless hours driving on traffic-clogged I-95 between Miami Beach and Boca. By late 2014, Red the Steakhouse Boca Raton had closed its doors. Rosso Italia also failed.
After expansion caused serious strife, the original Red Restaurant Group declared bankruptcy
By 2016 Red the Steakhouse was riding high, with its second Cleveland outpost in downtown leading the way. Bolstered by LeBron James's return to Cleveland and the Cavaliers' ensuing success, Red's location across from Quicken Loans Arena was doing "great numbers," according to Chef and Co-owner Peter Vauthy. The Cleveland Indians' 2016 World Series run, and the 2016 Republican National Convention also helped drive revenue.
But despite that success and solid business in South Beach, the Red Restaurant Group — which included Moxie, the original Red location in Beechwood, and the Indianapolis and Pittsburgh steakhouses — continued to lose money. The group, which included Bennett and Friedlander, declared bankruptcy in 2018, selling off the downtown Cleveland location to principal investor Gregg Levy and a collection of partners. The original Red the Steakhouse in Beechwood also shut its doors, leaving South Beach in the hands of Peter Vauthy.
A chance meeting with a Red regular helped Peter Vauthy take control of Red South Beach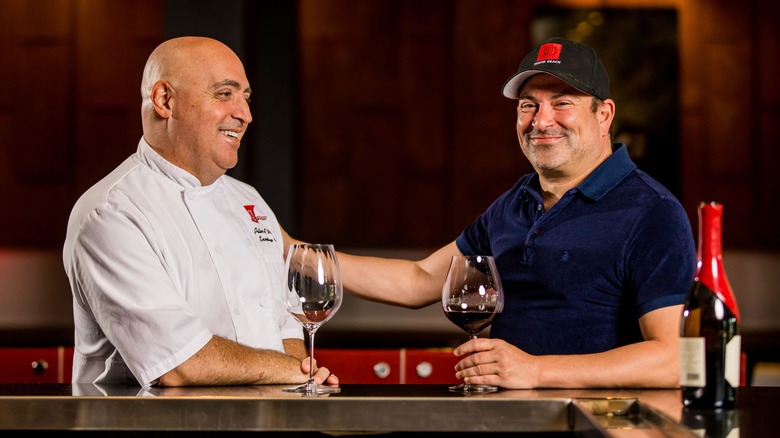 Red the Steakhouse
In August of 2018, facing imminent bankruptcy from his partners, Peter Vauthy was in a rough place. One of his best customers noticed Vauthy struggling and asked if they could meet when the chef finally had a day off. The following Sunday afternoon, the pair had a meeting that would ultimately save the restaurant.
"He comes over and says, 'Do you know what I do?'" Vauthy recalls. "He told me he did corporate bankruptcy restructuring. We talked for an hour, and ultimately we decided we were going to wrestle Red from the group and repurpose it moving forward."
That regular was Aaron Hammer, who navigated a sea of troubling legal issues and gained separate ownership of Red South Beach for himself and Peter Vauthy. They formed a new restaurant group called Bisteca Hospitality, and remain running the restaurant today.
The original Red the Steakhouse location closed and moved to a larger location
Meanwhile, back in Ohio, the demise of the original Red Restaurant Group didn't mean the end of the road for Red the Steakhouse in Cleveland. Gregg Levy, who'd become a principal investor in the group over the years, took ownership of Red in Downtown Cleveland with a collection of partners. That deal came with an agreement that the group would also open a new location in Pinecrest, Ohio, to replace the Beechwood original.
"Greg was always financially involved from the beginning," Chef and Co-owner Peter Vauthy told Mashed. "So part of the agreement of the original shutting down was if (Gregg) was gonna do this, he would have this other location on the other side of Cleveland, and move into a 7,000-square-foot space."
The result was Red Pinecrest, a bigger, brighter space than previous incarnations of the restaurant. It sits at 200 Park Ave. in Suite 130.
Red South Beach navigated the pandemic with a change of location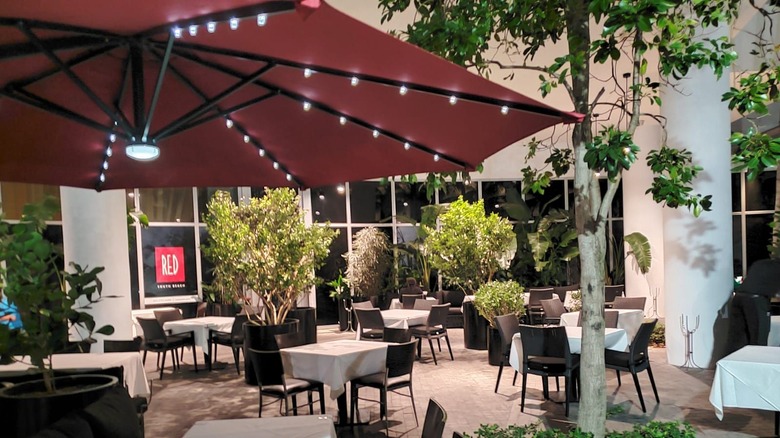 Red the Steakhouse
Free from the financial strain of the original partners, Red South Beach thrived. According to Vauthy, the restaurant posted its two biggest months in history during January and February of 2020. And then, COVID hit. When Miami finally reopened for outdoor dining that summer, Red found itself in a tough spot with no outdoor tables at all.
On July 19, 2020, Peter Vauthy closed the original Red South Beach at 119 Washington Ave., moving just a few blocks away to an outdoor space on South Pointe Drive. The reimagined Red opened on New Year's Eve, with 60 seats on a big, sprawling patio. As of July 2021, construction still continues on Red South Beach's indoor dining room and bar, which Vauthy promises will be even better than the original.
"We're doing our best to survive, and take the menu and put some things on there that are more fun," Vauthy said. "It's given us new life, rebirth, and if we were able to do huge numbers in the old space, we're gonna do it here. And continue to do what Red does best, and redefine what steakhouses are."
Though the Cleveland and Miami locations are unaffiliated, they still get along
So, to shore up any confusion, while once upon a time Red the Steakhouse was one company with locations in four cities, today they are separate. The Cleveland locations in downtown and Pinecrest are owned by Gregg Levy and his partners. Red South Beach is a separate entity, owned by Peter Vauthy and Aaron Hammer. Levy retains the intellectual property of Red the Steakhouse, but Vauthy is still able to operate under the Red name.
"We have a great working relationship," Vauthy told Mashed. "He owns a management company, and he's down here all the time hosting athletes. So it's good for his brand to have South Beach under his umbrella."
Vauthy jokes that he and Levy were the only two who ended up losing money out of the whole Red Restaurant Group venture. But that loss may be very much short term, as in new spaces and under new leadership Red the Steakhouse looks poised to maintain its place among America's best steakhouses.