Easy Black Bean Dip Recipe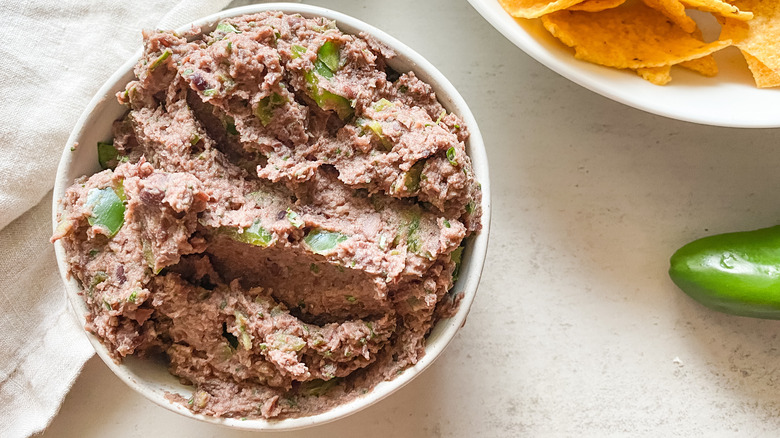 Kristen Carli/Mashed
Whether you're having friends over for a Mexican-themed night or simply gathering to watch a sporting event with family, a good dip always hits the spot. While salsa, guac, and queso stick out as delicious and basic dips for a variety of occasions, there's another Mexican dip that is sure to please your pallet. Let us introduce you to this easy black bean dip and all its benefits. Not only is it super simple to make but it's also very tasty. Another plus? You can whip up this recipe in a snap, and it requires only five minutes of prep time and zero cooking time. Thats pretty awesome if you ask us! 
Recipe developer Kristen Carli came up with this fantastic dip, which has a little bit of a kick thanks to the jalapeño peppers. She shares that her favorite part is the spice level. "I love the subtle, spicy kick in this dip," she says. If you love spicy dips or beans (or both), look no further than this recipe.
Keep scrolling for more details on how to make this delightful dish.
Gather the ingredients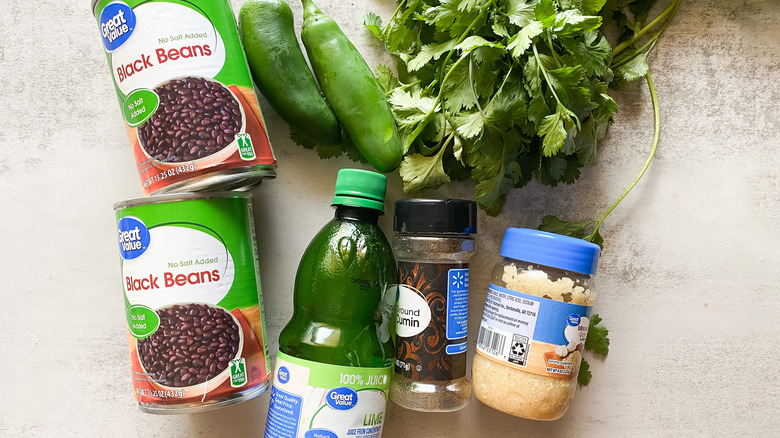 Kristen Carli/Mashed
First, take out all of the ingredients needed to put together this dip. Hopefully you'll have a few of the items at home already, as that always comes in handy. For starters, you will need two cans of black beans. For that kick of spice that we previously talked about, get some jalapeño peppers. In addition, you'll need some cilantro and some lime juice to give the recipe a little bit of a citrus punch.
Last but not least, grab some minced garlic, cumin, salt, and pepper. Of course, you will also need some tortilla chips to accompany the dip.
What to use as a black bean substitution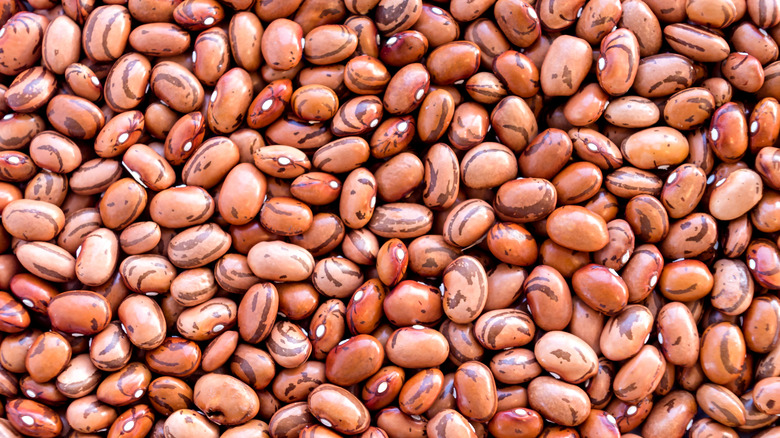 Shutterstock
While this black bean dip recipe calls for black beans, there is a good alternative if you don't have any. Carli shares that you can substitute pinto beans instead, and the recipe will turn out just as well. 
Speaking of beans, there are plenty of benefits to eating them. According to Medical News Today, they're a great source of protein, they contain amino acids (which help build protein and repair tissues), and they contain folate and anti-oxidants. 
As a side note, Carli warns that using cans of refried beans will not be as good in this particular recipe, so stick with whole, canned beans even though you're just going to blend them anyway.
Combine everything in the food processor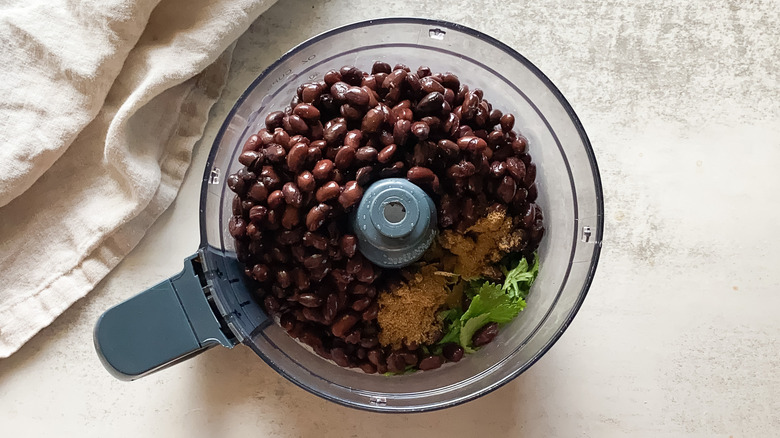 Kristen Carli/Mashed
Okay, now it's time to begin the dip-making party. Grab your food processor, then rinse and drain the black beans. Now chop and de-seed the jalapeño and put both of those items into the processor. Then go ahead and add the cilantro, lime juice, garlic, cumin, salt, and pepper as well. You won't know exactly how spicy this will be until everything's blended, so don't add too much jalapeño right away. You can always add more later.
Once that's good to go, you can move on to the next step.
Process the dip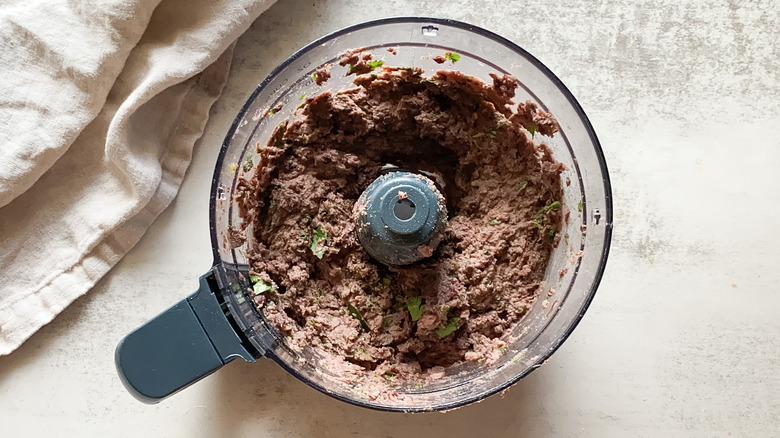 Kristen Carli/Mashed
Now it's time to make mix everything together! Go ahead and turn on your food processor and let it work its magic. It will take about two minutes for everything to blend well and turn into a dip-like consistency rather than a bunch of individual ingredients. You can either set your timer or just eyeball it to determine when it's finished. When the dip is smooth, you can turn off the food processor. 
Enjoy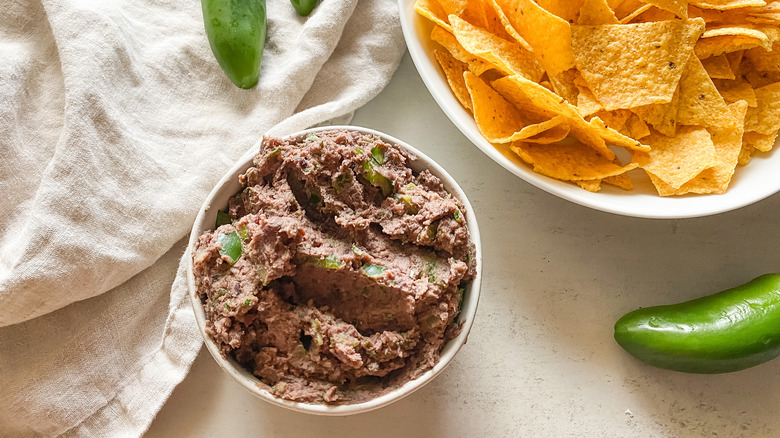 Kristen Carli/Mashed
Here's the best part of the whole thing: getting to enjoy the dip. After just five minutes of repping and blending, you have a yummy bean dip that is sure to impress your friends. Feel free to use individual bowls or one large one to serve. 
Tortilla chips go the best with it, but Carli has a few other suggestions. She shares that the beans are "also good on quesadillas or spread on tostadas."
If you happen to have any dip leftover, "Leftovers will last in the fridge for up to five days in an airtight container," Carli says. Enjoy!
Easy Black Bean Dip Recipe
While salsa, guac, and queso stick out as delicious and basic dips for a variety of occasions, this easy black bean dip recipe has an addictive, spicy kick.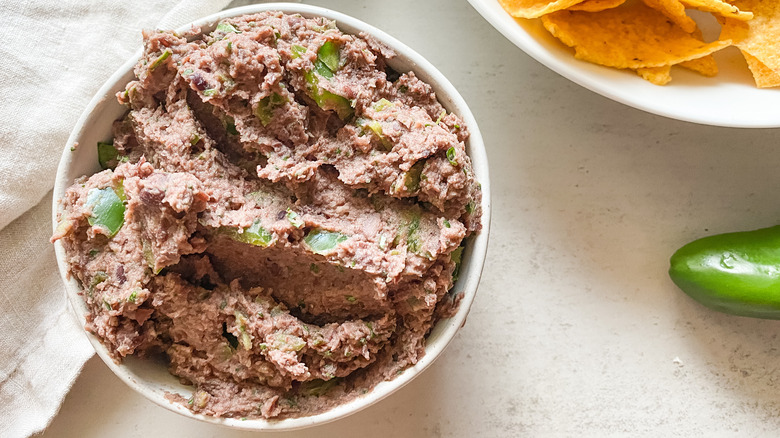 Ingredients
2 (15-ounce) cans black beans, drained and rinsed
2 jalapeño peppers, seeded and chopped
½ cup cilantro
2 tablespoons lime juice
1 teaspoon minced garlic
2 teaspoons ground cumin
1 teaspoon salt
½ teaspoon black pepper
Optional Ingredients
Tortilla chips, for dipping
Directions
Add all the ingredients to a food processor.
Process until smooth, about 2 minutes.
Serve with tortilla chips.