Simple Black Bean Brownie Recipe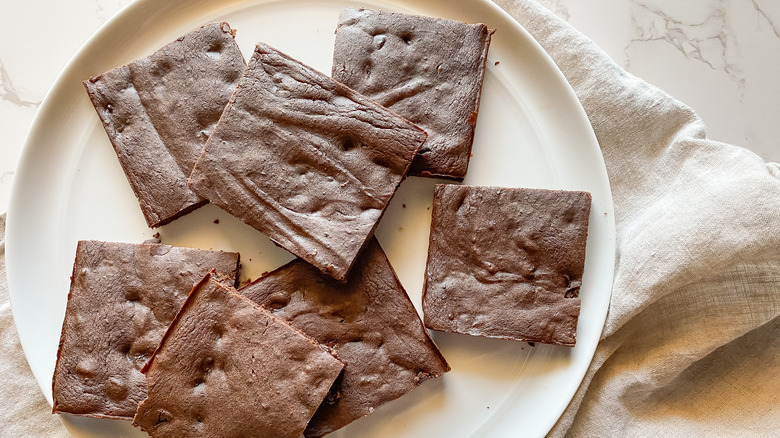 Kristen Carli/Mashed
The best part about baking is being able to enjoy fresh baked goods hot and fresh out of the oven. It can be pretty tempting to devour an entire tray of treats, but sharing and moderation is a good idea. Another excellent plan so that you can have your cake and eat it too, is to incorporate healthy ingredients into the mix. Don't worry — we're not talking about anything bland and flavorless, nor does it have to taste overly healthy. We're just saying that sneaking in an ingredient or two to make your baking a little more wholesome can be an added benefit. 
Private practice registered dietitian Kristen Carli of Camelback Nutrition & Wellness has developed a delicious recipe for black bean brownies. Before you gasp in shock, keep in mind that black beans have a starchy quality that can entirely substitute the need for flour. Oh, and they also add plenty of protein and fiber to this dessert. The rest of the ingredients are pretty standard as far as baking recipes go, so you certainly won't feel like you're missing out. If you've never tried baking with legumes before, set aside any preconceptions, because chances are, if you didn't know they were there, you wouldn't even notice them. Thanks to this healthy substitution, you can have brownies as an energetic snack and treat without a second thought.
This is a great recipe to whip up for your family. It's healthy, yummy, and a whole lot of fun to eat.
Gather the ingredients to prepare a batch of black bean brownies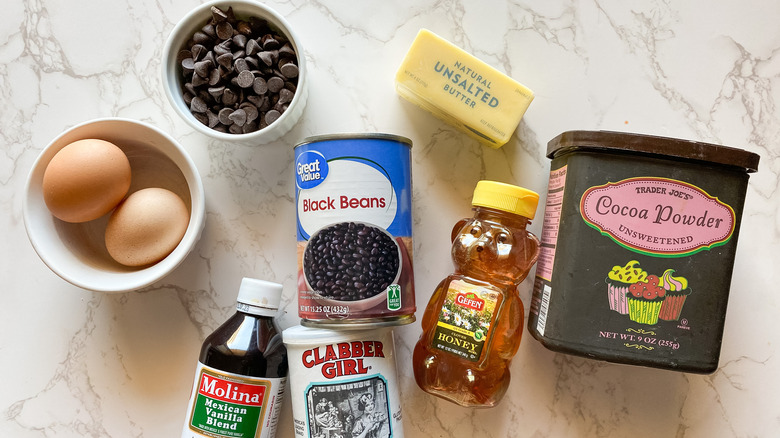 Kristen Carli/Mashed
For this unique brownie recipe, you'll need a can of black beans. Be sure to rinse and drain them properly to remove any canning brine. For chocolate-based recipes, black beans are ideal. In fact, if you get a taste for baking with legumes, then you should also check out recipes using chickpeas. You'll need melted unsalted butter to create a rich moist texture — remember, these are still brownies! As far as substitutions are concerned, Carli notes, "This recipe works well with coconut oil instead of butter." Next, eggs are used to bind ingredients and add moisture while helping the brownies rise.
To add plenty of dense chocolate flavor, you'll use cocoa powder. Stick to the unsweetened varieties, since you'll be adding honey to balance out the bitterness. If you want a substitution, Carli recommends using maple syrup instead of honey. Incorporating a little bit of baking powder into the batter helps the brownies rise a bit, which helps to counteract the texture of black beans which is thicker than flour. Next, to add some complexity and warm aromas, Carli uses vanilla. Finally, let's not forget the chocolate chips. Add them to the batter so that every bite contains decadent melted chocolate — you'll forget the black beans are in these delights!
Carli remarks, "This would be delicious with walnuts if you like walnuts in your brownies." She recommends adding about ½ cup of chopped walnuts for an extra crunch.
Add the brownie ingredients to the blender, and mix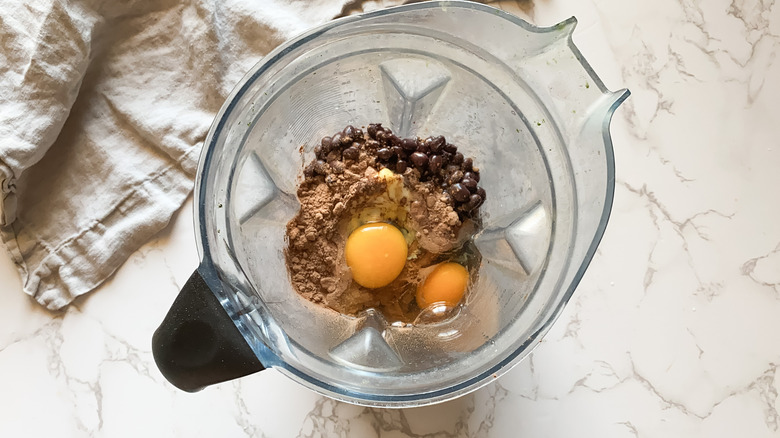 Kristen Carli/Mashed
Now that you have all of your ingredients together, it's time to get started mixing everything up. The first thing to do before you get started making the batter is to preheat the oven to 350 F. Next, set up your blender, and add together the black beans, melted butter, eggs, cocoa powder, honey, baking powder, and vanilla extract. 
Blend all of the ingredients until they are thoroughly combined and have formed a smooth uniform mixture. No one will know that there are black beans in these brownies unless you leave a few whole while blending them into the batter! So mix, mix, and mix. The black beans can even be our little secret.
Mix in the chocolate chips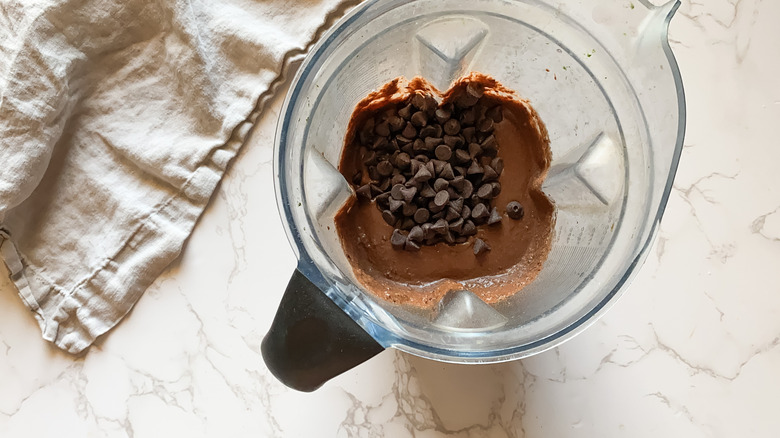 Kristen Carli/Mashed
Once you have blended the batter smoothly, it's time to pour in the chocolate chips. Using a spoon, stir them into the batter to combine, ensuring that they are distributed evenly. That was so quick, and it's already time for the batter to be baked. If you want your brownies to have more texture, this is the time to mix in walnuts or any other nut you may want to add to the batter. If you want to make the brownies nut-free this time around, you can definitely switch it up next time and add the walnuts. We're pretty sure you will be whipping up this recipe again sometime soon.
Prepare a baking dish, and pour in the batter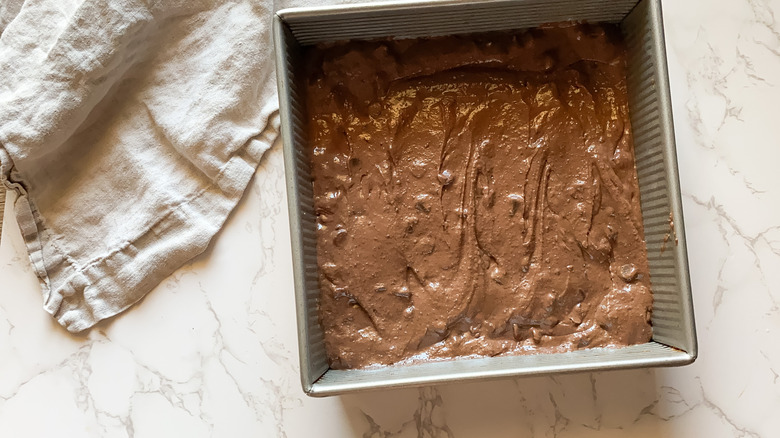 Kristen Carli/Mashed
Using nonstick spray or your preferred alternative, grease an 8x8-inch pan to prevent the brownies from sticking. Next, pour the brownie batter into the prepared baking dish. In case it doesn't look like much, Carli remarks, "When you pour the dough into the prepared baking dish, you may think that you do not have enough dough, but the dough will rise in the oven." Spread the top smoothly with a knife or spatula so that the brownies cook evenly throughout.
Bake the brownies, and serve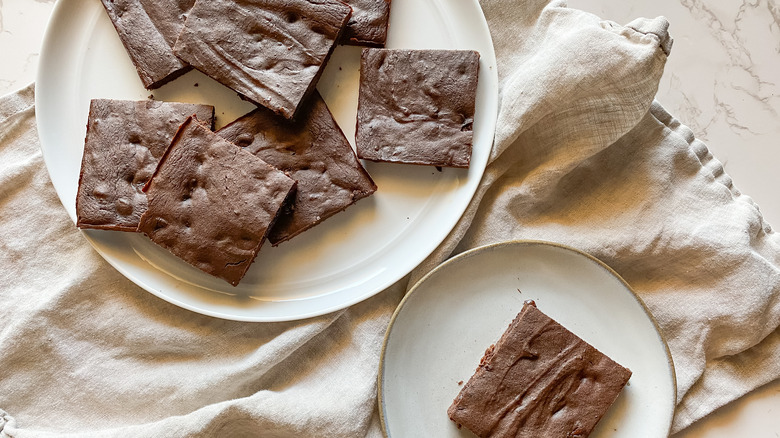 Kristen Carli/Mashed
Bake the brownies in the preheated oven for 30 minutes. Your kitchen will smell divine, but be patient. To confirm that the brownies are ready, Carli explains that "the dough will lose its shine." Allow the brownies to cool before slicing in.
Once they are cooled, you can cut them, and put them nicely on a platter. Then, it's time to enjoy these wholesome treats. They're excellent by themselves, but you can go the traditional route and serve the brownies with French vanilla ice cream or a fresh dollop of whipped cream. And don't forget a cold glass of milk, because that's kind of the rule. As for any leftovers, Carli notes, "These store well in an airtight container in the fridge for up to five days."
Simple Black Bean Brownie Recipe
Thanks to this healthy substitution in this black bean brownie recipe, you can have brownies as an energetic snack and treat without a second thought.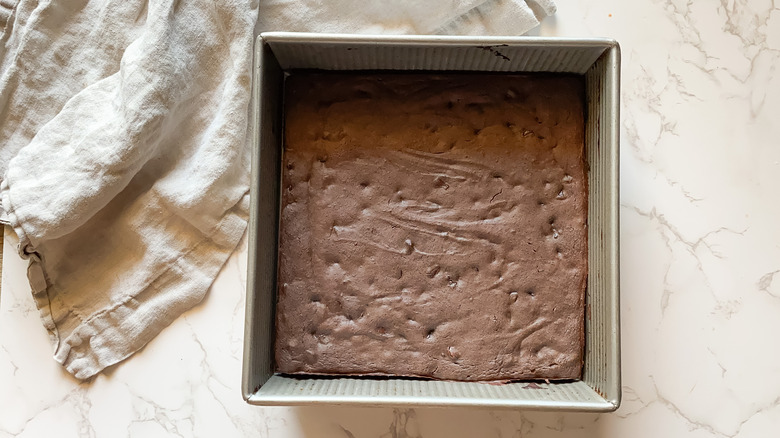 Ingredients
1 (15-ounce) can black beans, drained and rinsed
⅓ cup unsalted butter, melted
2 eggs
¼ cup cocoa powder
⅔ cup honey
½ teaspoon baking powder
2 teaspoons vanilla extract
½ cup chocolate chips
Directions
Preheat the oven to 350 F.
Place the black beans, melted butter, eggs, cocoa powder, honey, baking powder, and vanilla extract in a blender. Blend the contents until smooth.
Add the chocolate chips to the batter, and stir to combine.
Spray an 8x8-inch baking dish with nonstick cooking spray.
Pour the batter into the dish, and spread the surface to make it smooth.
Bake the brownies for 30 minutes.
Slice, and enjoy!
Nutrition
| | |
| --- | --- |
| Calories per Serving | 297 |
| Total Fat | 12.5 g |
| Saturated Fat | 7.5 g |
| Trans Fat | 0.3 g |
| Cholesterol | 62.4 mg |
| | |
| --- | --- |
| Total Carbohydrates | 43.5 g |
| Dietary Fiber | 5.1 g |
| Total Sugars | 32.3 g |
| Sodium | 123.7 mg |
| Protein | 5.9 g |