Teavana's New Flavor Is Perfect For Christmas In July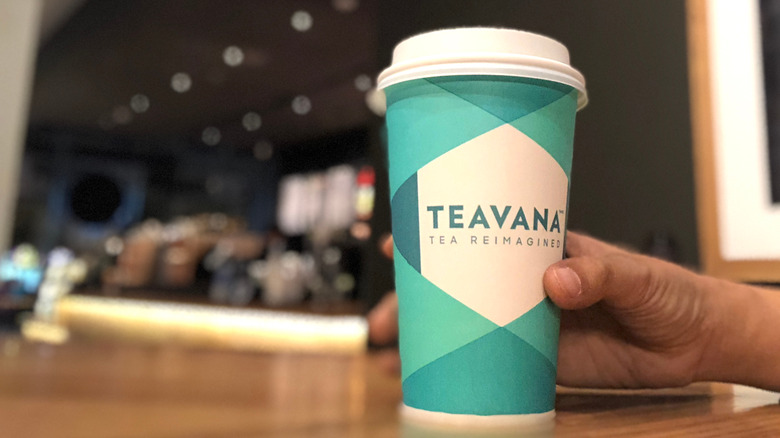 Shutterstock
If you're a fan of Christmas-inspired drinks like eggnog lattes and peppermint mochas, there's no need to wait until December to snag one with a new tea drink coming to shelves that brings the holiday spirit right in the middle of summer. Christmas in July is a long tradition — started at a girls' camp in 1933 and popularized by card company Hallmark, timed to when they release their yearly ornament collection per Southern Living. And now the tea company Teavana gets in the merry summer spirit, announcing their newest sachet flavor: White Chocolate Peppermint.
According to Brand Eating, the combination of white chocolate and peppermint is inspired by the holidays, but the goal is for this new herbal blend to be savored and sipped year-round. And whether you like to drink your tea piping hot in a mug or if you prefer to pour it over ice as a refreshing iced tea in the heat of summer, either way works for this delectable new flavor. The herbal blend is also caffeine-free so no worries about having too much of it!
What does Teavana's new tea taste like?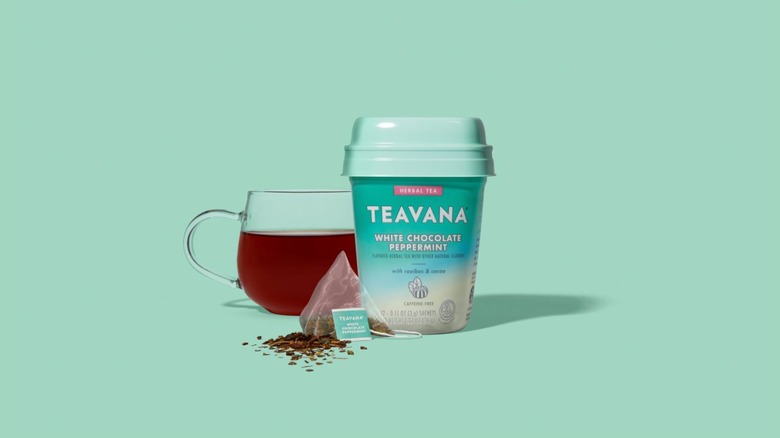 Teavana
Teavana is known for carefully selecting quality herbs to create the ideal blend of ingredients for their tea sachets. According to the website, the White Chocolate Peppermint flavor is a blend of herbs that creates a taste combining "creamy white chocolate, cocoa, and smooth rooibos balanced with cool peppermint." As far as ingredients go, there is a mixture of cocoa peels, dried peppermint, rooibos, chicory root, licorice root, and other delicious ingredients that impart the great flavor. 
Teavana also has tips for how to brew it. The company suggests heating filtered water to 205 degrees Fahrenheit, and once it reaches this temp, pour water into a mug with the tea sachet inside, and let steep for five minutes before enjoying. If you prefer this flavor as an iced tea, you'll want to prepare the same way before cooling it, but make sure to use two sachets for every 8 ounces of water so it's not too diluted, and then enjoy the perfect new tea option in your refreshing summer drink line-up.
You can find this latest Teavana creation at your nearest grocery store and on Amazon.com, says Brand Eating.