The Reason Gordon Ramsay Threw This Chef Out Of Hell's Kitchen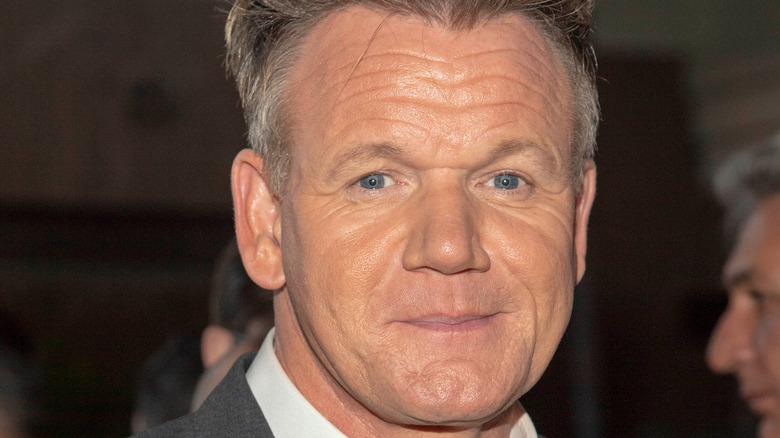 Shutterstock
If you've ever seen an episode of "Hell's Kitchen," you know that celebrity chef Gordon Ramsay can be downright scary on television as he gets heated up in the competition. In a recap of the latest July 12 episode of the series' new "Young Guns" season, Foodsided notes that Ramsay got so upset he actually made a chef quit dinner service on the spot and leave the show while still filming. Unlike other heated moments, there was no late comeback — this decision was final.
The unfortunate chef who got called out for his less-than-superior work was Kevin Argueta. As the article notes, Argueta was responsible for tackling the seafood station during the episode (the 7th in Season 20 of "Hell's Kitchen"), but he found it too difficult to handle everything by himself and ended up with raw lobster more than once. He was unable to cook the salmon dish as well. And sadly, the lamb that was supposed to be served to the guests ended up being overcooked. 
At this point, Ramsay couldn't stay quiet any longer and lashed out, telling Argueta, "Every table that you've touched, you've screwed."
Things got ugly in the latest episode of "Hell's Kitchen: Young Guns"
According to Foodsided, Argueta's team, the Blue Team, was told to temporarily get out of the kitchen when things started to spin out of control. Ramsay told Argueta to give him his jacket and made him leave the show. Meanwhile, the rest of his team got to return to work and somehow managed to finish preparing the dishes for their guests.
Of course, this was devastating for Argueta who wasn't expecting to be removed from "Young Guns," a series that pits young 20-somethings in the hectic culinary competition. He admittedly was disappointed by his performance and knew he could've done a lot better, Gold Derby notes, recapping the chef's brief televised exit interview during the episode. 
"I tried to bounce right back but I just couldn't find it within myself," he said. "It's very devastating to me and I did not expect it to turn this way. I've never been put up for elimination. It's just one careless mistake... I didn't just let myself down, but my family back home, my friends. It really sucks."
There are 11 contestants remaining vying for the top spot. "Hell's Kitchen: Young Guns" airs Mondays on FOX.