How The Director Of Roadrunner Thinks Anthony Bourdain And Mister Rogers Were Similar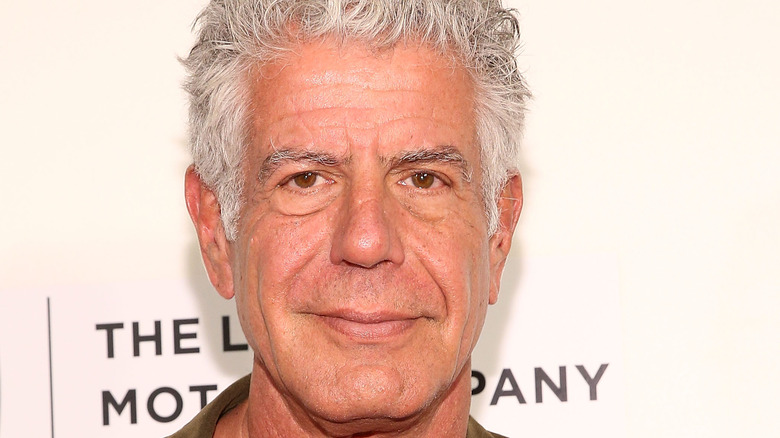 Robin Marchant/Getty Images
Fans of the late Anthony Bourdain — the chef, acclaimed author, lauded television host, and all-around culinary hero to many — are waiting with bated breath for the July 16 release of "Roadrunner," the Morgan Neville-directed documentary about Bourdain's life and career. Friends, family, and admirers of the late chef and author will hopefully find solace in the feature, which remembers a life cut short at the age of 61, when Bourdain died by suicide in a hotel in France.
By all accounts, "Roadrunner" will be the closest, most intimate look yet at Bourdain's life and personality, including his dark sense of humor and love of rock and roll. Indeed, many of Bourdain's fans might be familiar with his sarcasm, his street style, and his tattoos — traits which call to mind the chef's favorite musicians, such as Iggy Pop and Keith Richards, and not, say, the family-friendly entertainment found on public television. But Neville — who, it could be argued, got to know Bourdain as well as anyone after combing through 10,000 hours of footage of the man (via IndieWire) — recently compared the sometimes-surly television host to a sweet icon of PBS. 
If you or anyone you know is having suicidal thoughts, please call the National Suicide Prevention Lifeline​ at​ 1-800-273-TALK (8255)​.
Was Bourdain really like Mister Rogers?
According to Grub Street, "Roadrunner" director Morgan Neville sees similarities between Anthony Bourdain and another former television host: Fred Rogers, or "Mister Rogers," of public television's long-running children's show "Mister Rogers' Neighborhood." Although the comparison initially seems surprising — after all, Rogers' persona was as sweet as they come while Bourdain is known for his darker side — both men were more than just television personalities, but rather had a mission behind the content they produced.
"Personality-wise, they cannot be more different, but both were deeply moral people using television as a tool to show how we're all connected," Neville told Grub Street.
If anyone can see the commonalities between the two, it's Neville: In addition to directing "Roadrunner," he also directed "Won't You Be My Neighbor?" the 2018 documentary about Rogers. Though Bourdain might have had a cool facade, underneath was a man, Neville noted, who cared deeply about the world and people around him — just like Rogers, who explored themes of unity and fraternity on his show, per Greater Good Magazine. "Tony gave a f*** about everything," Neville said.