Instant Pot Corn On The Cob Recipe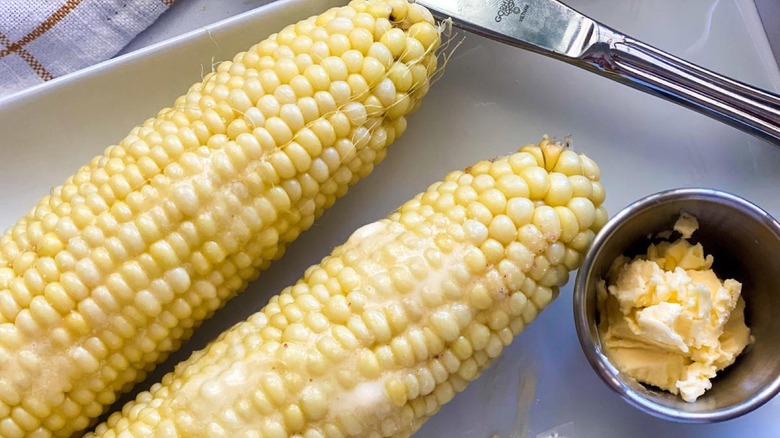 Miriam Hahn/Mashed
Ever wonder why corn on the cob has become synonymous with summer in America? Prior to 1492 (the year that Christopher Columbus sailed the ocean blue), no one outside of the "New World" (i.e., the as-yet uncharted North America) was even remotely aware of corn's existence, let alone the joys of gnawing on a corn cob (via SBS News). When Columbus returned to Europe, he brought with him, among other things, corn seeds, calling corn "wondrous" and noting that if it could be farmed, it could be used to feed a lot of hungry people. Europeans were not impressed, however, and while a handful of countries outside of North America have learned to cultivate it, corn has remained almost exclusively a "New World" crop, one that's grown in all 50 of the United States. 
The one wrinkle is that corn in North America is only in peak season during the summer months. That means that if you want to enjoy fresh corn on the cob, you'll have to strike while the weather is hot, so to speak. And if you want to enjoy fresh corn on the cob in mere minutes, then follow recipe developer Miriam Hahn's lead and use your Instant Pot. If you start now, you'll be up to your own ears in sweet, summer corn in less than seven minutes total.
Gather all your ingredients for your Instant Pot corn on the cob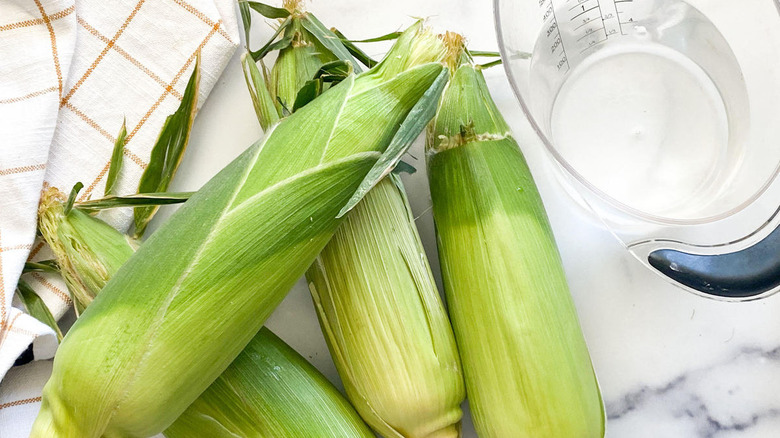 Miriam Hahn/Mashed
In the interest of full disclosure, the clock on that seven minutes referred to above is meant to begin running only after you've come home from your local grocery store or farmer's market with four fresh ears of corn. "For picking them out of the bins, I tend to look for the cleanest ones with husks that are intact as possible," says Hahn. If you need more help, here's the trick to buying perfect corn on the cob. 
And four fresh ears of corn is essentially the sole ingredient you're going to need to make Hahn's recipe for Instant Pot corn — unless you count water as an ingredient, since you'll need a cup and a half of it in order to cook your corn in your Instant Pot.
Strip the corn cobs of their husks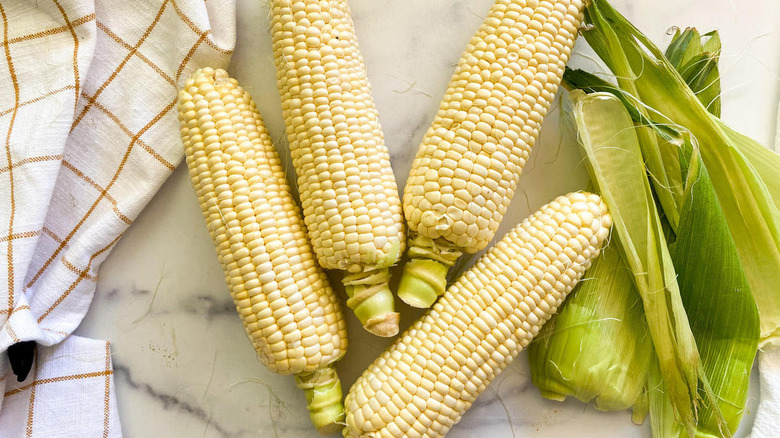 Miriam Hahn/Mashed
Hahn begins her recipe for Instant Pot corn on the cob with the following instruction: "If your corn has the husks on, remove them." But the truth is, Hahn is just being generous to anyone who might have been so pumped to get this recipe started that they pre-husked their corn cobs. The fact is that you should never remove your husks until you're ready to start cooking your corn. For the very best flavor, you'll want to buy, cook, and eat your corn on the cob all on the same day.
But wait, can those things really fit in an Instant Pot?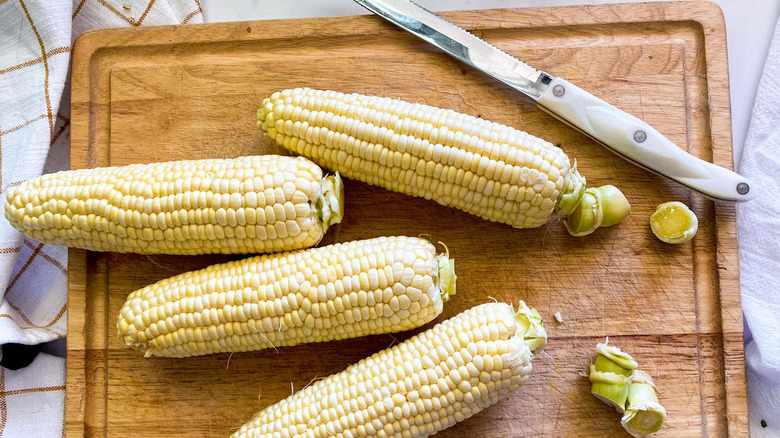 Miriam Hahn/Mashed
Well, it really depends upon the length of the particular ears of corn you've brought home from your local grocery store or farmer's market. Nevertheless, you need not worry about that for even a second because Hahn offers the following work-around for corn cobs whose length exceeds the diameter of your Instant Pot. Simply get out a nice, sharp, serrated knife and chop off whatever length of the stems you might need to in order for you to be able to close your Instant Pot once you've put the corn inside (which, spoiler alert, you'll be doing horizontally). 
Add your steamer basket to your Instant Pot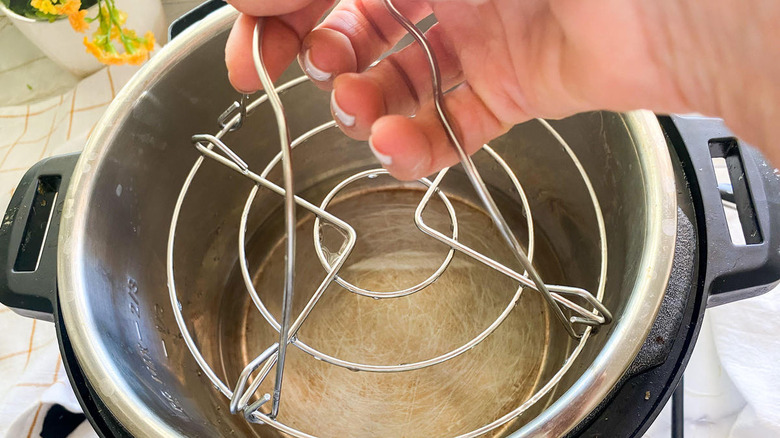 Miriam Hahn/Mashed
Next up is the important step of inserting into the metal pot of your Instant Pot the little metal rack that came with it — the one that looks like it's meant to be used for steaming, which, in fact, it is. Pour your cup and a half of water into the pot, and then place the ears of corn into the Instant Pot horizontally (as in, lay them flat). You'll probably need to stack them one atop the other, Hahn points out, and that's okay. 
Set and forget (for two minutes) your Instant Pot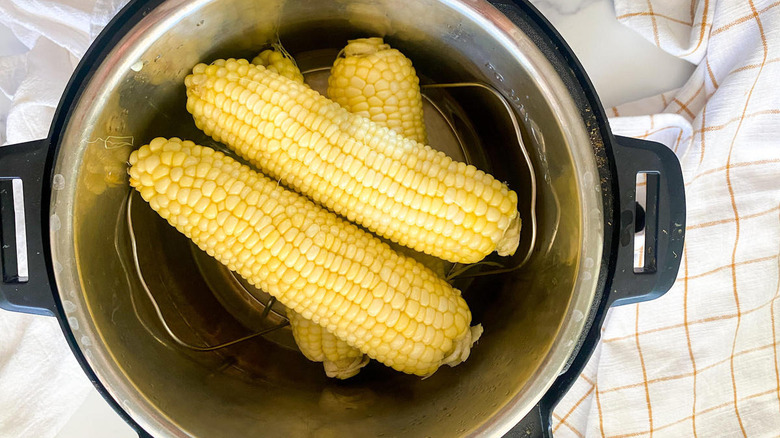 Miriam Hahn/Mashed
Now all that's left is to secure the Instant Pot lid and make sure the nozzle is set to "sealing." Select "pressure cook" mode, and set the timer to two minutes. Bear in mind, please, that if you weren't using your Instant Pot to cook other stuff immediately before this, then it will take a few minutes for the Instant Pot to reach the right pressure and temperature. You'll see the timer begin to count down when that has occurred. When the timer winds down to zero, carefully turn the nozzle on the lid to "venting," and stand back as the steam releases. 
Open the lid, et voila, your Instant Pot corn on the cob is ready to serve. Hahn suggests using tongs to grab them while they're hot, and while you're welcome to season your corn on the cob any way you'd like, Hahn recommends a swipe of butter and a sprinkle of Himalayan salt.
Instant Pot Corn On The Cob Recipe
Enjoy fresh corn on the cob in mere minutes with this Instant Pot corn on the cob recipe. It couldn't be easier. We even tell you when to husk the corn.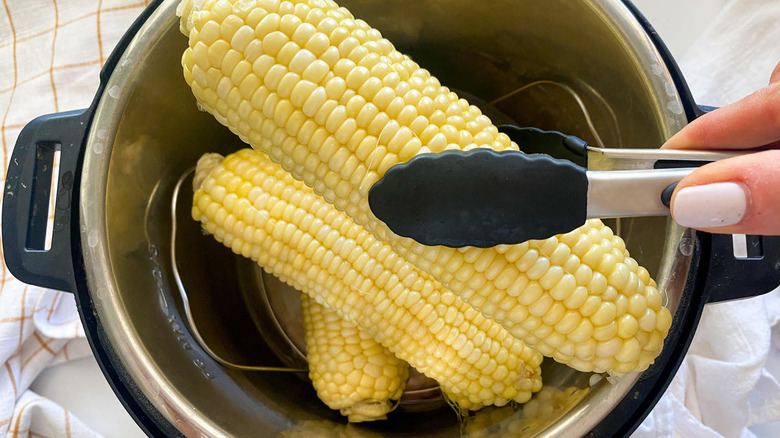 Ingredients
4 ears of corn
1 ½ cups water
Optional Ingredients
Directions
Remove the corn husks from the corn cobs.
Trim the cobs to fit into the Instant Pot.
Insert the Instant Pot's steamer rack.
Add the water.
Lay the ears of corn flat on the steamer rack.
Secure the Instant Pot lid and seal.
Set the Instant Pot for 2 minutes on "pressure cook."
After 2 minutes, turn the nozzle to "venting" and transfer the cooked cobs to a serving plate.
Serve and enjoy as desired.
Nutrition
| | |
| --- | --- |
| Calories per Serving | 123 |
| Total Fat | 1.0 g |
| Saturated Fat | 0.2 g |
| Trans Fat | 0.0 |
| Cholesterol | 0.0 mg |
| | |
| --- | --- |
| Total Carbohydrates | 29.4 g |
| Dietary Fiber | 3.5 g |
| Total Sugars | 4.7 g |
| Sodium | 9.8 mg |
| Protein | 4.1 g |