The Shocking Reaction To Subway's 1 Million Sandwich Giveaway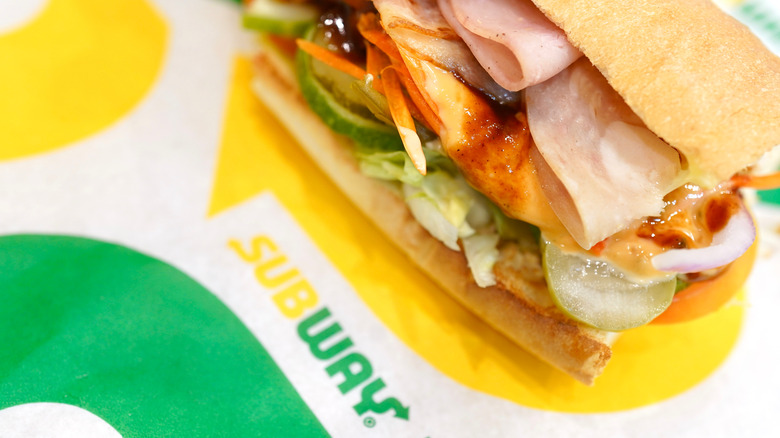 Shutterstock
This past week, Subway launched its new menu – a total "refresh" of their "Eat Fresh" sandwich offerings. As part of the promotions, the fast food chain planned to give away 1 million 6-inch Turkey Cali Fresh subs. The Subway website shares that this new sandwich starts with the chain's hearty multigrain bread. It features creamy, smashed avocado layered on top of creamy BelGioioso mozzarella. On top of all that deliciousness, is piled roasted turkey, hickory-smoked bacon, and a bit of baby spinach. If you love free food, this sounds awesome, right? Additionally, the press release issued via PR Newswire stated that the revamp included 20 menu changes with a focus on "11 new and improved ingredients, six all-new or returning sandwiches, and four revamped signature sandwiches." Also of note on this new menu are two new kinds of fresh baked bread: Artisan Italian and Hearty Multigrain.
To prep for the launch, the press release went on to share that more than 10,000 of their restaurants across the country would be closing early so its employees would be fresh and ready to go. But, according to Business Insider, this big marketing day didn't quite go as Subway anticipated, unfortunately. In fact, many believe the refresh was actually more of a disaster, and Subway's employees were not shy about sharing their thoughts.
Employees say no one knew it was happening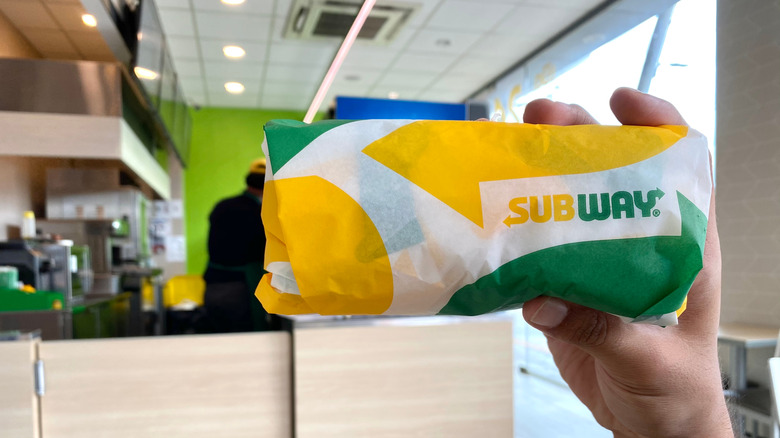 Shutterstock
Business Insider quoted a leaked group message with one of its participants, sharing, "Did you ever have that bad dream where you had a party and no one showed up? Then you had all this food you prepared left unused. What does this say about our advertising?" Ouch! Business Insider went on to reveal that both franchises and former store owners they spoke with said the marketing was the key to the failure with customers having no idea the free sandwich promotion was even happening. Yet, Business Insider said Subway told them in a statement, "The giveaway beat our projections with thousands of restaurants participating, giving our guests the opportunity to try the new, freshly prepared Turkey Cali Fresh sub." The statement also cited a spike in "sales and traffic."
We decided to cruise over to Reddit to see if anyone was spilling the tea there, and sure enough, we found a thread where self-described employees posted a photo and said they had sold only 3 sandwiches all day. Meanwhile, another disgruntled Redditor wrote, "From a customer- the removal of some menu items, the price increases, and the total destruction of the online website are probably the answer. I was so thoroughly annoyed with the website today, and on top of that, the Turkey Italiano being cancelled...I just gave up."