Smucker's New Savory Uncrustables Flavor Is Turning Heads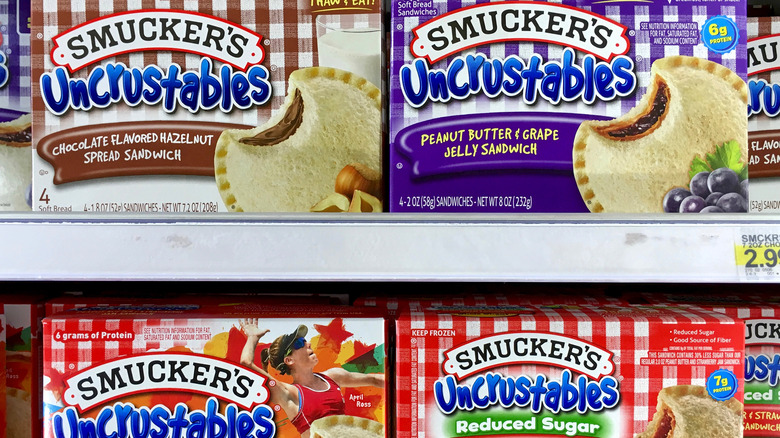 Shutterstock
Any picky (or formerly picky) eaters will likely know exactly what Smucker's Uncrustables are: a pocket-sized frozen sandwich with a gently crimped edge, and as the name suggests, no crust in sight. The kid-friendly treat started as a way to conveniently deliver peanut butter and jelly sandwiches without the crust, and the brand expanded their offerings to include a few sweet varieties, including peanut butter and strawberry jam, a reduced sugar version of the same, peanut butter and honey, chocolate-flavored hazelnut spread, and peanut butter and grape jelly on both wheat bread and white bread (via Smucker's Uncrustables).
It seems they're not content to stay in the realm of sweet snacks, however, and Smucker's recently decided to offer a new savory flavor that is sure to be a crowd-pleaser for pizza lovers everywhere — pepperoni. To be specific, the brand has two pepperoni-themed options. One looks similar to a traditional Uncrustables treat, a round sphere of dough with the filling, a mixture of pepperoni, mozzarella cheese, and marinara sauce, encased inside. The edges aren't crimped, but other than that, it's quite similar to the brand's traditional offerings (via Chew Boom). Two pepperoni-filled bites take less than a minute to prepare and are made without artificial ingredients or flavors.
This pizza-lovers' flavor is an expansion on their current savory offerings, BBQ Chicken and Taco Bites, both of which contain meat combined with cheese and some type of sauce, encased in a little bread pocket.
A twist on pepperoni — and all the details on when you can find these tasty bites on shelves
Smucker's Uncrustables seemed to decide that pepperoni would be such a popular flavor, they couldn't just go with one new item — they had to release two. So, in addition to the pepperoni bites that resemble the traditional Uncrustables, they also have a roll-up version that features a flatbread with a thin layer of pepperoni, provolone, and Neufchâtel cheese (via Kpax). 
Beware to sauce lovers — the roll-up version, by nature of the structure, doesn't have any sauce, so they're better for those who want a slightly less messy eating experience. As an added bonus, unlike the pepperoni bites that need to be microwaved, the roll-ups can simply be thawed, making them a great option for tossing in a lunch box or bag. The roll-up versions come with four little wheels per package, while the Pepperoni Bites contain two sauce-filled flavor bombs.
Currently, these savory treats can be found at Kroger locations across the United States (via Chew Boom). However, fans who don't have access to a Kroger should be able to satisfy their cravings fairly soon — they're going to be popping up at Albertsons, Meijer, and other grocery stores throughout the summer, and should be stocked on quite a few shelves by fall 2021.