This Genius McDonald's TikTok Hack Combines Two Desserts For One Sweet Treat
Let's face it: Ice cream makes everything better. But of all the tasty desserts out there, few go hand in hand with a scoop of luscious vanilla ice cream like a warm, flaky apple pie. And while you could totally go to a sit-down restaurant and order a plate of this iconic dessert (or make it your own if you dare), TikTok has a suggestion that's probably a lot easier on your kitchen and your wallet: Hit up your local McDonald's.  
In a video posted by @foodwithmichel, the user shared a hack that shows how to make your own version of this summertime classic by combining the chain's apple pie with their signature soft serve ice cream. Per their demonstration, simply dunk one apple pie slowly into a cup of vanilla ice cream. Once the pie is somewhat submerged, use your spoon to crush it up into smaller pieces "for about a minute" until it's decently mixed in and easy to scoop. Voilà! Instant apple pie a la mode in a cup.
One user wrote, "Tried this before, can confirm it is 10/10." Another chimed in to say, "Omggg this used to be my FAV snack at McDonald's." And unlike the Snickers coffee hack, which seemed to spark debate about the effort involved to make them, it seems the hack is also McDonald's employee-approved. One user who appeared to be a former McDonald's employee wrote, "I used to do this all the time when I worked overnight shifts at McDonalds ... it slaps."
This McDonald's a la mode hack can be used to make other desserts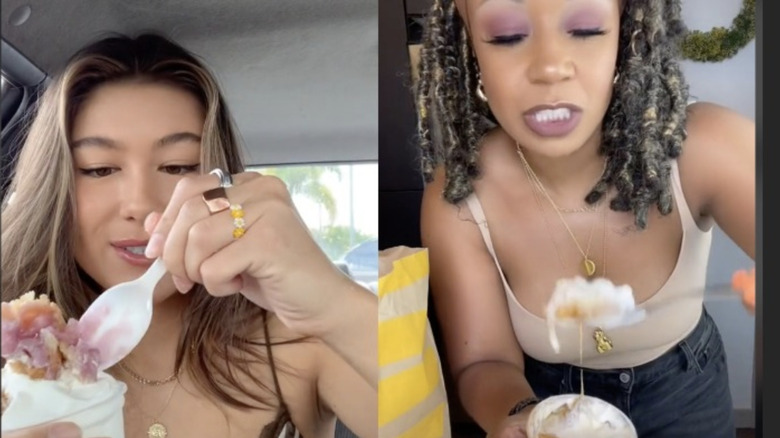 TikTok user @pepperonimuffin and TikTok user @_ms_frost_
In the week since @foodwithmichel's original video went up, many TikTokers have taken to sharing videos of themselves adding their own spin on the hack. User @pepperonimuffin, for instance, shared a video applying the same trick with the chain's taro pie (only available in Hawaii, alas) and seemingly confirmed through a wide-eyed smile and nod of approval it was as tasty as it looks. Meanwhile, user @_ms_frost_ kicked things up a notch by mixing their pie with a caramel sundae.
Of course, there's one thing to be wary of when making this hack: It may wreak havoc on your countertops or car interior if you're not careful. In the video demonstration of the hack shared by @_ms_frost_, ice cream accidentally spills a bit of soft serve onto their counter top as they shove the hot pie into the ice cream cup. User @pepperonimuffin also appeared to struggle a bit with mixing their pie into their cup, and said on camera the hack was "actually very messy." Of course, this minor flaw didn't keep either of theses users from giving it their stamp of approval and encouraging their followers to give it a try.  So if you're planning on enjoying this tasty treat yourself, be sure to order some extra napkins with it to avoid any serious messes. Even so, it seems like it's worth the trouble!