TikTok Is Freaking Out Over This Dunkin' Secret Menu Iced Coffee
While most coffee shops have extensive menus packed with all kinds of tasty beverages, from frozen blended treats topped with whipped cream to syrup-packed concoctions with strong espresso, many caffeine enthusiasts love to create their own custom beverages or find exciting options on a "secret menu." Simply adding a particular blend of syrups or flavoring agents can completely change the way a drink tastes, and thanks to social media, many savvy baristas are sharing their creations online — and the latest from Dunkin' has TikTok users in a stir.
Just yesterday, a TikTok user posted a tutorial for a Snickers iced coffee, and within just one day, the short clip had nearly 20,000 likes and 150 comments (via TikTok). The recipe is fairly simple — in a medium cup, customers seeking this beverage just need to ask for two pumps of caramel, one pump of mocha, one pump of hazelnut, and regular cream. Then, add a generous portion of ice and iced coffee all the way to the top for a sweet treat that apparently tastes like a liquid Snickers bar. There are other recipes that just call for equal parts hazelnut and salted caramel added to your coffee of choice, or simply adding caramel to a hazelnut coffee (via Delish). Since you're already requesting a custom beverage rather than just ordering something from the menu, it may be worth trying a few variations on the recipe in order to find the one that you love best.
A steamy variation — and alternates at other coffee shops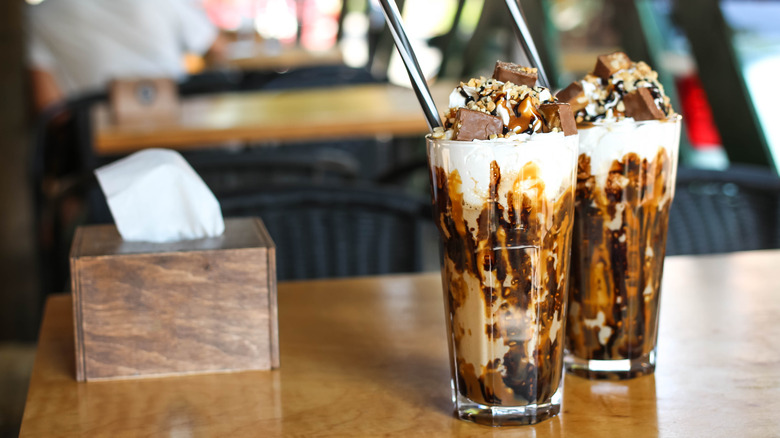 Shutterstock
While TikTok is all about the sugary sweet iced coffee interpretation of a Snickers bar, the same flavored syrups can also be added to a hot coffee if that's more your speed — either regular or dark roast will work. It's all a matter of preference. And, if you don't have a Dunkin' where you live, or you simply prefer another coffee chain, don't worry — many places have the same types of syrups, so you can request a variation to craft your own Snickers coffee at just about any spot.
If you're more of a Starbucks fan, try ordering a latte or coffee of your choice, and request it with caramel, one pump mocha, and one pump hazelnut syrup to mimic the Dunkin' Snickers concoction. Or, if you're more of a frosty drink lover, there's a "secret menu" Snickers frappuccino that uses a Java Chip Frappuccino as the base, with toffee nut syrup and caramel drizzled on the top (via All Womens Talk). Or, if you're caffeinating at McDonald's, request a hazelnut iced coffee with chocolate caramel syrup, caramel drizzle, and chocolate drizzle to create that signature Snickers flavor (via TikTok).
Basically, once you have that blend of hazelnut, caramel, and chocolate or mocha in your mind, you can check out what syrup options a particular coffee shop has, and easily create your own version just about anywhere.