3-Ingredient Peanut Butter Energy Bites Recipe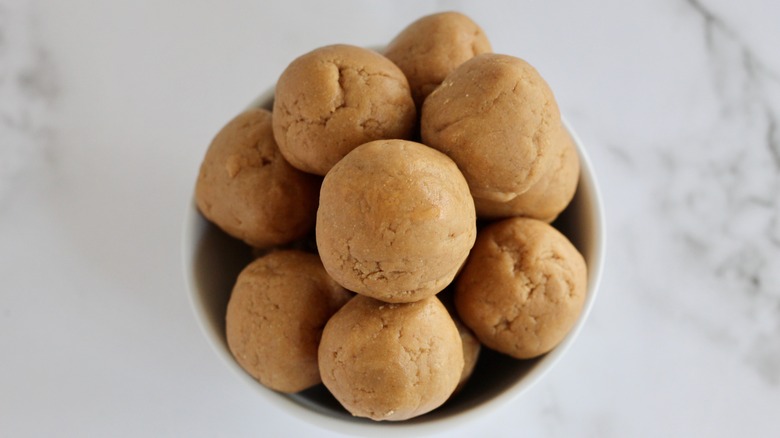 Mackenzie Burgess/Mashed
Craving peanut butter cookies but too lazy to make them? We've got you covered with these peanut butter energy bites. They are similar to the creamy cookie, but take a fraction of the time to make. Plus, they only require three simple, better-for-you ingredients. Chances are all of these ingredients are sitting in your pantry waiting to be used.
Many energy bite recipes call for rolled oats, but culinary registered dietitian nutritionist (RDN) Mackenzie Burgess of the blog Cheerful Choices uses oat flour for this healthy recipe, which supplies a smoother texture.
These peanut butter energy bites are indulgent enough to enjoy for dessert but also small enough to eat as an energizing snack. Try bringing these delicious bites to everything from small parties to large family gatherings. They are naturally vegan and gluten-free, too — making them perfect for different dietary preferences. 
Gather your ingredients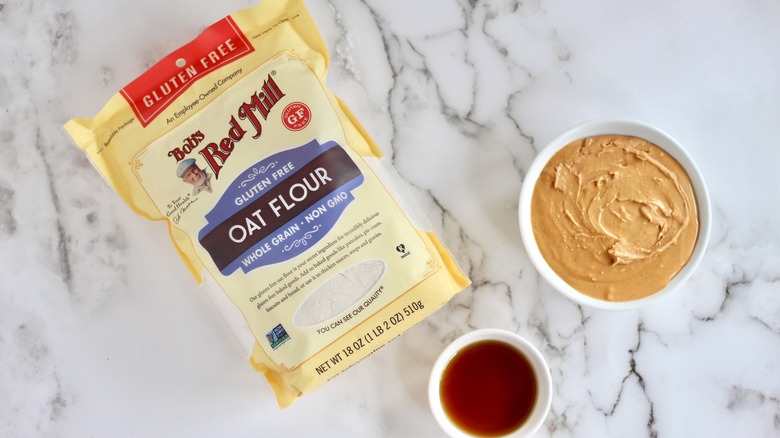 Mackenzie Burgess
There are just three simple ingredients used in this peanut butter energy bites recipe, which makes enough for 10 one-inch-diameter bites. If you want to make more, simply double or triple the recipe.
For this recipe, you'll need oat flour. Burgess likes to use Bob's Red Mill oat flour because it's ultra-fine. "This oat flour packs in 16 grams of protein and 16 grams of fiber per cup — two nutrients important for helping us feel fuller longer," she say. She also mentions that it's a great time-saving trick to buy ready-to-go oat flour instead of blending your own (see below).
When measuring out the oat flour, spoon it into your measuring cup rather than scooping your measuring cup into the bag of flour, she adds. This ensures you don't pack in too much oat flour, which can yield overly dry energy bites.
Some potential ingredient substitutes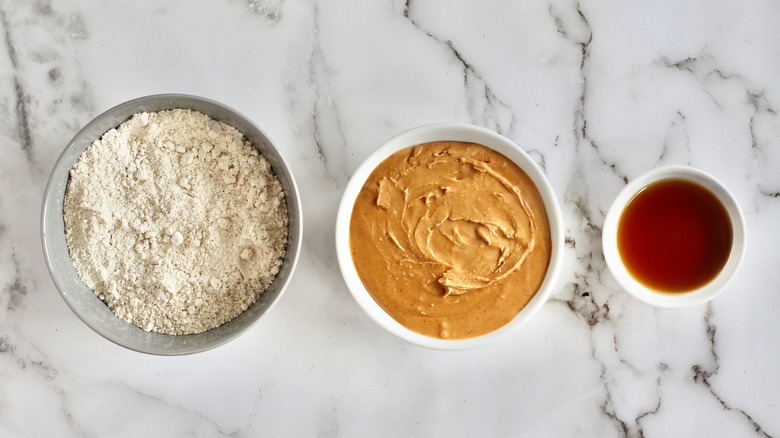 Mackenzie Burgess
If you find yourself without one of these ingredients, there are some substitutes you could try.
If you can't find oat flour or want a cheaper option, you can always make your own at home. Simpy pulse rolled oats in a food processor until broken down into a fine consistency. A heaping cup of rolled oats will yield a cup of homemade oat flour. In theory, you could also swap the oat flour for coconut flour or almond flour.
Out of peanut butter or have an allergy? Try swapping it out for another nut or seed butter like almond butter, cashew butter, or sunflower seed butter.
If you don't have maple syrup, you could try using another liquid sweetener like honey or agave syrup.
Add everything to a bowl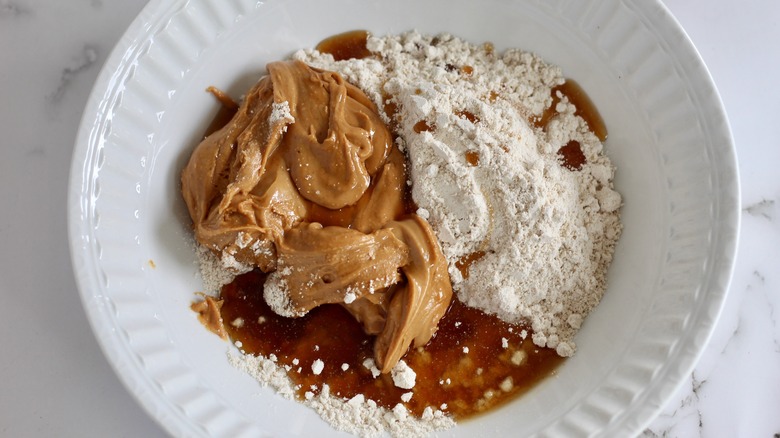 Mackenzie Burgess
For this simple recipe, just combine the oat flour, the peanut butter, and the maple syrup to a bowl. Pick a large bowl, as some of the oat flour can fly upwards when stirring.
The creamy peanut butter and maple syrup help everything stick together while adding a sweet flavor. And as an added plus, Burgess notes, "While you want to think of maple syrup similar to sugar and keep the portions in check, maple syrup does provide small amounts of extra minerals like zinc and manganese."
Combine and chill the mixture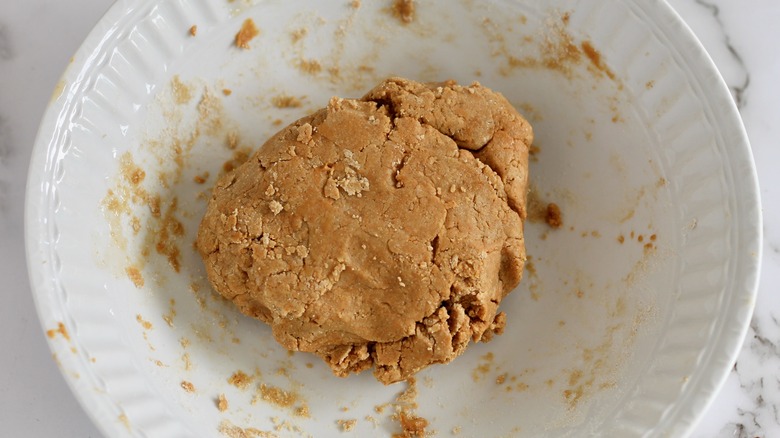 Mackenzie Burgess
Use a rubber spatula or your hands to mix it all together — it might take a few minutes to combine. Once combined, it should resemble a sugar cookie or peanut butter cookie dough. If you find it's still too dry and crumbly, you can add a bit more maple syrup or a tiny splash of milk.
Once everything is combined, put the bowl in the freezer for 10 minutes. While this isn't required, it does help everything stick together easier and helps the mixture not stick to your hands when rolling. If you're running low on time, you can go right into rolling into bites.
Roll the dough into bites and enjoy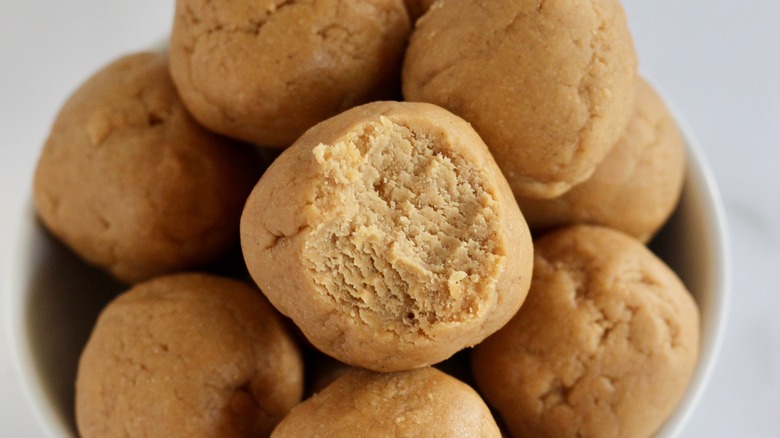 Mackenzie Burgess
Once chilled, take a heaping tablespoon of dough and use your hands to roll into 10 evenly-sized one-inch bites. It's as easy as that! You can also dip these bites into milk or dark chocolate and turn them into a spin on buckeyes.
These peanut butter energy bites are great to bring to parties or enjoy as a grab-and-go snack. Burgess loves to serve them with a tall glass of dairy milk or plant-based milk. Store any leftovers in an airtight container in the fridge for up to five days or in the freezer for three months.
3-Ingredient Peanut Butter Energy Bites Recipe
This 3-ingredient peanut butter energy bites recipe uses oat flour, maple, and peanut butter and takes a fraction of the time to make a better-for-you snack.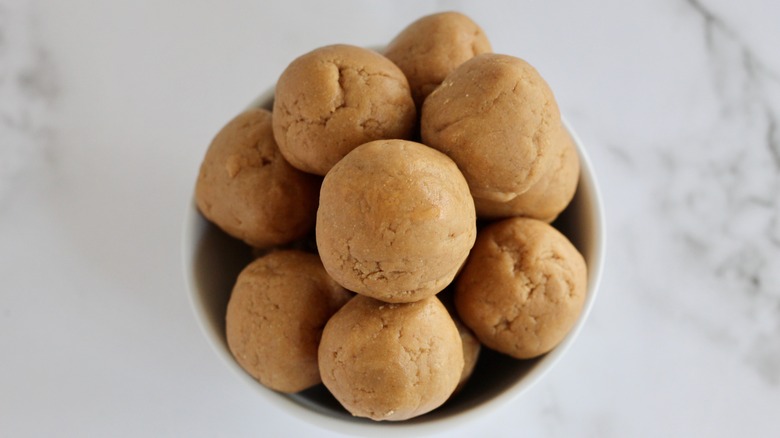 Ingredients
1 cup oat flour, spooned and leveled
½ cup creamy peanut butter
¼ cup maple syrup
Directions
Add all the ingredients to a large bowl.
Using your hands or a spatula, mix everything together until it forms a soft dough.
Chill the dough for 10 minutes in the freezer.
Remove the dough and roll it into 1-inch bites.
Nutrition
| | |
| --- | --- |
| Calories per Serving | 233 |
| Total Fat | 12.6 g |
| Saturated Fat | 2.5 g |
| Trans Fat | 0.0 g |
| Cholesterol | 0.0 mg |
| | |
| --- | --- |
| Total Carbohydrates | 25.0 g |
| Dietary Fiber | 2.2 g |
| Total Sugars | 10.3 g |
| Sodium | 8.5 mg |
| Protein | 7.3 g |