Crockpot Funeral Potatoes Recipe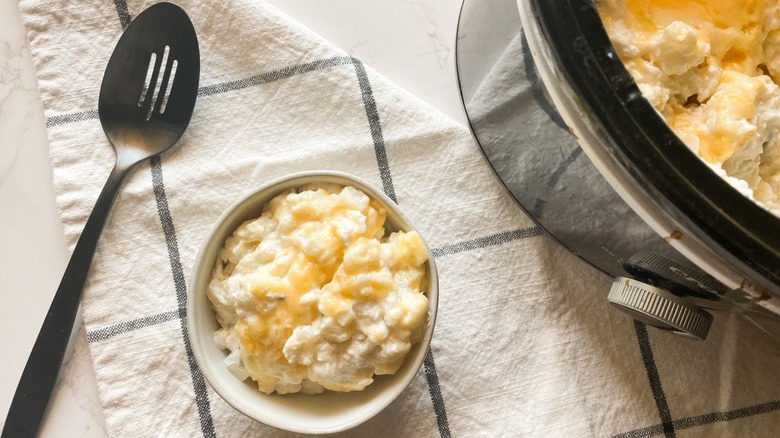 Kristen Carli/Mashed
While you might expect something called funeral potatoes to be the most depressing dish ever, that's far from being the case. Yes, the name does evoke one of the saddest occasions any of us are likely to experience, but it comes from a place of good intentions. There's long been a tradition of neighbors rallying around and supplying food to grieving families, particularly if there's a large gathering such as a funeral which will result in a number of hungry mouths needing to be fed.
As recipe developer Kristen Carli tells us, "I believe the name of funeral potatoes comes from the fact that they are typically a great dish to serve a crowd, like at a funeral." Her own recipe, however, has been scaled back so that it feeds just six people rather than 60. Carli's funeral potatoes are cooked in a slow cooker, so they're quick and easy, but the best thing about this dish is that it's so gloriously cheesy!
You only need a few ingredients to make these funeral potatoes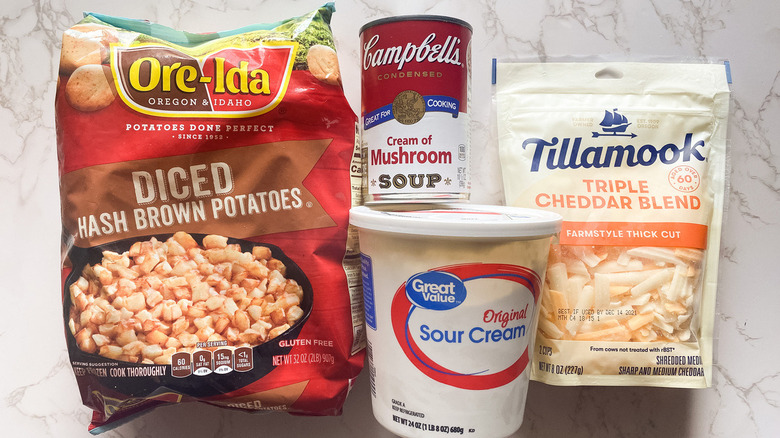 Kristen Carli/Mashed
To make these funeral potatoes, you won't need to do any scrubbing or peeling. Instead, you'll be starting off with a base of frozen hashbrowns — diced, not shredded. You'll also need a can of cream of mushroom soup (the condensed kind, like Campbell's), although Carli says cream of chicken soup would work here as well.
To make this dish extra rich, you'll be stirring in some sour cream, and to top it off, you'll use a generous helping of shredded cheese. The cheese Carli used is something called triple cheddar, which she describes as "a mixture of medium white cheddar, sharp cheddar, and medium cheddar." If you prefer not to use pre-shredded cheese, you can always shred your own cheddar. There's no need to blend it, just use your favorite kind: sharp, medium, or mild. If you want to spice up this dish a bit, Carli suggests, "You can also add in green chiles for a little kick."
The Crockpot will do all the work of cooking these funeral potatoes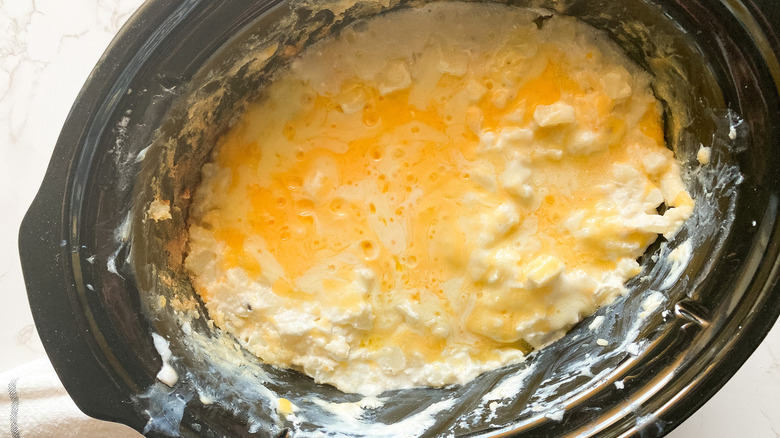 Kristen Carli/Mashed
Prepping the ingredients is easy-peasy: Open the bags of hash browns and cheese, pop the lid off the sour cream, and dig out the can opener to open up that soup. If you've bought the kind that comes complete with a ring top, then opening the soup will be even easier.
Mix the potatoes, the sour cream, the soup, and one cup of the shredded cheese in your slow cooker and stir them all together. Set the pot on high and cook the potatoes for four hours. If you're going to be out of the house all day, you could also set it on low and cook them for eight hours. After three hours (or six if you're going slow), give the potatoes a good stir. Once the four (or eight) hours is up, sprinkle the remaining cheese on top, then close the lid and allow the residual heat to melt the cheese. Carli tells us this took about 10 minutes for her.
You can also cook the funeral potatoes in the oven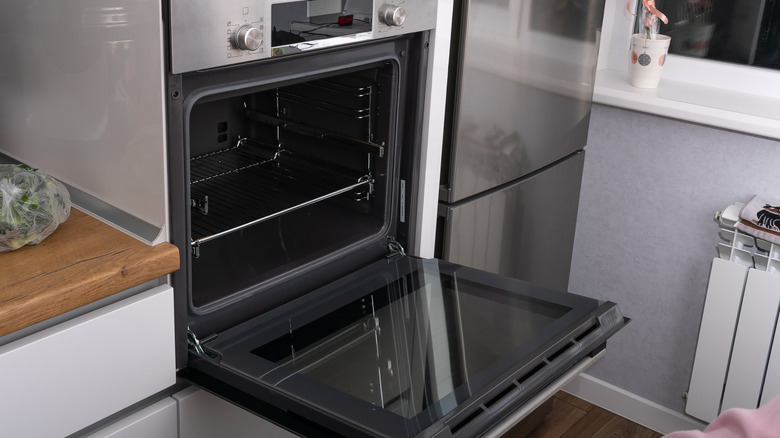 Shutterstock
If you don't have a slow cooker, you can still make these funeral potatoes. As Cali tells us, "You can make these in the oven easily." To do so, just mix the ingredients as described above, then spread them in a greased 9x13-inch pan. Sprinkle the reserved cup of cheese over the top, then cover the pan with foil. Bake the potatoes at 350 degrees Fahrenheit for 20 minutes, then remove the foil and bake for another 15 minutes until the cheese is bubbly and brown.
Actually, there is one advantage to baking these funeral potatoes in the oven as opposed to using a Crockpot. Sure, you've got to futz around with the foil, and you've got to keep a closer eye on the time, but you can add a crunchy topping! As Carli tells us, "The potatoes are great topped with potato chips or corn flakes when baked in the oven." Just crumble about two cups worth of crunchy stuff, then sprinkle it over the top layer of cheese.
Feel free to serve these funeral potatoes on a happier occasion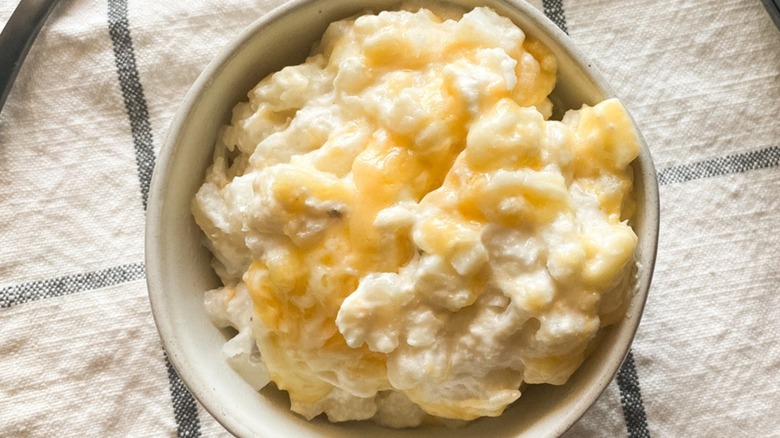 Kristen Carli/Mashed
Despite their sad name, funeral potatoes are a great food to take to potlucks and parties, especially if you have an extra-large slow cooker (or two slow cookers) and can double the recipe. You can also enjoy these at an everyday family meal. In fact, Carli suggests pairing them with a dish that has a much happier moniker, telling us: "This would be great on the side of wedding chicken with a big fresh salad."
Crockpot Funeral Potatoes Recipe
These funeral potatoes are cooked in a slow cooker, so they're quick and easy, but the best thing about this dish is that it's so gloriously cheesy!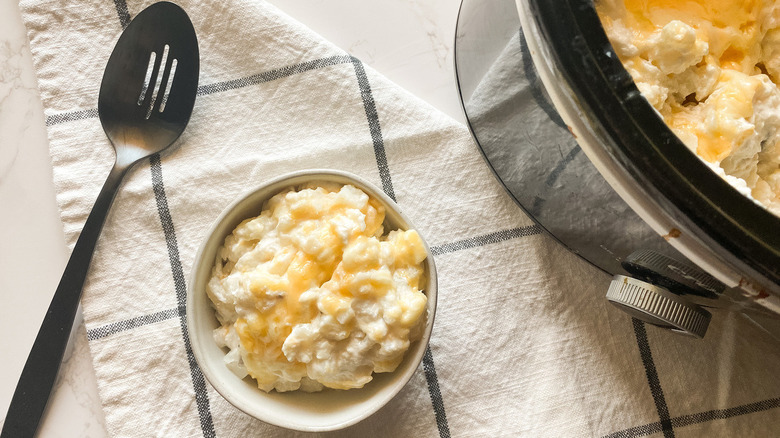 Ingredients
32 ounces frozen diced hash browns
1 10.5-ounce can condensed cream of mushroom soup
1 cup sour cream
2 cups shredded cheddar cheese, divided
Optional Ingredients
Chopped green chiles
Potato chips or corn flakes
Directions
In a small slow cooker, mix hash browns, cream of mushroom soup, sour cream, and 1 cup of shredded cheese. Stir well to combine.
Set slow cooker on high for 4 hours, stirring after 3 hours.
After 4 hours is up, sprinkle cheese on top of the potatoes. Close the lid of the crockpot and allow the cheese to melt for about 10 minutes.
Top with chopped green chiles, potato chips, or corn flakes if desired. Serve and enjoy.
Nutrition
| | |
| --- | --- |
| Calories per Serving | 667 |
| Total Fat | 41.9 g |
| Saturated Fat | 15.0 g |
| Trans Fat | 0.5 g |
| Cholesterol | 58.4 mg |
| | |
| --- | --- |
| Total Carbohydrates | 58.1 g |
| Dietary Fiber | 5.2 g |
| Total Sugars | 3.7 g |
| Sodium | 1,120.5 mg |
| Protein | 15.1 g |