Air Fryer Parmesan Brussels Sprouts Recipe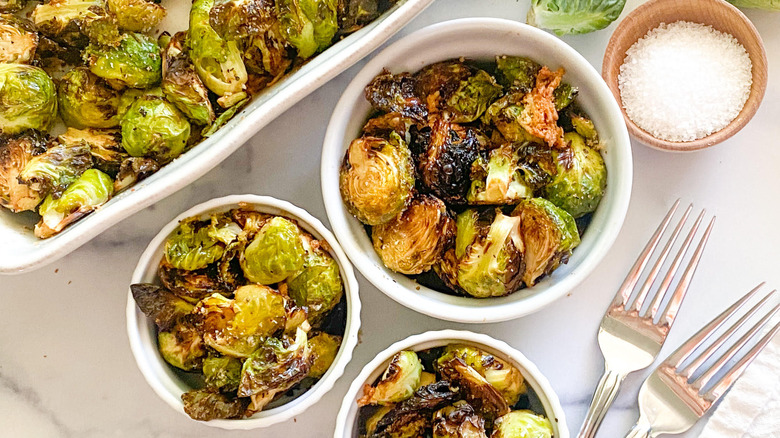 Miriam Hahn/Mashed
When you're trying to decide on a side dish for dinner, you may consider a vegetable as a suitable option. From carrots to broccoli to green beans, there is a wide range of delicious veggies to choose from, providing both flavor and health to your meal. Of course, there are also those vegetables that are commonly overlooked — and it's safe to say that Brussels sprouts may be one of them. While many people opt to walk by Brussels sprouts at the store, they are a great option for a dinner side dish, seeing as they're packed with nutrients, antioxidants, and most importantly of all, flavor!
Some people find that Brussels sprouts are slightly bitter, but when they're cooked the right way, they have a wonderfully nutty, earthy, and almost sweet taste. And now, thanks to recipe developer and wellness coach Miriam Hahn, it's never been easier to cook Brussels sprouts to perfection. Hahn's air fryer Parmesan Brussels sprouts recipe brings out the best flavors of the sprouts themselves, along with the added delight of cheesy goodness. "I love using Brussels sprouts, because they are a super healthy cruciferous vegetable," Hahn explains. She adds that this recipe yields "savory, salty, and crispy" sprouts, and that this recipe will likely please any palate — even those that don't typically enjoy Brussels sprouts!
Gather the ingredients to prepare air fryer Parmesan Brussels sprouts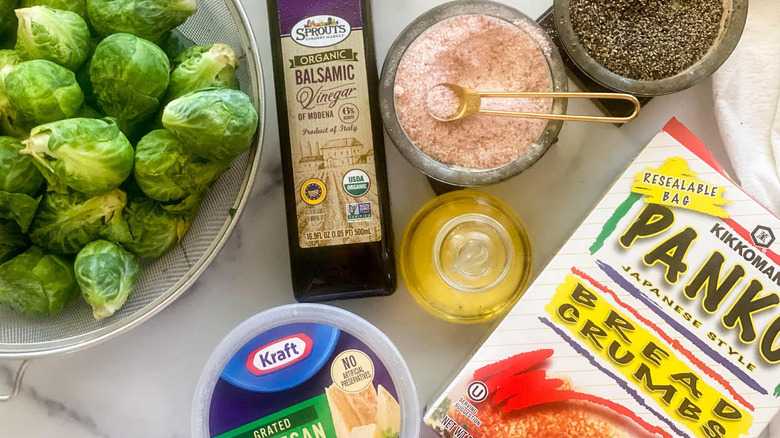 Miriam Hahn/Mashed
In order to prepare these air fryer Parmesan Brussels sprouts, you'll need to make sure that you have the right ingredients. Of course, you'll need Brussels sprouts, and be sure that they're halved before moving forward with the recipe. You'll also need olive oil, balsamic vinegar, salt, pepper, Panko breadcrumbs, and shredded or grated Parmesan cheese. Hahn also notes that this recipe is easy to customize, as you could use any spices that you'd like in addition to salt and pepper, butter instead of olive oil, and you could skip the breadcrumbs and just opt for Parmesan instead. So make it your own, and season to perfection.
Halve your Brussels sprouts, and then toss them with olive oil, vinegar, salt, and pepoer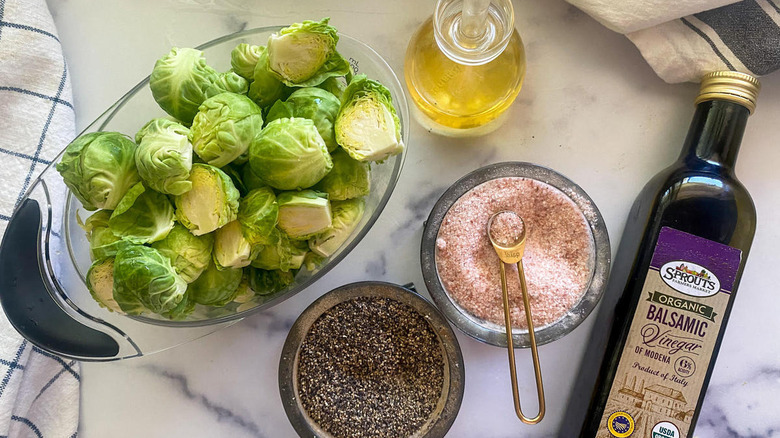 Miriam Hahn/Mashed
Now that you have your ingredients organized, you can get started on preparing your Brussels sprouts for cooking. If your sprouts aren't already halved, go ahead and do that now. Also, Hahn notes that if your sprouts are really big to begin with, it's best to quarter them so they cook evenly. Next, add the sprouts into a bowl, and drizzle on the olive oil and balsamic vinegar. Give the sprouts a toss so they're evenly coated in oil, and then add your salt and pepper, and toss again. Additionally, in a separate bowl, mix your Parmesan cheese and breadcrumbs, then put that bowl aside. You'll be getting to it shortly.
Put half of your Brussels sprouts into the air fryer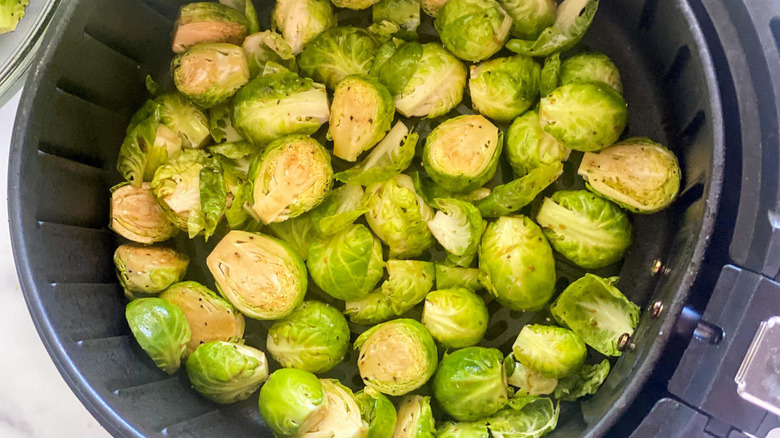 Miriam Hahn/Mashed
Once your Brussels sprouts are coated in olive oil, salt, and pepper, you can get ready to cook them. Start by putting about half of your sprouts into the air fryer basket. Be sure that they're in a single layer so that they cook evenly, which means you'll likely have to cook them in multiple batches, depending on the size of your air fryer. Once your sprouts are in an even layer, go ahead and pop the basket into the air fryer and set it to 400 F, then let the Brussels sprouts cook for five minutes. 
Sprinkle on your Parmesan and breadcrumb mix halfway through cooking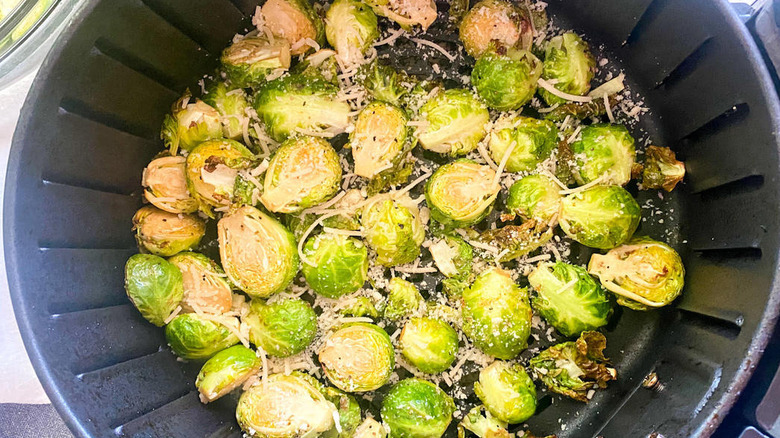 Miriam Hahn/Mashed
After your Brussels sprouts have cooked in the air fryer for five minutes, go ahead and pull the basket out. You should notice some char beginning to form on the sprouts, which is exactly the delicious, crispy texture that you're looking for. Go ahead and grab your Parmesan and breadcrumb mixture that you put together earlier, and sprinkle half of it onto the sprouts. Toss the sprouts in the basket, then pop them back in to cook for five more minutes. After about three minutes, check on them to make sure that they're not overcooking. Once your first batch of sprouts is done, go ahead and repeat the cooking process with the other batch until all of your Brussels sprouts are cooked.
Serve your Brussels sprouts, and optionally garnish with more Parmesan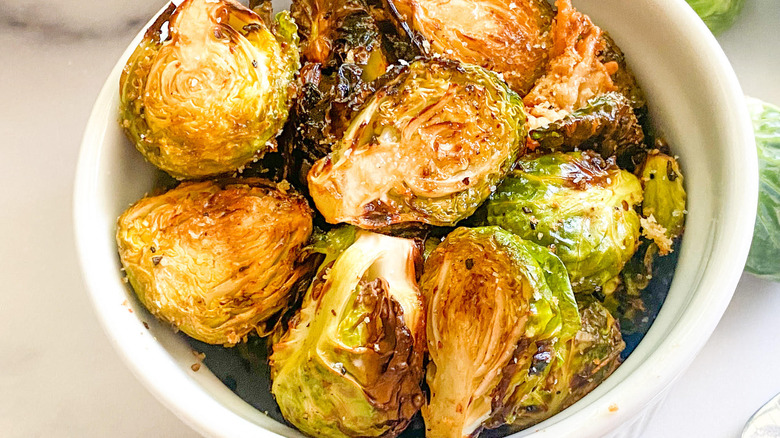 Miriam Hahn/Mashed
After you've finished cooking all of your Brussels sprouts, you can optionally garnish with more Parmesan cheese, and then you're ready to put them on a nice serving platter, and enjoy! In just 15 minutes, you've thrown together an easy, healthy, and flavorful side dish that's sure to please even the pickiest of eaters. Hahn says that these air fryer Parmesan Brussels sprouts pair well with salmon, pasta, and even in Buddha bowls. With the simplicity of cooking in the air fryer, you can whip up these Brussels sprouts in a pinch and with only a handful of ingredients. If Brussels sprouts weren't your go-to vegetable side dish in the past, they very well may be after trying this recipe. They are sure to be liked by everyone you serve them to.
Air Fryer Parmesan Brussels Sprouts Recipe
These air fryer Parmesan Brussels sprouts just might be your new favorite side dish.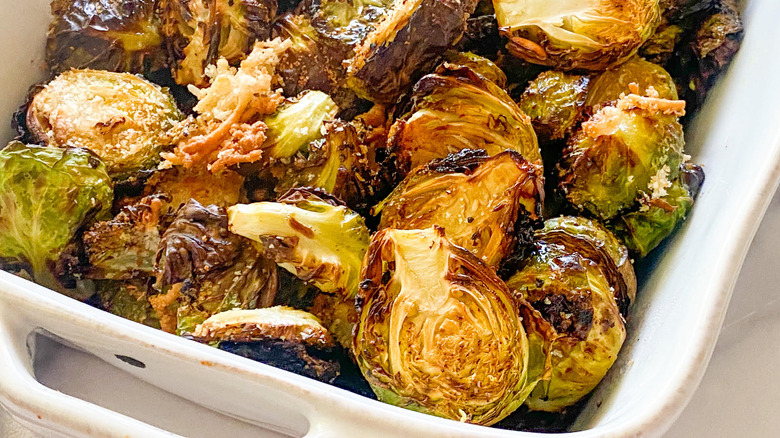 Ingredients
4 to 6 cups Brussels sprouts, halved
2 tablespoons avocado or olive oil
1 tablespoon balsamic vinegar
½ teaspoon salt
¼ teaspoon pepper
¼ cup Parmesan cheese (grated or shredded)
¼ cup panko breadcrumbs
Directions
Put the Brussels sprouts in a large bowl, and toss them with olive oil, balsamic vinegar, salt, and pepper. Stir well.
Combine the Parmesan cheese and panko breadcrumbs in a small bowl.
Put about ½ of the Brussels sprouts into the air fryer basket. Shake to get them in a single layer.
Set the temperature to 400 F and the time to 5 minutes.
When the timer goes off, pull out the basket, and sprinkle on half of the Parmesan and breadcrumb mixture. Toss to distribute.
Put the tray back in, and set time for 5 more minutes. (Check at 3 minutes to make sure they are not getting overdone.)
Repeat steps 3 through 6 with the second batch.
Top with more Parmesan, if desired, and enjoy.
Nutrition
| | |
| --- | --- |
| Calories per Serving | 107 |
| Total Fat | 6.4 g |
| Saturated Fat | 1.7 g |
| Trans Fat | 0.0 g |
| Cholesterol | 4.2 mg |
| | |
| --- | --- |
| Total Carbohydrates | 9.0 g |
| Dietary Fiber | 2.9 g |
| Total Sugars | 2.1 g |
| Sodium | 207.7 mg |
| Protein | 5.0 g |