Refreshing Watermelon Pie Recipe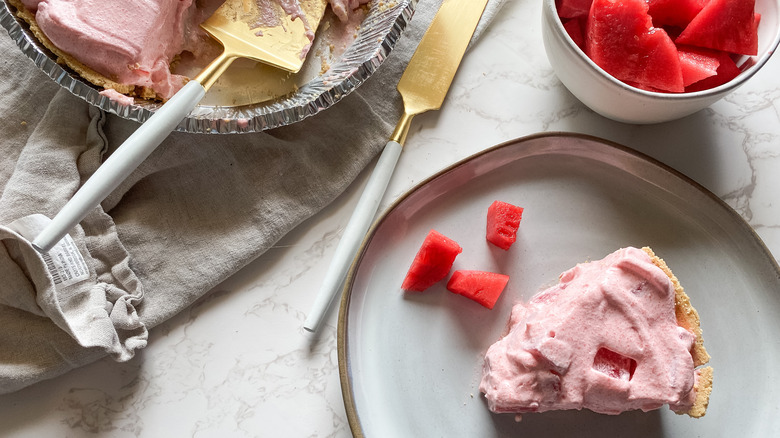 Kristen Carli/Mashed
The last thing anyone will want to do on a hot summer day is to have the oven cranking out even more heat while you bake (or at least try to bake) a sweet treat that will bring your domestic crowd to its feet. And that's where this no-bake pie comes in.
Watermelon may not be a fruit you'd expect in a pie, but Kristen Carli wanted to do something a little bit different here. While the feel of this pie may be similar to Key lime pie, the flavor is completely different, giving you a whole new dessert option the next time you're having friends over during the summer months. It's definitely best to make this pie when it's warm out, though, not just because the watermelon will be super refreshing, but also because it'll be as sweet and ripe as possible in the summer.
So, are you ready to try this recipe out for yourself? Learn how to make your very own watermelon pie.
Here's what you need to make a watermelon pie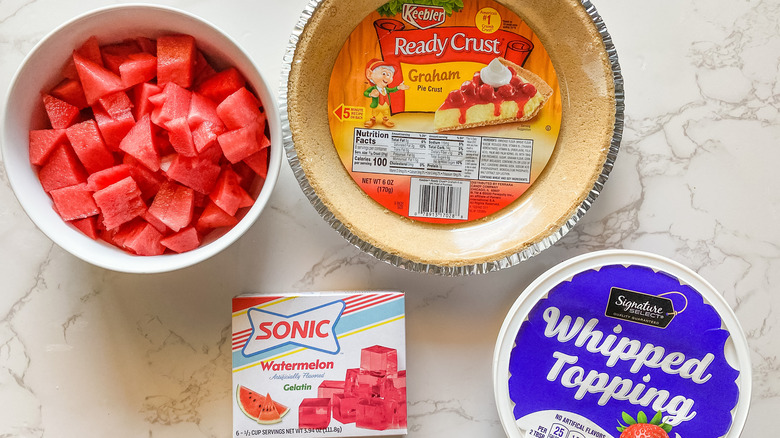 Kristen Carli/Mashed
To pull a pretty-in-pink watermelon pie together, you'll need watermelon gelatin (a four-ounce packet is perfect for your needs), whipped topping, diced fresh watermelon, and graham cracker crust. While you should be able to easily find a crust at your local supermarket, if you live somewhere where graham cracker crusts might be not be available, they can be made from scratch. 
When purchasing your watermelon, you'll want to make sure the fruit is juicy and sweet. All good watermelons are meant to be heavy. Tap your melon to make sure it has a deep, hollow sound (instead of a dull thud). Also, look for a splotch of yellow in the sea of green. When that splotch is a rich butter yellow, the melon is ripe.
Make the watermelon pink base for your summer pie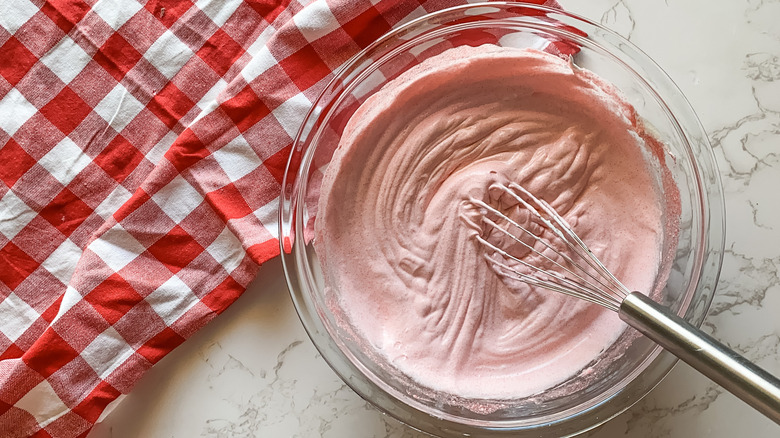 Kristen Carli/Mashed
Prepare the base by making the watermelon gelatin according to the manufacturer's instructions. When the liquid is ready, add the whipped topping of your choice and whisk to combine. While you might be tempted to do a swap and use freshly whipped cream instead of the topping, Carli says that wouldn't be advisable since the dessert is not likely to hold its shape in the same way.
The reason for this lies in the individual ingredients' makeup. Homemade whipped cream is nothing more than heavy cream that has been whipped until it has doubled in size, and as such, it will need to be re-whipped if it is stored. Whipped topping is not just thicker, it's also designed to keep its shape and provide a denser texture.
Fold the fruit into the cream and gelatin mixture to create the pie filling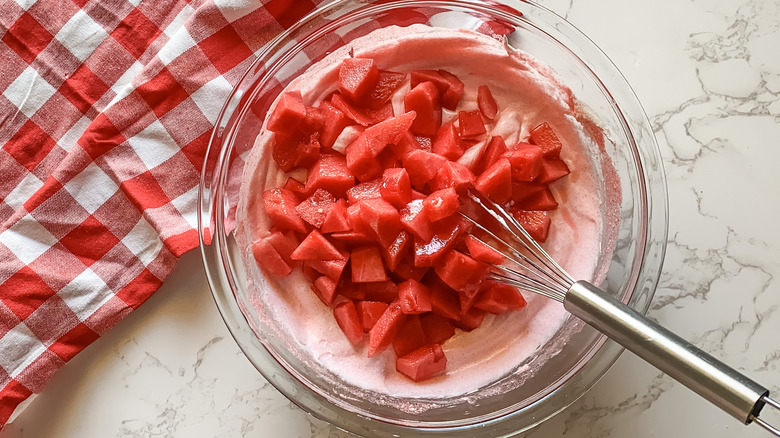 Kristen Carli/Mashed
Once your pink base is ready, you'll want to add your watermelon chunks, which you can fold to combine. Make sure you're gentle when you do this, as you don't want to break up those gorgeous pieces of watermelon and release their liquid too much. Once you've gotten the fruit covered in the gelatin mixture, you should stop mixing.
When you've finished that step, gently lay the watermelon and gelatine mixture into your pie crust, and spread the tinted, fruit-filled cream so it's even. Then, keep it in the freezer for at least two hours to allow it to set.
After those two hours are up, you'll be ready to serve this delicious masterpiece of a pie. Your friends and family are going to love you for this one!
Refreshing Watermelon Pie Recipe
While the feel of this pie may be similar to Key lime pie, the flavor is completely different, giving you a whole new dessert option for the summer.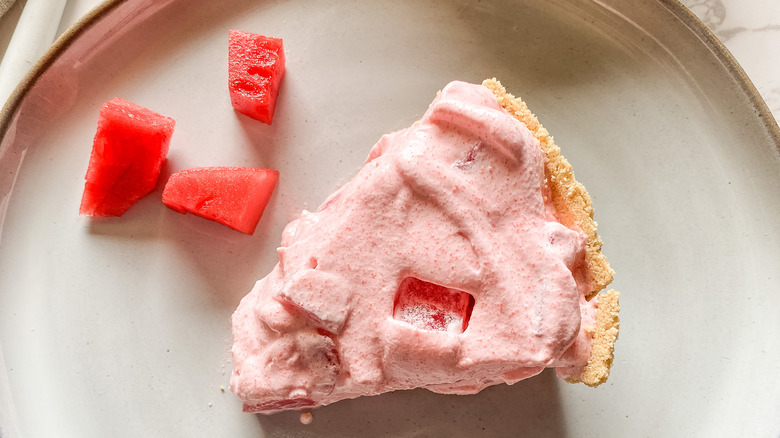 Ingredients
1 4-ounce packet watermelon gelatin
¼ cup water
8 ounces whipped topping
1 ½ cups diced fresh watermelon
1 graham cracker crust
Directions
In a large bowl, add gelatin and water. Whisk to combine.
Add whipped topping. Whisk to combine.
Add watermelon. Fold to combine.
Pour into crust. Spread evenly.
Chill in freezer for at least 2 hours.
Serve and enjoy.
Nutrition
| | |
| --- | --- |
| Calories per Serving | 243 |
| Total Fat | 12.0 g |
| Saturated Fat | 5.1 g |
| Trans Fat | 0.0 |
| Cholesterol | 21.5 mg |
| | |
| --- | --- |
| Total Carbohydrates | 20.4 g |
| Dietary Fiber | 0.5 g |
| Total Sugars | 8.2 g |
| Sodium | 138.4 mg |
| Protein | 14.4 g |