Stanley Tucci's Signature Tequila Cocktail Uses Only 3 Ingredients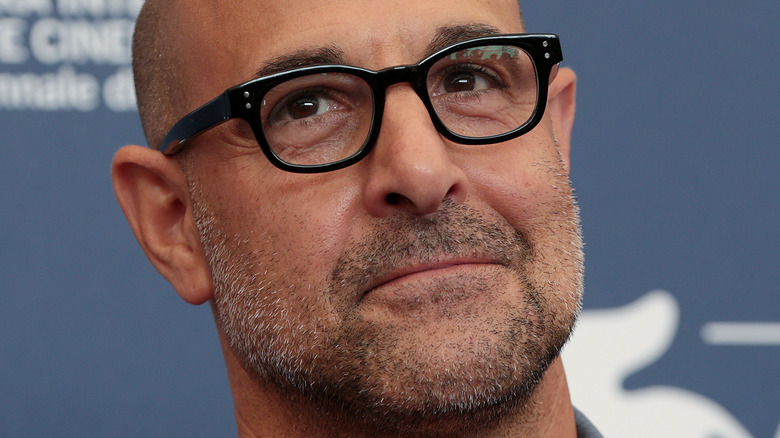 Shutterstock
Stanley Tucci is a real foodie. If his limited series "Searching for Italy" didn't tip you off to his love for food, his Instagram account should. Turns out the Oscar-nominated and "The Devil Wears Prada" actor has a penchant for the culinary and for making yummy cocktails. In fact, we are starting to think mixology might be his true love language. Tucci puts so much thought and care into making his adult beverages, and has some real opinions about how to craft the perfect drink. We've learned he definitely isn't shy about schlepping other famous people and their celebrity alcohol, either. Tucci even gave Ryan Reynolds' Aviation Gin a shout-out in one Instagram post where he made a gin martini. He playfully shared that it might just be "his favorite gin." Can anyone escape endorsing the "Deadpool" star's gin? Don't answer that or you might find yourself with a box of the celebrity driven alcohol on your doorstep with instructions on how to promote it.
And actually, the signature Tucci drink that has us talking around the proverbial water cooler, currently known as Zoom, doesn't require Tucci's usual bar staples, gin or vodka. It is Tucci's "Tequila-tini" that has us pouring, and what we love about this drink — besides the fact that it is such a lovely riff on a classic martini — is that it only requires three ingredients to create. What does Tucci use to make what may become a summertime favorite?
The Tucci Tequila-tini uses Casamigos Tequila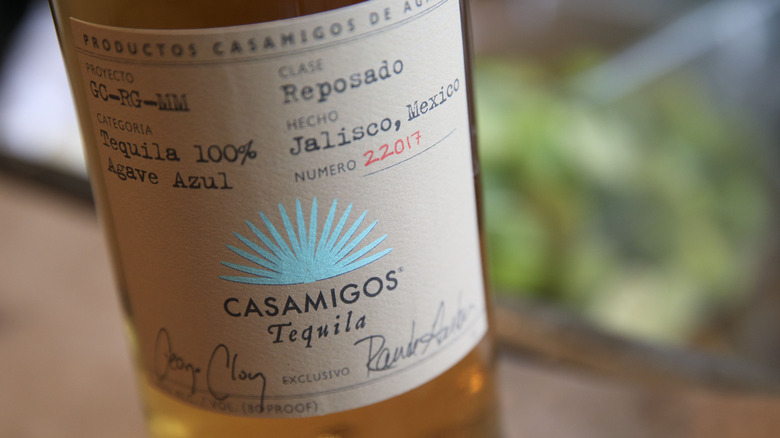 Bloomberg/Getty Images
OK, in all fairness, Stanley Tucci credits his friend Paul Feig for creating this drink, but the Paul Feig Tequila-tini simply does not have the beautiful literary consonance as the Tucci Tequila-tina. (Sorry, Feig.) Tucci starts off his Instagram video with an apology as he jokingly says, "I'm sorry it's been so long since I've made a cocktail, but sometimes I like to drink alone." Then he shares that this drink is "incredibly simple." In the video, Tucci uses two shots of tequila, a half-shot of Cointreau, and a bit of orange peel to rub along the rim of his martini glass. His tequila of choice happens to be Casamigos Reposado, which he whispers is "made by a famous person." #WeloveGeorgeClooney.
Tucci runs contrary to the Bond philosophy on this tequila-tini and opts to stir his tequila and Cointreau in his pitcher of ice rather than use a shaker. He seems quite pleased with his skills and after taking a sip says, "Man! Take me down to Mexico. That is so good." Insider points out that there is a bit of discrepancy in what Tucci uses in the video vs. the quantities he wrote in his post. In his Instagram caption, Tucci says to use four shots of tequila. Four shots of tequila does seem like it would make for a really strong drink, so maybe follow the less is more rule with this drink and stick to only two.