Over 35% Agree This Is The Worst Menu Item At Waffle House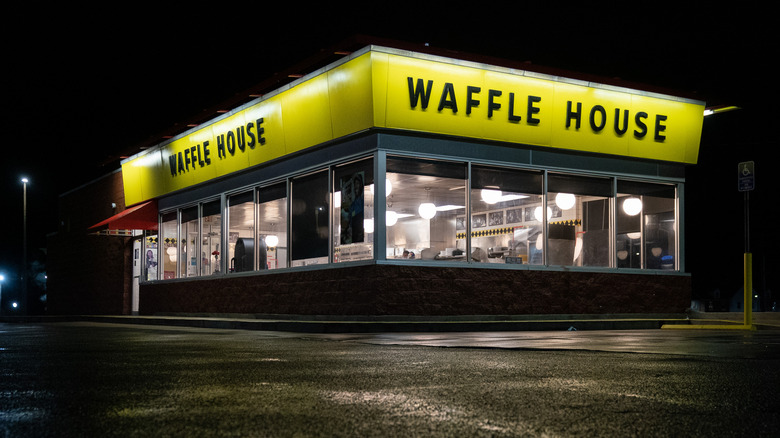 Bloomberg/Getty Images
At first glance, a Waffle House may not look like much to those unfamiliar with its southern charms. But for those in the know, including truckers and locals alike, it's basically a religion. Business Insider explains that Waffle House, an "American highway staple beloved by truckers" and a favorite among food luminaries like the late Anthony Bourdain, is a late-night legend. Their "classic diner feel" coupled with a simple but highly-customizable menu lends the local chain a strange appeal that has captured the hearts (and stomachs) of many.
The fact that Waffle House is open 24/7 even in the face of natural disasters doesn't hurt either. Their menu incorporates breakfast staples like eggs and (of course) waffles, as well as lunch and dinner classics like Angus burgers and steak and potatoes. Given their name, one can probably guess what the worst item is not. But the most widely-disliked item on the Waffle House menu may still surprise you, especially considering its notoriously southern nature.
Waffles always win, but what menu item loses?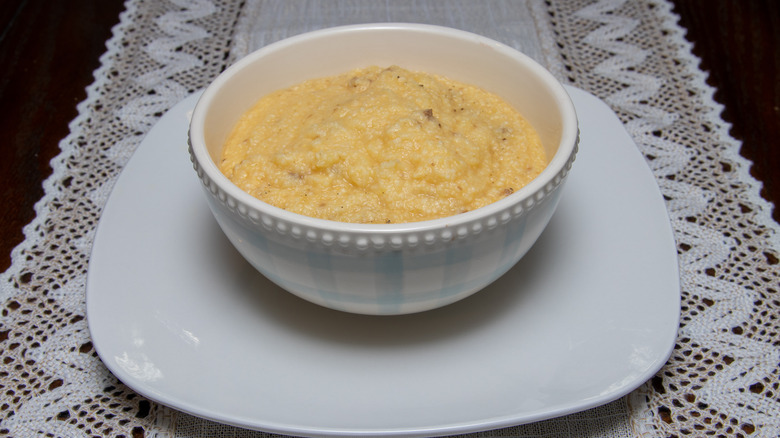 Shutterstock
Just over 35% of the 589 people that Mashed surveyed in the U.S. said they disliked the grits at Waffle House the most. A southern staple side dish, Divas Can Cook notes that while grits are super simple to make, they're also super simple to mess up. The Travel Bite likens a well-made bowl of grits to "polenta, but with a hearty stick-to-your-ribs creaminess like risotto," noting that it's as much of a staple as biscuits or coffee on a southern breakfast table.
Other contenders on the list might surprise you, too. The second most disliked item was their city ham, with 24% of the voters deeming it their least favorite. Pecan waffles came in third, with 16%. The chain's cheese omelet was disliked by 9% of voters, and the sausage, egg, and cheese sandwich followed closely after, with 8%. 
Perhaps the most surprising addition to the list is the classic waffle, with about 7% of those surveyed noting they need to up their game even there. So while there may be a bit of room for improvement when it comes to the food at Waffle House, rest assured you're getting some quality waffles and many other menu items when you go there. Just maybe skip the grits and get hash browns instead. People seem to like those!