Bobby Flay's Burger Recipe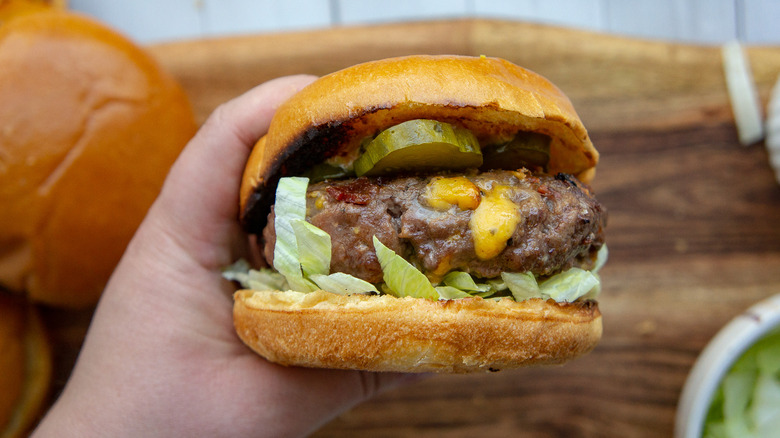 Mikayla Marin/Mashed
There are few dishes more iconic of American food than a really good beef burger. Chef Bobby Flay knows all about that, as he's a well-known burger aficionado and owner of a widespread burger chain called Bobby's Burger Palace. But if you can't make it to one of those locations across the United States, he's also shared how to make a perfect one right at home.
Today, we're paying respect to Chef Flay's burger mastery, as recipe developer and food blogger Mikayla Marin from The Flour Handprint takes Bobby's classic burger recipe and adds a delicious twist. Flay's burger is simple perfection: beef, bun, and seasoning. And it's truly delicious, but we all know that a collection of toppings can transform a burger entirely.
While the basic ingredients and burger cooking instructions haven't changed, Mikayla's added a few key ingredients that play right into that classic American burger flavor. You'll get all the juicy perfection of Bobby Flay's burger techniques with cheeseburger flavors we all know and love.
How we "twisted" Bobby's classic burgers with a few additional ingredients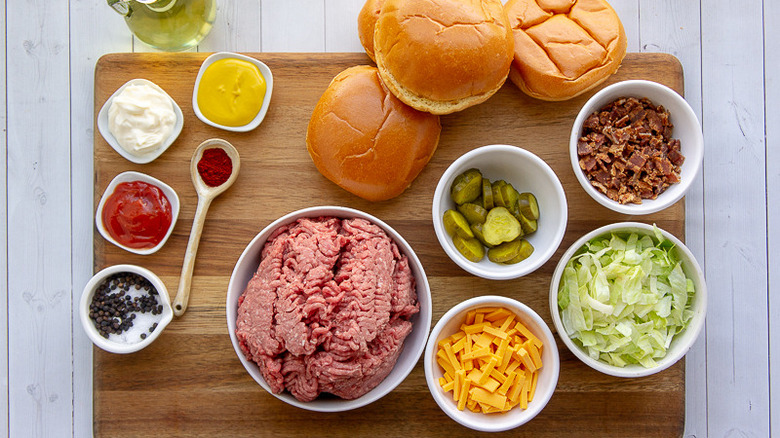 Mikayla Marin/Mashed
Mikayla couldn't think of a much better way to respect an American burger recipe than to add the flavors most Americans know and love as classic burger toppings. She added crunchy dill pickles, shredded iceberg lettuce, and a slider sauce that takes the standard ketchup, mustard, mayonnaise combination to the next level with addition of smoked paprika.
Then, instead of just sticking to the bacon and cheese we all secretly want on top, she stuffed the ground beef patties with crumbled crisp bacon pieces and gooey American cheese. The result? A juicy burger that has gooey cheese and bacon cooked right into the patty and that's loaded with flavors that will make your taste buds dance.
The beef patty ingredient combination you'll need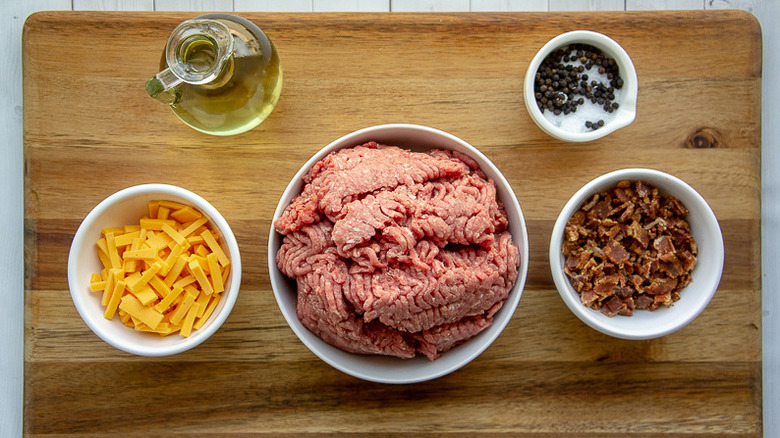 Mikayla Marin/Mashed
We're keeping the base ingredients for this recipe just as Bobby Flay tells us they should be. For four hearty, juicy burgers, you'll need a pound and a half of ground beef. An 80/20 beef mixture provides the fat you need for a really good burger, but a leaner 90/10 ground turkey can also be used.
To that, we'll add the salt, pepper, and oil Chef Flay recommends and the additional half cup of bacon and three slices of cheese Mikayla added as a twist. Since the bacon is being cooked in the patty, it has to be precooked before you prepare your burgers. You can do this quickly by microwaving the bacon, using leftover bacon, or even utilizing good-quality prepared bacon pieces.
The American cheese is easy too. Most American cheese comes in slices, so just dice it up so it can be mixed into the patties.
The simple toppings are reminiscent of classic American cheeseburgers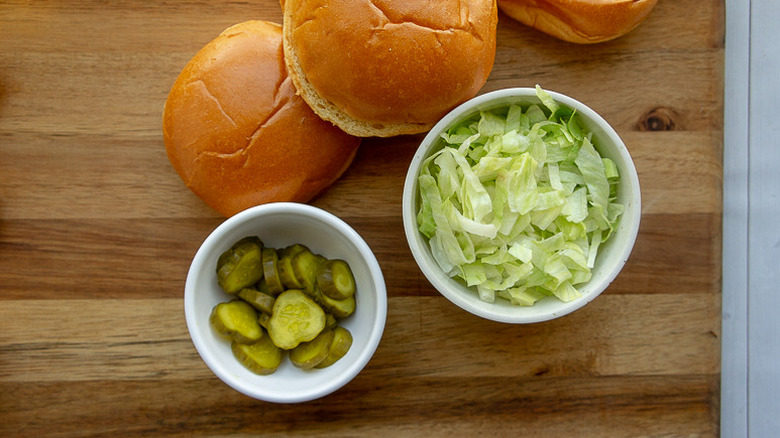 Mikayla Marin/Mashed
When creating the twist for these burgers, Mikayla wanted to take plain burgers and make them into something reminiscent of the diner-style, classic cheeseburgers of her youth. With the cheese and bacon taken care of in the patty, there were only two other toppings that she knew she wanted: a single cup of shredded lettuce and 16 slices of simple dill pickles. Crunchy dill pickles can easily be sliced for this, or you can opt for pre-sliced ones. Whatever brand pickle you like works great. A kosher dill works best here.
Lettuce is very easy to shred too, or you can buy a pre-shredded to save you a few minutes. We used iceberg for that iconic crunchy lettuce texture, but any green lettuce like romaine or butter would work too.
Finally, we're sandwiching all of it between a good-quality, brioche-style bun. In every test, the buttery tenderness of a brioche bun complimented the flavors of the burger without distracting from it. Potato or sesame seed buns would make great substitutes. 
Mix and form your beef patties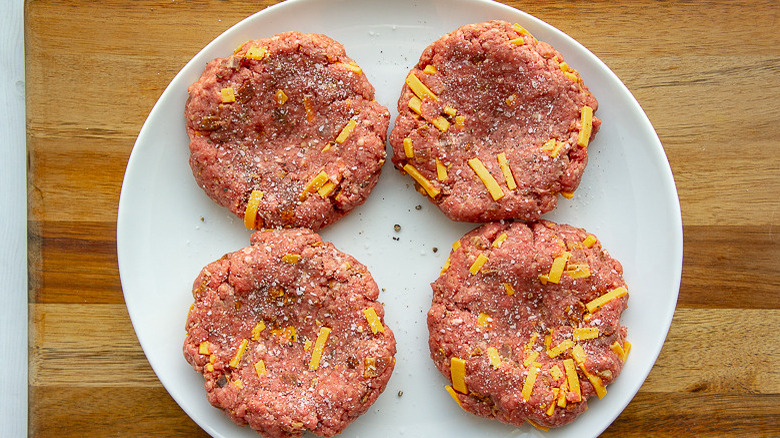 Mikayla Marin/Mashed
Since we're adding to the beef, the first step is to work in the bacon crumbles and diced cheese. You can gently work these ingredients into the meat like you're making meatballs, until they're evenly dispersed. Try to be gentle, as overworking the meat can lead to dry patties, and nobody wants that!
Once your beef mixture is combined, simply divide the beef into four equal balls, about six ounces each. Then, flatten each patty in the palm of your hand and gently work it until it's about three-quarters of an inche thick all the way across. We're following Bobby Flay's instructions here by making a deep indent in the patty afterward. That prevents the shrinking of the burger on the grill.
Repeat with the other three patties, then season each with about a quarter teaspoon of salt and pepper. Set them aside while you prep your grill.
Grill your burgers over high heat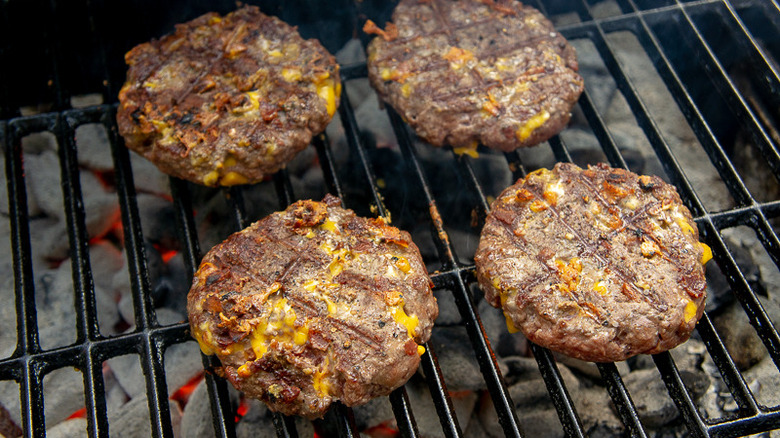 Mikayla Marin/Mashed
Since Chef Flay recommends grilling as a first route for cooking your burgers, we're sticking with it. The good news is that the technique is exactly the same, even with the bacon and cheese add-ins. Get your grill heated to high, or heat the coals until they're bright orange and have ashed over. Brush each patty with a little bit of oil, then place them over direct heat.
Cook for three minutes on the first side and four minutes on the second for a medium-rare burger. If you prefer your burgers more well done, add one minute per side for medium and two minutes for well-done. If you're cooking turkey burgers, keep those on the grill for five minutes per side.
If grilling isn't your game, you can also use a grill pan, sauté pan, or griddle on the stove inside. For a grill pan, the directions are exactly the same. For the sauté pan or griddle, add the oil to the pan surface rather than the burgers, and when the pan is hot, cook for the same times as directed above.
Toast the buns and make the slider sauce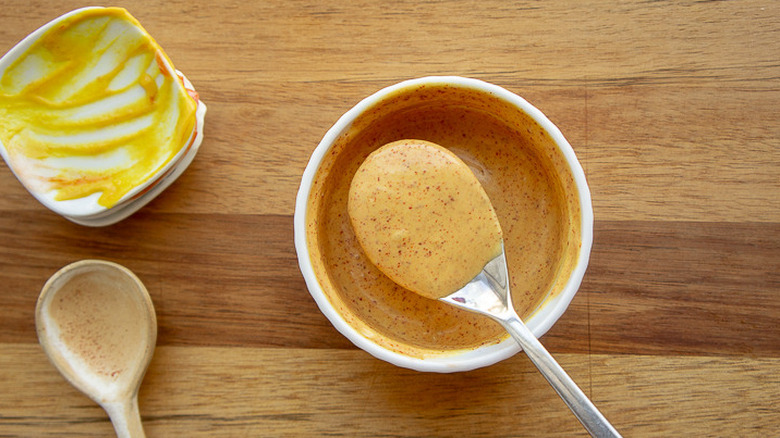 Mikayla Marin/Mashed
While those patties are cooking, you have plenty of time to get the other components of the burger ready to go. Mikayla found that just splitting the buns and tossing them over indirect heat on the grill was the perfect way to get them toasted. You could also use the oven or a toaster or just leave them as-is.
Then it's just mixing the sauce that's left. Combine three tablespoons of mayonnaise with one and a half tablespoons each of ketchup and mustard and a quarter teaspoon of smoked paprika. This simple slider sauce is easy to dollop onto toasted buns for quick assembly.
Assemble your burgers and serve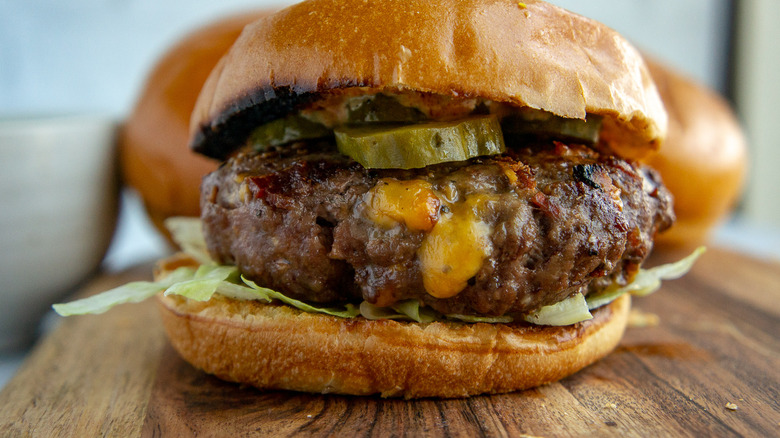 Mikayla Marin/Mashed
With those hot juicy burgers off the grill (do you see that gooey cheese?), it's time to assemble, and of course, eat!
Arrange the buns open on a plate or counter, and dollop half a tablespoon or so of slider sauce on each side. Add a quarter cup of lettuce to the bottom half of the bun, and place the burger right on top.
Add four pickle slices to each burger, and flip that top bun over on top of the patty. All that's left is to take that first juicy bite and enjoy Bobby Flay's classic burgers with an American diner, cheeseburger twist.
Bobby Flay's Burger Recipe
Today, we're paying respect to Chef Flay's burger mastery, as we take Bobby Flay's classic burger recipe and add a delicious twist.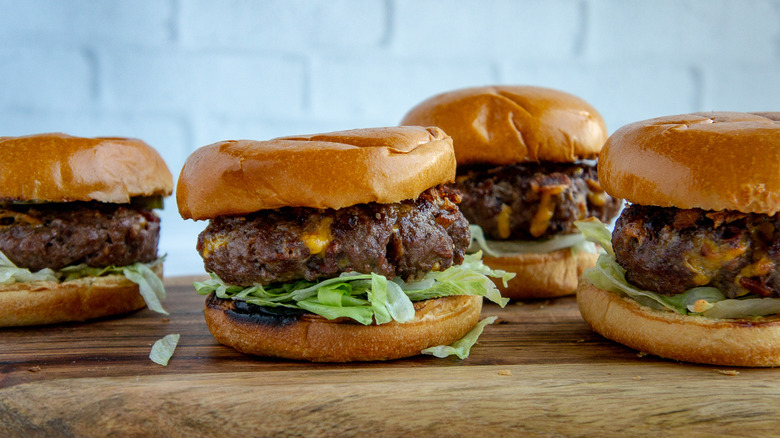 Ingredients
½ cup bacon pieces
3 slices American cheese, diced
1 ½ pounds ground beef
Salt and pepper
1 ½ tablespoons yellow mustard
1 ½ tablespoons ketchup
3 tablespoons mayonnaise
¼ teaspoon smoked paprika
1 cup shredded lettuce
16 dill pickle slices
Optional Ingredients
Directions
Add bacon pieces and cheese to ground beef and gently mix in.
Separate the meat into four 6-ounce balls and loosely shape into burger patties ¾ inch thick.
Make a deep impression in the middle of the burger patty and season with salt and pepper.
Heat a gas grill to high or create direct heat with coals. Brush the burgers with oil and place on the grill.
Cook on the first side for 3 to 4 minutes or until lightly charred and golden brown.
Flip and cook another 4 to 6 minutes, depending on preferred internal cooking temperature.
Place buns on the grill to toast (optional).
While your burgers cook, mix the mustard, ketchup, and mayo in a bowl with the smoked paprika.
Assemble by dolloping a ½ tablespoon of sauce on either side of the buns. Place lettuce on the bottom, the burger on top, then top the patty with pickles and the remaining bun. Serve immediately.
Nutrition
| | |
| --- | --- |
| Calories per Serving | 635 |
| Total Fat | 52.2 g |
| Saturated Fat | 18.5 g |
| Trans Fat | 2.0 g |
| Cholesterol | 144.4 mg |
| | |
| --- | --- |
| Total Carbohydrates | 5.1 g |
| Dietary Fiber | 0.9 g |
| Total Sugars | 2.0 g |
| Sodium | 770.1 mg |
| Protein | 34.8 g |