Healthy Sweet Potato Quesadillas Recipe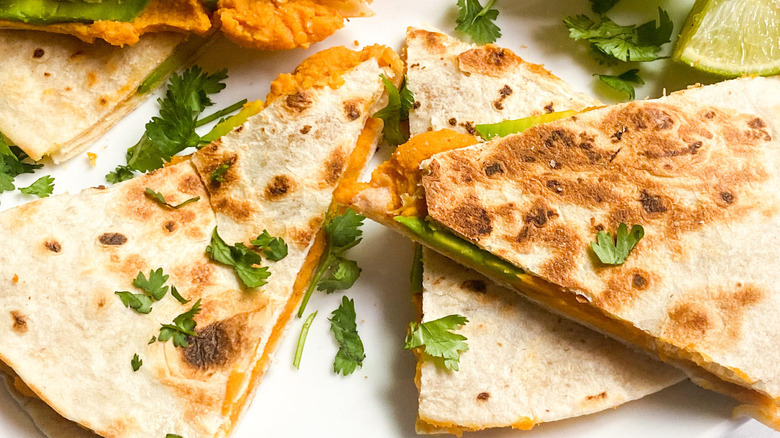 Miriam Hahn/Mashed
There's no doubt that most quesadillas are topped with cheesy goodness and your choice of protein. While steak, chicken, and even pulled pork quesadillas are amazing, they can be heavy at times. If you're searching for a healthier way to eat a quesadilla, then we have the perfect recipe for you. This dish includes organic sweet potatoes and organic garbanzo beans, and you won't feel guilty about eating it. Add some sliced avocado and cilantro, and you have a restaurant-quality meal.
Recipe developer Miriam Hahn of YouCare-SelfCare came up with this unique recipe that looks and tastes great. "What I love most about this recipe is that it is a healthy twist on a common household quick meal," she raves. "I love doing all sorts of things with sweet potatoes, because they are loaded with fiber and Vitamin A for glowing skin! I try to eat something in the orange family every day. I also love that this is a dairy-free meal, as so many people have health issues with dairy."
If you're already hooked on this recipe, we can't say we blame you. Keep scrolling to find out how to make this delicious dish — you definitely will not be disappointed.
Gather the ingredients to prepare these healthy sweet potato quesadillas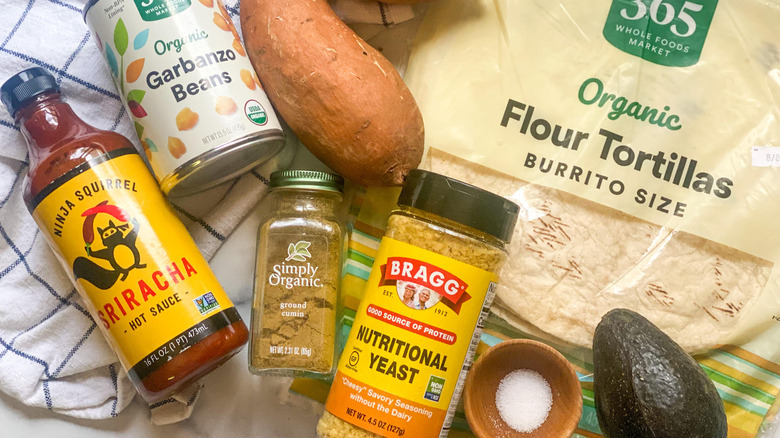 Miriam Hahn/Mashed
It's time to make a list to see what you have at home and what you'll need to get at the store. For starters, the recipe calls for a few medium organic sweet potatoes. In addition, you'll need a can of organic garbanzo beans, which you will have to drain. As far as seasoning goes, make sure you have cumin, salt, Sriracha, or Cholula. (You can also use a different kind of hot sauce if you like something else better). To complete your list, add avocado, tortillas, and oil. Now, it's time to get cooking!
Prep the sweet potatoes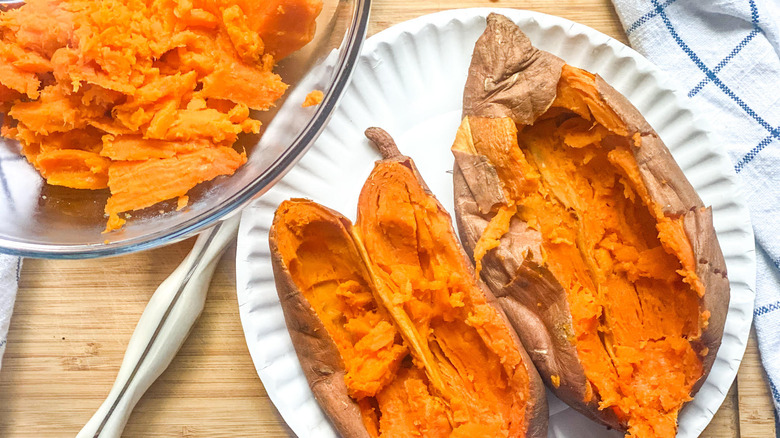 Miriam Hahn/Mashed
Take out your sweet potatoes, and poke them with a fork before cooking them. Then, set the timer of your microwave for 10 minutes, and stick in the sweet potatoes. If you have smaller sweet potatoes, they don't need to cook for quite as long. You can also use the oven for baking the potatoes — it just depends on your preference. For baking, set the timer to 400 F, and cook the potatoes for 45 minutes to an hour.
You can test if the potatoes are done by sticking in a fork or knife into one of them and seeing how easily it goes in. If it goes in easy and feels soft, then the potatoes are done. Slice them open, and let them cool for a few minutes. Then, scoop out the cooked sweet potatoes into a bowl, and measure 2 cups.
Put the sweet potato in a food processor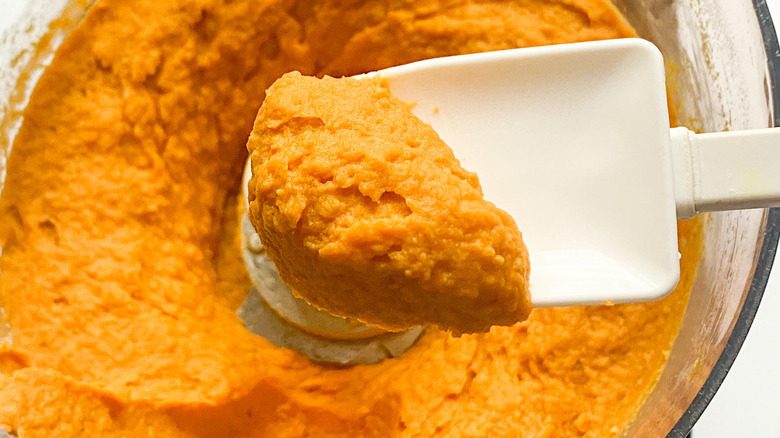 Miriam Hahn/Mashed
Once you measure out the sweet potatoes, add them to a food processor. In addition, toss in the garbanzo beans, cumin, salt, and Sriracha. Blend the entire mix together until it's nice and smooth. "If you don't have a food processor, you can definitely just mash by hand," Hahn says."The sweet potato is really soft, so it's just a matter of mashing the beans well with a fork. A food chopper would also work to get the beans mashed up. (Zyliss makes one.) I think the mixture is too thick for a blender."
Put together the quesadilla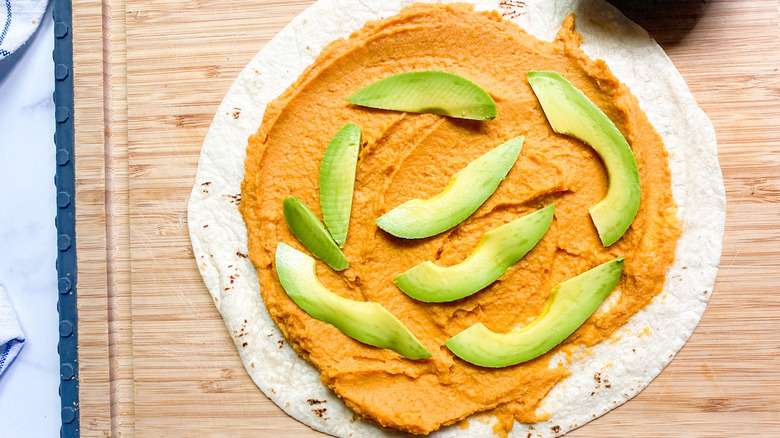 Miriam Hahn/Mashed
Lay out a tortilla, and spread a layer of sweet potato mixture first. Next, add some avocado slices or guacamole for the second layer. Then, place the other tortilla on top. Once you put together the quesadilla, take out a large frying pan, and add oil to it. Turn the heat to medium, and put the quesadilla in. Cook for about three minutes on each side, and repeat this step with the remaining two quesadillas. Get ready, because you're almost ready to enjoy this delicious sweet potato goodness!
Serve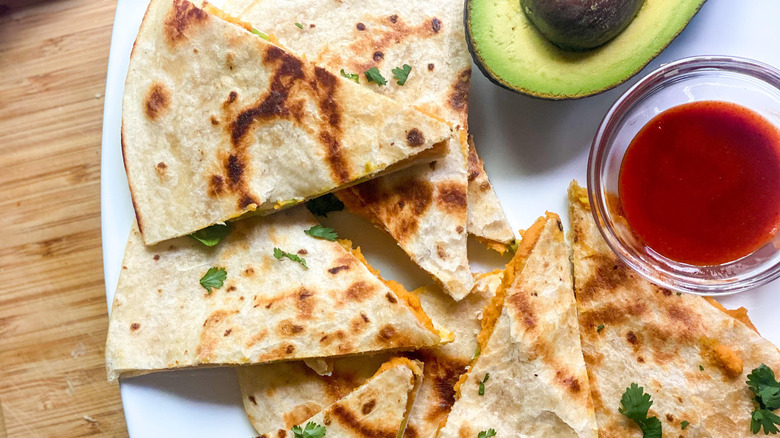 Miriam Hahn/Mashed
Slice the quesadillas however you wish. Toppings that go well for this dish include cilantro, salsa, more avocado, and guacamole. Quesadillas go well as a main course, but Hahn shares that it's also a wonderful appetizer. "To serve this as an appetizer, I love offering either red or green salsa and guacamole," Hahn says. "When serving it as a meal, I think rice and beans are great. Sometimes I serve it with a chopped Mexican salad or tortilla soup." Yum!
Leftovers will be good for about three days in the fridge. Be sure to warm them in the oven for the best results. Now, enjoy!
Healthy Sweet Potato Quesadillas Recipe
These healthy quesadillas include organic sweet potatoes and organic garbanzo beans. Add sliced avocado and cilantro, and you have a restaurant-quality meal.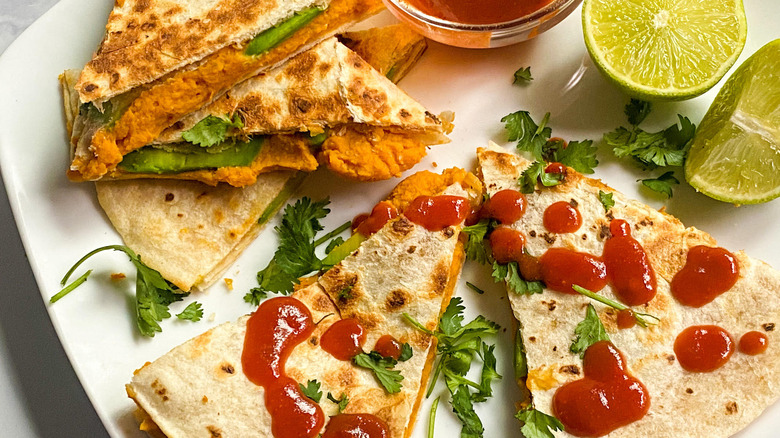 Ingredients
2 medium organic sweet potatoes
1 can organic garbanzo beans, drained
½ teaspoon cumin
½ teaspoon salt
2 tablespoons Sriracha or Cholula (or the hot sauce of your choice)
6 large organic tortillas
1 large avocado, sliced (or fresh guacamole)
2 teaspoons oil
Directions
Poke the sweet potatoes with a fork, and cook in the microwave for about 10 minutes. (If using an oven, bake the potatoes at 400 F for 45 minutes to an hour.)
Slice them open, and let them cool for a few minutes.
Scoop out the cooked sweet potato to measure out 2 cups.
Add the sweet potato to a large food processor, then add the beans, cumin, salt, and sriracha. Blend until smooth.
Lay out a tortilla, and spread a layer of the sweet potato mixture on it. Add the avocado slices (or guacamole), then top with a second tortilla.
Add some oil to a large frying pan, and warm up to medium heat. Add the quesadilla. Cook for about 3 minutes on each side. Repeat making 2 more quesadillas.
Slice, and serve! Top with fresh cilantro, salsa, and more avocado or guacamole.
Nutrition
| | |
| --- | --- |
| Calories per Serving | 187 |
| Total Fat | 7.3 g |
| Saturated Fat | 0.9 g |
| Trans Fat | 0.0 g |
| Cholesterol | 0.0 mg |
| | |
| --- | --- |
| Total Carbohydrates | 27.5 g |
| Dietary Fiber | 6.8 g |
| Total Sugars | 3.2 g |
| Sodium | 294.9 mg |
| Protein | 5.0 g |