How The Paradise Cantina Is Doing After Bar Rescue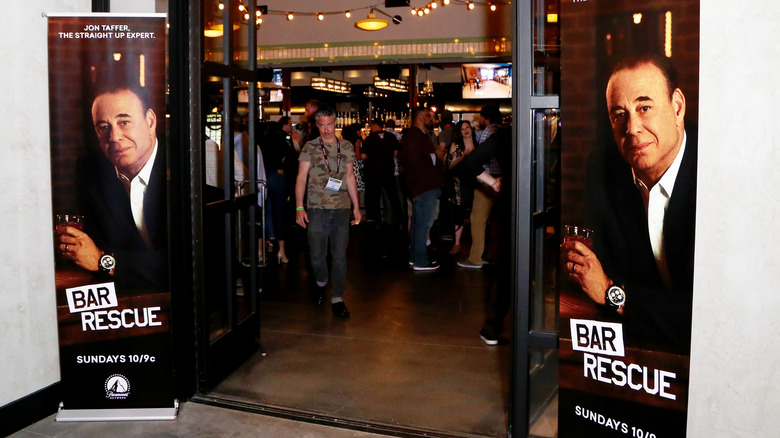 Gabe Ginsberg/Getty Images
The COVID-19 pandemic might be considered good news for the long-running TV show "Bar Rescue," a "Kitchen Nightmares" for drinking establishments. With a highly contagious virus causing real problems in the hospitality industry, the "Bar Rescue" production team didn't need to manufacture drama by getting bar owners to exaggerate financial problems or (can you imagine?) flirt with host Jon Taffer's wife, as some participants on the show have claimed (via Distractify). In Season 8 of "Bar Rescue," Taffer focuses his efforts on watering holes in his hometown of Las Vegas. Was any American city hit harder by quarantine? The neverending party that is Las Vegas was suddenly halted, and even bars that were at the top of their game are now in trouble.
The Season 8 premiere, which aired on May 3, featured the popular Vegas nightspot Paradise Cantina. The owner, a former regular patron who bought the place in 2018, said if you drink and you go to Vegas, you'll eventually wind up in Paradise Cantina (via Facebook). The owner, Ron Pellegrino, said 2019 might have been the Cantina's best year ever, with $1.2 million in sales. Then came 2020. Had Jon Taffer finally met his match in COVID-19, or could he work his slightly scripted magic to help make Vegas, Vegas again?
Paradise Cantina from 'Bar Rescue' and Las Vegas are bouncing back
Jon Taffer and the "Bar Rescue" team came to the rescue of Paradise Cantina in March 2021, for an episode of the show that aired in May (via Bar Rescue Updates). Can Paradise Cantina become the million-dollar baby it was in 2019? The reviews are in — not of the show, but of the bar itself.
Online reviews after the rescue are mostly positive, according to Bar Rescue Updates. The drinks at Paradise Cantina are "incredible." The remodel is "very inviting" and an improvement over the old look, which was "a bit too dirty." Service is "top notch." And the food? "Best wings in Vegas & maybe the world," a reviewer said.
Paradise Cantina has a few things going for it in 2021. For one thing, post-lockdown crowds are returning to Vegas with a vengeance, according to the Associated Press. Paradise Cantina itself got the "Bar Rescue" makeover, of course, and a shot of publicity from the show's spotlight. Dozens of people went to the Paradise Cantina Las Vegas Facebook page to say they saw the show, and they'll be sure to visit. The bar's Facebook account responded in early May with a quick update: "Thanks for all the support. It's extremely humbling to say the least. Biz has been great the last six weeks since we have been 'rescued.'"