Instagram Rains Heart Emojis Over Photo Of Robert Irvine With Wife And Daughter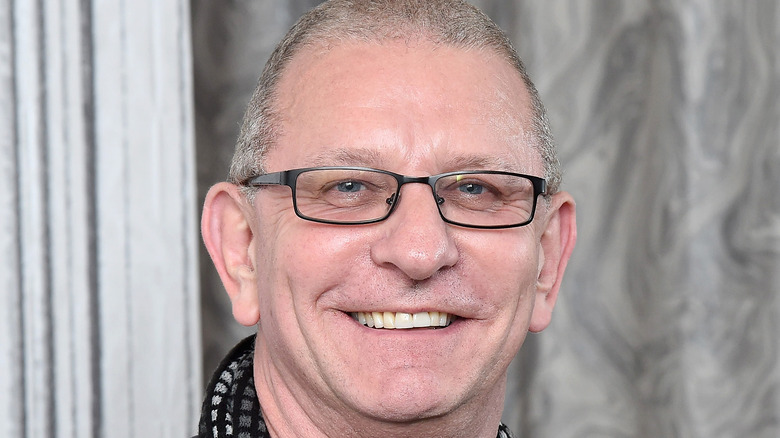 Gary Gershoff/Getty Images
Famed TV personality, author, and chef Robert Irvine is known to most as a "tough love" kind of man. Even the woman he loves is tough – Irvine is married to former pro wrestler Gail Kim. Fans from all over have been able to see Irvine's always caring attitude on shows like the Food Network's "Restaurant: Impossible" (he told the Pittsburgh Post-Gazette that he isn't "an angry man," just a "passionate" one). Other things Irvine is known for? He's on a mission to get folks eating healthier. He also does as much as he can to give back to the military, as the British-born chef was part of the Royal Navy in the United Kingdom, per U.S. Veterans Magazine). 
Through The Robert Irvine Foundation, he has strived to provide much-needed assistance to active military members, veterans, and their families. Because of his work, the U.S. Navy named him an Honorary Chief Petty Officer. But despite his military-hardened exterior, die-hard fans have reason to believe he is gentle at his core, especially when it comes to his wife, Gail, and two daughters, Talia and Annalise Irvine.
The chef shared a touching picture with his wife and daughter
While enjoying some quality time on an outing with his wife and his daughter Talia, the famed chef reposted a sweet quick picture on his personal Instagram profile of the trio. The picture, which was originally shared by his wife, was captioned "Irvine family time!! [A]ppreciate every moment you get with the ones you love!!" It's documented that Irvine travels for most of the year (via the Pittsburgh Post-Gazette), so any time he can spend with his family is golden. 
Instagram followers certainly felt the love and let the chef know it with an outpouring of heart emojis and heartwarming comments. "My favorite chef with his beautiful family," a user wrote. "Gorgeous!" asserted someone else. Perhaps this comment said it best: "The most important thing in life is spending quality time with your loved ones. Beautiful family."
Determined to make his family time count, Irvine has done special things, like planning a surprise wedding for his wife. In an interview with People, Gail Kim revealed that her hubby has "a sweet, sensitive side" and wanted to give her the wedding day of her dreams (which isn't too hard when he knows folks like Guy Fieri, Masaharu Morimoto, Michael Chiarello, and Elizabeth Falkner). Irvine is a doting father, too. In an interview with Life of Dad, he recounted going for three-and-a-half-hour beach strolls after midnight to help soothe a fussy Annalise when she was a newborn.