Easy Peach Melba Recipe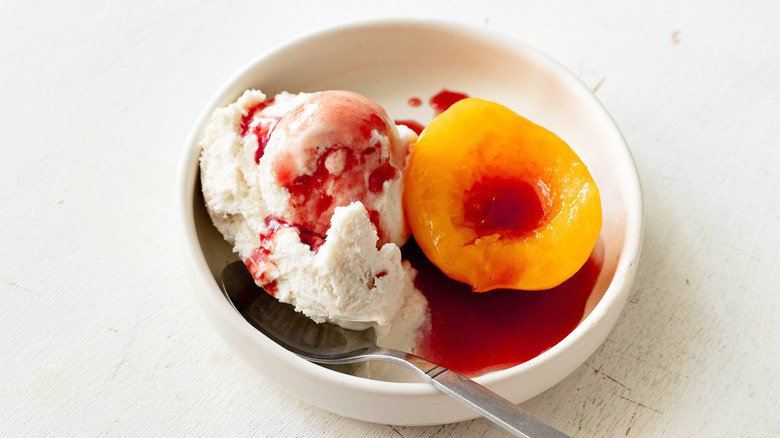 Sher Castellano/Mashed
This Peach Melba recipe seems so simple, and that's because it is! It consists mostly of peaches, raspberry jam, and vanilla ice cream. But the ingredients blend together so effortlessly in layers of sweetness that truly delight. French chef Auguste Escoffier believed the foods belonged together, too. He spent 62 years in the culinary industry with his name becoming known worldwide in 1893. During that year, Escoffier, who oversaw the recently opened Savoy Hotel's kitchen, created the "péche Melba" or Peach Melba to recognize a notable Australian opera singer, Nellie Melba, who visited the Savoy, according to Britannica.  
Recipe developer Sher Castellano deviates from the original recipe by using canned or jarred peaches and raspberry jam instead of fresh fruit, making the dish a bit simpler and quicker to whip up when you're pressed for time. In just four minutes, you'll have a delicious dessert for four. She also adds a bit of sea salt and opts to not use the slivers of almond many like to pile on top of the ice cream. Castellano doesn't like to use too many substitutions though, noting, "I would like this to stay true to the simple and classic dish."
Gather your ingredients to whip up this easy Peach Melba recipe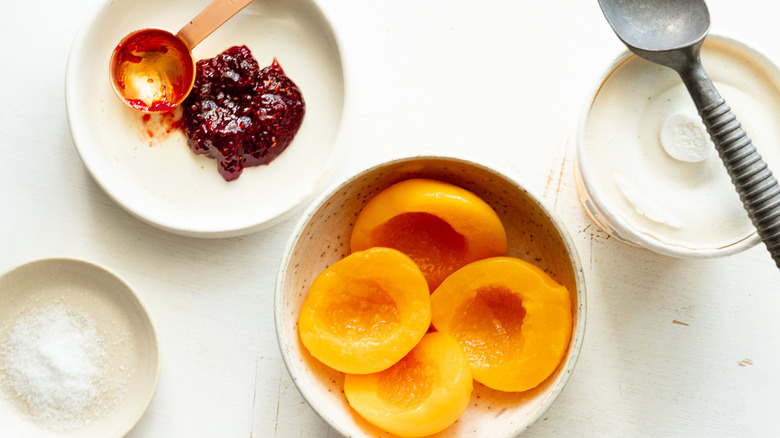 Sher Castellano/Mashed
Putting the ingredients together for this sweet treat won't take long at all. All this recipe requires is some raspberry jam, a bit of warm water, fine sea salt, four peach halves — either canned or jarred will work — and, the pièce de résistance, which is a pint of vanilla ice cream.
With so many sugary items in the collection, you might wonder why sea salt is included. "Salt is imperative to balance sweetness in desserts," explains Castellano. "It allows the flavors to melt together without being overly sweet." So don't forget to use it!
Remove the seeds from the raspberry jam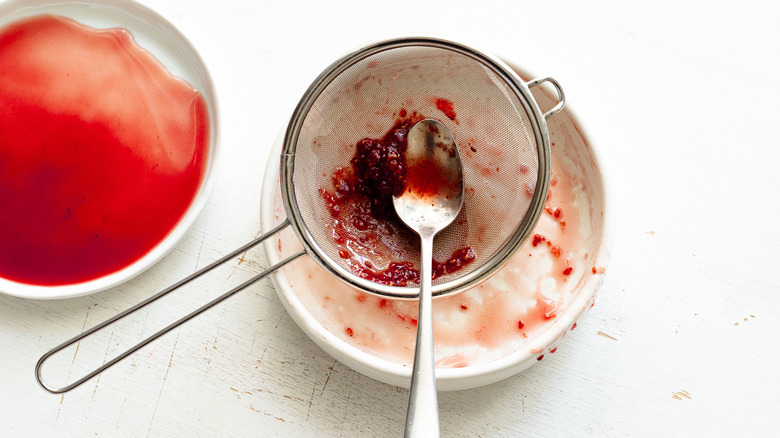 Sher Castellano/Mashed
First up in this recipe is to make the raspberry sauce by using the jam. You'll pass the jelly through a fine mesh sieve, and discard the pulp and seeds when you are done. Castellano considers sieves like this a staple tool for home cooks. "They are very inexpensive and can be found even in most grocery stores in the cookware aisle," she says. However, if you are in a pinch and don't feel like purchasing one, you can skip this step. The seeds will still be there, but that "doesn't change the flavor, just the texture and smooth appearance," offers Castellano.
It's time to make the sauce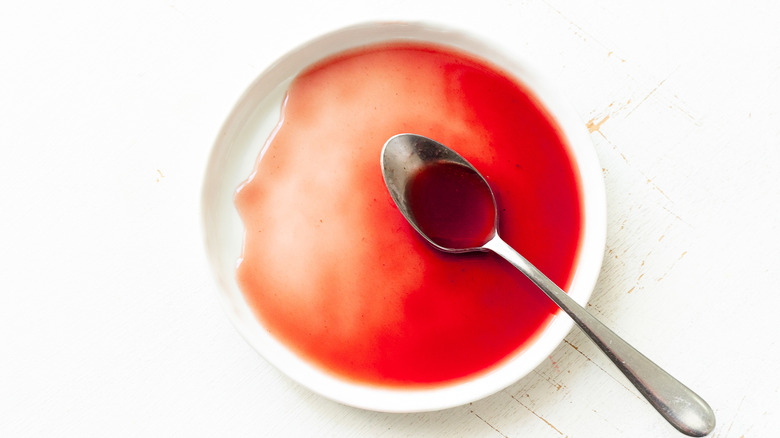 Sher Castellano/Mashed
Once you've strained all the seeds out of the jelly, you are ready to create the sauce. Take a small bowl, and stir the raspberry jam, warm water, and salt together until smooth. Make sure the salt is dissolved so the sauce's flavor is optimized. Salt, when used correctly, can make a good dish great, and a great one simply spectacular. Since the recipe calls for sea salt, this should happen quickly, and FYI — it is also perfect when you want to add a bit of saltiness to any dish without contributing to the texture, according to The Detroit News.
Getting the dessert ready to serve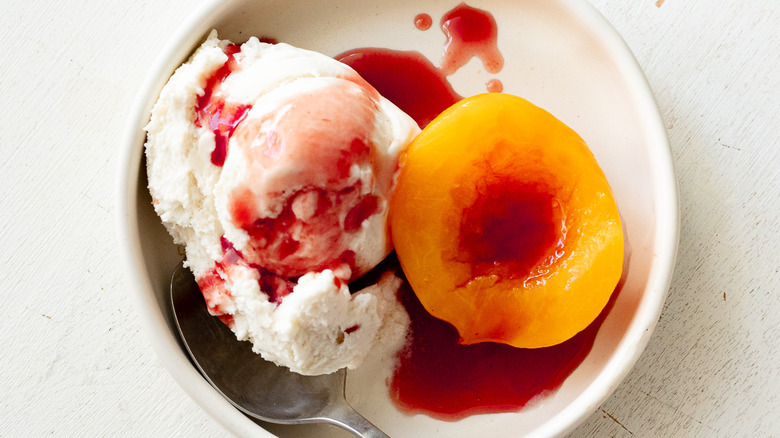 Sher Castellano/Mashed
Once the sauce is completed, you can add the other ingredients, and dessert is served. Put a portion from the pint of ice cream into pretty dessert cups, and then top each one off with a peach. Then, carefully drizzle on the raspberry sauce over the peach and ice cream. Or, if you are a master of waiting for your gratification, you can also store the sauce up to five days in an airtight jar in the refrigerator, according to Castellano.
While there is something to be said about preparing things before the big party or dinner you're hosting, do you really want to wait that long to eat this? Maybe consider doubling the batch so you can have Peach Melba for now and later? That sounds like a pretty sweet plan to us!
Easy Peach Melba Recipe
In just four minutes, you'll have a delicious dessert for four. This easy Peach Melba recipe will come in handy whenever you're pressed for time.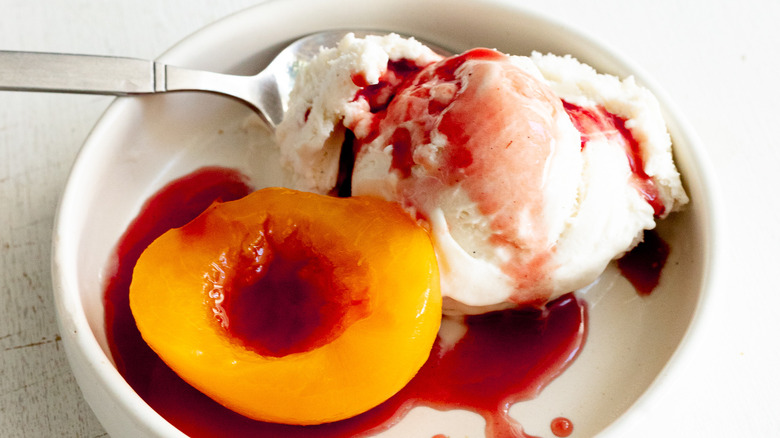 Ingredients
¼ cup raspberry jam
2 tablespoons warm water
⅛ teaspoon fine sea salt
1 pint vanilla ice cream
4 peach halves (canned or jarred)
Directions
In a small bowl, stir the raspberry jam, warm water, and sea salt together until smooth.
Pass the jam through a fine mesh sieve, and discard the pulp and seeds.
Portion the pint of vanilla ice cream into dessert cups, top with a peach, and drizzle on the raspberry sauce.
Nutrition
| | |
| --- | --- |
| Calories per Serving | 245 |
| Total Fat | 7.3 g |
| Saturated Fat | 4.5 g |
| Trans Fat | 0.0 |
| Cholesterol | 29.0 mg |
| | |
| --- | --- |
| Total Carbohydrates | 43.6 g |
| Dietary Fiber | 2.0 g |
| Total Sugars | 36.7 g |
| Sodium | 137.1 mg |
| Protein | 2.8 g |