Jonathan Waxman Reveals Who He'd Like To Battle In A Cooking Competition - Exclusive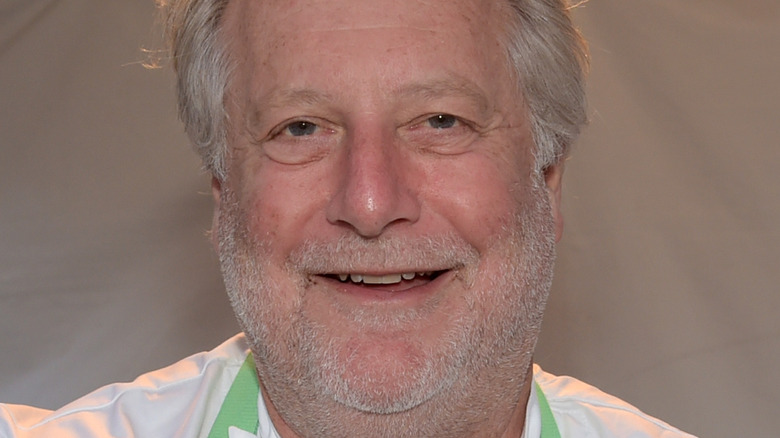 Rick Diamond/Getty Images
With a nearly 50-year cooking career under his belt, Jonathan Waxman has managed to compile a wildly impressive resume from prolific restaurateur to James Beard Award winner. But for a younger generation, the celebrity chef is perhaps most notable for being one of the most familiar faces on the television food competition circuit. As a judge, he has lent his wealth of culinary expertise to a number of shows including "Top Chef," "Guy's Grocery Games," and most recently filling the "legends" slot working alongside Gordon Ramsay, Joe Bastianich, and Aarón Sánchez on the current season of "MasterChef." "I really love being surprised, and I'm constantly being surprised when I judge food on TV," Waxman said during an exclusive interview with Mashed.
But Waxman also relishes getting his apron dirty as a competitor. "I like it both ways," he said. "I enjoy the competition part because I just like it. It's fun. It's wacky. It's weird. It pushes you to a different level." In fact, Waxman likened doing battle in the kitchen to a high-intensity sporting clash. "I was watching the Tour de France this morning," he said, "and this guy is going up to the top of the hill, and they have to give themselves an extra ounce of adrenaline to get over the top, in a timely fashion. In a cooking competition, it's the same thing. You have to really punch your adrenaline to get yourself to do the best food you possibly can in a crazy, weird environment."
Jonathan Waxman would love to challenge Wolfgang Puck to a cook-off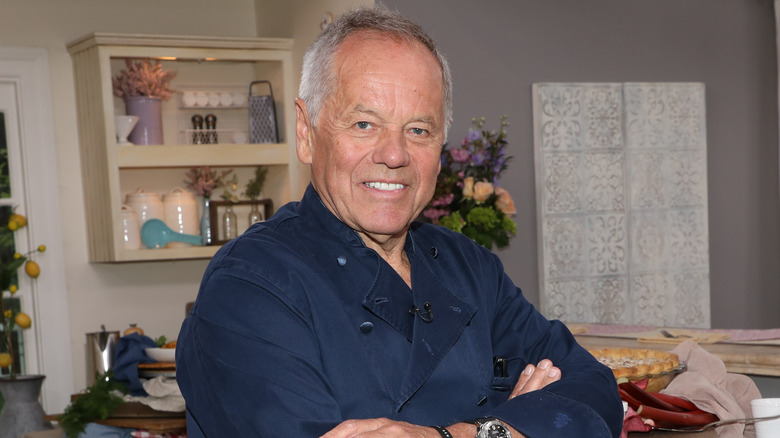 Paul Archuleta/Getty Images
So is Waxman, who managed an impressive fourth-place finish on Season 2 of "Top Chef Masters," prepared to step back into the kitchen arena? "As long as they take into consideration the handicap of my age, I think I'd be fine," the 71-year-old chef laughed.
It turns out that Waxman has a dream competition scenario in mind. "I always wanted to do a show with ... instead of calling it 'Masters,' just do 'Legends,'" he said. "People that have to be, number one, have to be over 65. That's the first criteria. That's number one. And number two is that they all have to have a major restaurant in America for more than one year."
Specifically, he namechecked his former boss at Chez Panisse, Alice Waters, acclaimed restaurateur Roy Yamaguchi, Larry Forgione (father of Marc), and "father of Southwestern cuisine" Dean Fearing, as potential participants. As for his top competition, Waxman had an old pal in mind. "I think going against Wolfgang Puck would be my ultimate dream," he said.
Both chefs happen to be two of the architects behind modern California cooking and their history together goes back decades. Recently, the old friends reunited at the premiere of Puck's documentary "Wolfgang," which earned a rave review from Waxman. "If I were Wolfgang I'd be extremely happy with having lived this crazy life from the time he was 14 years old," he said. "So he's 72, and he's still in it, still at the top of his game, still doing wonderful stuff."
Watch new episodes of "MasterChef: Legends" Wednesdays on Fox. And if you want to enjoy Jonathan Waxman's food in a non-competition setting, stop by his restaurants: Jams in New York, Adele's in Nashville, and his latest, Baffi in Atlanta.